Trip to Kadogawa in Miyazaki-ken [Danjiri festival!]
Note: The opinions and views expressed in this user report are those of the individual author and do not necessarily reflect the opinions and views of japan-guide.com.
November 19, 2017 - Trip to Kadogawa in Miyazaki-ken [Danjiri festival!]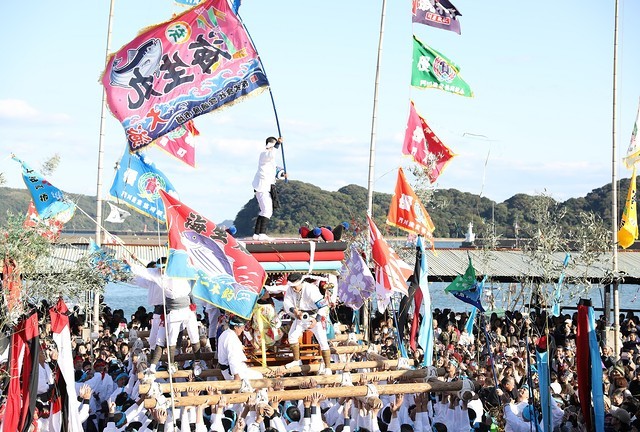 Kadogawa's Danjiri Festival was held on November 19th. Danjiri refers to the three large wooden parade floats that participants carry through the streets on the day of the festival. True to Kadogawa's long history as a fishing village, the festival is held as a sort of public prayer for a big catch and safety on the seas.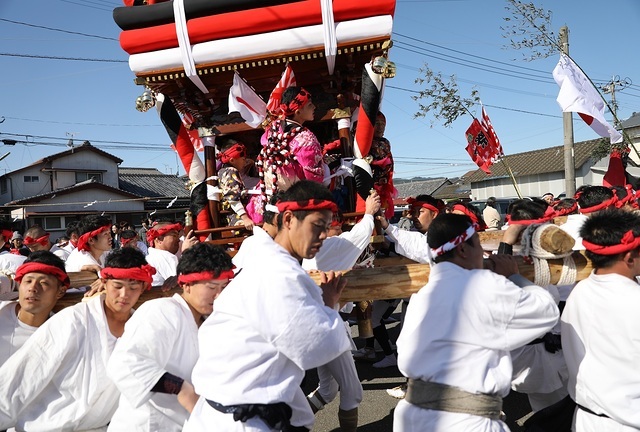 Participants wear traditional Japanese clothes (white leggings and jackets, black obi and kyahan-long strip of fabric wrapped tightly around the calf) and sport colorful towels tied around their heads that correspond to the color of their danjiri team-green, blue or red. Schoolboys chosen to ride on the danjiri to sing and play the drums wear brightly patterned kimonos. The children perform a call and response song with the men carrying the danjiri in order to synchronize everyone's steps and keep their energy high. It is quite a sight to see the danjiri draped in flags coming down the street with everyone singing and marching to drums.
At the fishing port there are performances and vendors selling everything from toys to Mexican tacos! I tried grilled ika (squid) and hashimaki (a savory pancake wrapped around chopsticks and topped with ketchup and okonomiyaki sauce), two typical festival foods. Delicious!
Each danjiri weighs about one ton and even though dozens of men carry it at once they sometimes drop it! They parade through the streets all day but all three danjiris gather at the port in the afternoon for the sashikurabe contest. All three teams must raise their danjiri above their heads and keep in there for a full 20 minutes! Hundreds of people gather to watch and cheer the men on. The team whose danjiri moves the least wins!
But of course their work isn't done?they still have several hours of carrying it around town to go!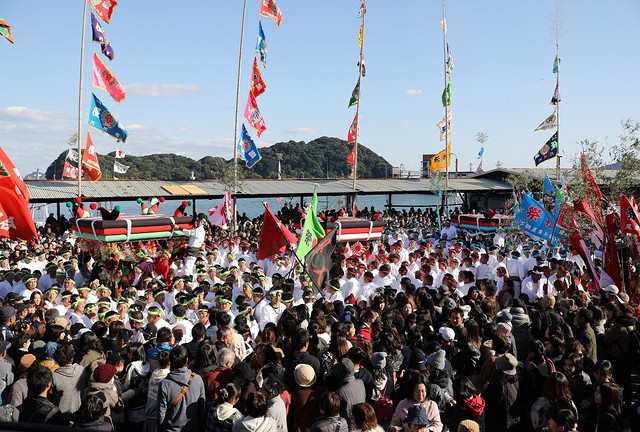 video is here!→https://youtu.be/vAEM-xqYLwA
       https://youtu.be/XI6j9Vkrbag
       https://youtu.be/KJHMSn2Jc5E
       https://youtu.be/dk5fkqCIIRA
List of Posts:
2018/01/14 - Trip to Kadogawa in Miyazaki-ken [Making Yanagi-mochi]
2017/11/19 - Trip to Kadogawa in Miyazaki-ken [Danjiri festival!]
2017/08/12 - Trip to Kadogawa in Miyazaki-ken [Mukai ga hama, beach]
2017/08/12 - Trip to Kadogawa in Miyazaki-ken [Eiganji, temple]
2017/08/12 - Trip to Kadogawa in Miyazaki-ken [Iorigawa brake water, paint wall]
2017/08/12 - Trip to Kadogawa in Miyazaki-ken [Sushi, Kandagawa]
2017/08/12 - Trip to Kadogawa in Miyazaki-ken [Manju, Horikawa manju]
2017/06/06 - Trip to Kadogawa in Miyazaki-ken [Kadogawa`s Seaside Park]
2017/06/06 - Trip to Kadogawa in Miyazaki-ken [Isuzu river]
2017/06/06 - Trip to Kadogawa in Miyazaki-ken [Songoku, Chinese restaurant]
2017/06/06 - Trip to Kadogawa in Miyazaki-ken [Cafe, Strawberry Switch Blade Cafe ]
2017/06/06 - Trip to Kadogawa in Miyazaki-ken [Temple, Shorenji]
2017/06/06 - Trip to Kadogawa in Miyazaki-ken [Tombo, Japanese restaurant]
2017/06/06 - Trip to Kadogawa in Miyazaki-ken [Ka-chan, mackerel sushi specialty shop]
2017/06/06 - Trip to Kadogawa in Miyazaki-ken [The Komatsu Stone Tower Group]
2017/05/20 - Trip to Kadogawa in Miyazaki-ken [Mizunagasuisan Factory]
2017/05/20 - Trip to Kadogawa in Miyazaki-ken [Grilled Oysters at Shunsen Kadogawa ]
2017/05/20 - Trip to Kadogawa in Miyazaki-ken [Iorigawayaki- Ceramic Studio]
2017/05/20 - Trip to Kadogawa in Miyazaki-ken [Iorigawa Port]
2017/05/20 - Trip to Kadogawa in Miyazaki-ken [Yanagimochi Making]
2017/05/20 - Trip to Kadogawa in Miyazaki-ken [Mt. Tomi Observation Deck]
2017/05/20 - Trip to Kadogawa in Miyazaki-ken [Kokoronomori, Onsen and Hotel]
2017/05/20 - Trip to Kadogawa in Miyazaki-ken [Shunsen Kadogawa, local products store]
2017/05/19 - Trip to Kadogawa in Miyazaki-ken [Boat ride to Otojima and Birojima, Uninhabited islands in Kadogawa bay]
2017/05/19 - Trip to Kadogawa in Miyazaki-ken [Asahi, Chinese Restaurant]
2017/05/19 - Trip to Kadogawa in Miyazaki-ken [Matsuno Industrial Business Corp. Glass Bead and Marble Factory, Minamimachi 1-20]
2017/05/19 - Trip to Kadogawa in Miyazaki-ken [Kofuku, Chinese Restaurant, Kadokawaozue]