Takamatsu - Kagawa Prefecture
Note: The opinions and views expressed in this user report are those of the individual author and do not necessarily reflect the opinions and views of japan-guide.com.
February 10, 2016 - Takamatsu - Kagawa Prefecture
Takamatsu is one of the largest cities in Shikoku and is also the capital of Kagawa prefecture. This compact city happened to be my first port of call as my international flight from Shanghai arrived at the rather small Takamatsu airport. It honestly took 6 minutes to get off the plane, pick up my bags and clear customs!

For today's post, the city part of the tour occurred on my first day in Shikoku and the second part (driving portion) occurred on my fifth day.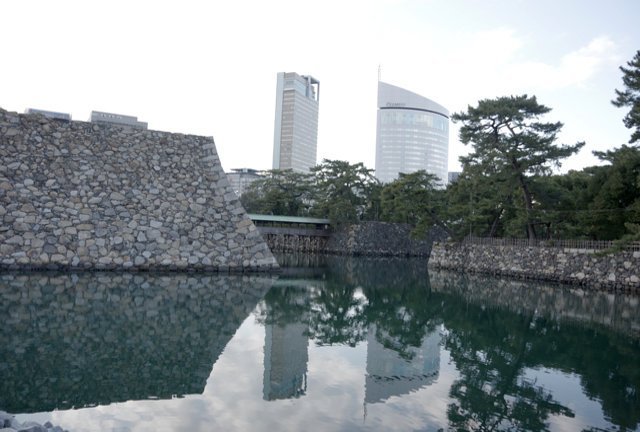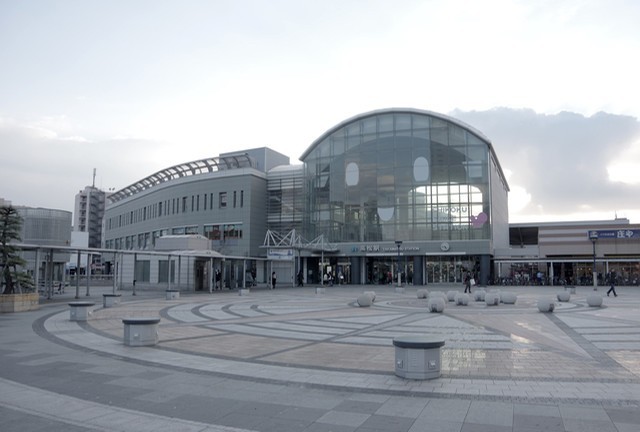 When most people come to Takamatsu - they either are dropped off on the airport bus at Takamatsu station (45 minutes - 760 yen) or by train. Thankfully - the train station is reasonably well set up with a simple Tourist Information Booth, a reasonable number of luggage storage boxes and plenty of eating options (mainly 2nd floor). Do note that Takamatsu station is not in the beating heart of the town - but is close enough to walk (15 minutes) but is also close to the many ferries which leave Takamatsu daily.
For Takamatsu, I visited the following locations

(1) Ritsurin Koen
(2) Takamatsu Castle Ruins
(3) Red Lighthouse
(4) Yashima-ji Temple
(5) Shikoku Mura

All of these locations can be visited via public transport - but I found the latter two (which are close to one another) are easier to access via car if you have one instead of JR bus which leaves regularly from JR Takamatsu station.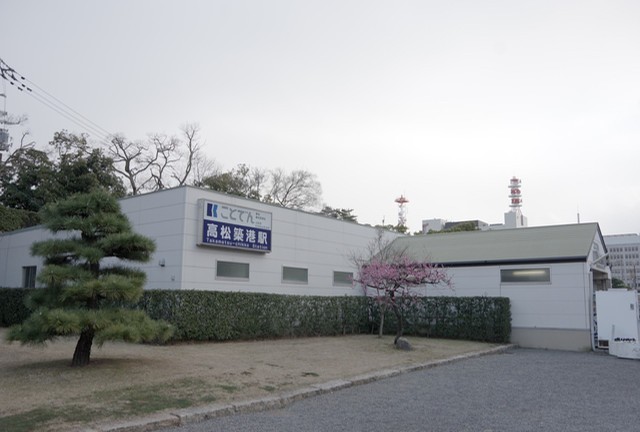 To get to Ritsurin Koen, you could either walk the 2.5 kilometres from the station of catch the Kotohira Kotoden train from Takamatsu-Chikko station. To find this station from the JR station - either head towards the castle ruins or follow the signs. Note that it takes 3 stations and roughly 5 minutes to get to Ritsurinkoen station (190 yen cost)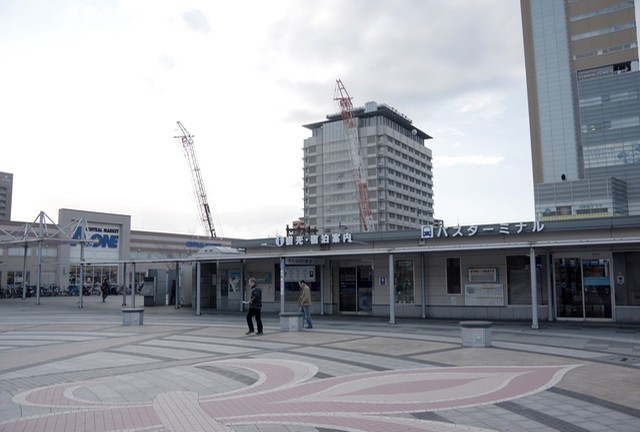 However, before you go anywhere I suggest you visit the main Tourist Bureau located just outside the train station right next to the bus area. When I visited - both people working spoke reasonable to excellent english and had heaps of information including maps and the like.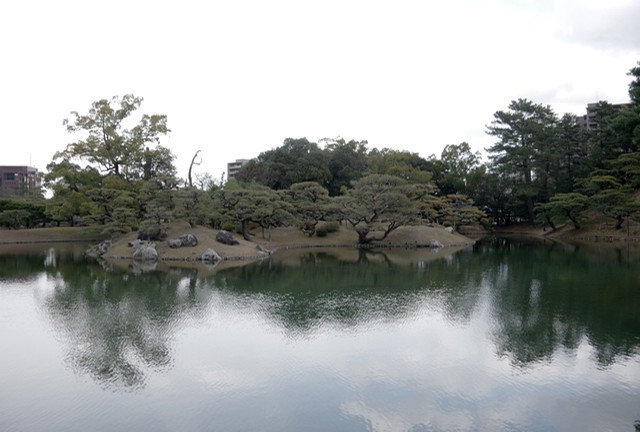 After a 7-8 minute walk from the station and my pocket being 410 yen lighter (entrance = 410 yen), I was inside the beautiful and rather large Ritsurin Park. As I have now visited all 4 main gardens in Japan (Mito, Kanazawa, Okayama & Takamatsu) - I would say that this is probably by favourite of the 4.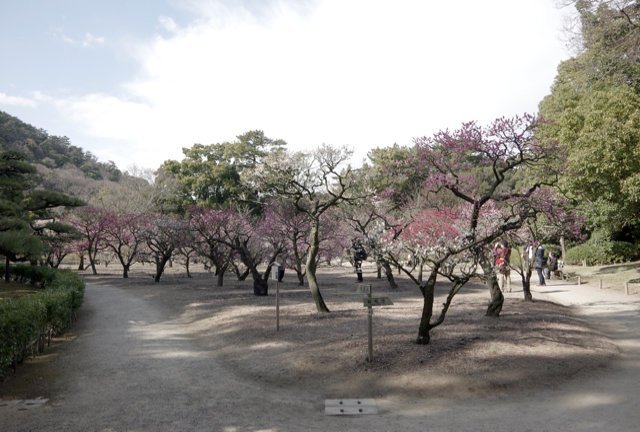 At present, many parts of Japan are starting to see Plum Blossoms come out in force. I might not be lucky enough to be in Mito this weekend, but Ritsurin at least had some to give you a taste of what it would be like in Ibaraki.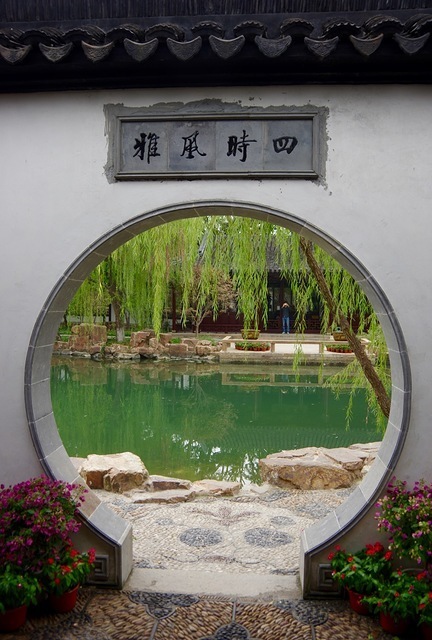 Another big difference between Chinese and Japanese gardens is using walls and doors to help accentuate the aesthetics along with helping change the different type of gardens.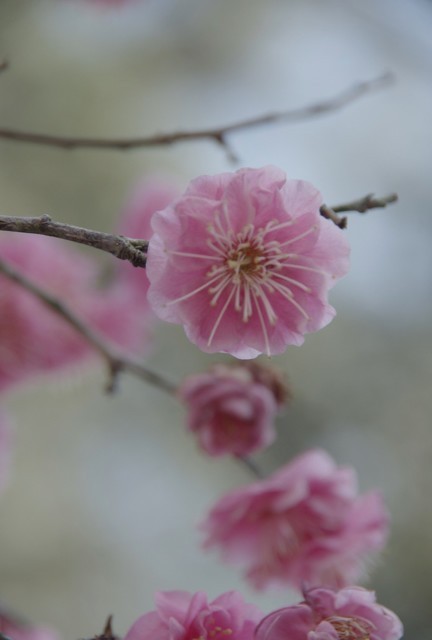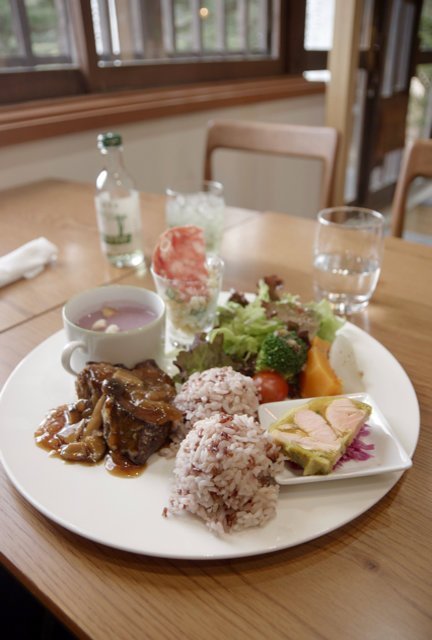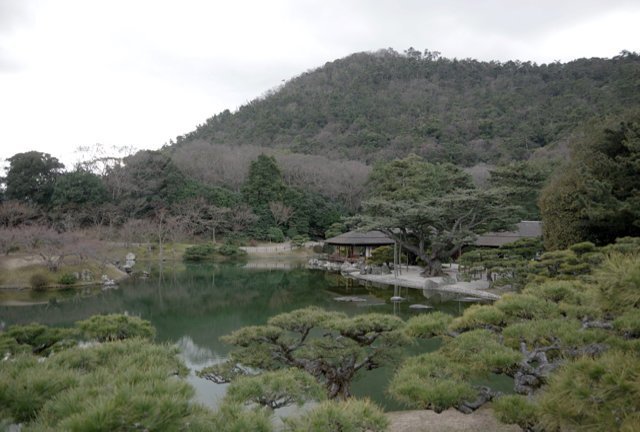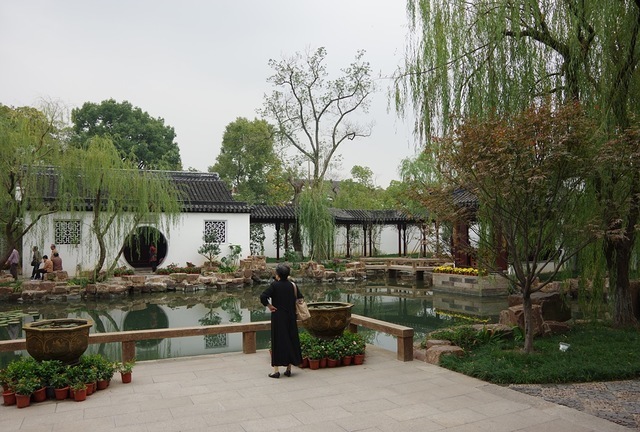 As I have also traveled around China a little bit - I thought I'd also talk about some of the differences between Japanese and Chinese gardens - specifically Chinese gardens south of the Yangtze. One thing you will notice is that water plays a big part of both gardens. However - Chinese gardens tend to be much more 'building rich'. This is mainly due to most gardens either being part of former aristocracy or wealthy merchants - so the gardens also double as a part of their living quarters.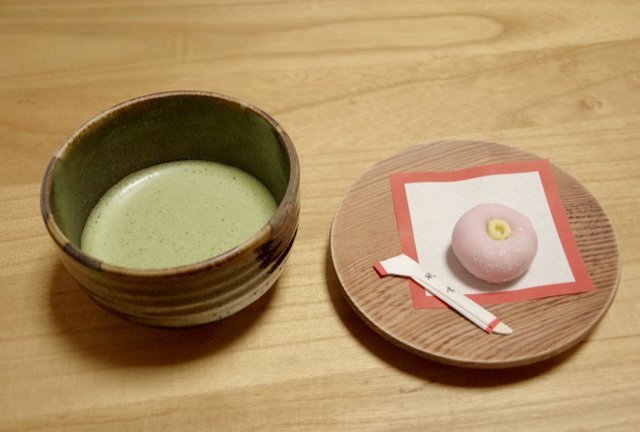 If you wish to visit Kikugetsu-tei in Ritsurin Koen, it costs either 700 year (with powdered maccha and sweet) or 500 yen (infused macho and sweet). For those who have not travelled around Japan a lot - the dessert (on right) looks pretty but is filled with a sweeten bean. To the western taste it's a little strange but if your like me it's easy to get addicted to the stuff.... You can also walk around the building once you have finished. It is also famous for having views on all 4 sides.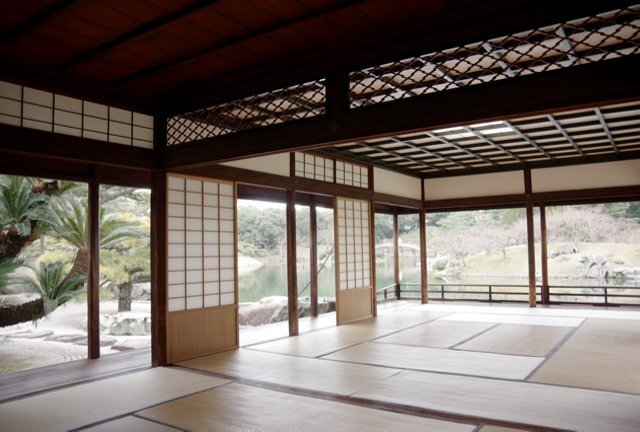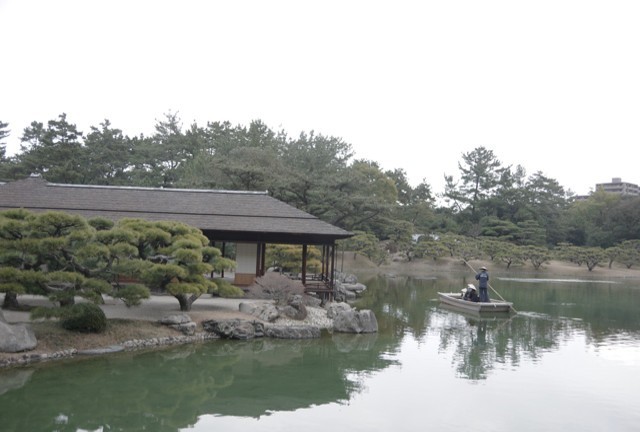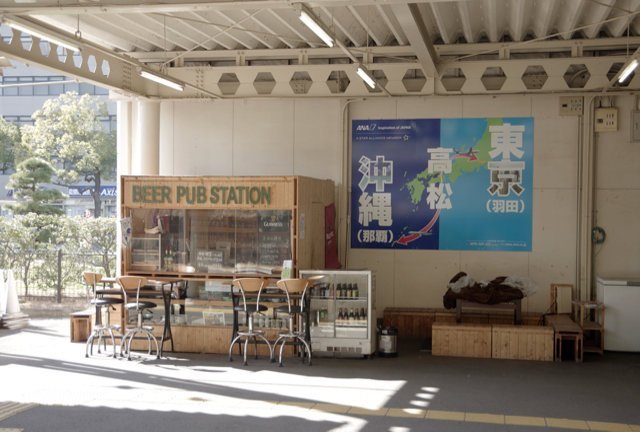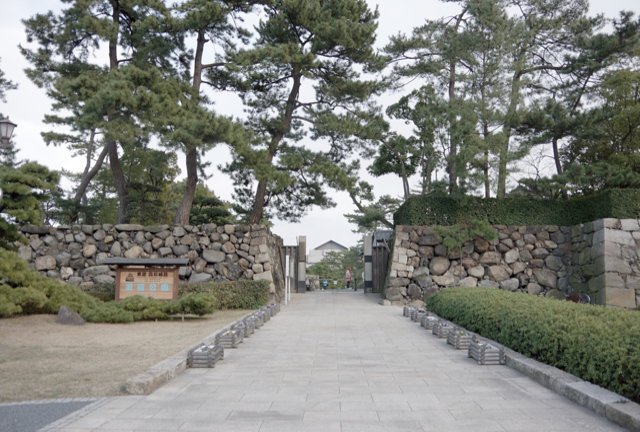 Located right next to the previous station is the Takamatsu castle ruins. These ruins costs 200 yen to enter and also include a reasonably nice land garden which is known to be rather rare as no water is used in the garden at all. Do note that it can be a little confusing to find your way around due to some construction works which do not impact the experience but it will confuse how to get from one place to the other.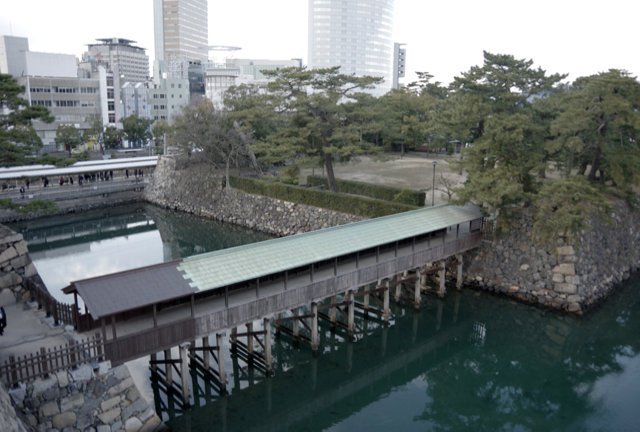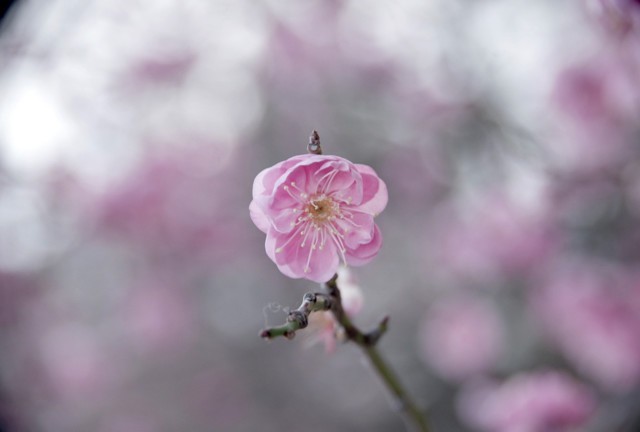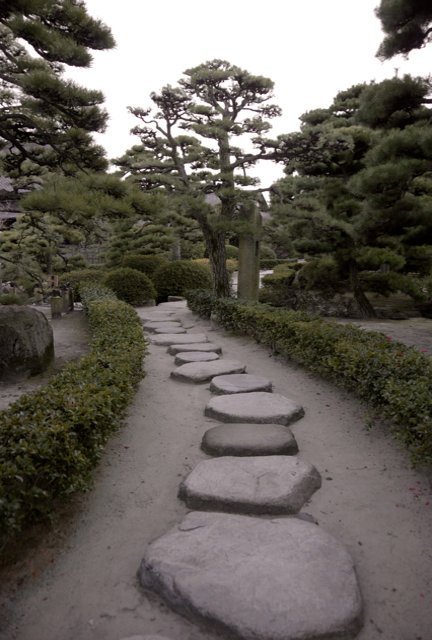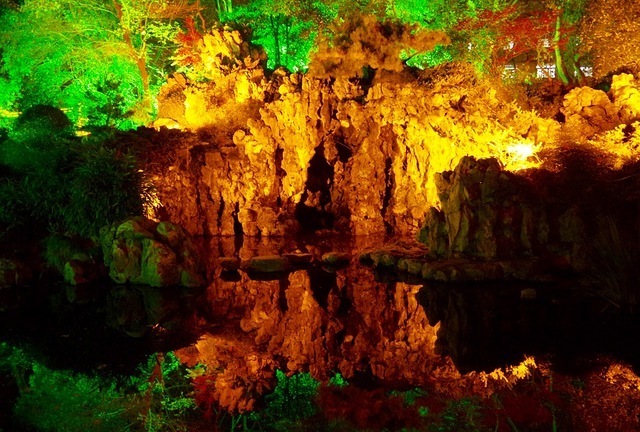 For Japanese gardens, rocks can play a large part in a garden with individual rocks symbolisms, specifically in Zen gardens. However, in Chinese gardens rocks play a much more prominent role in most gardens. For example, rocks often help act as borrowed scenery with water such as what we see above.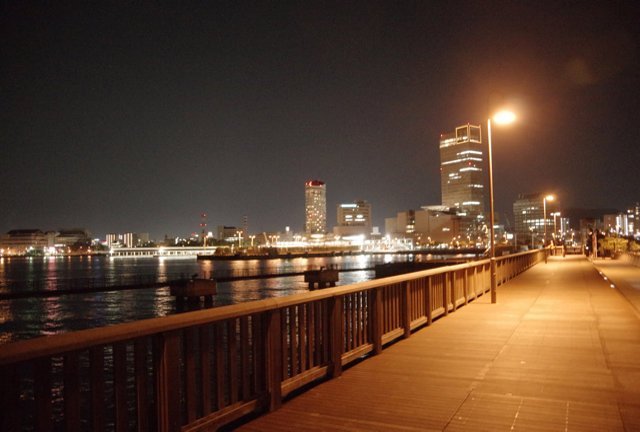 Located to the left of the ferry docks looking towards the ocean is the Red Lighthouse. For many, this is an area to either fish or run but it would also make a nice walk when the weather is a little warmer as well.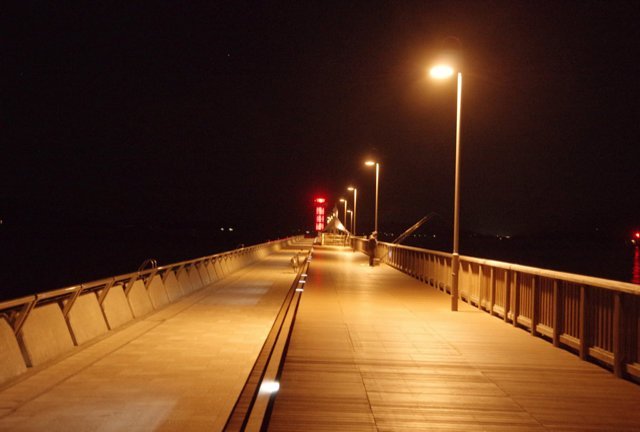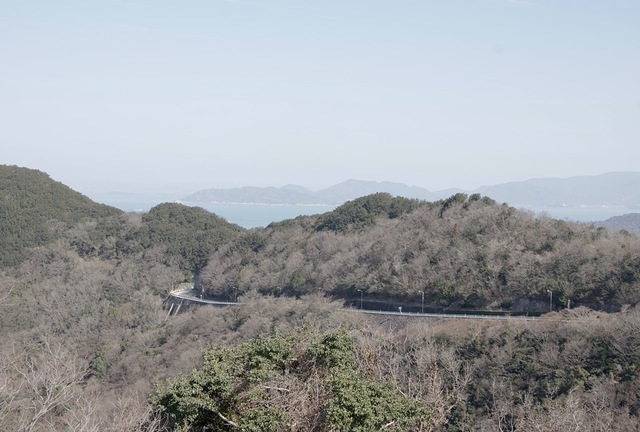 Around a 20-30 minute drive from Takamatsu station is Yashima-ji temple which requires a car to pay 650 yen per car to use the expressway. If you catch the bus - you will not need to pay this fee. Do note that the road is windy with good views which for me is not a good mix.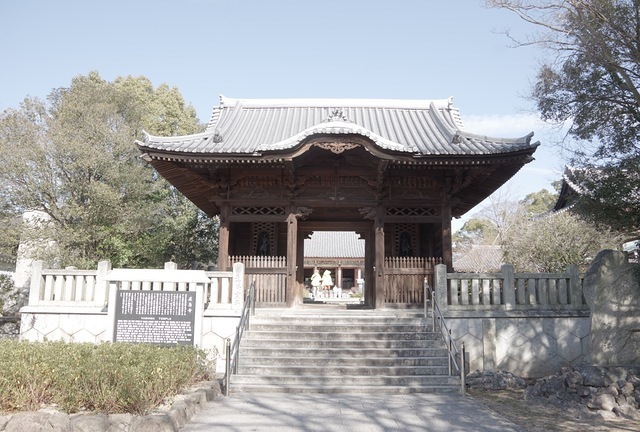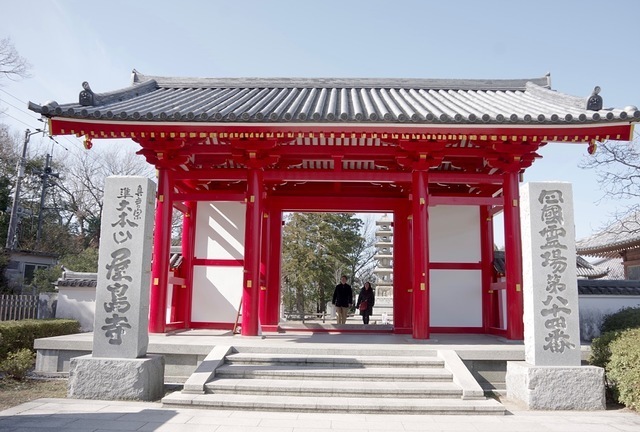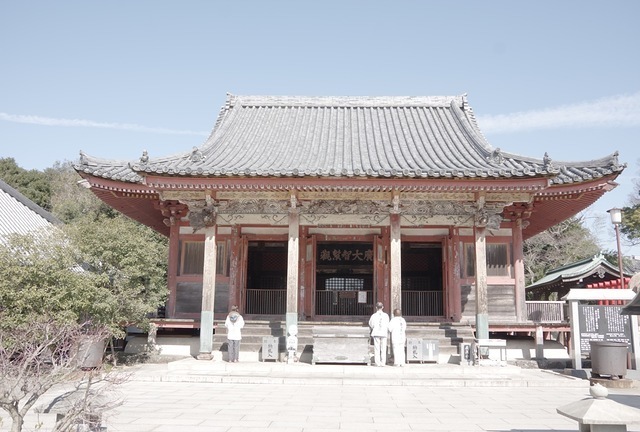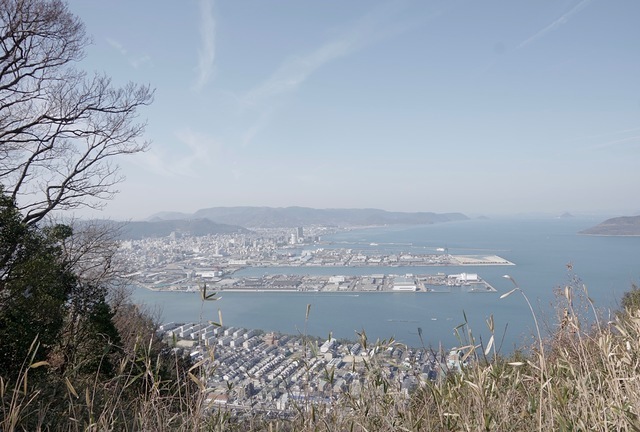 Do note that it is also possible to hike up the top of Yashima mountain which seems as though it would take a couple of hours. There are also quite a few lookouts and would make a nice picnic lunch spot if that's your kind of thing.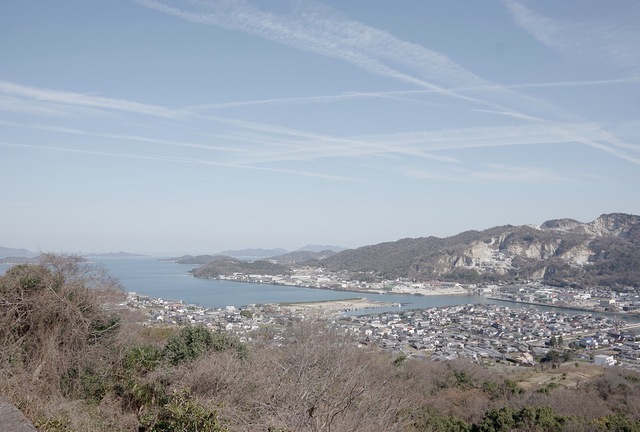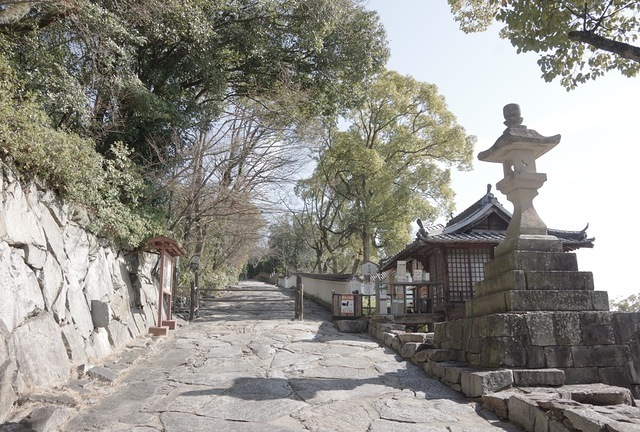 Shikoku Mura is located at the foot of the Yashima toll road and costs 800 yen to enter. This might seem expensive - but there are over 30 original buildings with lots of good English signing with explanations to explain the history of the buildings and the like. This is similar to the Nihon Minkaen Open Air Museum in Kawasaki but it's larger, has better signage and has even saved walls!!!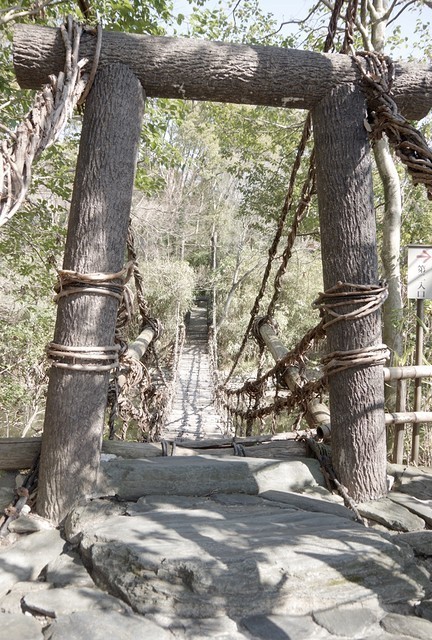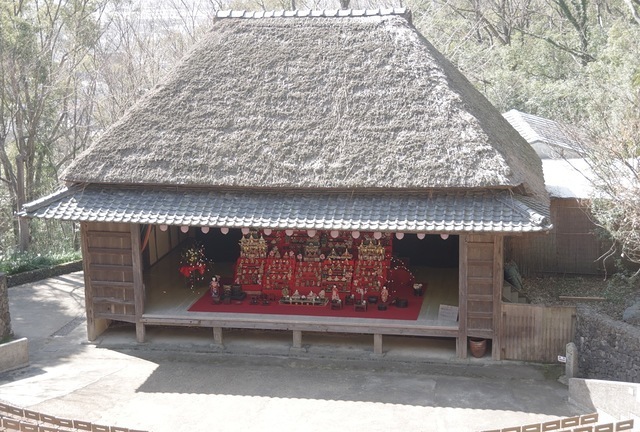 In Japan, they have both boys day and girls day which are big celebrations in Japan. For Girls day - they celebrate what it means to be a girl and this is often seen with many dolls such as what you see in the above picture. You'll see more of this in my upcoming pictures.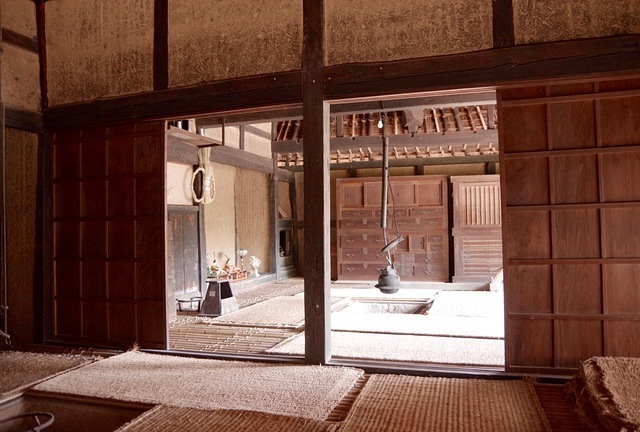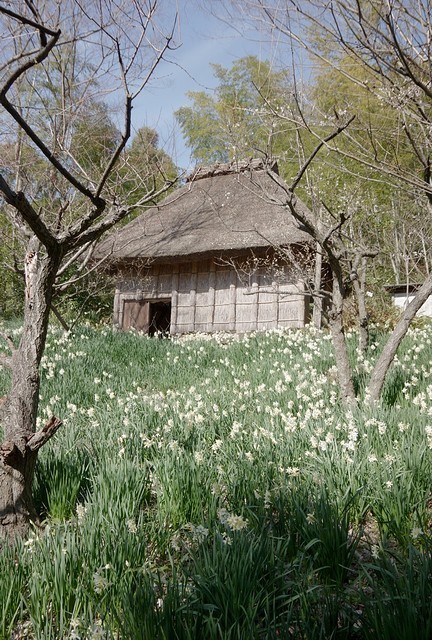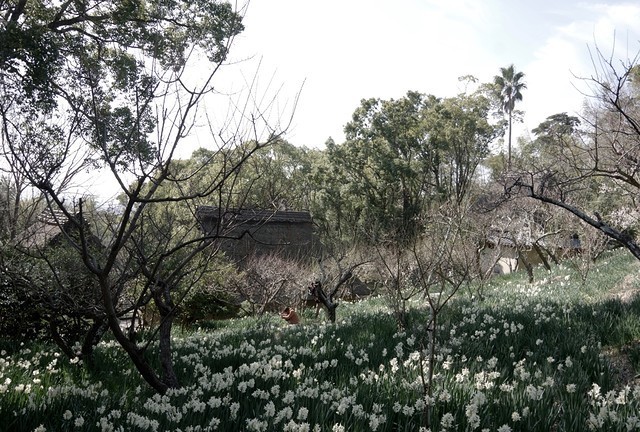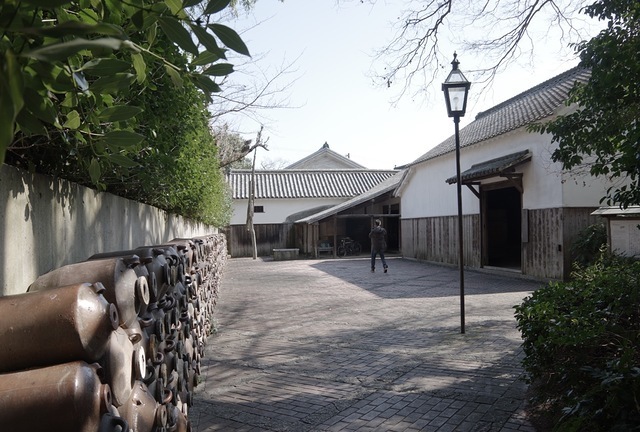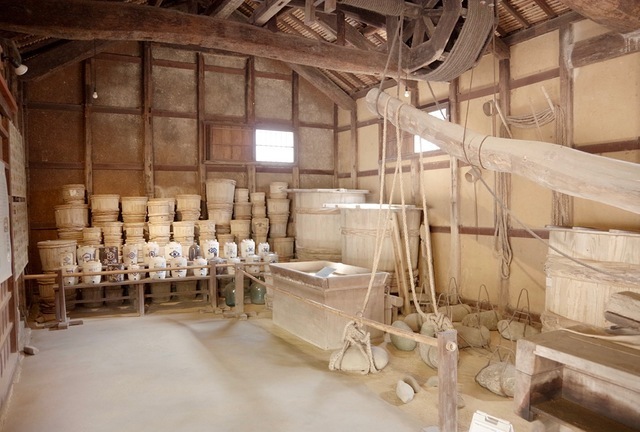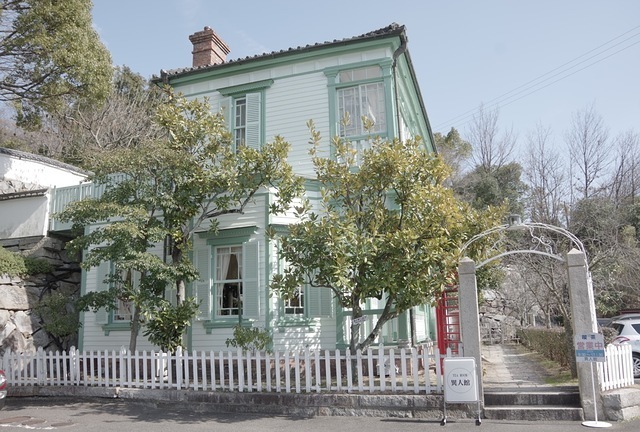 If I was to come to Takamatsu for just one reason - it would be Ritsurin Koen/Garden, it's just that beautiful. It also makes a great location to visit one of the many islands in the area due to the large number of ferries that leave Takamatsu. As such - it's reasonably easy to say that I highly enjoyed my time here but I feel as though I have not seen all that I could have due to time constraints.

For my next post - I will be covering the second part of my day where I travelled from Takamatsu to Naruto by car.

Further information

Takamatsu Airport Bus Cost & Timetable: http://www.kotoden.co.jp/publichtm/bus/limousine/index-en.html (in English)

Takamatsu Tourism Bureau: http://www.takamatsu.or.jp/eng/tourist/index.html (in English)