Utsunomiya, Tochigi Gyoza Festival
Note: The opinions and views expressed in this user report are those of the individual author and do not necessarily reflect the opinions and views of japan-guide.com.
November 4, 2012 - Utsunomiya, Tochigi Gyoza Festival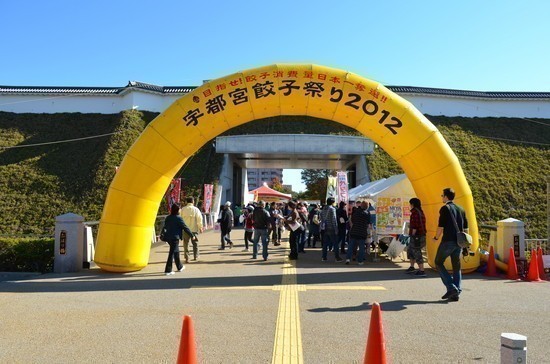 This past weekend in Utsunomiya City, Tochigi Prefecture was the annual Gyoza Festival. Utsunomiya wants to be the Gyoza capital of Japan, and there are many gyoza restaurants in Utsunomiya to support that. Many come together at the gyoza festival to offer their specialties for cheap, and as a result the festival is gaining national attention!

It seems in previous years the festival was held at Futarasan Shrine mid-way between the JR and Tobu train stations, but this year (perhaps due to size), it was moved to the Utsunomiya castle grounds.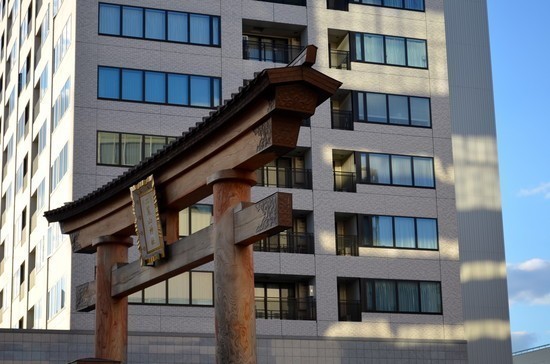 We went first to Futarasan shrine, where many Shichi-go-san celebrations were taking place. Because of this, many cute kids were running around in kimono! There were also food stalls set up (none gyoza though), and a live band and other exhibits.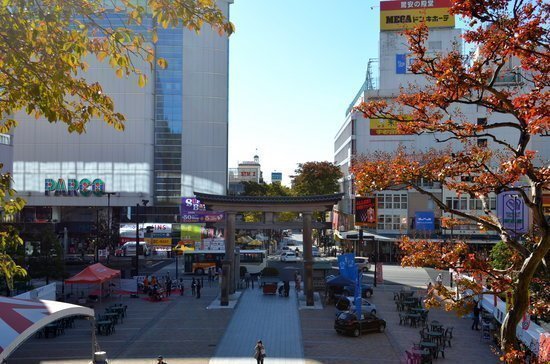 From Futarasan to the castle grounds is a strait walk, about 10-15 minutes. Some parts of the streets were closed with even more food and goods stalls, and even around 10 AM it was getting crowded.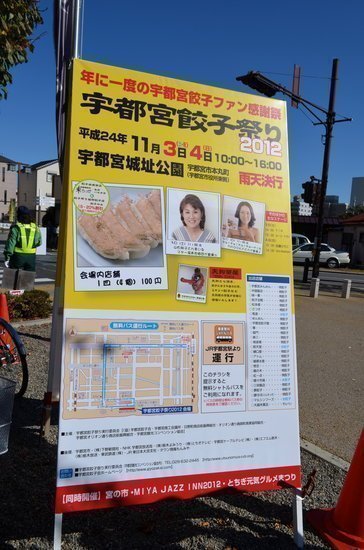 There was a free shuttle bus going to and from the JR station, but the walk wasn't bad either.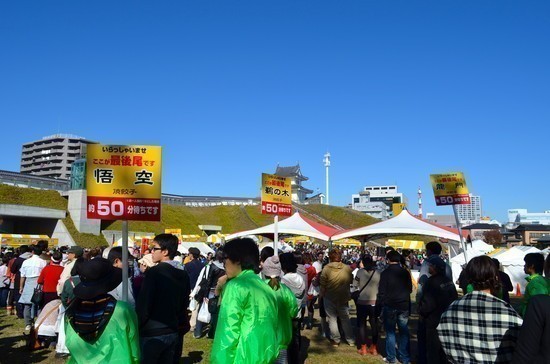 Already at around 10AM the lines were getting long... these were showing 50 minutes each. We quickly got in somewhat shorter lines, and by the time we got our gyoza (it took about 20-30 minutes), the lines were already at 80 minutes or more.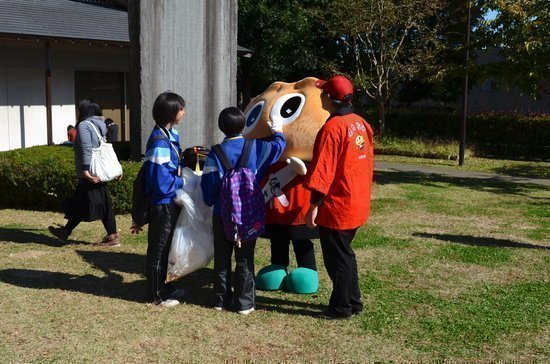 Local junior high school students were on trash duty, and various characters were walking around to take pictures with. There was also a live stage, and lots of free space to sit in the sun or shade around the grounds.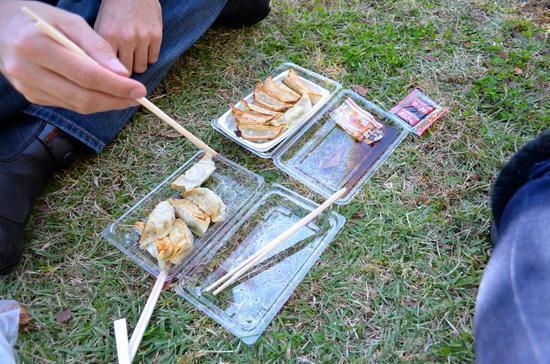 Although I was excited to come to Utsunomiya (I love new places!) I didn't really think I'd find the gyoza all THAT good, but actually I was really surprised! These were probably some of the best gyoza I've ever had, and not only was the inside ingredients different and tasty for each type of gyoza, I think the outer dough layer was also really good. It seemed to be a bit thicker than your normal non-Utsunomiya gyoza, which I liked. I can safely say they were worth standing in the 30 minute line for. But 80 minutes? Hmmm... maybe not that good!

So If anyone is interested in the festival for next year, I would really recommend it! Utsunomiya is a nice day trip with a few spots for sightseeing but not an overwhelming amount, and the area is really nice this time of year (still a bit early for the fall colors, but shishi-go-san is getting into full swing). If you go, I would recommend making some friends and going in a bigger group, get there right at 10AM or earlier, each of you stand in a different line and get the max amount of orders per person (4 for this year, so 16 gyoza total for 400 yen), meet up, eat, then head around town to explore a bit. When you get hungry later in the afternoon, head back to the festival and do it again. That way you hit the lines when they aren't as bad at the start and miss the lunch rush, then hit the gyoza again right before the close at 3-4PM. Happy Gyoza Eating!