Tebajima : Time Travel to the Showa Era
Note: The opinions and views expressed in this user report are those of the individual author and do not necessarily reflect the opinions and views of japan-guide.com.
June 14, 2016 - Tebajima : Time Travel to the Showa Era
Traveling to big cities is exciting, but visiting old villages in Japan is more fun and you can get a feel of the good old days in Japan that big cities are missing.

Tebajima is a well known island in Tokushima Prefecture now because of the Mugi Tebajima Art Exhibition that started since in 2013. During the exhibition in March, lots of people visit the island to enjoy the art and explore the island. I was one of them in 2013, yet I felt like it was just a busy trip. I decided to visit again last Saturday to just walk around without worrying about whether my boat to Mugi Port will be packed with people.

Tebajima is a small island that is located at 3.27km south of Mugi Port, Tokushima Prefecture. The length of the island is 4km. It is believed that five families from Mugi town moved to the island in 1800 and the story of Tebajima has begun from there. There are 98 Tebajima residents in April, 2015. The island population is aging rapidly. Since the island is small, four hours is enough to see everything. When the weather is nice, you can see Wakayama Pref. (East), Muroto in Kochi Pref. (West), Pacific Ocean (South) and the Shikoku Mountians (North) from the Tebajima Lighthouse. The weather was pretty cloudy with some rain while I was there, so I couldnft get a clear view.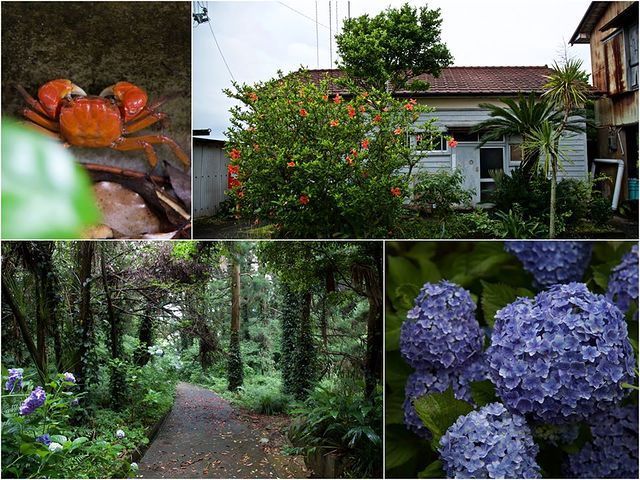 When I landed on the island, I felt like I had arrived on some tropical island like Okinawa or a Southeast Asian country. Once you take a path to go to the lighthouse, itfs like a tropical rainforest especially after some rain.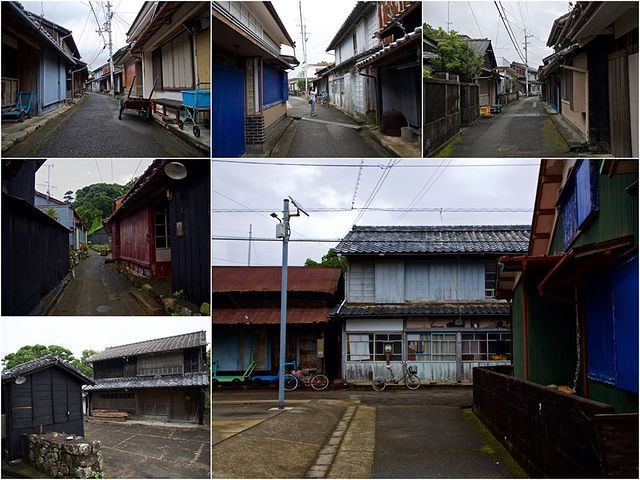 If you visit, you will notice that each house has its own character. I took my time to observe each house closely and enjoyed taking photos of them. There are houses from Meiji Era to Showa Era. I felt a pang of nostalgic and it brought back memories of my childhood in the Showa Era.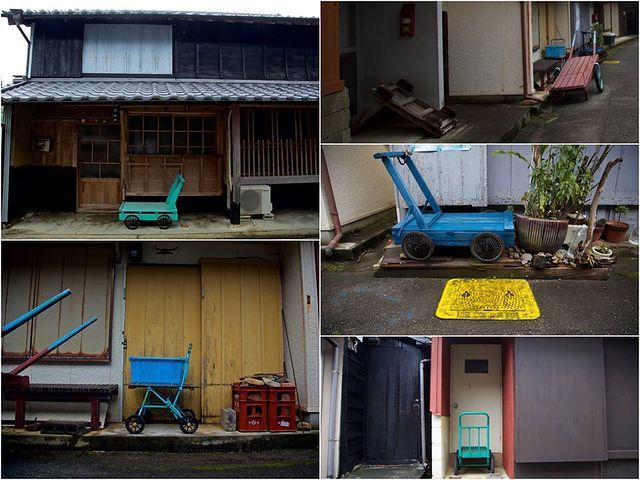 There are no motorcars on the island. The locals get around by bicycle or foot. When they carry heavy things, they use wheelbarrows, which I find very cute and colorful! Wheelbarrow is called gKurumah on the island, which means motorcar in Japanese.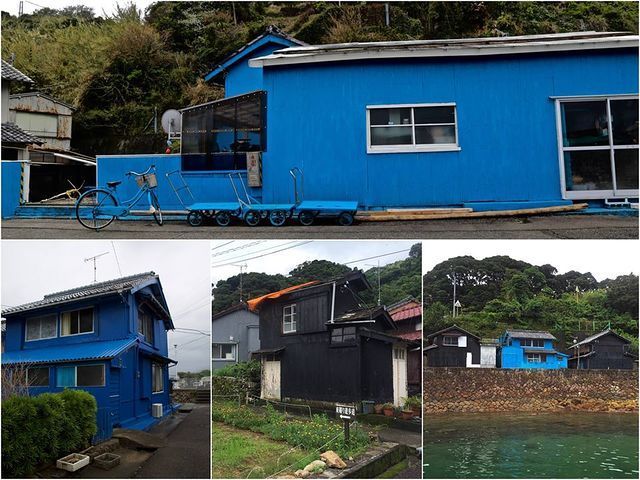 Itfs very hard not to notice the black and vivid blue houses on the island. I could not stop wondering why they were that color and decided to ask a random Tebajima resident. She said, gThe island is surrounded by the sea, so houses get rusted easily. If you pain with other colors, it wonft last for one month. Metallic black is the best, yet we have to paint at least once every year.h I asked if the blue color works the same as the metallic black.h She said, gBlue paint is just leftover from painting ship hulls.h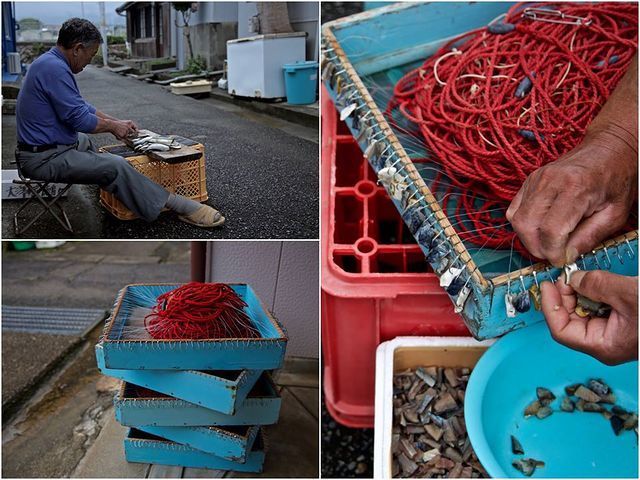 This man was preparing for tomorrowfs fishing. He said he is going to fish gKasagoh or gGaganeh, which is scorpionfish in English. Each box has at least 100 fishhooks. Total length of the red strings is at least 1km.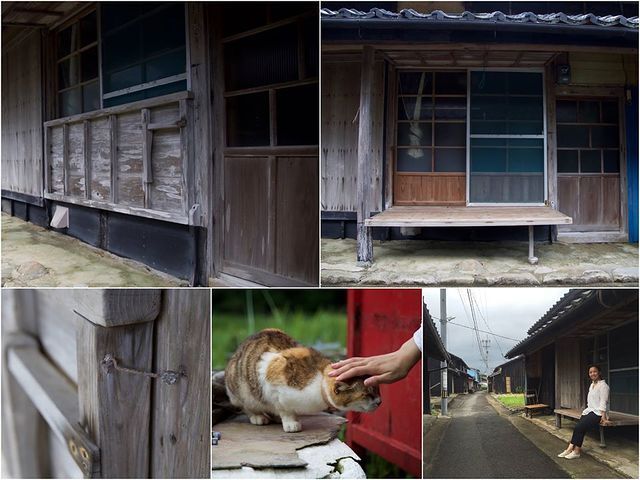 There are two wooden doors called gUwasemih and gShitasemi.h They become shutters if you close them. The upper door is used to block sunlight and the lower door could be opened, allowing the residents to sit and chat with their neighbors or do some work. The style is called gMisezukurih or gBuchozkurih, which was a popular style for houses in fishing villages in southern Tokushima Pref. through Toyo-cho, Kochi Pref.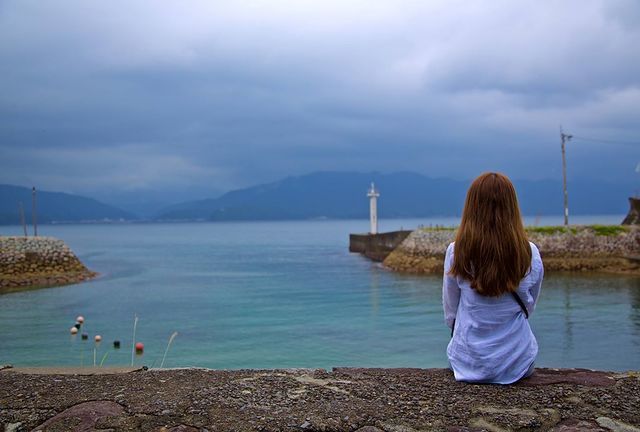 There are just so many places where I havenft discovered in my own prefecture nor Shikoku. I would like to find hidden old villages or buildings that you canft find in guidebooks.

How to get to Tebajima? Mugi Port is about 20mins by foot from JR Mugi Station. If you are driving, there is a parking lot for 10 cars for free right before you get into Mugi Port. You take a boat for 15mins. The boat makes 6 round trips each day, but it can be cancelled due to bad weather. Each way is 220yen for an adult and you pay on the boat.

<<Boat Schedule>> –Schedule can be changed. Please check in advance.

From Mugi Port @@7:00 8:20 11:10 13:30 16:00 17:20
From Tebajima @@ 6:30 7:25 9:00 12:20 15:00 16:35

Where to eat? There are no restaurants on the island. There are small stores to buy snakcs. I couldn't find any trash can. Please bring your trash with you when you leave the island.