Motonosumi Shrine (元乃隅神社, Motonosumi Jinja) is a shrine located in northern Yamaguchi Prefecture along the coast of the Sea of Japan. In recent years, the shrine has gained popularity due to its photogenic qualities and scenic location.
The shrine has a relatively short history. It was established in 1955 by a man who saw a manifestation of a white fox by his bedside and built a shrine to appease the gods. Located along the rugged coastline in the remote region of northwestern Yamaguchi, the shrine is far away from major towns.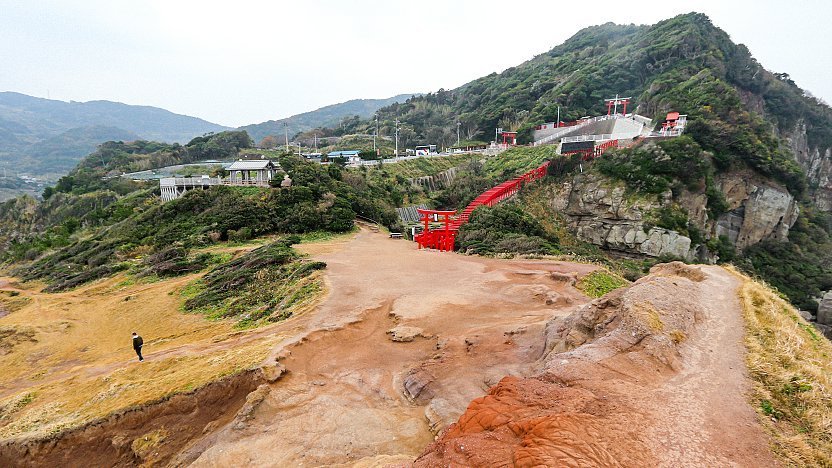 Motonosumi Shrine's main hall is a tiny building, and there are no large shrine buildings as seen at other famous shrines. A tunnel of over one hundred torii gates leads down to the cliff; however, there are no structures at the end of the gates either, except for some small statues looking out towards the sea.
A tall torii gate stands at the top of the shrine grounds and is unusual for having an offering box attached to its upper beam at a height of about four meters. It is said that good fortune comes to those who successfully throw a coin into the box.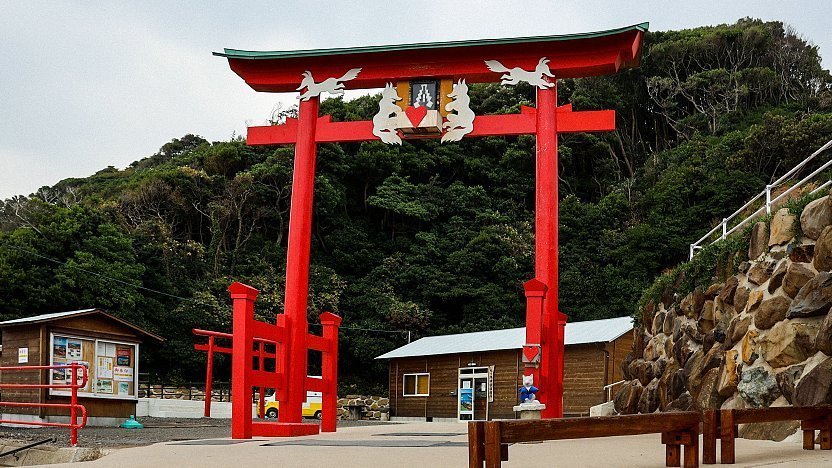 Motonosumi Shrine is very remote and not accessible by public transportation.
By car
A rental car is most convenient to access Motonosumi Shrine. The nearest rental car outlets can be found in Hagi, Yamaguchi and Shimonoseki. From Hagi, it takes about 60 minutes to reach the shrine by car, while it takes about 90 minutes from either Shin-Yamaguchi Station or Shimonoseki. Paid parking is available beside the shrine.
By train and taxi
Nagato-Furuichi Station is the nearest train station to Motonosumi Shrine. There are no buses from the station going to the shrine, and a taxi ride there takes about 20 minutes and costs around 3000 yen one way.
How to get to Nagato-Furuichi Station
From Asa Station
Asa along the Sanyo Shinkansen is the closest shinkansen station to Motonosumi Shrine. From Asa, take the JR Mine Line Nagatoshi (one hour, trains every 1-3 hours), and then transfer to the JR Sanin Line from Nagatoshi to Nagato-Furuichi (10 minutes, trains every 1-2 hours). The entire trip takes about 100 minutes, costs 990 yen one way and is covered by the Japan Rail Pass.
From Hagi
Hagi and Nagato-Furuichi are connected by infrequent trains along the JR Sanin Line (about 45 minutes, 680 yen one way, connections every 1-4 hours). Most connections require a transfer of trains at Nagatoshi.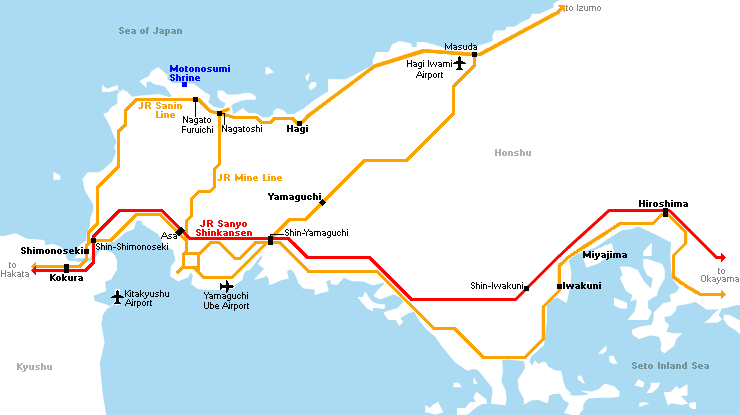 Typical Visit Duration
30-60 minutes
Questions? Ask in our forum.