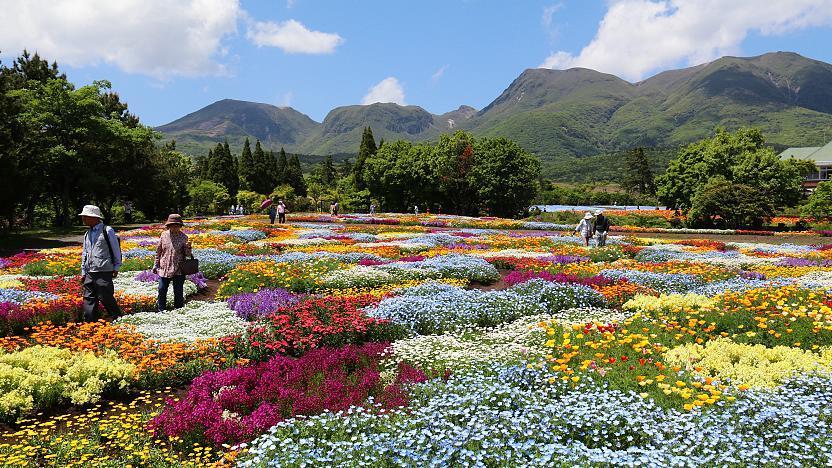 The Kuju Flower Park (くじゅう花公園, Kujū Hana Koen) is located at the southern base of the Kuju Mountains, about 15 kilometers east of Kurokawa Onsen. It is a large, attractive park with about three million plants of more than 500 different varieties. The seasonal flowers take turns to bloom for most of the year, except winter.
The spacious park covers 49 acres of land with wide paths leading through various flower fields, featuring species such as lavender, salvia, blue berries, pink moss, tulips, sunflowers and poppies. On clear days, visitors can enjoy lovely views of flowers with the Kuju Mountain Range in the backdrop.
Within the park grounds there is also a greenhouse which exhibits tropical plants such as begonia, as well as several souvenir shops selling scented or plant products. A buffet restaurant offers a menu featuring heavily on fresh vegetables grown in the Kuju Highlands.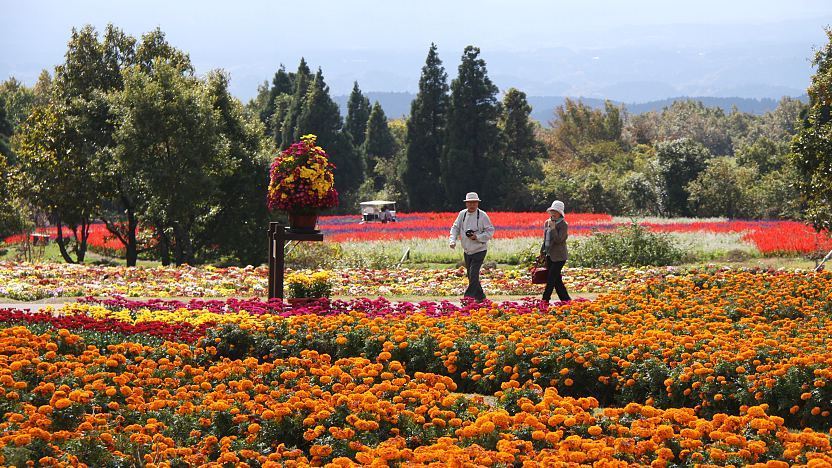 Kuju Flower Park is located about ten kilometers off the Yamanami Highway which leads through the Kuju Mountains. It is a nice, optional stop for those driving on the Trans Kyushu Route.
The park is difficult to reach by public transport. From the closest train station, Bungo-Taketa Station, it takes about 30 minutes and cost around 6000 yen one way to get there by taxi. A cheaper alternative is to take a bus from Bungo-Taketa Station halfway to the park to Kujū (久住, 25 minutes, 550 yen one way, one bus ever 2 hours), from where a taxi ride to the park costs about 2000 yen one way.
Hours
8:30 to 17:30 (entry until 17:00)
Closed
December to February
Questions? Ask in our forum.