Togura Kamiyamada Onsen (戸倉上山田温泉) is a hot spring town in Nagano Prefecture, situated between Karuizawa and Nagano City. It sits in a valley by the banks of the Chikuma River at the foot of a small but noteworthy mountain fortress. The town offers good sulfuric waters and has traditionally been used as a stopover by visitors to Zenkoji Temple in nearby Nagano. What differentiates Togura Kamiyamada Onsen from your average onsen town is the presence of Tyler Lynch, a tall American who runs one of the local ryokan and contributes to making the town more accessible to foreign tourists than other onsen towns.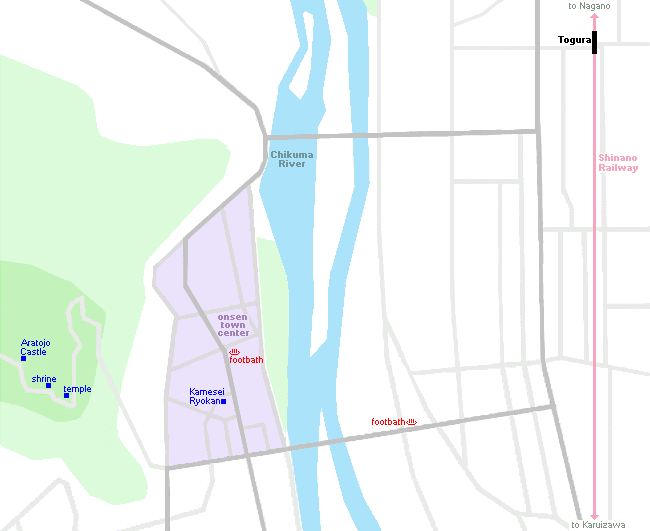 Tyler moved here in 2005 with his Japanese wife Mari to take over her family's Kamesei Ryokan, which would have otherwise been closed. The atmospheric ryokan offers traditional tatami rooms, a nice inner garden with pond, and pleasant hot spring baths. Staying guests have the unique opportunity to learn about Japanese culture, ryokan customs and the onsen town through Tyler and his insider knowledge.
Tyler can also arrange activities for his guests that would otherwise be difficult to participate in for foreign tourists, such as traditional workshops at the local tea, miso and textile shops or early-morning Zen meditation at a local temple. The town also distributes good English maps with restaurant listings and menus that make Togura Kamiyamada Onsen very accessible to foreign tourists.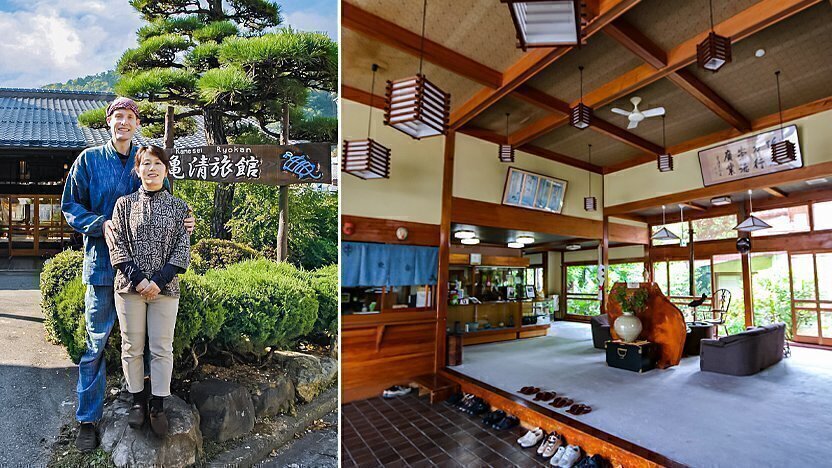 Togura Kamiyamada Onsen offers seven public baths and a couple of free footbaths, fed by the same hot spring sources that also provide the local ryokan and hotels with water. Most of the public baths operate late into the night, charging from 270 to 650 yen per visit. Staying guests can enjoy strolling the streets in their yukata and geta clogs, which are provided by most of the town's ryokan.
The local night scene has been on the decline since the end of the bubble period in the early 1990s, but the town's old-fashioned bar district, which was targeted at the mainly male clientele of past decades, survives to this day. In the evenings, neon lights gently illuminate several streets around the town center, as multiple snack bars, izakaya and karaoke lounges open for business. There are also a few shateki shooting galleries where tourists can try their luck hitting targets with cork guns.
A small population of geisha continues to entertain visitors to Togura Kamiyamada Onsen who can engage in their services through their ryokan. The geisha entertain with dance and music performances, drinking games and small talk in Japanese. They are usually hired in pairs for 2-hour periods for 18,000 yen per geisha, but foreign tourists without Japanese language skills can also opt for a half-hour segment of their services.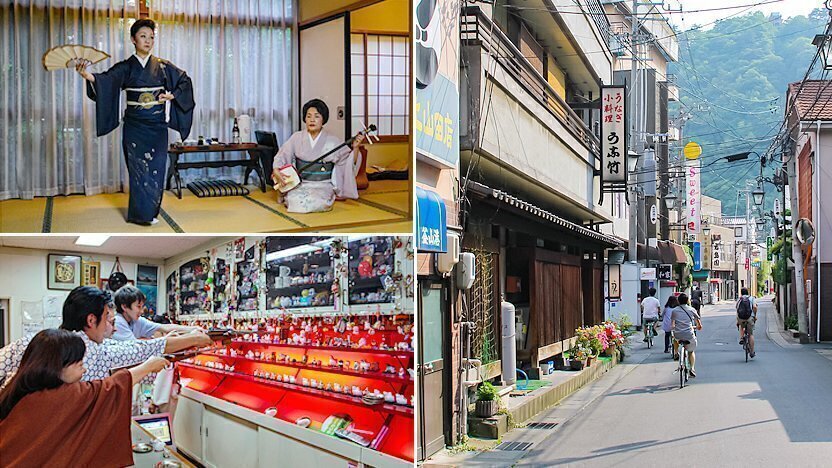 On the mountain west of Togura Kamiyamada Onsen stands Aratojo Castle, one of hundreds of small fortresses built on mountain tops across Japan during the age of warring states (1467-1568). This was a time when castles were built purely for defense and not to awe like the large castles that were later constructed in the center of cities. Like all other fortresses of its kind, Aratojo was destroyed in the past, but it is now the only one in the country that was fully reconstructed in recent years. The unique stronghold consists of wooden fortifications, stone walls and some simple buildings. It offers great views over Chikuma River and the town.
A few hundred meters further down the mountain from the castle, the name of Togura Kamiyamada Onsen is spelt out with huge kanji characters erected on the mountain slope like the Hollywood sign. The characters can be seen clearly from the town below and are lit up at night. Close to them stands a local branch temple of Zenkoji from where good views over the valley can be enjoyed, albeit obstructed by some electrical posts and wires. A nearby shrine exhibits some rather explicit fertility objects.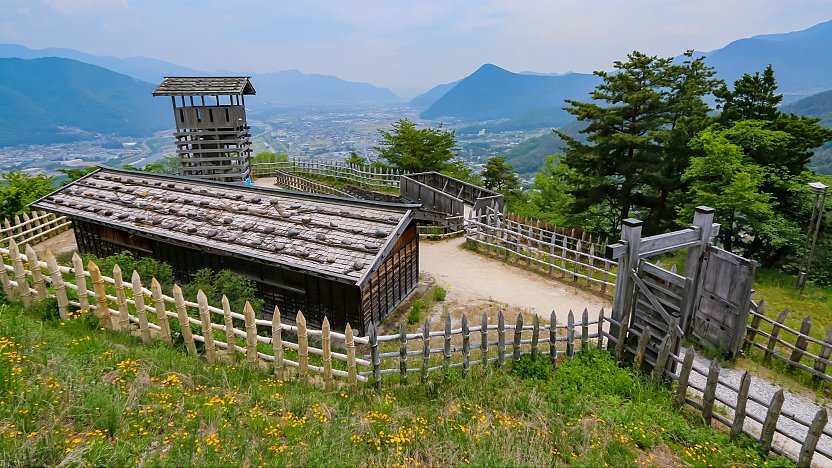 How to get to Togura Kamiyamada Onsen
From Tokyo
Take the Hokuriku Shinkansen from Tokyo Station to Ueda Station, transfer to the Shinano Railway and get off at Togura Station. There is about one connection per hour, and the one way journey takes approximately two hours and costs around 7000 yen. The shinkansen is covered by the Japan Rail Pass and the JR East Nagano Niigata Area Pass, but the ride on the Shinano Railway (340 yen) is not.
From Nagano
Take the Shinano Railway from Nagano Station to Togura Station (25 minutes, 420 yen, 2-3 departures per hour). The trip is only partially covered by the Japan Rail Pass and JR East Nagano Niigata Area Pass (between Nagano and Shinonoi), and pass holders have to pay a supplement of 260 yen.
From Matsumoto
When coming from the direction of Matsumoto, note that Obasute Station (only served by local trains) is just a ten minute car ride from central Togura Kamiyamada Onsen.
How to get around Togura Kamiyamada Onsen
Togura Kamiyamada's onsen town center is located about two kilometers southwest of Togura Station, across Chikuma River. Bus number nine departs the station for the onsen town once every hour or two (5-10 minutes, 200 yen). The bus runs the length of the town, making stops along the way. To get to Aratojo Castle, stop at the Joyama Iriguchi (城山入口) bus stop, from where the castle is a 25-30 minute steep climb up the mountain.
The onsen town is compact and explorable on foot by good walkers. It takes about 30 minutes to walk from Togura Station to the onsen town center. Alternatively, the 5-10 minute taxi ride from the station costs around 1000 yen. Some of the town's ryokan provide rental bicycles to staying and non-staying visitors.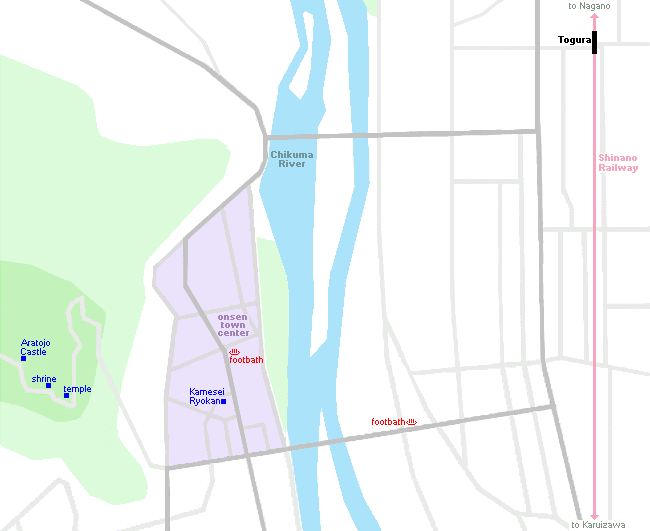 Aratojo Castle
Hours
9:00 to 17:00 (entry until 16:30)
Closed
December 29 to January 3
Questions? Ask in our forum.