Hakuba (白馬), located in the Northern Alps of Nagano Prefecture, is one of Japan's most popular ski areas, offering good snow and several large ski resorts to choose from.
During the 1998 Nagano Winter Olympics, Hakuba gained world wide recognition as it hosted several olympic competitions, including alpine (downhill, super g, and combination) and nordic (ski jump and cross country) events. Today some of the olympic facilities remain in use, such as the Hakuba Ski Jumping Stadium. There is also the Hakuba Olympic Village Memorial Hall, a small but interesting museum, located within walking distance of the ski jump.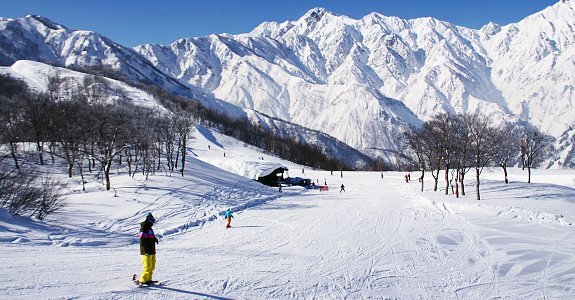 Hakuba can be reached relatively easily not only from Tokyo, but also from the Nagoya and Kansai regions. While it is possible to do a day trip from Tokyo, Hakuba is best enjoyed overnight. In addition to skiing and snowboarding, there are hot springs (onsen) available around town.
Ten of the major resorts (including all of those listed on this page) have teamed up to offer the "Hakuba Valley Ticket" to be used at any of the participating resorts. A one-day ticket costs 6000 yen, while two 1-day tickets (valid over a three day period) cost 10,800 yen and three 1-day tickets (to be used over a five day period) cost 16,000 yen. Longer validities and other combination tickets are also available, while some locals hotels offer further discounts to staying guests.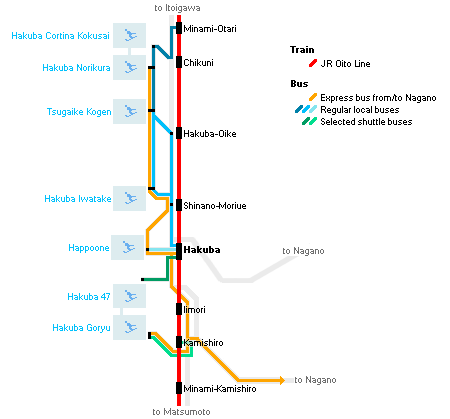 Hakuba Goryu and Hakuba 47 group
A ticket bought at either Hakuba Goryu or Hakuba 47 can be used at both resorts.
Hakuba Norikura and Hakuba Cortina Kokusai Group
Located just outside of the Hakuba village limits. A combination ticket to both resorts costs 4800 yen.
Other Resorts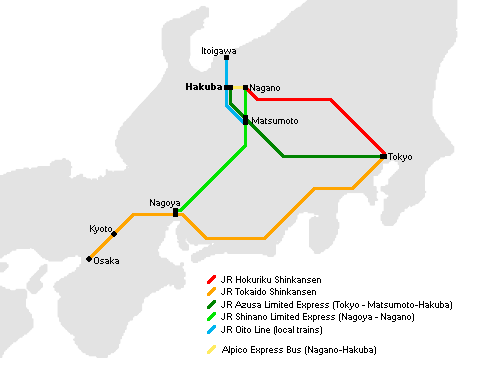 From Tokyo
By shinkansen via Nagano
Take the JR Hokuriku Shinkansen from Tokyo to Nagano (100 minutes, 8000 yen) and then an express bus from Nagano to Hakuba (60-90 minutes, 1800-2000 yen), where the bus stops at Hakuba Station and directly at the base of several ski resorts. The Japan Rail Pass covers the shinkansen trip but not the bus journey.
By limited express train via Matsumoto
Take the JR Azusa limited express train from Tokyo's Shinjuku Station to Matsumoto and transfer to a local train on the JR Oito Line to Hakuba. Some Azusa limited express trains run all the way to Hakuba. The one way journey takes about 4 to 4.5 hours and costs around 8000 yen. It is fully covered by the Japan Rail Pass.
By direct highway bus from central Tokyo
During winter, 5-7 bus round trips per day are operated between Tokyo (Shinjuku) and Hakuba, where the buses stop in the village center and at the base of the Goryu and Happoone resorts. The one way journey takes about 4.5 hours and costs 4850 yen. A round trip ticket is available for 8700 yen and must be used within seven days.
By direct highway bus from Narita Airport
During winter, one round trip per day is operated between Narita Airport and Hakuba (Goryu, town center and Happo-one). The one way trip takes about six hours and costs 9000-9500 yen depending on where you get off.
From Nagoya/Kyoto/Osaka
Take the JR Shinano limited express train from Nagoya to Matsumoto and transfer to a train along the Oito Line to Hakuba. The one way journey takes about 3.5 hours and costs around 7000 yen. It is fully covered by the Japan Rail Pass.
How to get from Kyoto to Nagoya
How to get from Osaka to Nagoya
External Links and Resources