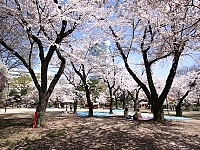 Takasaki Castle Ruins and Takasaki Park

•
A 10 minute walk west of Takasaki Station.
The Takasaki Castle Ruins and the neighboring Takasaki Park have collectively about 400 cherry trees and ample open spaces for picnics and cherry blossom watching parties to be held. Around early to mid April every year,
festival
food stalls are set up at the park and illuminations are held in the evenings.