Ginzan Onsen (銀山温泉, lit. "Silver Mountain Hot Spring") is a secluded hot spring town nestled in the mountains of Yamagata Prefecture. The area originally developed around a silver mine; however, these days it is better known as one of Japan's prettiest onsen towns with historic ryokan lined up along the river.
Ginzan Onsen's traditionally styled ryokan occupy beautiful three and four story wooden buildings that, with their exposed woodwork and white plaster walls, evoke nostalgic feelings of a bygone era. There is one exception, however, in the Fujiya ryokan at the center of town, which was recently rebuilt by famous modern architect Kuma Kengo. Although purists may find it out of place, its unique modern design incorporates many of the traditional design elements of the surrounding buildings, such as the same exposed wood and white plaster.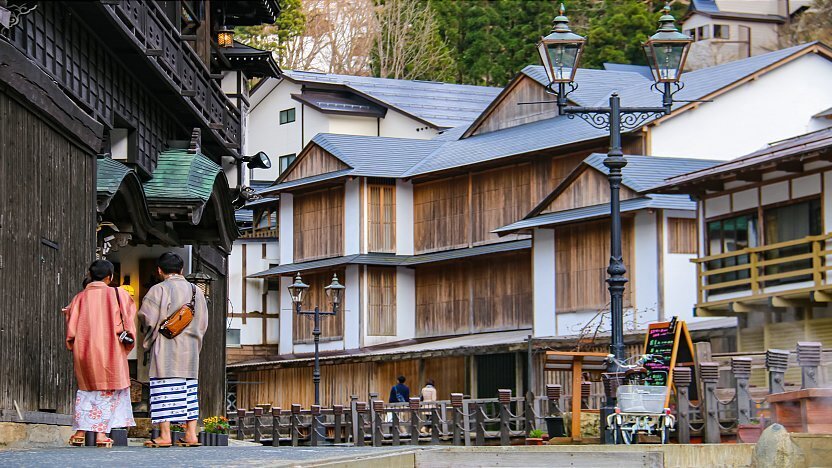 The town center of Ginzan Onsen is a pedestrian-only zone due to the narrow streets and lack of parking. It is particularly nice in the evenings when the ryokan are all lit up and the streets and bridges are illuminated by gas lights. In winter, the scenery is enhanced by heavy snow that clings to the rooftops and walkways, while during the warmer months the ryokan guests are more likely to be out strolling about town in their yukata.
Two public baths (500 yen each) and a foot bath (free of charge) can be found around the town center. One of the public baths, the Shiroganeyu, was also designed by Kuma Kengo. Further available is the Omokageyu, a public bath for private use (2000 yen per 50 minutes). In addition, many of the town's ryokan open their baths to non-staying guests during daytime for typically 500 to 1500 yen. Most feature historic indoor baths.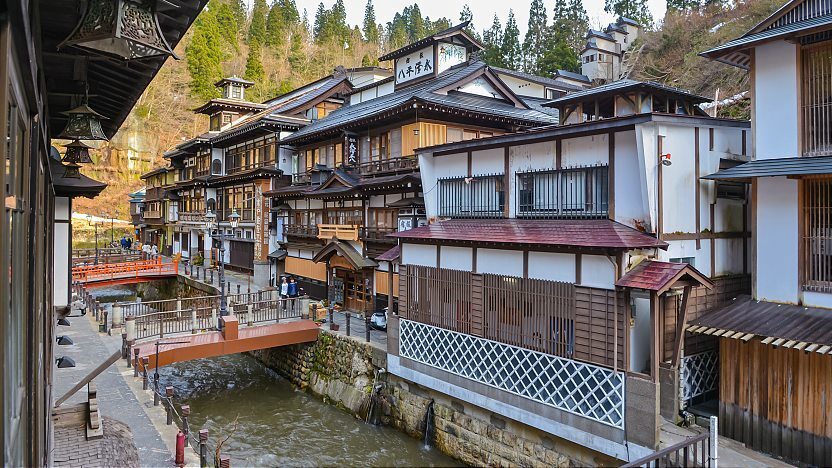 A spectacular, 22 meter tall waterfall rushes constantly at the back of the town. Not far from its base is one of the entrances to the historic silver mine that was built here over 500 years ago and served as the town's lifeblood during the early Edo Period. Visitors can enter the lit-up tunnel, although they cannot go very far in as it is only accessible for about twenty meters.
Tourists can see a little bit more of the mines by following a nature trail up into the valley for about 10-15 minutes past the waterfall. There, they will find a slightly longer section of the former mine for people to enter. Note, however, that the nature trail is not passable in winter and early spring due to snow.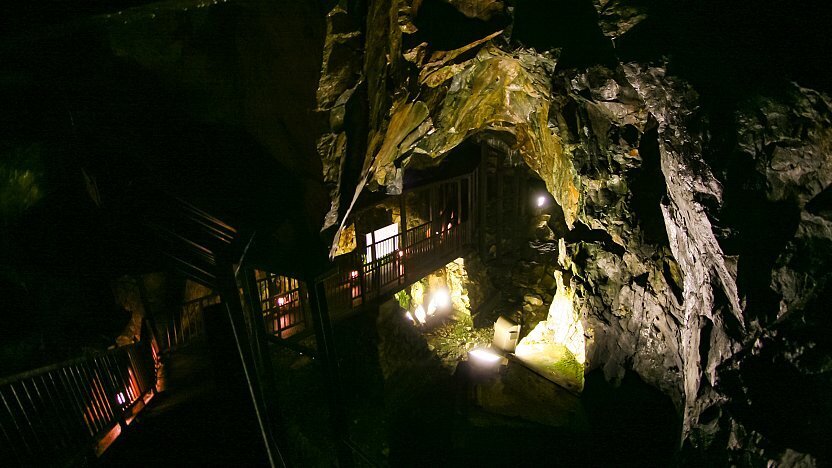 By train
Take the JR Yamagata Shinkansen from Tokyo to Oishida Station (about 200 minutes, around 12,500 yen one way), from where buses depart roughly every two hours for Ginzan Onsen (35 minutes, 720 yen one way). The train portion of the journey is fully covered by the Japan Rail Pass, JR East Tohoku Area Pass and JR East South Hokkaido Pass, but the bus ride is not.
By car
A rental car can be convenient for exploring the area. Rental car outlets are available at stations along the Yamagata Shinkansen such as Murayama, Shinjo and Yamagata stations, as well as at Yamagata Airport. Parking is available at parking lots a 5-10 minute walk outside the town center. Many ryokan will pick up their guests from the parking lot.
By air
There are two bus round trips per day between Yamagata Airport and Ginzan Onsen (75 minutes, 1500 yen one way) that require no prior reservations.
Questions? Ask in our forum.