Kaminoyama Onsen (かみのやま温泉) is a hot spring town in Yamagata Prefecture located at the base of Mount Zao. The town's origin dates back to the mid 1400s, when legend says that a traveling monk noticed a crane soaking its wounds in the area's hot spring marshes.
Since then, people have come to Kaminoyama Onsen to bathe in the town's healing hot spring water, and the onsen has become one of the Tohoku Region's most famous. In addition, Kaminoyama is a good base from which to visit Mount Zao's Okama Crater.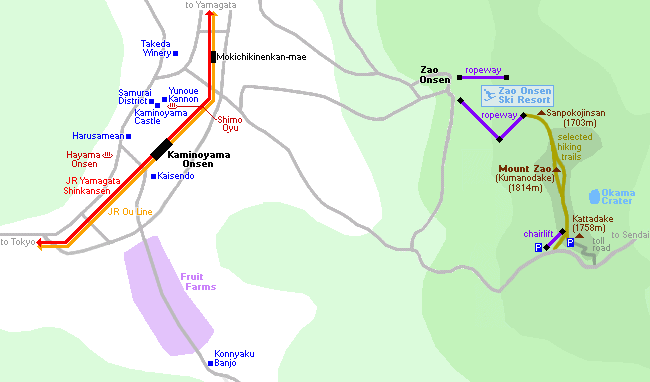 Most of Kaminoyama's hot springs are found around the town center and in an area a bit further southwest known as Hayama Onsen. Visitors can experience the waters at one of several public bath houses, multiple foot baths (ashiyu), and at the many ryokan some of which open their baths during daytime to non-staying guests for a fee of around 1000 yen.
Among the ryokan, the Koyo Ryokan in Hayama Onsen is consistently ranked as one of Japan's top ryokan by travel professionals and offers impeccable service and outstanding local cuisine (daytime bathing by non-staying guests is possible only in combination with a meal and advance reservations).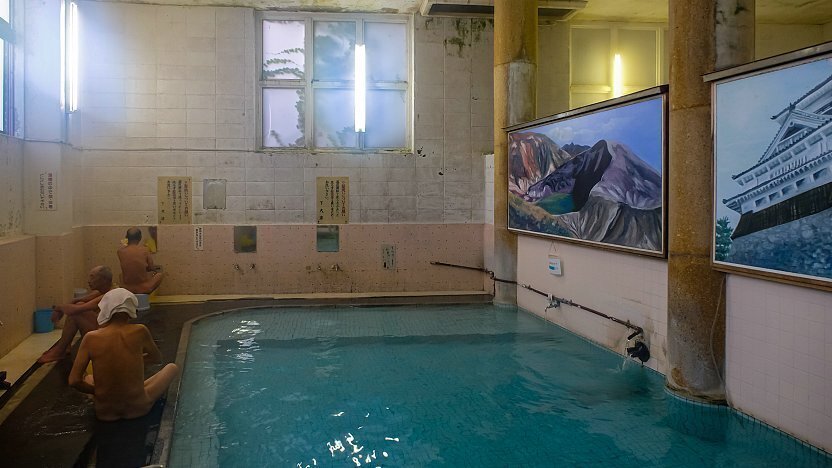 Shimo-Oyu, located at the center of Kaminoyama Onsen, is the most historic of the town's public baths and was originally built by the local lord during the Edo Period. Today, its baths are housed in an aging concrete building, but feature atmospheric, gender-segregated pools surrounded by scenes of Kaminoyama painted on the walls. The bath functions much like a neighborhood sento, where visitors can rub elbows with the locals who frequent it. Just above Shimo Oyu stands the Yunoue Kannon temple (lit. "above the hot water Kannon"), which dates back to the 12th century.
During the era of warring states, Kaminoyama Castle was built on a hill at the center of town. In the following, more peaceful Edo Period, the castle served as the seat of the local lords, but its keep was eventually torn down. The current castle keep is a concrete reconstruction from the 1980s that stands a little bit further down the hillside than the original castle and does not reflect its original design. It houses a local history museum and is equipped with an elevator and an observation deck on the top floor with views over the town and onto Mount Zao.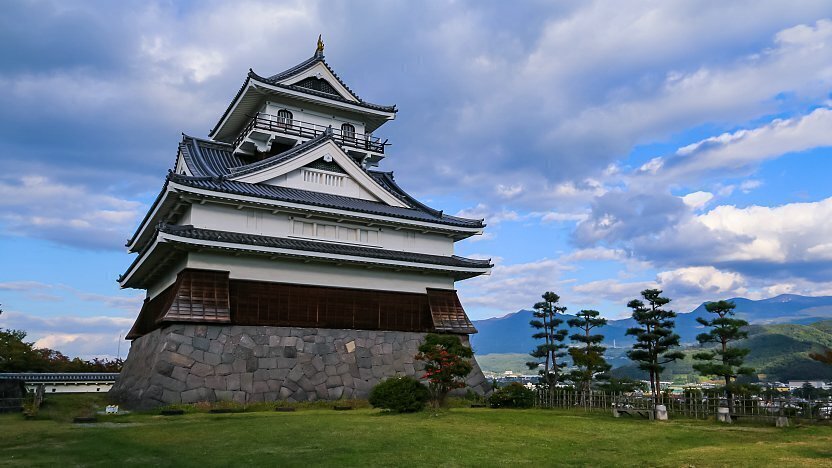 Not too far from the castle, a small part of the former samurai district has been preserved. Four former homes of mid-ranking samurai stand along a street that still retains a little bit of its feudal charm. The most interesting of the houses, the Miwake Samurai Residence, can be entered for a small fee, while the others can only be viewed from the outside as they are still inhabited or used as community space.
A few minutes southwest of the castle is Harusamean, the reconstructed hermitage of the Zen monk Takuan who spent three years in Kaminoyama in exile. The complex includes Takuan's former living quarters as well as an interesting set of tea houses and pretty, enclosed gardens where Takuan spent his exile administering the teachings of Zen Buddhism and practicing the tea ceremony. Takuan is credited with inventing takuan, one of the most popular types of Japanese pickles, made from Japanese radishes (daikon).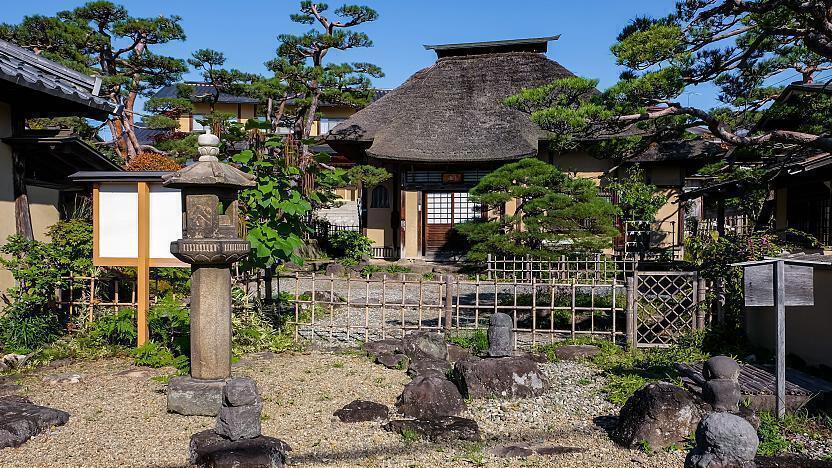 Also located in central Kaminoyama is the Kaisendo Museum, which is housed in a preserved Taisho era residence and an adjacent, more recently constructed gallery. The museum showcases the private collection of a local silk magnate, including Ming and Qing dynasty lacquerware from China, samurai swords and armor, traditional dolls and crafts, as well as interesting historic photographs of Tokyo and the countryside.
Kaminoyama is also known for its fruits, and there are several fruit farms on the outskirts of the town where you can purchase the local products or try fruit picking. Cherries, the fruit most associated with Yamagata Prefecture, are typically available from June to mid July, while pears, especially the La France variety, are sought after and ripen in September and October.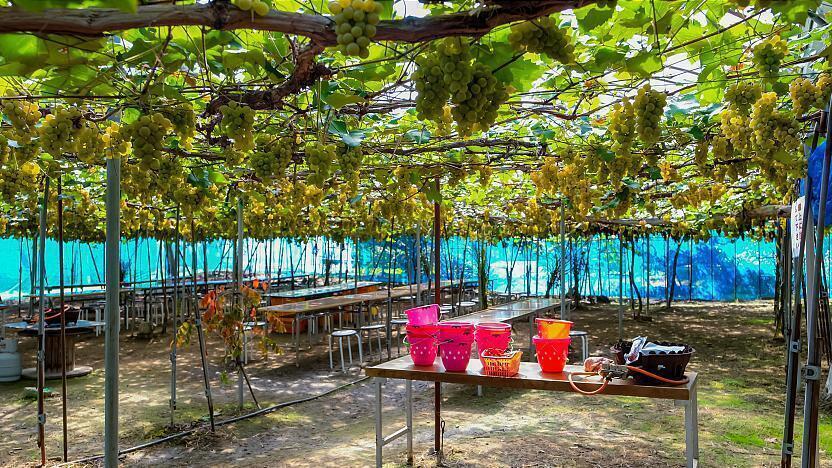 Another popular fruit are grapes. Various varieties are grown in the area and are usually harvested from September to October. Some of the grapes are also used for wine making. Established in 1920, Takeda Winery is one of Japan's oldest. Located north of the town center, the winery offers free tours in Japanese and asks for reservations to be made in advance.
South of the fruit farms stands Konnyaku Bansho, a popular restaurant and shop that specializes in konnyaku, a type of jelly made of devil's tongue root. Konnyaku's firm texture and mild flavor allow creative chefs to incorporate it into other dishes in a variety of innovative ways such as forming it into noodles or using it as a substitute for meat. Konnyaku Bansho takes this concept one step further, serving entire course meals with konnyaku in almost every dish, substituting foods such as sashimi, abalone, scallop and soba noodles.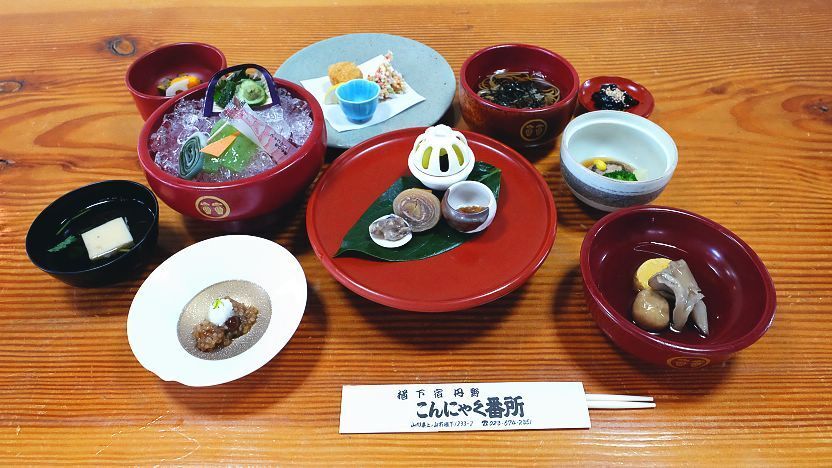 How to get to Kaminoyama Onsen
Kaminoyama Onsen is a station along the JR Yamagata Shinkansen with direct, hourly train connections to/from Tokyo. The one way ride between Tokyo and Kaminoyama Onsen takes about 2.5 hours, cost around 11,500 yen and is fully covered by the Japan Rail Pass, JR East Tohoku Area Pass and JR East South Hokkaido Pass.
How to get around Kaminoyama Onsen
Many of Kaminoyama's sites of interest are located around the town center within a 15-20 minute walk of the station. However, those venturing further out to the fruit farms may want to utilize a taxi or rental car. Rental car outlets are available at Kaminoyama Onsen Station.
Outside of winter, Kaminoyama Onsen operates two buses per day between Kaminoyama Onsen Station and Kattadake Peak near Mount Zao's Okama Crater. The one way trip takes about one hour and is free of charge! Note that the bus does not pass through Zao Onsen.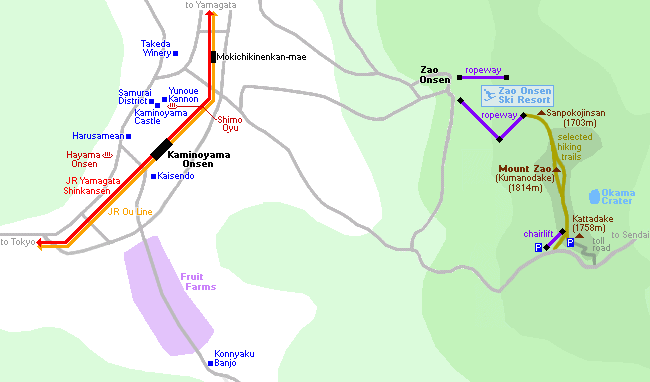 Kaminoyama Castle
Hours
9:00 to 17:15 (entry until 16:45)
Shimo-Oyu Public Bath
Hours
6:00 to 22:00 (from 6:30 from December to February)
Miwake Samurai Residence
Closed
Wednesdays, December 28 to January 3
Harusamean
Closed
Third Sunday of each month and the preceding day
Kaisendo Museum
Hours
9:00 to 17:00 (until 15:30 from December to February)
Admission ends 30 minutes before closing
Closed
Tuesdays (around the year)
Wednesdays and Thursdays (from December to February)
December 29 to January 5
Questions? Ask in our forum.