Ureshino Onsen (嬉野温泉) is a hot spring town in southwestern Saga Prefecture. Its clear onsen waters are high in sodium bicarbonate and sodium chloride and feel extremely smooth on skin, giving rise to its popularity as a "Bihada no Yu" (lit. beautiful skin waters).
Visitors to Ureshino can try the local waters at the Siebold-No-Yu, a public bath house with gender-segregated pools, named after the 19th century German scientist who enjoyed bathing in the town during his stay in Japan. Furthermore, there are over 30 hotels and ryokan, many of which open their hot spring baths to non-staying guests during the daytime for typically 400 to 1000 yen. Ureshino is also famous for its tea and boiled tofu (yudofu).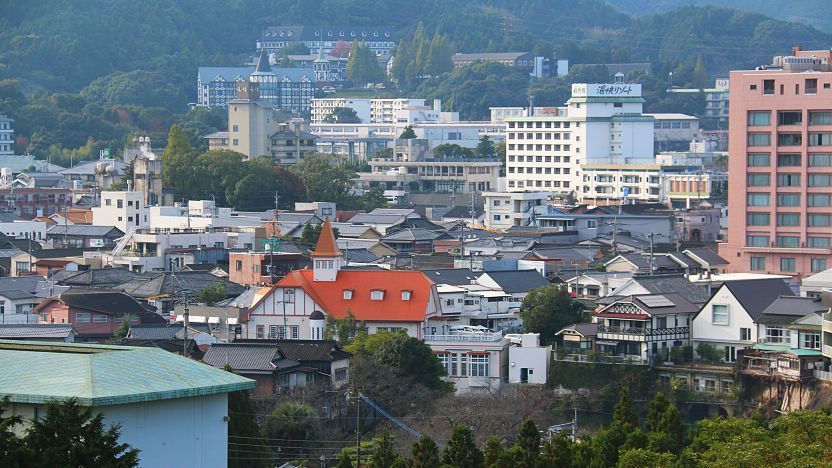 Ureshino Onsen does not have a railway station until September 23, 2022 when the Nishikyushu Shinkansen will start serving the town. In the meantime, buses connect the hot spring town to nearby cities.
By train and bus (until September 22, 2022)
The closest train stations to Ureshino Onsen are Takeo Onsen Station (70 minutes, about 3000 yen one way by direct limited express train from Fukuoka's Hakata Station, 1 train/hour) and Hizen-Kashima Station (60 minutes, about 3000 yen one way by direct limited express train from Hakata Station, 1-2 train/hour). Both trains are fully covered by the Japan Rail Pass and both versions of the Kyushu Rail Pass.
From either station, Ureshino Onsen can then be reached in about a 30 minute bus ride. Buses depart once or twice per hour and cost 670 yen one way from Takeo Onsen or 770 yen from Hizen-Kashima Station. The buses are not covered by JR rail passes.
By train (from September 23, 2022)
Ureshino Onsen will be a station along the Nishikyushu Shinkansen. From Fukuoka's Hakata Station, take the "Relay Kamome" limited express train (60 minutes) and Nishikyushu Shinkansen (7 minutes) via Takeo Onsen to Ureshino Onsen. The one way trip takes about 70 minutes, costs around 4,000 to 4,500 yen and is fully covered by the Japan Rail Pass and the Kyushu Rail Pass. From Nagasaki, the ride takes 25 minutes and costs around 3000 yen.
By bus
Some buses between Fukuoka (Hakata Bus Terminal) and Nagasaki (Nagasaki-kenei Bus Terminal) stop at the Ureshino Onsen along the way. The ride takes two hours and 1940 yen from Fukuoka or 70 minutes and 1620 yen from Nagasaki. There is one bus per hour.
Questions? Ask in our forum.