Takeo Onsen (ĽÉŚYëĚɲ) is a hot spring town in western Saga Prefecture that is said to have a history of over 1300 years as an onsen destination. Takeo's waters feel silky smooth on skin thanks to a high concentration of sodium bicarbonate. They have attracted a lot of people over the centuries, including powerful feudal lords, craftsmen and soldiers who were stationed at nearby Nagoya Castle outside of Karatsu at the end of the Azuchi-Momoyama Period in the 16th century.
Today, tourists and locals can enjoy Takeo Onsen's waters at several public bathhouses found around the town's iconic Sakura-mon, a two-storied, red-lacquered gate. The main public bath, Motoyu (450 yen), has two simple pools (a hot one and very hot one) for each gender, while the Horaiyu (450 yen) provides each gender with one, even simpler pool. The third bath, the Saginoyu (680 yen) has more facilities, including a sauna and outdoor baths. Furthermore, there are a few private baths available that require reservations (3000-3800 yen per hour).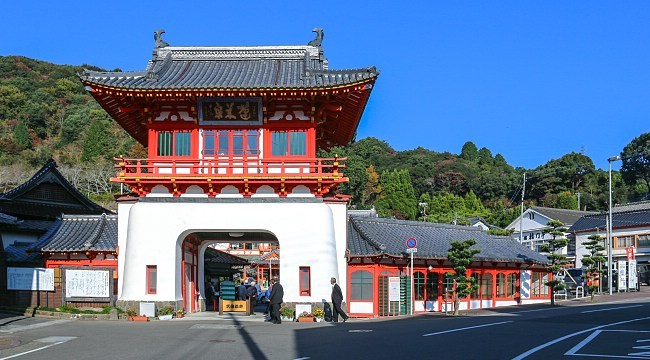 Behind the Sakura-mon Gate stands the Takeo Onsen Shinkan, which was constructed in 1915 by the same architect who designed Tokyo Station's famous Marunouchi Station Building. The Shinkan used to serve as the town's public bath house in the past, but is now a museum that is free to enter, showcasing its tiled Roman baths and tatami-covered rest areas that are not in use anymore.
Another attraction in the town is the Takeo City Library, Japan's first to combine conventional library services with a bookstore and coffee shop. The building's architecture is sleek, and the interior is lit by natural light coming in from large windows and a featured skylight. There is also a history museum corner, displaying a few objects related to the onsen town.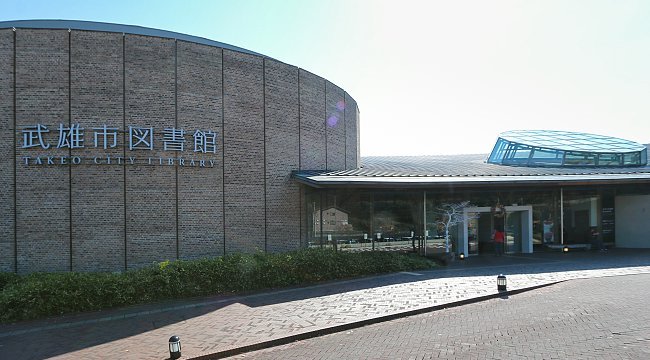 How to get to Takeo Onsen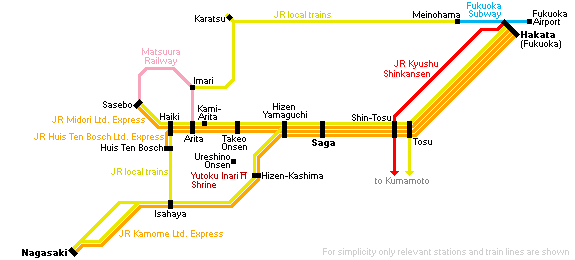 Takeo Onsen is located along the JR train line that connects Fukuoka's Hakata Station with Sasebo and Huis Ten Bosch.
From Fukuoka
Takeo Onsen and Fukuoka (Hakata Station) are connected by hourly limited express trains (about 70 minutes, around 2800 yen one way). The trip is fully covered by the Japan Rail Pass and both versions of the Kyushu Rail Pass.
From Ureshino Onsen
One or two buses per hour operate between Takeo Onsen Station and Ureshino Onsen. The one way ride takes about 30 minutes and costs 670 yen one way. It is not covered by JR passes.
From Huis Ten Bosch
Takeo Onsen and Huis Ten Bosch are connected by JR limited express trains every two hours (about 40 minutes, around 1500 yen one way). The trip is fully covered by the Japan Rail Pass and both versions of the Kyushu Rail Pass.
How to get around Takeo Onsen
Takeo's central onsen district around the red gate and public baths is located about one kilometer west of Takeo Onsen Station, while the library is located about one kilometer south of the station. Both can be reached in about a 15 minute walk from the station.
Public Baths
Hours
Motoyu and Saginoyu: 6:30 to 24:00
Horaiyu: 6:30 to 21:30
Private baths: 10:00 to 23:00
Admission
Motoyu: 450 yen
Horaiyu: 450 yen
Saginoyu: 680 yen
Private baths: 3000-3800 yen per hour
Questions? Ask in our forum.