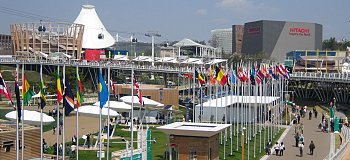 The Expo 2005 Aichi was held just outside of Nagoya from March 25 to September 25, 2005, attracting 22 million visitors, 7 million more than expected.
The theme of Expo 2005 was Nature's Wisdom. Over one hundred countries, local governments, corporations and organizations were participating at the expo with their pavilions, presenting ideas and technologies for a harmonious coexistence of humans with nature.
Attractions included human like robots, 3D rides, virtual reality shows, futuristic means of transportation, the latest image systems, a frozen mammoth and foods and cultural performances from around the world.