Over one hundred countries, organizations and corporations are present with pavilions at the Expo. Among the attractions are human like robots, 3D rides, virtual reality shows, futuristic means of transportation, the latest image systems, a frozen mammoth and foods and cultural performances from around the world.
The expo consists of one main site (Nagakute Site) and a separate, smaller site (Seto Site), which can be reached from the Nagakute Site by gondolas or buses. The pavilions are organized into several zones, which are connected with each other by the Global Loop, a broad, elevated walkway.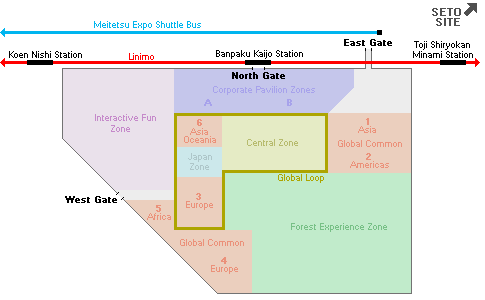 Country Pavilions:
Japan Zone
The centrally located Japan Zone is home to the Japan Pavilion, the pavilion of Nagoya City, known as Earth Tower, and the pavilions of the Chubu Region and Aichi Prefecture, the region and prefecture where the expo is being held.
Global Common 1 - Asia
The pavilions of a dozen Middle Eastern and central and northeast Asian countries are located here: Bangladesh, Bhutan, China, India, Iran, South Korea, Mongolia, Nepal, Pakistan, Saudi Arabia, Sri Lanka, Quatar, Yemen and the Central Asia Pavilion.
Global Common 2 - Americas
Several countries and international organizations have their pavilions in this zone: Argentina, Canada, Cuba, Dominica, Mexico, United States, Central America Pavilion and Andean Amazonian Pavilion; United Nations, International Red Cross and OECD.
Global Common 3 - Europe
Thirteen central and south European and Mediterranean countries have their pavilions here: Bosnia and Herzegovina, Bulgaria, Croatia, France, Germany, Greece, Italy, Jordan, Libya, Morocco, Spain, Tunisia and Turkey.
Global Common 4 - Europe
North and east European countries are found here: Austria, Belgium, Czech Republic, Lithuania, Ireland, the Netherlands, Poland, Portugal, Romania, Russia, Switzerland, UK, Ukraine, the Nordic Pavilion and the Caucasus Pavilion.
Global Common 5 - Africa
South Africa and Egypt have their own pavilions, while several more African countries share the common Africa Pavilion in this zone. Furthermore, the NEDO Pavilion, introducing several of Japan's cutting edge technologies, is located here.
Global Common 6 - Asia and Oceania
Several Southeast Asian and Oceanian countries have their pavilions in this zone: Australia, Brunei, Cambodia, Indonesia, Laos, Malaysia, New Zealand, the Philippines, Singapore,Thailand, Viet Nam and the Pacific Islands Pavilion.
Other Zones:
Central Zone
The Global House, expo's theme pavilion, featuring a frozen mammoth, a 50 meter wide screen and more, is found here. Other attractions are the Bio Lung, a tunnel with tall, plant covered walls, the Koi Pond and the Expo Plaza, a large outdoor stage.
Interactive Fun Zone
This zone is home to a variety of attractions, including the Robot Station, where various robots are exhibited, the pavilion for non profit organizations, the Morizo and Kiccoro Messe, and Family Island, an 88 meter tall Ferris wheel.
Forest Experience Zone
About half of the expo site is covered by forests with walking trails, offering a nice break from the busy pavilions. Other attractions of the forest zone are Satsuki & Mei's House, a replica of a house featured in the popular Totoro movie, and a Japanese garden.
Seto Site
A separate, smaller site, reached from the main site by gondolas or hydrogen powered buses. Japan and Aichi have each a second pavilion here. Other attractions include the Kasiho Plaza outdoor stage and guided nature walks into the site's forested areas.