A strong earthquake centered in Kumamoto Prefecture in Kyushu occurred in the evening of April 14, 2016, followed by an even stronger one in the night of April 16. In addition, strong tremors centered in Oita Prefecture were occurring, as well. The area between Kumamoto City and Mount Aso was worst affected. Several dozen lives were lost, thousands of buildings and many roads were damaged, and landslides occurred. With a few exceptions, most tourist spots, roads and train lines have reopened in the meantime.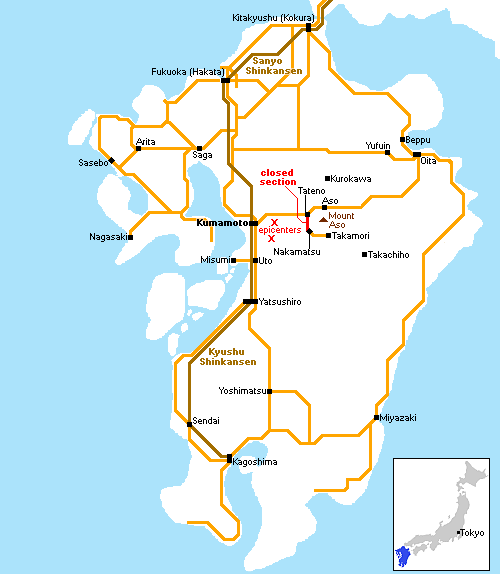 Transportation
On August 8, 2020, the JR Hohi Line was finally fully reopened between Kumamoto and Aso. However, the Minamiaso Railway remains interrupted between Tateno and Nakamatsu. Efforts are made to reopen the entire Minamiaso Railway line by 2023.
And on October 3, 2020, the main road between Kumamoto and Aso was finally reopened thanks to the opening of a new tunnel, which now makes the journey between the two places even faster than before the earthquake.
Tourist Sites
Kumamoto Castle suffered considerable damage, as some turrets and stone walls collapsed and roof tiles fell. Furthermore, Aso Shrine suffered severe damage, as its celebrated Romon Gate and offering hall collapsed. A majority of other sightseeing spots in the area have reopened, but a few of them remain closed.

Read our 2016 report from Kyushu