Kyushu Earthquake Information
Last updated: September 1, 2018
A strong earthquake centered in Kumamoto Prefecture in Kyushu occurred in the evening of April 14, 2016, followed by an even stronger one in the night of April 16. In addition, strong tremors centered in Oita Prefecture were occurring, as well. The area between Kumamoto City and Mount Aso was worst affected. Several dozen lives were lost, thousands of buildings and many roads were damaged, and landslides occurred. While some tourist attractions around Kumamoto City and Aso remain closed, all areas of Kyushu, including Kumamoto and Aso, are eager to welcome tourists.

Read our report from Kyushu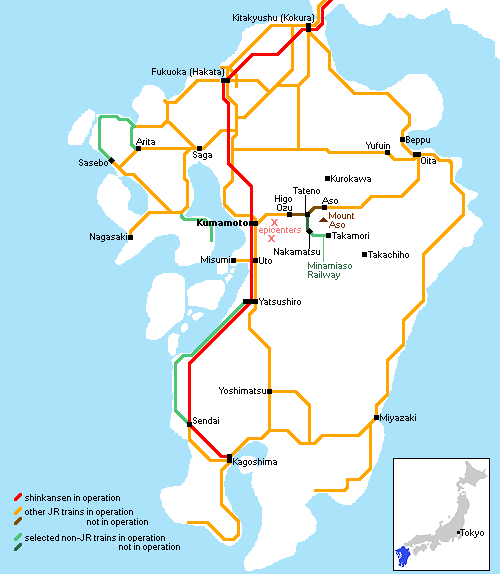 Transportation
The following train sections remain out of service (see also map above):
JR Hohi Line between Higo-Ozu and Aso.
Minamiaso Railway between Tateno and Nakamatsu.
A few roads in the Aso area remain closed, but detours provide access to all destinations. See map (with closed roads shown in red).
Tourist Sites
Kumamoto Castle suffered considerable damage, as some turrets and stone walls collapsed and roof tiles fell. The inner castle grounds will remain closed for an extended period; however, it is possible to look into the castle grounds from several places outside of the walls. Furthermore, Aso Shrine suffered severe damage, as its celebrated Romon Gate and offering hall collapsed. A majority of other sightseeing spots in the area have reopened, but a few of them remain closed.

Read our report from Kyushu