Last updated: June 29, 2018
A strong earthquake hit Osaka in the morning of June 18, 2018, killing five people and injuring over 400. No widespread, major damage to buildings and infrastructure has occurred; however, there is a heightened possibility of strong aftershocks for at least one week.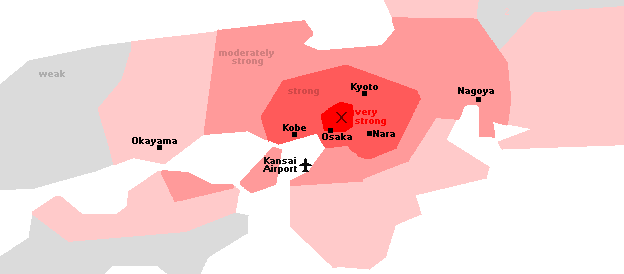 Transportation
No major damage to railway tracks and roads occurred, and service along all train and subway lines normalized within 24 hours. Only the Osaka Monorail in the north of Osaka needed more time to resume operation, but as of June 25 it is also serving its entire network again.
Air traffic at Kansai Airport was not affected by the earthquake. Some flights at Osaka's Itami Airport were cancelled on the day of the earthquake.
Local buses and highway buses are running normally.
Sightseeing
No major sightseeing spots or historical sites were damaged by the earthquake. However, many sightseeing spots and some shops around Osaka closed temporarily on the day of the earthquake to confirm their safety. Most sightseeing spots, including Osaka Castle, the Osaka Aquarium and the Universal Studios Japan, resumed regular opening hours from the day following the earthquake.