Hokkaido Earthquake Update
A strong earthquake hit Hokkaido in the night of September 6. Damage was worst in the area east of Tomakomai where many landslides occurred and several people died. Damage to buildings and infrastructure outside the immediate area around the epicenter was limited, except for a residential neighborhood south of central Sapporo which suffered damage from soil liquefaction.
The earthquake caused many thermal power plants on the island to go offline which led to widespread power outages across Hokkaido and impacted the speed of recovery for several days. The situation, however, normalized within a few weeks. The situation for tourists normalized within about two weeks, as tourist attractions, hotels, restaurants and shops reopened across Hokkaido.

Read our report from Sapporo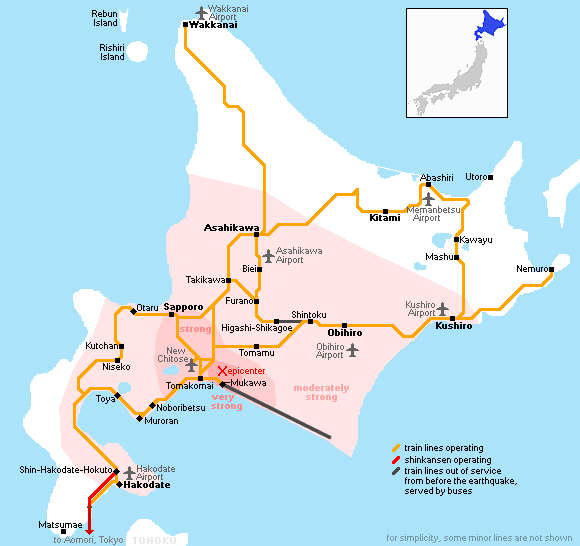 Transportation
Trains gradually resumed service from September 7. In the meantime all train lines are back in service (see map above).
The subway lines and tram line in Sapporo resumed service on September 7, while the trams in Hakodate resumed service on September 8.
Sapporo's Shin-Chitose Airport reopened on September 7, and regular operations resumed on September 8. All other airports on Hokkaido are open and operating, as well.
Most local and long-distance buses resumed service around September 8.
All expressways reopened on the day following the earthquake. Regular roads, too, have mostly reopened except for a few roads near the epicenter (see map).
Sightseeing
No major damage has been reported at tourist sites across Hokkaido. Many tourist attractions, hotels, shops and restaurants have reopened as of September 9, and virtually all have reopened by September 14. Hokkaido is eagerly awaiting the return of tourists.

Read our report from Sapporo