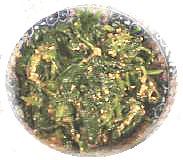 Gomaae is a Japanese side dish and may be translated as "sesame dressing". There are several types of gomaae dishes. We are going to present the most popular one: Gomaae with spinach.
---
Ingredients:
Fresh spinach
2 tbsp miso* (soya bean paste)
2 tbsp sugar
2 tbsp ground sesame
1 tbsp sake* (Japanese rice wine)
* May not be available in Western supermarkets; but you should be able to find it in Japanese grocery stores that exist in most large European and American cities.
---
Preparation:
| | |
| --- | --- |
| | 1) Wash the spinach well and put it with the roots first into boiling water. |
| | |
| --- | --- |
| | 2) Boil the spinach for about one minute. Be careful not to overcook it. |
| | |
| --- | --- |
| | 3) Cool the spinach down under cold water. Then, press the water out of the spinach and cut the spinach into about 3 cm long pieces. |
| | |
| --- | --- |
| | 4) Prepare the dressing: Give the miso, sake, sugar and sesame into a bowl and mix it well. |
| | |
| --- | --- |
| | 5) Mix the spinach with the dressing as shown on the picture and serve it in small bowls. |