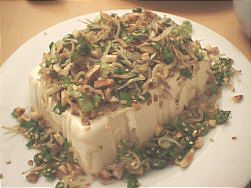 Jakopi Tofu is one of dozens of Japanese tofu dishes. It is tofu covered by a topping made of small chirimenjako fish and peanuts. It is a side dish that can be prepared within five minutes.
---
Ingredients:
2 blocks of soft tofu
40g of dried chirimenjako* (anchovies)
50g peanuts or almonds
Green onions
10ml sesame seeds
5ml sesame oil
* May not be available in Western supermarkets; but you should be able to find it in Japanese grocery stores that exist in most large European and American cities.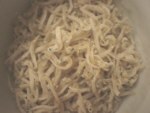 Chirimenjako
---
Preparation:
Cut green onion and peanuts in small pieces.
Heat up sesame oil in a fry pan.

| | |
| --- | --- |
| | Add peanuts and chirimenjako into the pan. |

| | |
| --- | --- |
| | After about two minutes, add the green onions and sesame seeds into the pan. |

| | |
| --- | --- |
| | After friying for another two to three minutes, spread the Jakopi on the tofu and serve. Add soya sauce as you like. |