Bridges to cross when you get there
Get over it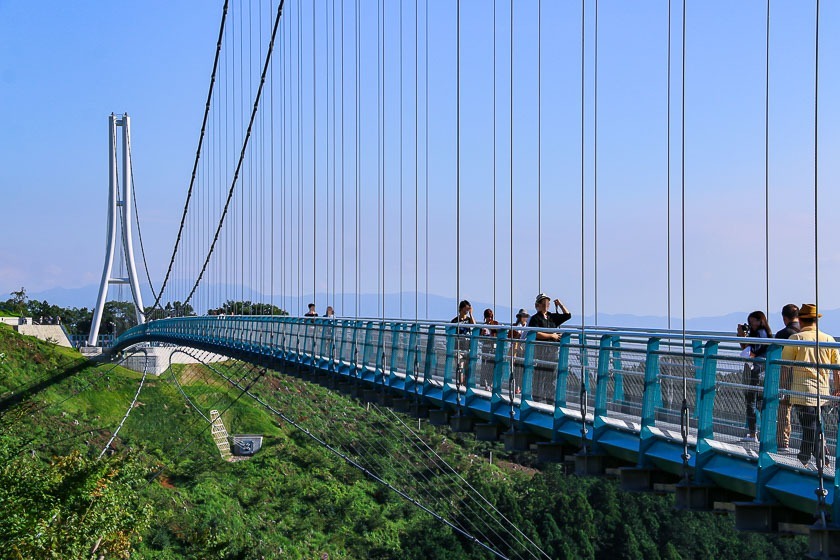 Typically built to connect islands and valleys, and cross bodies of water, bridges are an important piece of infrastructure for development. The remote and rural places that get connected by bridges tend to benefit from additional services thanks to easier access, and long distance overland travel is also made possible or convenient with the presence of bridges.
Bridge design is also an essential part of construction, and the structure of one can add to the local landscape. Some bridges end up being iconic landmarks, and notable bridges in the world include the Sydney Harbour Bridge in Sydney, Australia, the Golden Gate Bridge in San Francisco, United States, and the London Bridge in London, England.
Below we look at five interesting bridges in Japan that connect islands and span rivers, seas and valleys.
Irabu Bridge
Located in Okinawa Prefecture, Irabu Bridge connects the islands of Miyako and Irabu. Measuring 3.5 kilometers, the bridge, which took almost ten years to complete, is Japan's longest toll-free bridge. The construction of the bridge facilitated speedy access to medical aid for the islanders of Irabu, as well as brought tourists who went to see the long bridge jutting out of the sea.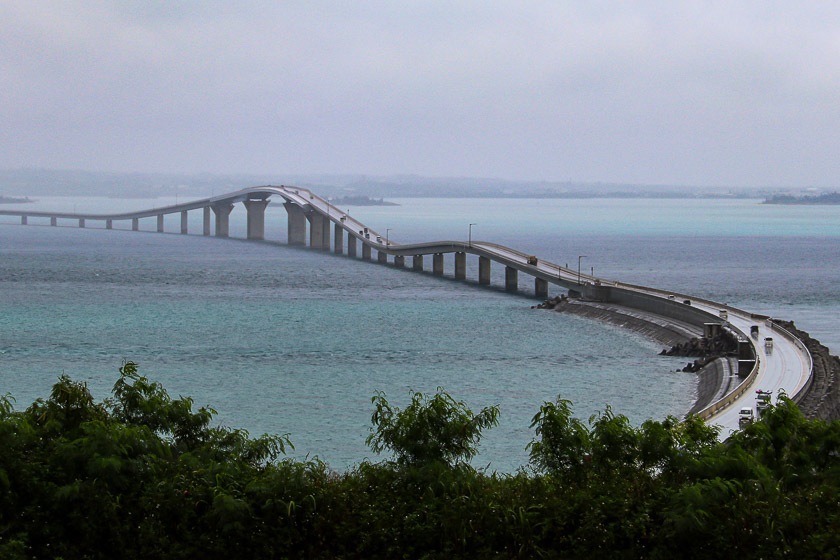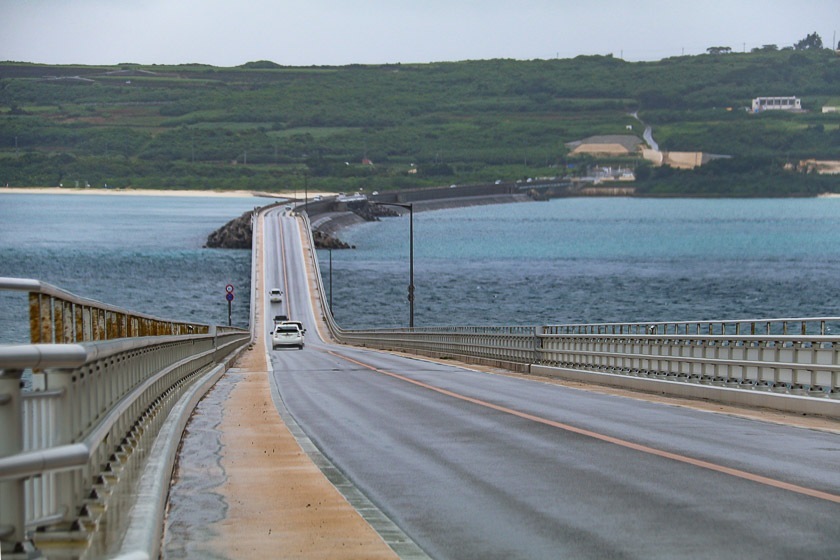 Iya vine bridges
The Iya vine bridges are located in the remote Iya Valley in western Tokushima Prefecture. These bridges have a long history, and it remains unknown who built them and for what purpose. Since then, the vine bridges have been used as a means of transporting goods and people across the river they span, and today, are open to tourists to cross. While most have been reinforced with steel cables, the large gaps between the wooden slats and relatively high drop into the river can make crossing the bridge quite unnerving.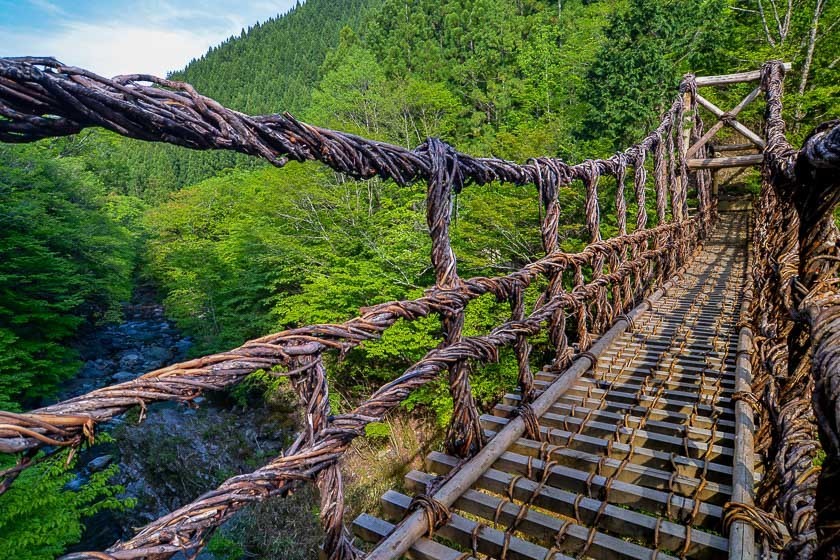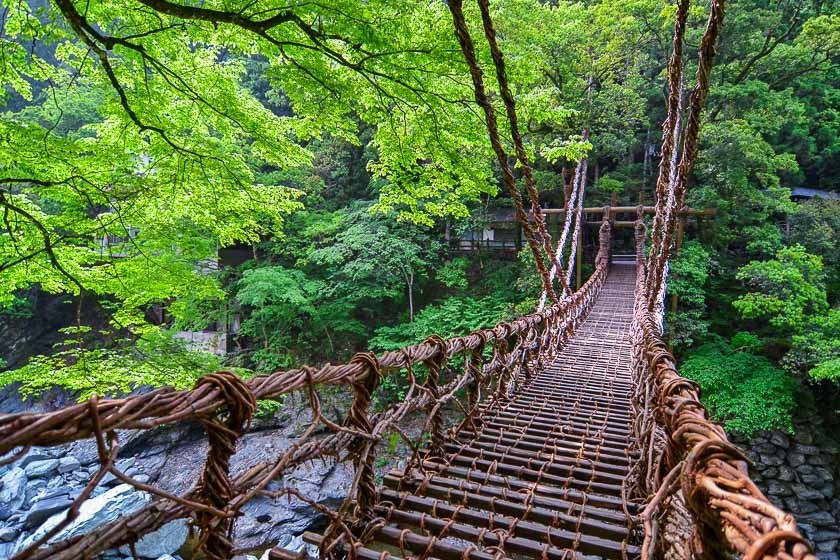 Mishima Skyline
Opened in 2015, the 400 meter long Mishima Skywalk suspension bridge in Shizuoka Prefecture is not far from the mountainous resort town of Hakone. Excellent views of Mount Fuji can be seen from this sightseeing pedestrian bridge when the weather is clear. The main entrance to the bridge and souvenir shops are on the southern end, while an outdoor adventure park and walking trails with seasonal flora can be found on the northern end.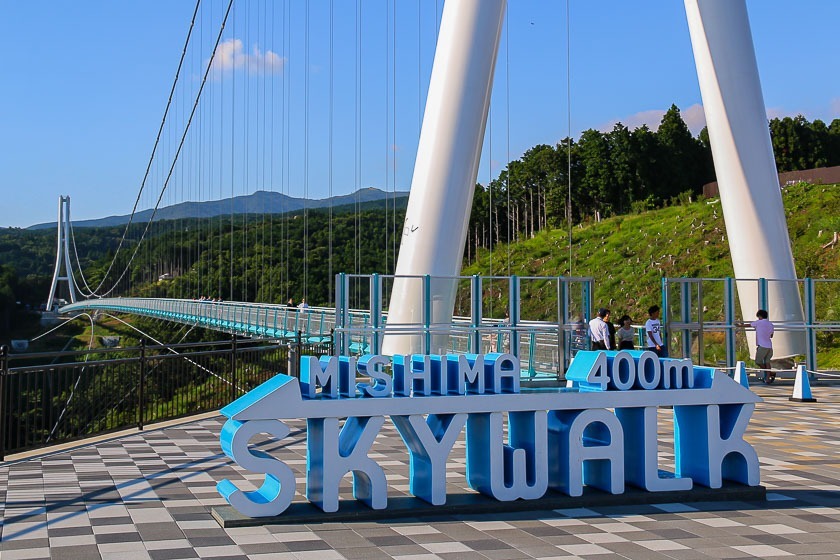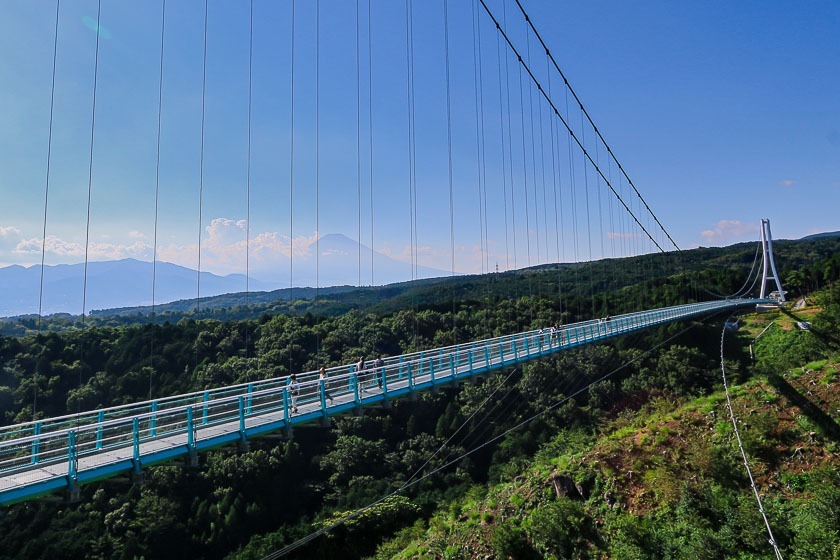 Chinkabashi, sinking bridges
Designed to sink when the water level is too high, there are a number of chinkabashi (literally sinking bridge) built across the 196 kilometer long Shimanto River in Kochi Prefecture, Shikoku. These beam-type bridges do not have any side railings so that trees or debris do not get caught in them when the river floods.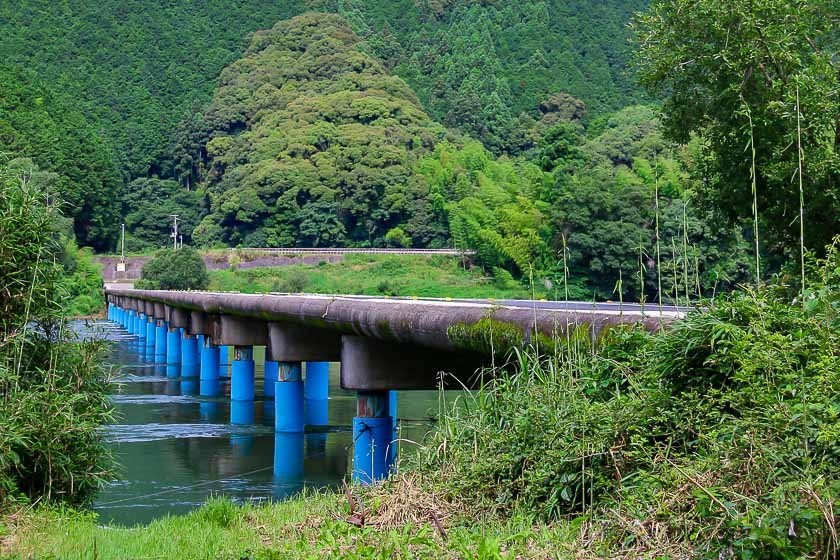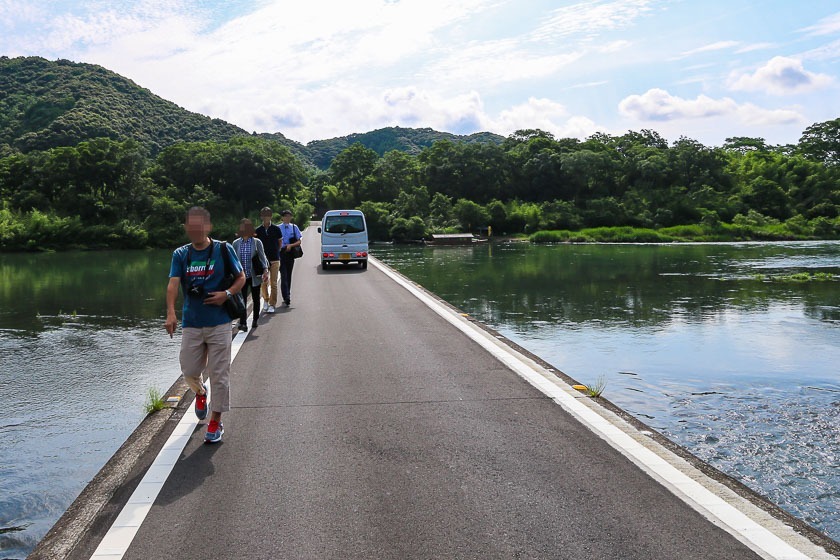 Tsunoshima Bridge
Tsunoshima Bridge is a 1.78 kilometer long toll-free bridge connecting Tsunoshima Island to the northern end of Shimonoseki City on the mainland of Honshu. The bridge, which is built across the Sea of Japan, is a popular photography site and has been featured in a number of car commercials as well.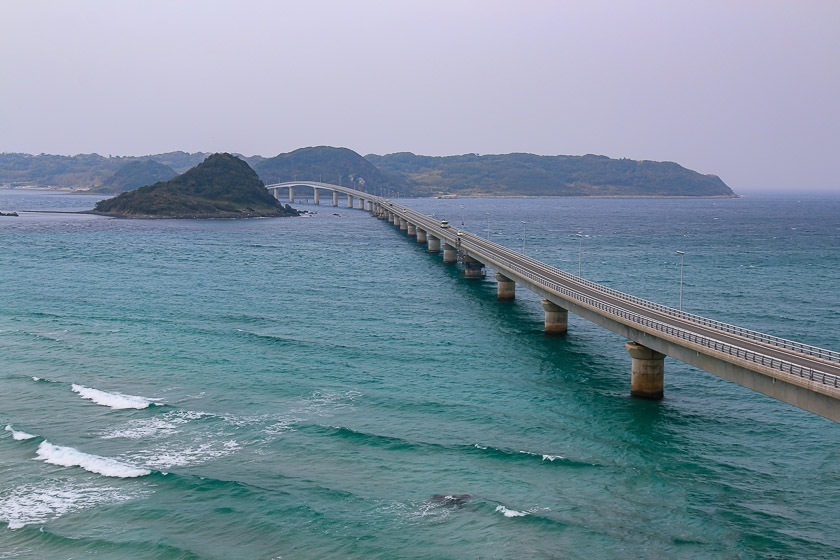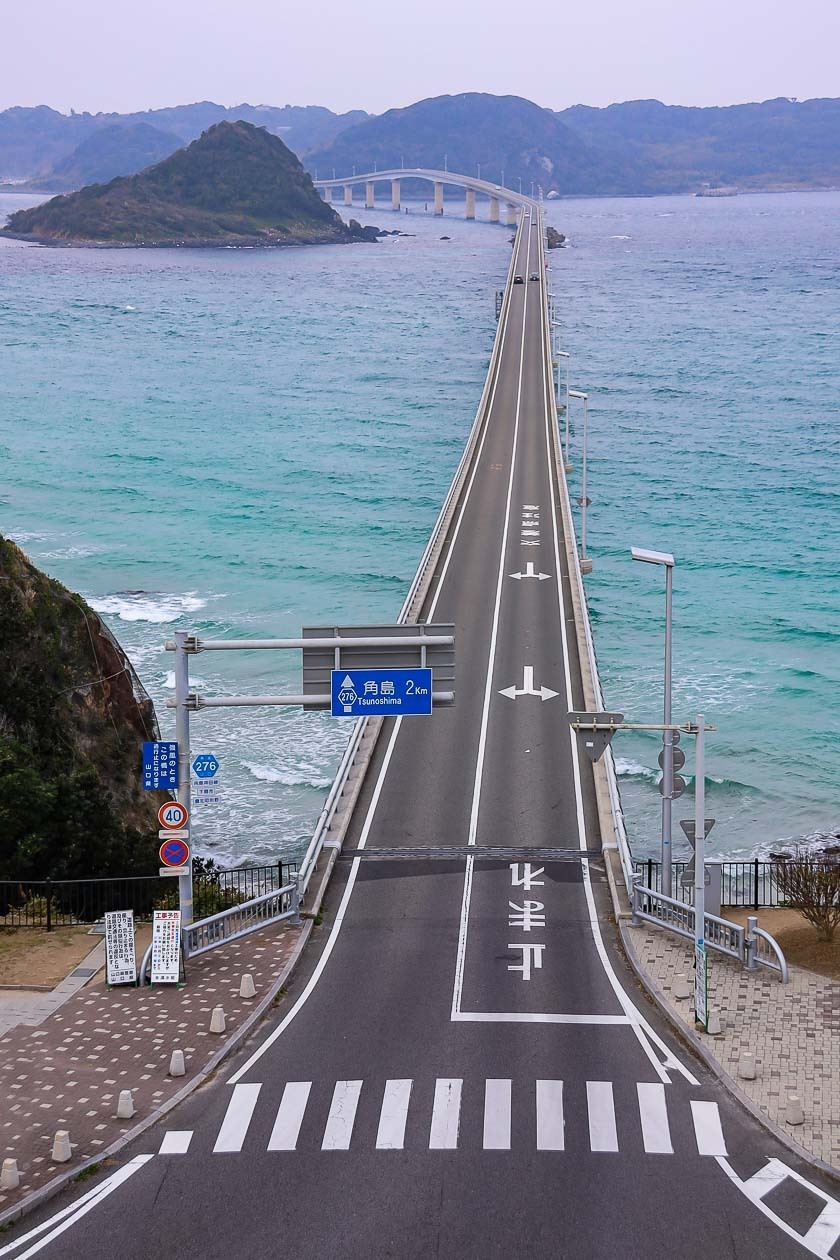 Home Delivery by japan-guide.com is a series of articles on Japanese culture, life and travel for all of us who are currently staying home to flatten the curve. Many travel plans, including our own, have been put on hold due to the coronavirus pandemic. While we aren't able to share new content from the road, we hope this collection from our travel archive helps you explore a bit of Japan from your own home.
More Home Delivery by japan-guide.com