Wisteria blossoms in Ashikaga Flower Park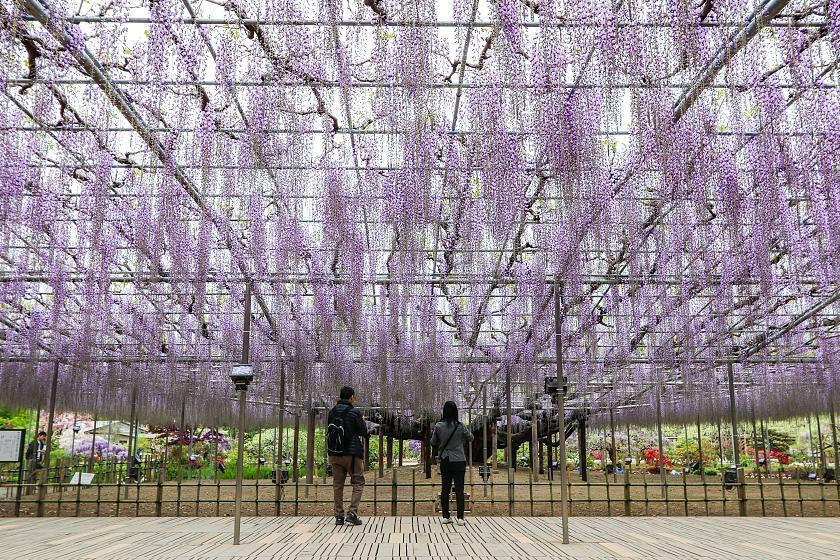 The cherry blossom season is mostly over in the Kanto Region, and it is now time for the spotlight to be on other flowers. If you missed out on the sakura and are looking to see some flowers, the wisteria flowers (fuji in Japanese) are currently in bloom.
Today, I visited Ashikaga Flower Park, a popular park in Tochigi Prefecture to see wisteria flowers in the Kanto Region. The fuji blossoms here typically start opening towards the end of April and reach their best viewing during the Golden Week holidays. This year, the fuji flowers started blooming about a week earlier compared to the average year due to the warmer than average March temperatures, and are currently at their best viewing.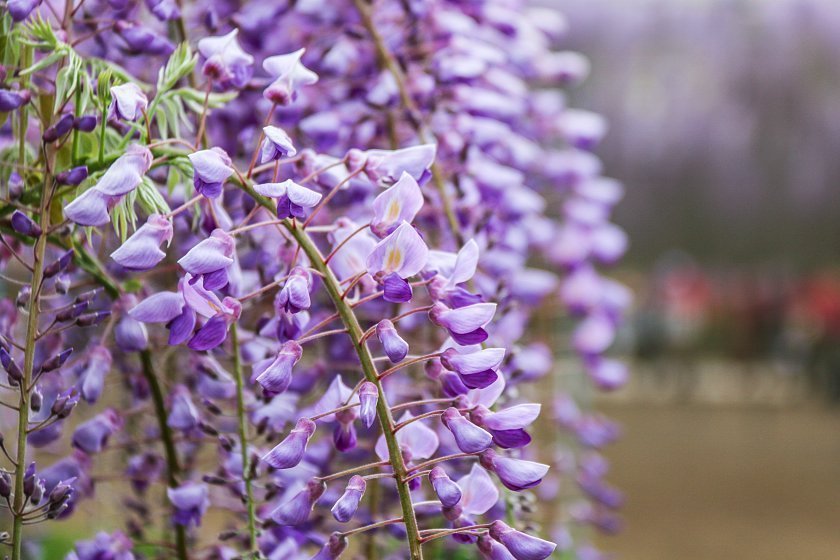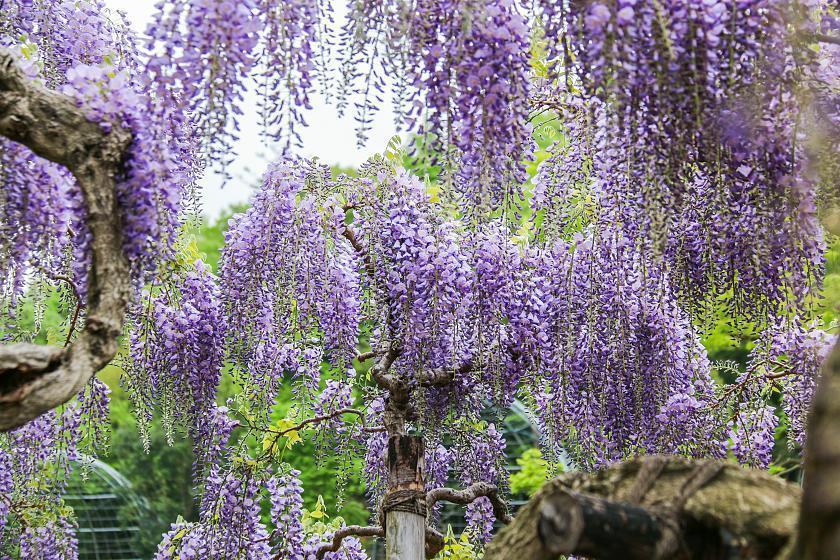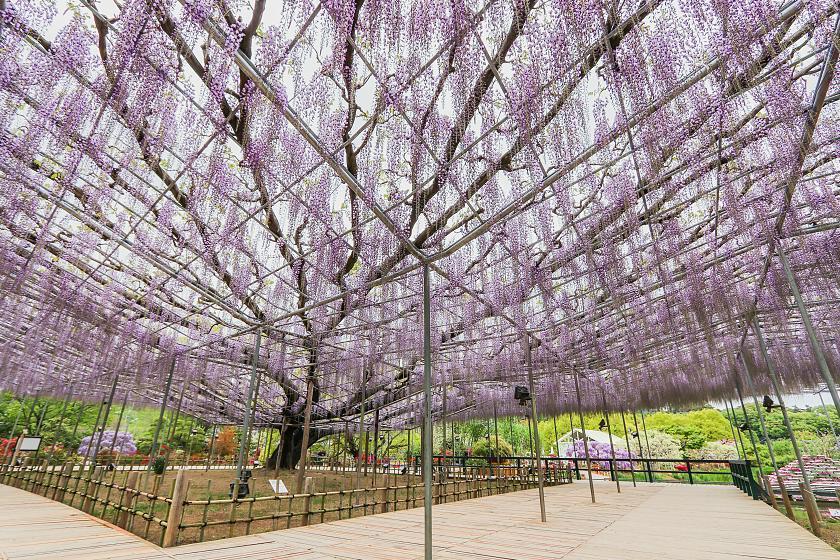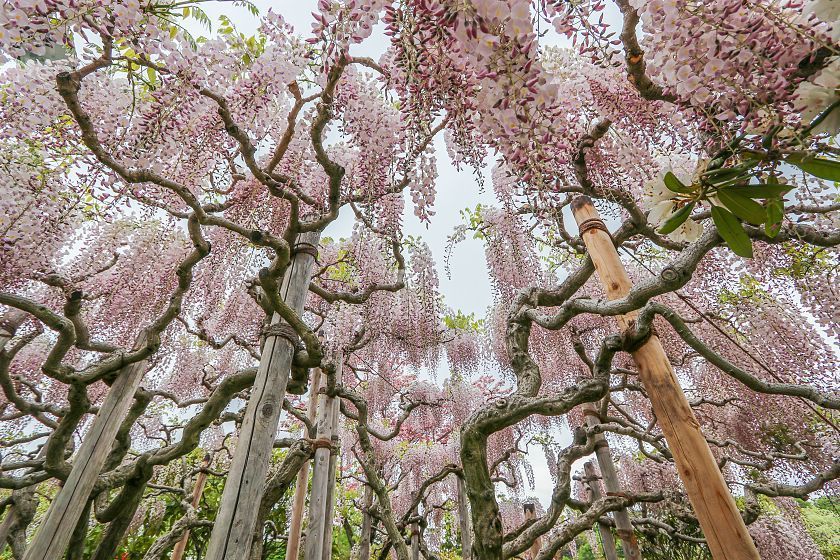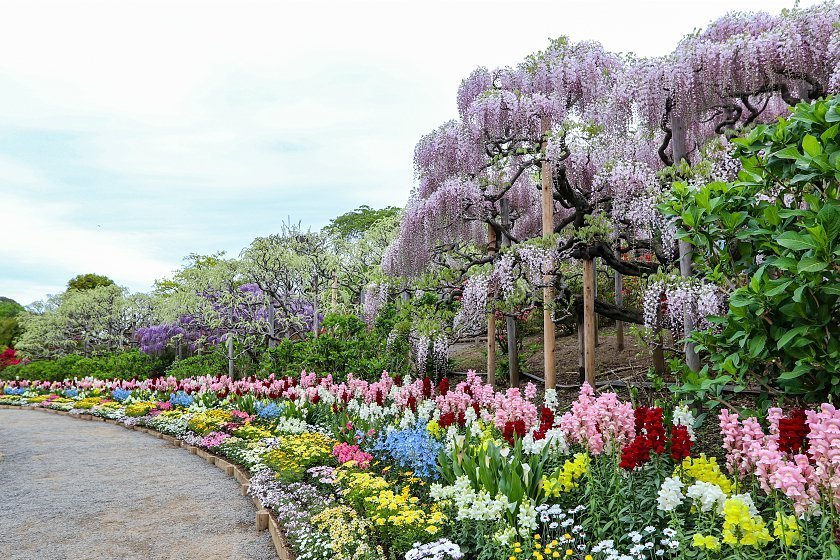 Despite the cloudy weather today, I found the park very attractive with lots of open blossoms and expect it to be even more so when the skies are blue. The weather for this coming weekend is forecast to be warm and sunny, which would likely encourage the unopen blossoms to open faster. Given the warm weather forecast for the coming weekend and through next week, I expect the best viewing of the main purple wisteria flowers continue through till then.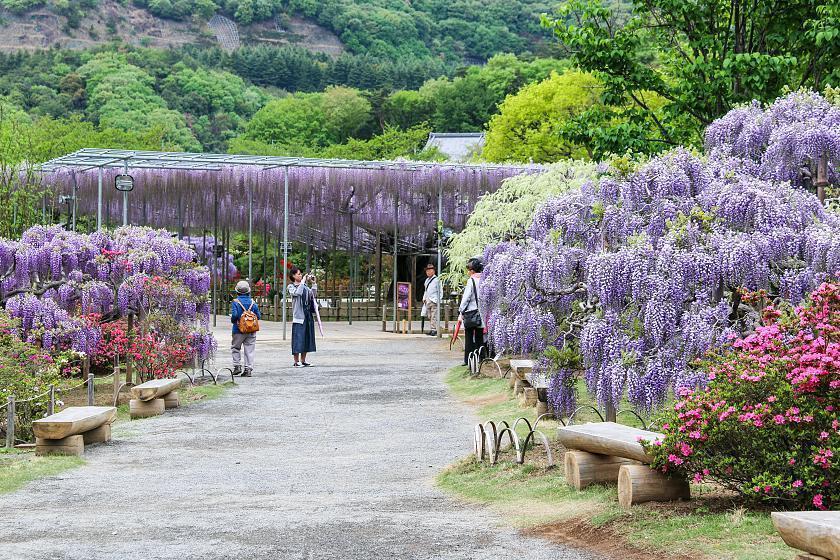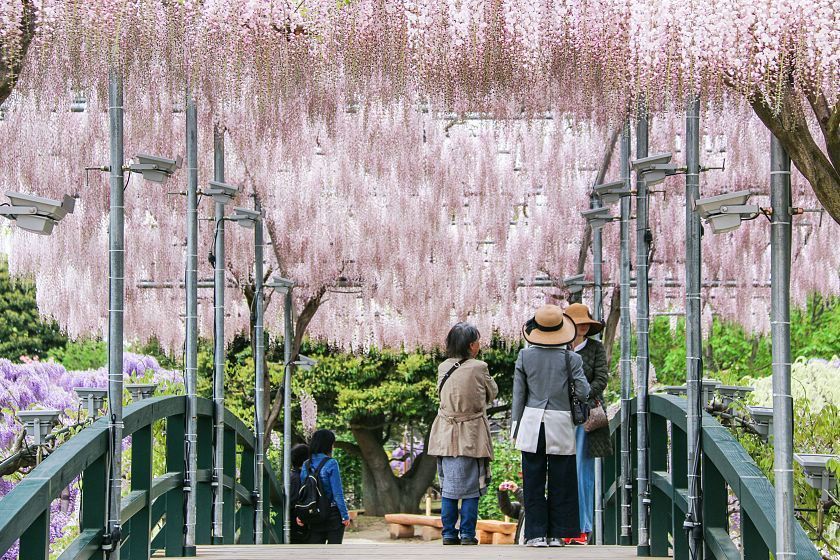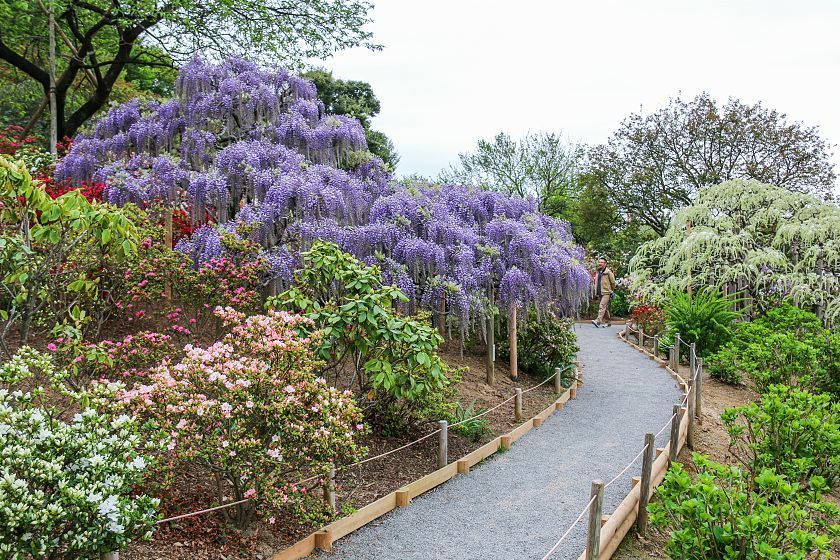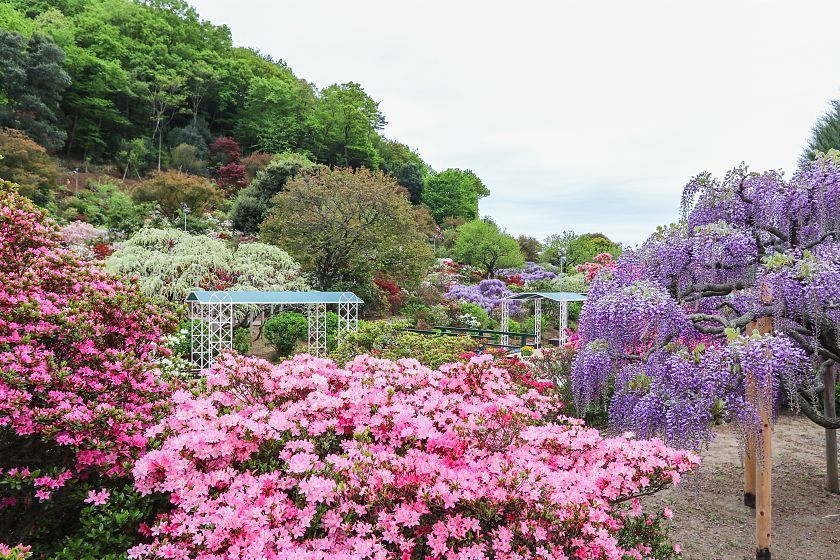 There are a number of fuji varieties at Ashikaga Flower Park and today, the Usu-beni (light pink) and Murasaki (purple) fuji varieties were at full bloom while the large and old wisteria trees were approaching their peak. I found out from one of the park gardeners that the blossoms remain at their best for about a week after reaching full bloom before their petals start falling. This creates a relatively long viewing period from about 1.5 to 3.5 weeks depending on weather. Like the cherry blossoms, the longevity of the flowers depends on weather conditions, and rain and strong winds will shorten their lifespan and viewing period.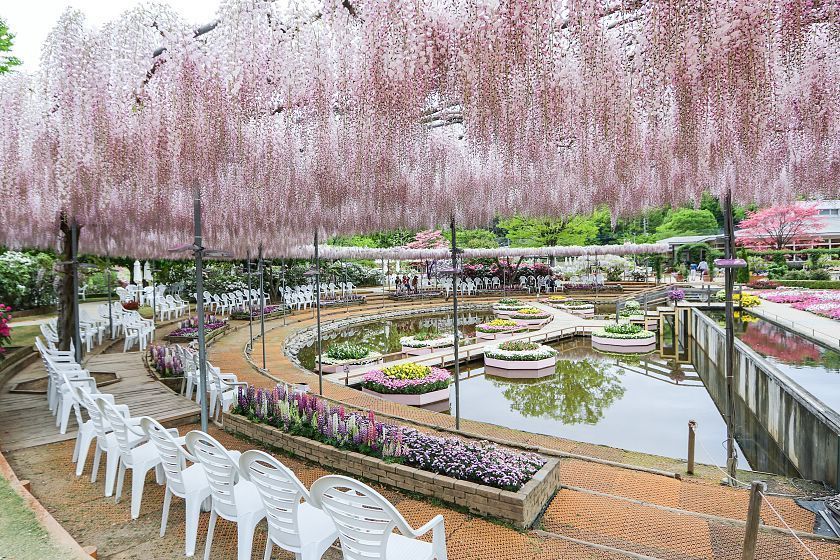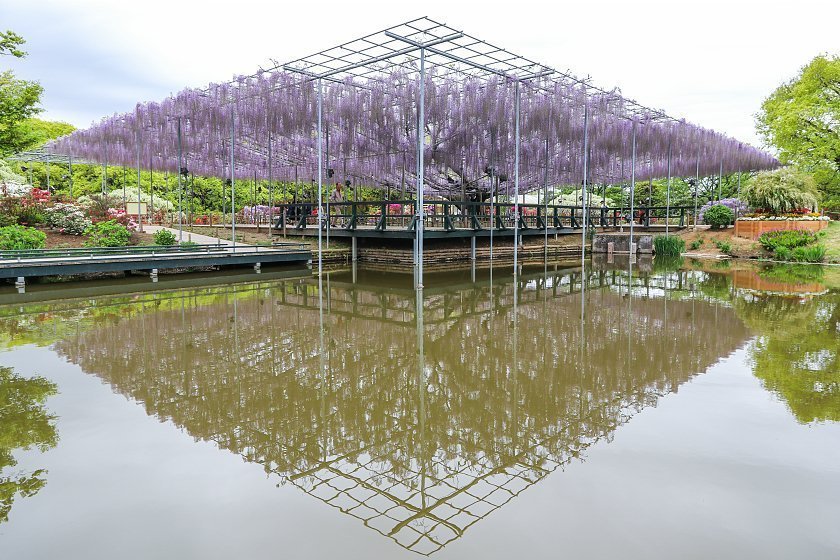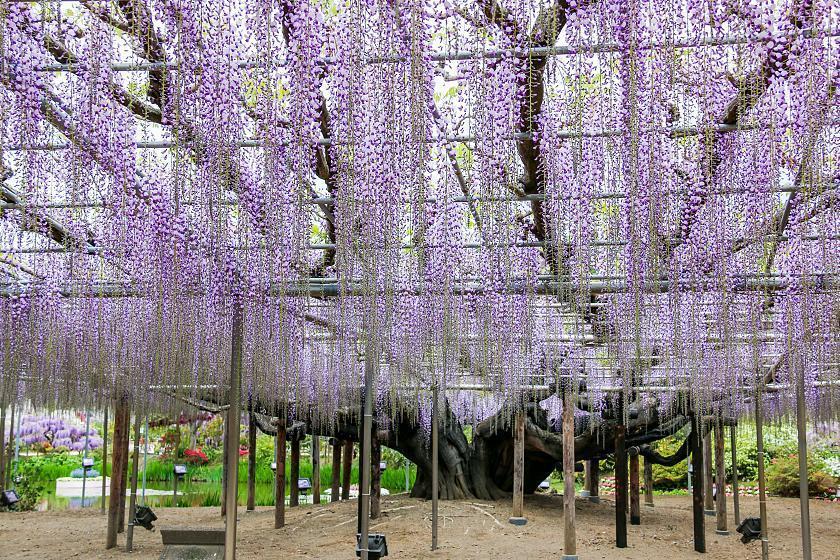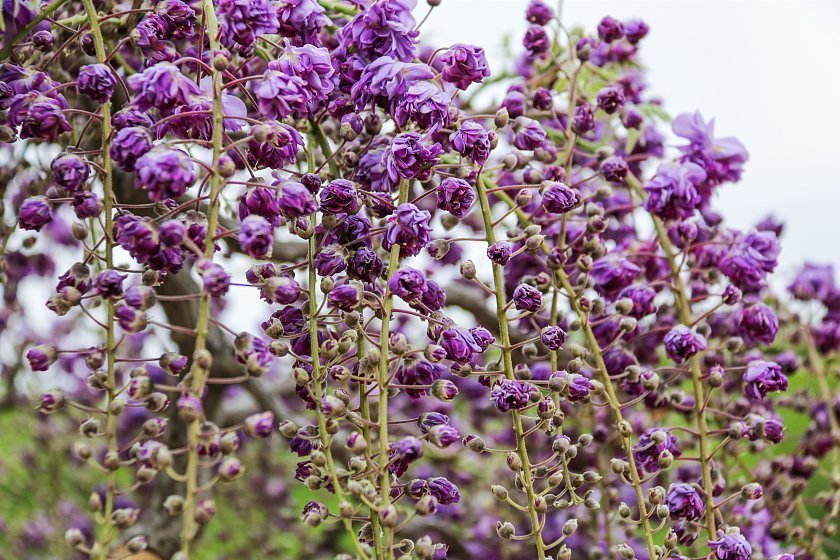 Until May 20, there is a Fuji Festival at Ashikaga Flower Park (the park is open from 7:00 for the duration of the festival) and a nightly illumination event until May 13 from 17:30 to 21:00. Admission into the park varies depending on the state of the blossoms starting from 900 yen to 1800 yen at the peak of the season, entry in the evening during the illumination event costs 300 yen less than the daytime entry.
Ashikaga Flower Park is served by the Ashikaga Flower Park Station, which newly opened on April 1 on the JR Ryomo Line, considerably improving access there. The park can be reached from Tokyo in around two hours by local trains, less if using the shinkansen. It is advisable to visit the park early in the day or from the late afternoon to avoid the crowds.