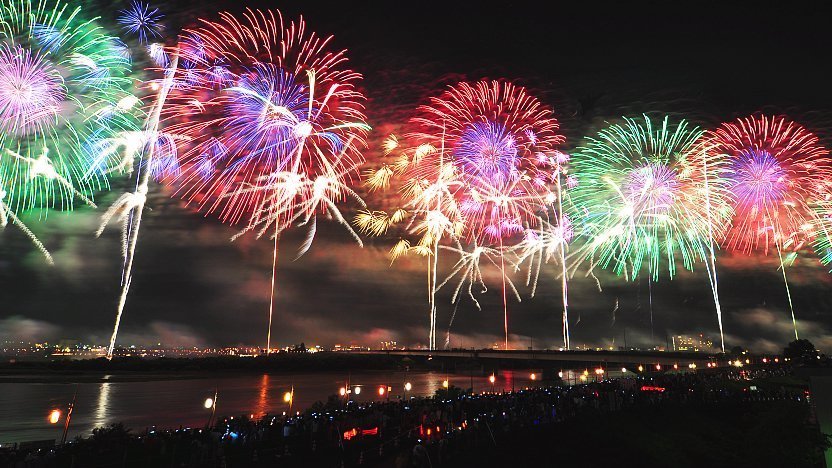 Originally used to ward off evil spirits, fireworks (ëďë╬, Hanabi) have a long history in Japan and are an integral part of Japanese summers. Hundreds of firework shows are held every year across the country, mainly during the summer holidays in July and August, with some of them drawing hundreds of thousands of spectators. On the other hand, fireworks are not typically used to celebrate New Year.
Japanese firework shells range in size from smaller ones to the world record holding Yonshakudama shells which are 1.2 meter in diameter and weigh several hundred kilograms. The most common are starmines, which are spherical shells that have a variety of burst patterns. Other unique fireworks include Niagara sparklers that are set under bridges and resemble the famous waterfalls, and formed shells that burst into familiar shapes such as hearts, smiley faces and cartoon characters.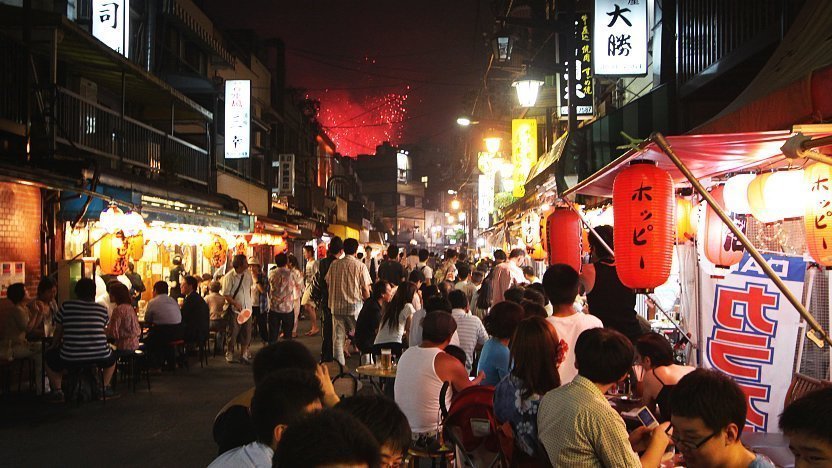 A secondary attraction of Japanese fireworks is the relaxed festival atmosphere that comes with them, people dressed in yukata and streets lined by food and game stalls. The firework shows themselves typically start some time after sunset and last one to two hours. Many of the longer shows are broken up into multiple shorter segments, interrupted by the announcement of titles and sponsors. They often end with a grand finale consisting of hundreds of shells launched simultaneously.
Popular firework shows tend to be very crowded which leads to a few concerns for visitors:
The competition for good viewing spots can be quite strong, and people often show up and reserve the best spots hours in advance, especially in cities where tall buildings limit the number of spots with unobstructed views of the fireworks. Many shows offer paid seating, but tickets are usually not available on the day and are often difficult to get from outside of Japan or without Japanese language skills.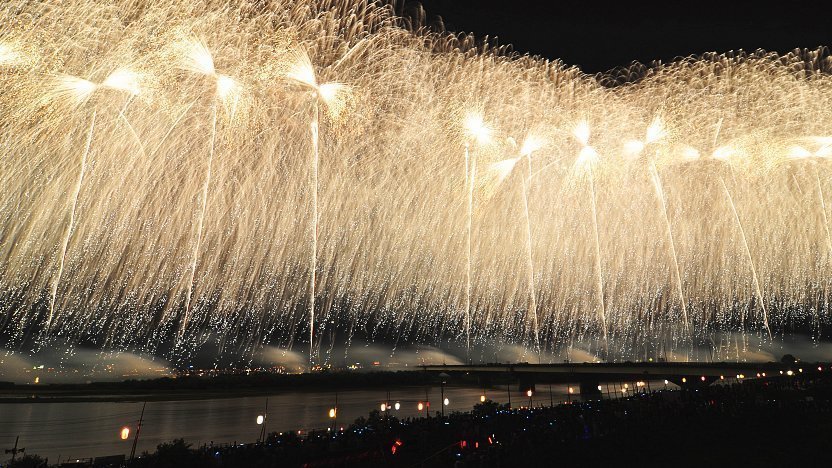 Accommodation and transportation can also pose critical concerns in case of some of the most popular displays. While large cities like Tokyo and Osaka tend to have enough hotel rooms to accommodate festival crowds, smaller cities usually get booked out months ahead of popular fireworks together with nearby cities. The lack of hotel rooms can pose a particularly serious challenge if there are no more late-night train or bus connections back into a larger city after the end of the show.
Furthermore, crowded buses and trains can pose an inconvenience especially after the end of the show. Because of traffic congestion, it is often faster and more comfortable to walk from the venue back to the nearest station instead of using shuttle buses. Note also that additional trains are often employed before and after major firework shows, but that they tend to be very crowded.
Travel agents are both a reason of and a potential solution to some of the above mentioned issues. They offer various tour packages for popular firework events that include transportation, accommodation and reserved seating, thereby blocking a large amount of local hotel rooms from individual travelers. While these packages can be a one-in-all solution to the transportation, accommodation and seating issues, they also tend to be difficult to purchase from outside of Japan and without Japanese language skills.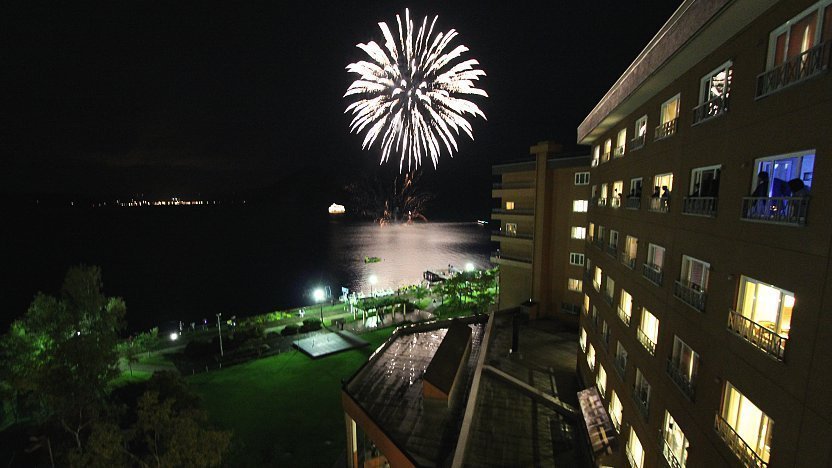 Below is a list of some of the most famous firework shows in Japan:
Last Saturday of July from 19:00 to 20:30 (cancelled in 2020)
Sumida River Fireworks
Along the Sumida River around Asakusa Station
Tokyo's Sumida River Fireworks, which are recognized as one of the oldest and most famous firework displays in Japan, are launched from barges anchored along the Sumida River between Ryogoku and Asakusa. The colorful explosions are best seen from the parks along the river... that is, if you can get a seat. Otherwise the fireworks are difficult to see except in flashes and glimpses between the tall buildings of the district or when walking across bridges over the river (it is not allowed to stop and view the show from bridges, though).
Almost more appealing, however, is the great summer festival atmosphere that accompanies the fireworks. Tens of thousands of people, many dressed in yukata, stroll the streets of Asakusa, especially around Sensoji Temple, whose streets are lined with food vendors and game stalls. In addition, lots of restaurants around this old entertainment district provide outdoor seating where you can enjoy some good food and drink while catching what you can see of the fireworks.
Fourth Saturday in August from 17:15 (cancelled in 2020)
Omagari National Fireworks Competition
Along the Marukogawa River, a 15 minute walk from Omagari Station, Akita Prefecture
Often considered the top firework show in Japan, the Omagari National Fireworks Competition is a special event to which only the best pyrotechnic teams are invited. Thousands of shells are launched throughout the event as teams compete in both day and night categories. Paid seating is available, as is shinkansen access from both Tokyo and Akita; however there are no connections back to Tokyo after the end of the show and hotels are very difficult to book in Omagari and its surrounding cities. Tour packages may make seeing the show easier.
First Saturday in November from 18:00 to 20:30 (cancelled in 2020)
Tsuchiura National Fireworks Competition
Along the Sakuragawa River, a 30 minute walk from Tsuchiura Station, Ibaraki Prefecture
Held in November, the Tsuchiura National Fireworks Competition is one of the top three firework shows in Japan. As it is also one of the last major shows of the year, the pyrotechnic companies use the competition as a venue to show off their latest and best designs to the brokers in attendance who are shopping around for next summer's shows.
The fireworks can be seen from all around the city, but are best from the free or paid viewing spots along the river. The city advises arriving by mid afternoon to secure a seat, and be sure to bring a tarp to sit on as some of the viewing spots are in freshly cut fields. Paid shuttle buses (240 yen) connect the official spots to Tsuchiura Station, from where the JR Joban Line provides connections back to Tokyo until after the end of the show.
August 2 and August 3 from 19:20 to 21:10 (cancelled in 2020)
Nagaoka Fireworks
Along the Shinano River, a 20 minute walk from Nagaoka Station, Niigata Prefecture
The Nagaoka Fireworks are held over two nights in August along the banks of the Shinano River. Both nights feature almost two straight hours of fireworks including some of the largest shells in Japan such as 90 cm diameter Sanjakudama shells, and the festival's signature Phoenix Shell, which has come to be a symbol of recovery after the 2004 Niigata Earthquake. The show's finale covers nearly two kilometers of the riverbank and is the widest span of fireworks in the world.
There is lots of free seating along the riverbank facing the show, but be sure to arrive early enough to secure seats. Paid seating is also available, and tickets should be purchased in advance. The venue is a 20 minute walk from Nagaoka Station from where there are shinkansen connections to Tokyo and Niigata City, but note that it is difficult to catch the last train back to Tokyo after the end of the show. Consider staying in Nagaoka or Niigata, in which case a travel package including train, hotel and seating may be worth investigating.
The Nagaoka Fireworks are the most spectacular of three outstanding firework shows in Niigata Prefecture. The other two are held in coastal Kashiwazaki and in mountainous Katakai.
July 25 from 19:30 to 21:00 (cancelled in 2020)
Osaka Tenjin Fireworks
Along the Ogawa River around Osakajo Kitazume, Osaka Tenmangu, Tenmabashi and Sakuranomiya Stations
Osaka's Tenjin Festival is ranked among Japan's Three Great Festivals, together with Kyoto's Gion and Tokyo's Kanda Festivals. 4000 fireworks are launched on the festival's second night (July 25) while a procession of flaming ships bearing portable shrines and people dressed in period costume travels along the Ogawa River. The fireworks, boat procession and illuminated bridges are best seen from the Minami Tenma and Kema Sakuranomiya Parks along the river.
One evening in mid to late August from 19:30 to 20:30 (cancelled in 2020)
Miyajima Fireworks
Miyajima Island around Itsukushima Shrine
Around 5000 fireworks are launched from boats just off the north shore of Miyajima Island every year in mid August. The fireworks are best viewed from around Itsukushima Shrine, and when combined with the shrine's giant torii gate make up one of Japan's most iconic firework scenes that regularly ranks as one of the top spots for photographers in Japan. The fireworks can also be seen from the town and shrine area of the island, as well as from boat tours that cruise the bay.
December 3 from 19:30 to 22:00
Chichibu Night Festival Fireworks
Around Seibu Chichibu and Chichibu Stations
The firework display of the Chichibu Night Festival is one of the rare occasions to see Japanese fireworks in winter. Fireworks are launched both nights of the festival, although the second night's show is bigger and longer. Paid seating is available, and while the shows can be seen from around the town, the view is often blocked by buildings. Seibu Railways provides transportation to and from Tokyo, and has late enough connections that staying over is not necessary.
Every day from late April to October from 20:45 to 21:05 (July 1 to October 31, 2020)
Lake Toyako Fireworks
Toyako Onsen, Hokkaido
Although nowhere as spectacular as the other shows on this list, the 20 minute long firework performances on Hokkaido's Lake Toyako are worth mentioning because they are held every single night from late April to October (except in bad weather). The fireworks are launched from a ship that slowly makes its way eastward in front of the large resort hotels along the shore. The show can be viewed from the hotel rooms facing the lake or from the lakeside park.
Questions? Ask in our forum.