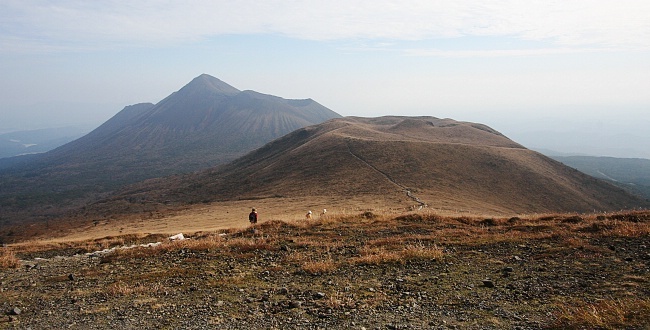 Modern recreational hiking in Japan was modeled after hiking in the mountains of Europe and North America. So not surprisingly, hiking in Japan is very similar to how it is practiced in the West.
When to hike
Japan stretches over 3000 kilometers from north to south, resulting in a diverse range of climates. As a result the climbing season varies a lot between regions, with some destinations allowing hiking around the year while others are inaccessible during most of the year due to heavy snow.
The best season to hike in Japan's higher mountains is summer. In fact, the hiking season for many of Japan's taller mountains is restricted to just the summer months. In lower areas, however, summers are hot and humid, and the better seasons for hiking are late spring to early summer when the weather is still mild, and fall when the temperatures are pleasant again and the autumn colors are showing.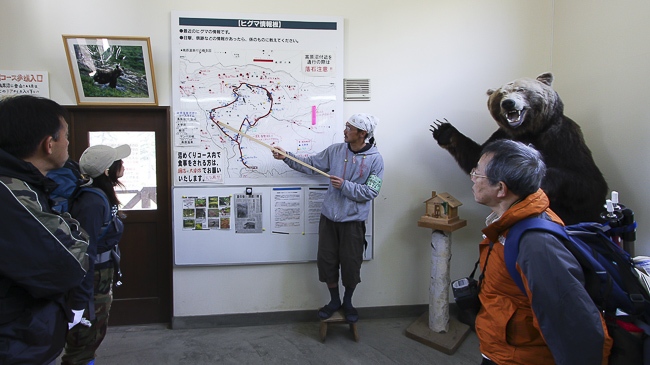 Trails and signage
Japanese hiking trails are typically well developed and well maintained. Marshland and heavily trafficked trails are often covered in boardwalk trails to protect the environment and make the routes more accessible to the masses. Off-trail hiking is generally prohibited, especially in national parks.
Hiking trails tend to be well marked with signs, flags or paint as appropriate for the terrain. Signs often display the names and distances to trailheads, junctions, peaks and other landmarks. Some signs even include detailed maps of the region. Signage is usually written in Japanese only, so it would be wise to write down or memorize the kanji names of landmarks along your route to compare with the signs along the way.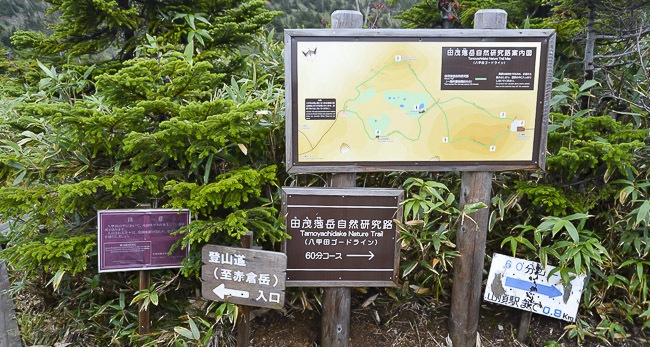 Permits and Guides
Permits are not usually required, even when hiking in national parks. However, as a safety measure, some places ask you to write down your name, contact information and hiking destination at the local mountain station before setting off. While guided hikes are available on some routes (English speaking guides are very rare), most hikers tend to forego hiring a guide as the trails tend to be well marked.
Mountain huts and camping
On longer, multi-day excursions, hikers will typically overnight at mountain huts, which are common along most popular hiking routes. The amenities found at the huts vary from the most basic one-room shelters to hostel-like facilities that offer beds, showers and hot meals. Note that it is often necessary to phone for reservations at the huts, which may be difficult for non-Japanese speakers. Camping is generally allowed only in designated areas, such as camp grounds or around mountain huts.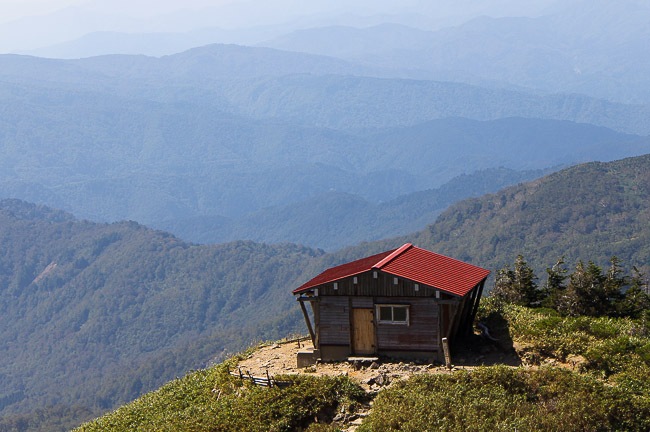 What to bring
While full goretex suits, spats and hiking poles may not be necessary for a short 30 minute hike along a paved trail, you should always be sufficiently prepared and equipped for more challenging hikes. At a minimum you should bring the following:
Maps
Popular day hikes are usually well marked, and detailed maps are often posted at the trailhead. In addition, free trail maps can often be picked up at the local mountain station or tourist association office. The best maps, however are the laminated topo maps that are available at bookstores. Although only published in Japanese, these maps are produced for most of the major hikes through Japan and show detailed trail information, estimated hiking times, mountain hut locations, etc. A compass or GPS may also be helpful but is not usually necessary on shorter day hikes.
Water
You should carry sufficient water with you as potable water may not be available along the trail. However, you may run occasionally come across faucets and natural springs especially around the better established mountain huts or along extremely popular and developed hiking routes.
Proper Footwear
While many of Japan's day hikes can be done in casual shoes, those embarking on longer, more difficult trails or into uneven terrain will need proper hiking boots.
Proper Clothing
Proper rain protection and cold weather gear is necessary when hiking in the mountains year round. For example, even at the height of summer, the temperatures at mountain peaks can be close to or below freezing. In addition, the weather is fickle at high altitudes, and rain should always be considered a possibility, especially during the summer months.
Those embarking on longer or more challenging hikes will naturally need to carry additional items such as stoves and sleeping bags, although sometimes these things can be omitted if staying at a mountain hut that offers meals and bedding. In addition, local outdoor equipment stores and gear rental are available for those who need to source their equipment in Japan.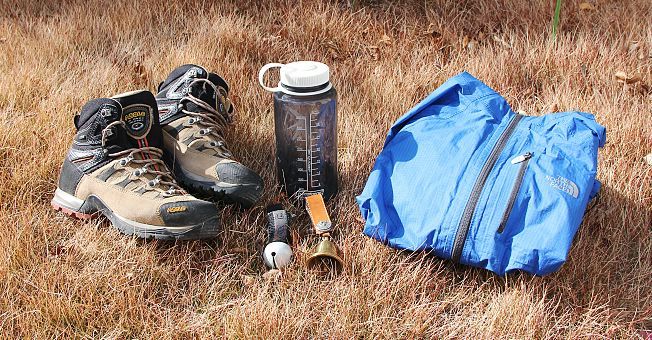 Volcanoes and hot springs
Japan is located in one of the most geologically active regions of the world, and most of the country's mountains are volcanoes. Many of these are active, so beware of closures due to volcanic activity and poisonous gases. On the plus side, all this volcanic activity breeds numerous hot springs (onsen), and mountain destinations that are popular with hikers are also places with some of the best onsen. Not surprisingly, in Japanese hiking culture the ultimate reward after a long, hard day on the trail is a cold beer and a hot soak in an onsen bath.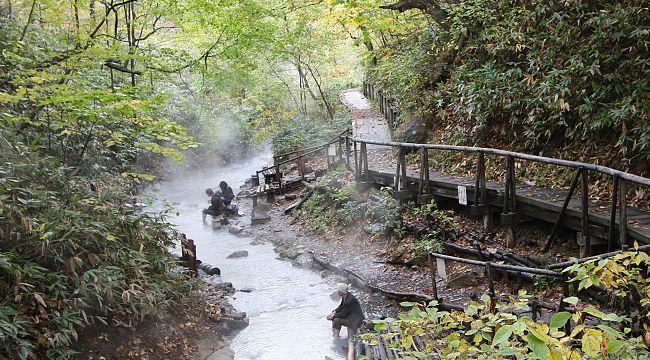 Wild animals
Most of the animals that you may encounter while hiking are not dangerous, however special care should be taken around bears (kuma), wild boars (inoshishi), monkeys (saru) and hornets (suzumebachi). Never approach or attempt to feed the animals. In bear country (i.e. most of Japan), hikers often wear bear bells to alert the animals of their presence and avoid surprise encounters.
Safety and Warnings
| | |
| --- | --- |
| | Hike responsibly. Allow plenty of time and only attempt routes that are within your abilities. |
| | Don't leave the designated hiking trails and do not enter restricted areas. They may be unsafe due to volcanic activity, poisonous gases or other unseen dangers. |
| | Do not camp outside of designated camping areas. |
| | Garbage bins are non-existent in the mountains. Pack out whatever you bring in. |
| | Do not approach or feed wild animals such as monkeys, bears, foxes or wild boar. |