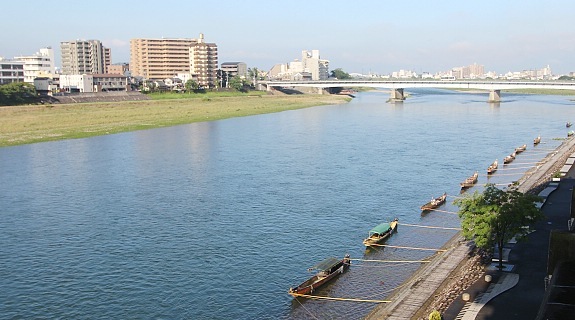 Cormorant fishing (ČLéĒ, Ukai), a traditional fishing method that uses trained cormorants to catch river fish, has been practiced along Nagaragawa River in Gifu City for over 1300 years. The river's master fishermen are the official fisherman of the emperor and are renowned for their skill, which, combined with the area's long, uninterrupted ukai tradition, make the Nagaragawa River the best place to experience cormorant fishing. Fishing is performed every evening from May 11 to October 15.
The event begins at dusk as six long, wooden boats, each manned by a master fisherman and two boatmen, take turns propelling themselves downstream with long wooden poles. Each fisherman leads about a dozen cormorants on leashes who swim alongside and dive underwater to catch fish by swallowing them whole. The fish are kept in a special pouch in the cormorant's throat to be retrieved later and are prevented from being swallowed by a snare around the neck of the bird.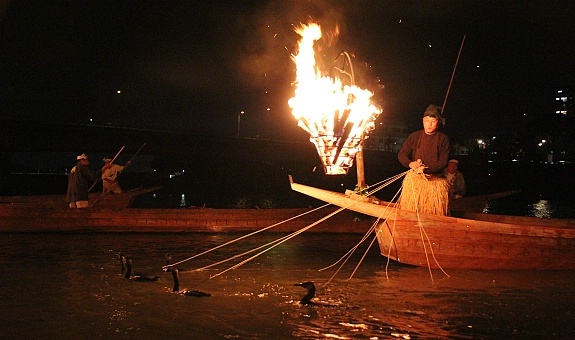 Each fishing boat carries a large fire that hangs from its bow to provide light for the boatmen to steer and the birds to fish by. After each boat takes its turn, they all head back upstream and line up side by side for one final pass together after which they pull over to unload their catch.
The spectacle can be viewed from covered sightseeing boats which shadow the fishing boats as they make their runs downstream, and you can get a close up view of the fishing from the boats. The sightseeing boats depart from the south side of the Nagarabashi Bridge between 18:15 and 19:15 and return around 20:30. Reservations are required, although they can be made at the time of departure if space allows. Food can be taken onboard, but is not available for purchase on the boats.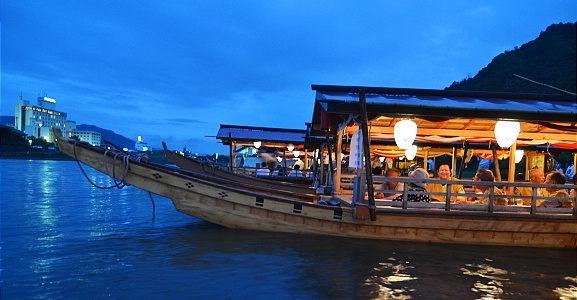 Alternatively, dinner cruises are available along the river and are a particularly enjoyable way of experiencing the ukai fishing. Dinner cruises are arranged through the local ryokan and are often part of an overnight package. Dinner cruises depart around 17:30 and travel about 500 meters upriver where they dock while the patrons dine on meals that include grilled sweetfish caught along the river.
Entertainment is provided by dancers who travel along the river on a special stage boat. Once the ukai fishing begins, the dinner cruise boats join the sightseeing boats as they follow the fishing boats downstream. A third option is to watch the ukai fishing from ashore for free without joining a tour or dinner boat. The better views are from along the northern riverbank.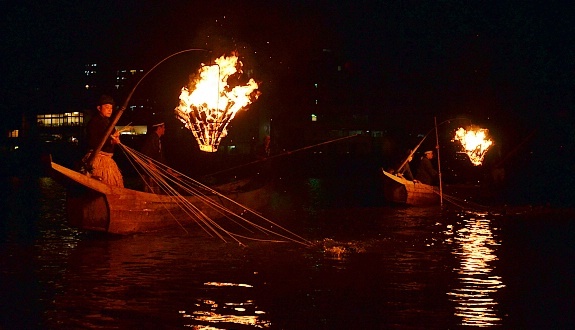 Ukai Cruise (not including dinner)
Hours
Boats depart at 18:15, 18:45 and 19:15
Closed
October 16 to May 10 and during the harvest moon.
Canceled when the river water level is high.
Admission
3100-3400 yen depending on the departure time and day
Tours and travel services