Towering at a massive 120 meters, the Ushiku Daibutsu (牛久大仏, "Great Buddha of Ushiku") in Ushiku City, Ibaraki Prefecture, is one of the world's tallest Buddha statues. For comparison, Nara's Daibutsu in Todaiji Temple is only 15 meters high and can fit in the palm of the Ushiku Daibutsu. The bronze statue's height is symbolic of the twelve kinds of light that radiate from the Buddha and reach all in the world who recite his name as espoused by the True Pure Land sect of Japanese Buddhism.
The Ushiku Daibutsu is surrounded by a spacious park where over 100 cherry trees bloom typically from early to mid April. Other flowers in the park include pink moss (April), poppies (May) and cosmos (September and October). Along the approach to the Ushiku Daibutsu, visitors come across the two-story Hakkenmon Gate, which houses three images of the Buddha on the second floor, a pond representing the source of life, Japan's largest bronze incense burner, and a small Pure Land garden depicting Buddhist paradise.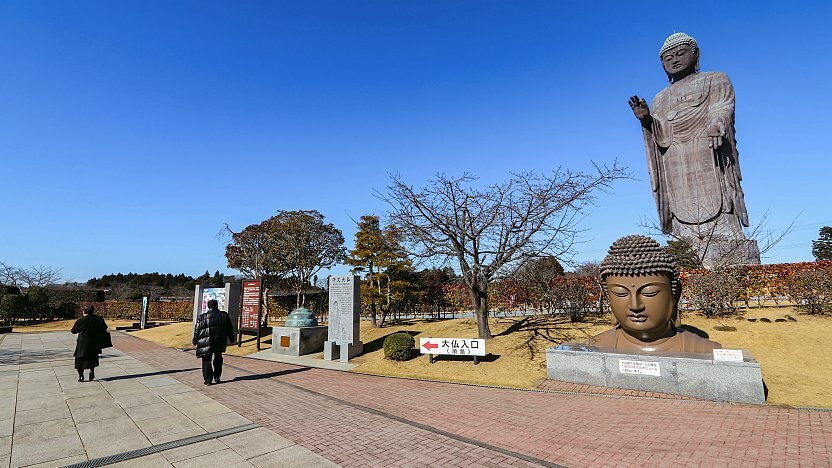 In addition to admiring the Ushiku Daibutsu from the outside, the statue can also be entered. There are five floors inside, and an elevator connects the three lower with the two upper floors. The visiting route starts on the first floor, where a conceptual light show of the light that emanates from Buddha can be experienced. Visitors then take the elevator from the second floor to the fifth floor at an elevation of 85 meters. This is where some of the Buddha's remains are enshrined and slim glass windows provide views out the four cardinal points.
A short flight of stairs leads to the fourth floor, where there is a small souvenir shop, and from where visitors take the elevator about 70 meters down to the third floor. An impressive golden sanctuary containing about 3400 statues of Buddha is located on the third floor, while the second floor offers a space for those who wish to copy sutra (extra fee charged).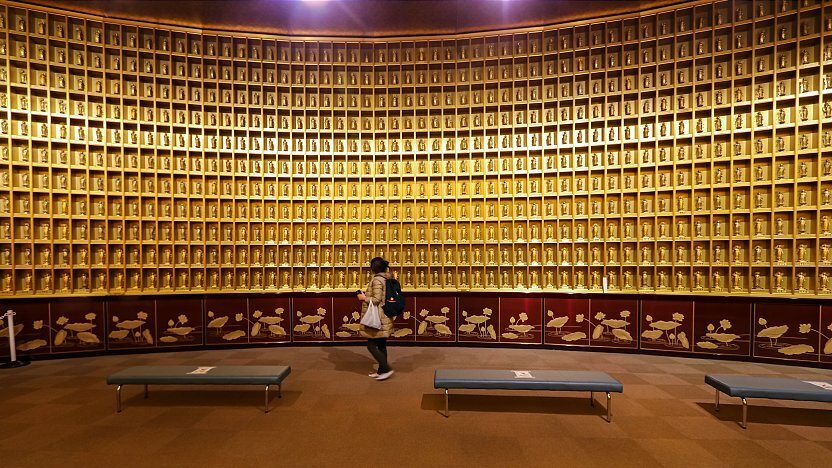 The nearest train station to Ushiku Daibutsu is Ushiku Station, which can be reached from Tokyo (Ueno, Tokyo or Shinagawa stations) in about one hour by trains along the JR Joban Line. The one way journey costs 990 yen and is fully covered by the Japan Rail Pass, Tokyo Wide Pass and other regional JR passes.
From Ushiku Station's east exit, take a bus bound for Ushiku Daibutsu or Ami Premium Outlet and get off at Ushiku Daibutsu (25 minutes, 700 yen one way, one bus/hour, not covered by the JR passes).

Hours
9:30 to 17:00 (weekdays from March to September)
9:30 to 17:30 (weekends and
national holidays
from March to September)
9:30 to 16:30 (everyday from October to February)
Admission ends 30 minutes before closing
Admission
800 yen (park and interior of the statue)
500 yen (park only)
Questions? Ask in our forum.