Niseko (ニセコ) is the most famous ski resort in Japan, known for having tons of light powder snow, spectacular backcountry and a large number of foreigners - especially Australians - who in recent decades have been responsible for popularizing the resort area with the skiing/snowboarding community outside of Japan. As a result, Niseko's resorts are very accessible and welcoming to foreign visitors, which they keep busy with plenty of vast, long ski runs, endless powder, and a growing number of after-ski activities.
In addition to kilometers of ski trails, many of Niseko's resorts offer winter adventure seekers the option to explore off trail skiing, a relatively uncommon attraction at most other ski resorts in Japan. The backcountry can be accessed through special gates around the resorts or experienced on guided tours and helicopter tours. The latter is also possible on nearby Mount Yotei, a nearly perfect volcanic cone, which can be seen from Niseko.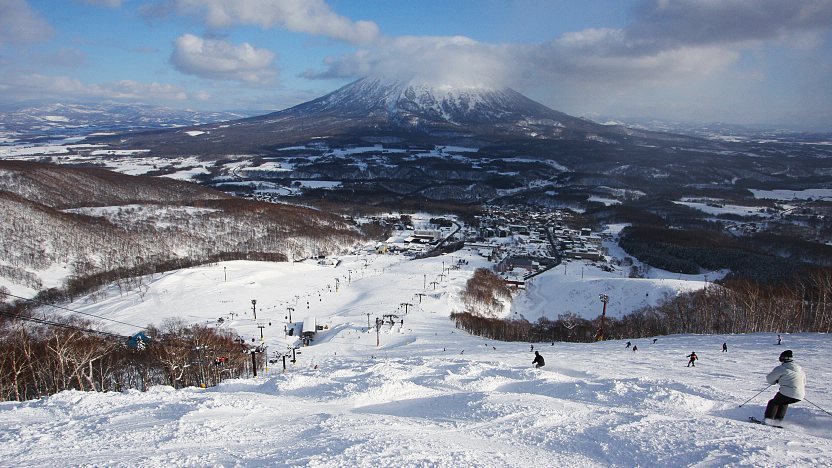 Niseko's ski resorts are all located on Mount Niseko-Annupuri. Three major resorts, Grand Hirafu, Niseko Village and Annupuri, cover most of the southeastern half of the mountain while a few smaller resorts dot their perimeter. The big three are joined together with each other at the top of the mountain, and it is possible to ski between them, while shuttle buses connect them at their bases. A special combination ticket, the Niseko All Mountain Pass, gives access to all three resorts.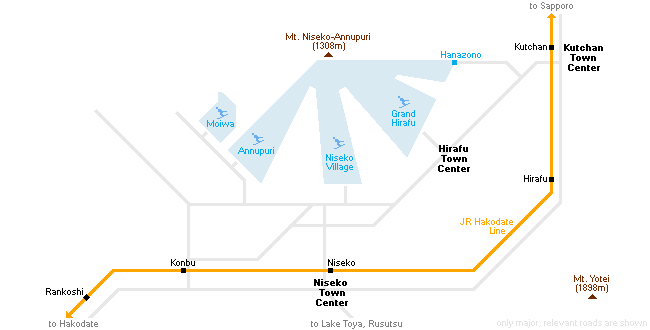 Grand Hirafu is the largest of the resorts with over a dozen lifts and a secondary base at Hanazono on the east side of the mountain. Grand Hirafu is the only of the three resorts that has a sizable town area around its main base, Hirafu Town, which is packed with a variety of hotels, pensions, and holiday homes. The town also offers an interesting range of restaurants and bars with an active nightlife.
Hirafu Town is very foreigner friendly, and an evening stroll about the area will take you past plenty of lively restaurants with the sounds of English voices wafting out. It is almost like visiting a foreign country within Japan, as many of the eateries offer English menus by default and local convenience stores sell a wider range of imported foods than elsewhere around the country.
A 15 minute bus ride to the east of Hirafu is the town center of Kutchan with Kutchan Station. The biggest city in the area, Kutchan has more shopping and dining options, but is not as convenient a base for skiers as Hirafu.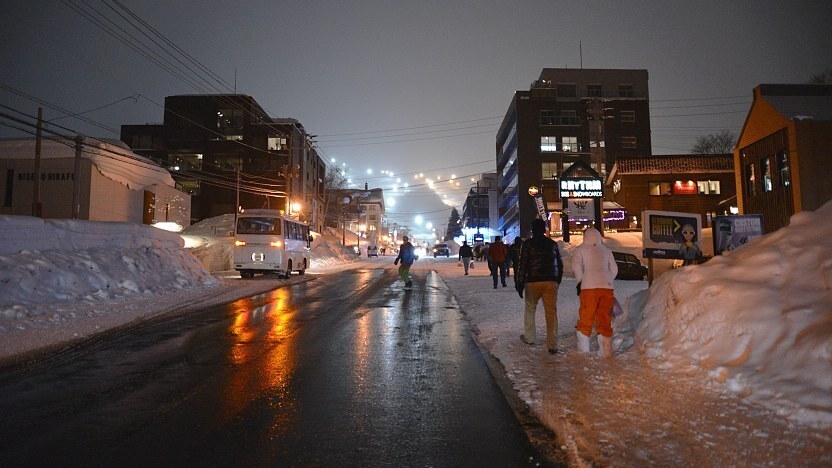 The next largest resort on the mountain is Niseko Village (formerly known as Higashiyama). Located west of Grand Hirafu, Niseko Village offers two large hotels, including the Hilton Niseko Village, some townhouse accommodation and "the Village", a small collection of restaurants, bars and boutiques.
Further west lies Annupuri resort. Its ski trails are not quite as steep or as wide as those of the other two resorts, but they also tend to be somewhat less crowded. At Annupuri's base stands a resort hotel and a small collection of pensions and holiday homes. Nearby dining and nightlife options are scarce.
Moiwa is a small, fourth ski resort that lies just west of Annupuri. Moiwa is not covered by the Niseko All Mountain Pass, nor is it possible to ski from Moiwa to the other resorts. As such it tends to be less crowded and is popular among those who prefer a smaller sized resort and among beginners. A few hotels and pensions are spread near Moiwa's base, but they do not create much of a town feeling.
About a 15-25 minute bus ride from Niseko's western resorts lies the town center of Niseko with Niseko Station. The small town does not offer many dining or nightlife options, nor is it a convenient base for skiers.
Passes
Resorts
How to travel between Niseko and Sapporo
By bus
From December to March, multiple bus companies, including Hokkaido Chuo Bus, Niseko Bus, Good Sports Whiteliner and Hokkaido Access Network, run direct buses between hotels in Sapporo's city center and Niseko. Some buses also serve Sapporo Station. In the Niseko area the buses stop at the three major ski resorts of Hirafu, Niseko Village and Annupuri.
The ride takes between 2.5 and 4 hours depending on pick-up location and destination. Fares vary greatly between the companies. Hokkaido Chuo Bus and Niseko Bus charge 2650 yen for the one way trip, while Good Sports Whiteliner and Hokkaido Access Network charge around 4500 yen. Discounted round trip tickets and packages which combine the bus ride with lift tickets are also available.
Outside of the winter season, there are fewer buses.
By train
There are infrequent local and rapid train connections between Sapporo and Kutchan Stations, most of which require a transfer of trains at Otaru. With a direct "Niseko Liner" rapid train or a favorable transfer at Otaru, the one way trip takes about 100 minutes and costs 2100 yen. The trains are fully covered by the Japan Rail Pass and Hokkaido Rail Pass.
Kutchan Station rather than Niseko Station is the region's public transportation hub. From Kutchan there is a bus every 1-3 hours to Hirafu (15 minutes), with some buses continuing on to Niseko Village (30 minutes) and Annupuri (45 minutes, winter only).
Orientation
There are three sizable towns located around Mount Niseko-Annupuri: Kutchan, Hirafu and Niseko.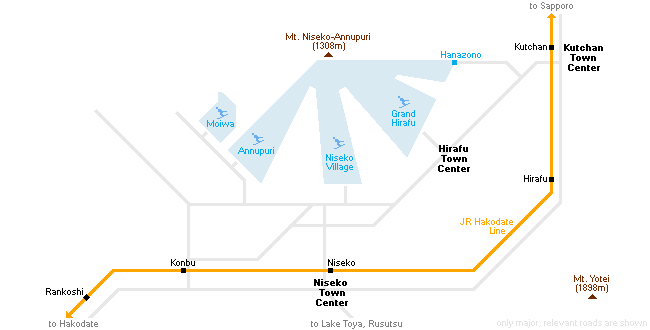 Kutchan Town is the largest and most city-like of the three and serves as a transportation hub with Kutchan Station at its center. From the station there are buses around the year (except from late October through November) to nearby Hirafu (20 minutes, 400 yen, departures every 1-3 hours), with some continuing to Niseko Village (35 minutes, 600 yen).
Hirafu Town at the base of the Grand Hirafu resort is the most convenient and popular base for skiers. It is directly served by buses from Sapporo and New Chitose Airport. There is also a Hirafu Station, but be warned that it is not located close to the town and is poorly served by public transportation.
Niseko Town with Niseko Station is closer to the Annupuri and Niseko Village resorts, but does not offer good public transportation options.
That said, many people who visit Niseko will take buses from Sapporo or Shin-Chitose Airport directly to the ski resorts and will bypass Kutchan and Niseko Towns altogether.
During the winter season, hourly Niseko United Shuttle Buses operate between Hirafu, Niseko Village and Annupuri resorts. Niseko All Mountain Pass holders may use the shuttles for free, while non-pass holders may use the buses by paying regular fares (a few hundred yen based on distance).
The area around Niseko Station, Niseko Village, Annupuri and Moiwa is served by an on-demand bus, the Nikotto Bus. The bus costs a flat 200 yen per ride and has to be reserved by phone.
In addition, many hotels and pensions in the Niseko area provide their staying guests with complimentary shuttle services to and from the ski resorts and nearest railway station. Inquire with your accommodation.
Questions? Ask in our forum.