Lake Shikotsuko (ÄxÔöî╬) and nearby Lake Toyako are the two most prominent features of the Shikotsu-Toya National Park. Both lakes are caldera lakes, which were formed from collapses in the earth after volcanic activity.
Most of Shikotsuko is little developed except for Shikotsu Kohan, a small, touristy town with a visitor center and a small number of lodgings along the lake's western shores. From there, visitors can rent boats, bicycles or scuba gear to enjoy the natural surroundings or join a sightseeing cruise of the lake in glass bottomed boats or speed boats from late April to early November.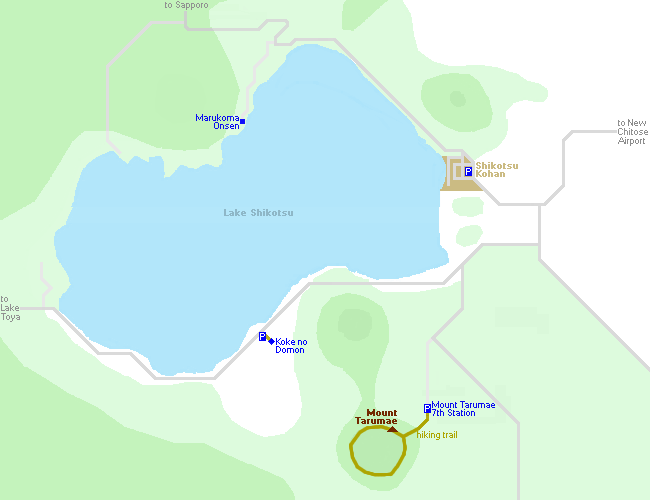 Lake Shikotsuko is encircled by mountains, one of which is Mount Tarumae. Tarumae ranks among Japan's most active volcanoes and most recently erupted in 1981. The mountain can be climbed in a steep but short ascent in less than an hour and offers impressive views of the deserted crater landscape and over Lake Shikotsuko. It is also possible to circle the crater in about two hours, but due to poisonous gases it is not allowed to enter the crater. The trailhead is difficult to access without a rental car.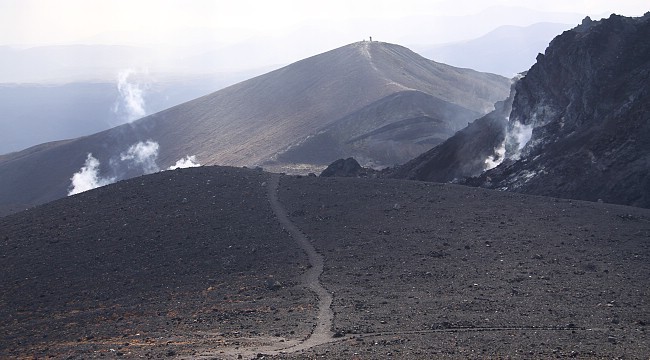 At the northern shores of the lake stands Marukoma Onsen, a ryokan with unique hot spring baths that are also open to non-staying visitors. The baths are located right along the lake shore and are connected to the lake by small canals, allowing for a certain exchange between the pools' hot water and the lake's cool water. Moreover, their water level changes according to the lake's water level and can be uncharacteristically high for onsen pools outside of winter. The ryokan has also conventional hot spring pools, all of which are gender segregated.
Koke no Domon, Japanese for "Moss Canyon", is another site of interest in the area. Located ten kilometers south of Shikotsu Kohan, Koke no Domon is a gulley with a rich variety of plant life lining its walls. There are said to be over twenty types of moss alone. Visitors cannot actually enter the gulley, but there is an observation platform from which it can be viewed (Currently closed to due to damage from heavy rains in 2014.)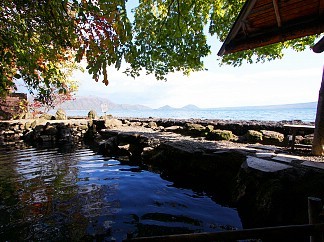 By car
A rental car is the recommended mode of transportation for exploring the Shikotsuko region, as buses to the park operate only infrequently and neither the trailhead of Mount Tarumae nor Koke no Domon are accessible by public transportation. The lake is a 40 minutes drive from Shin-Chitose Airport, an 80 minute drive from central Sapporo or an hour drive from Lake Toya.
By bus
From Shin-Chitose Airport, there are buses to Shikotsuko Kohan (1 hour, 1050 yen one way, one bus every 2-3 hours), which also stop at Chitose Station along the way. It takes about 45 minutes and 950 yen to get from Chitose Station to Shikotsuko Kohan. The direct bus line between Sapporo and Lake Shikotsuko was discontinued in 2010.
There is no direct public transportation between Lake Toya and Lake Shikotsuko.
Marukoma Onsen (for non-staying guests)
Koke no Domon Moss Canyon
Closed
Currently closed to due to damage from heavy rains in 2014.
Questions? Ask in our forum.