Mount Myoko (妙高山, Myōkō-san) is a volcano in western Niigata Prefecture and one of Japan's oldest snow resort areas. Blessed with an incredible 13-16 meters of snowfall on average each winter, the Myoko area is a top destination in the country for deep powder skiing and snowboarding, and offers interesting terrain for riders at all levels to enjoy.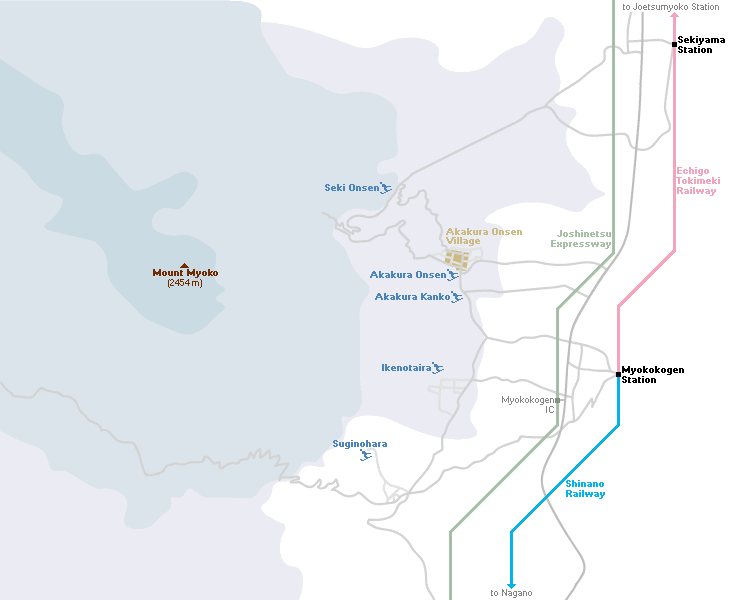 A handful of separate resorts are spread across the mountain's slopes. Of the main resorts, Myoko Akakura is the largest and most popular, and is where most of Myoko's accommodation, restaurants, bars and shops can be found. Myoko Suginohara is another standout resort claiming to have one of the country's longest runs at 8.5 kilometers. Other Myoko classics include Ikenotaira, with good beginner and intermediate runs, and Seki Onsen, a tiny but well-loved mecca for powder hunters.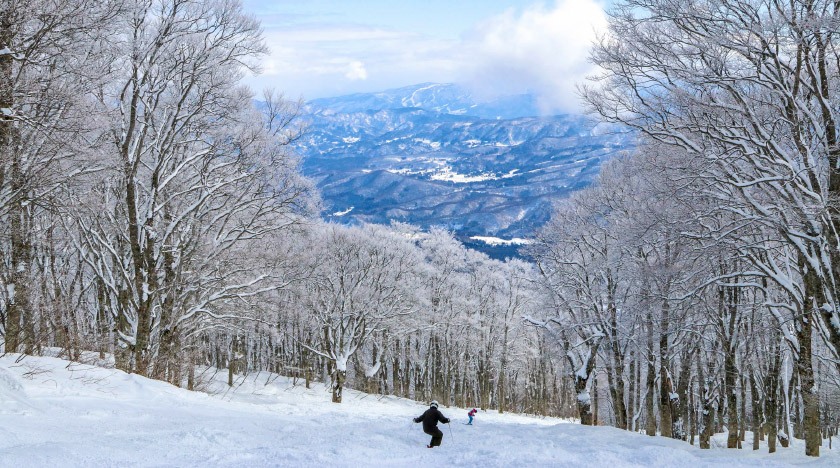 Below the ski slopes, onsen are Myoko's next claim to fame. Ranging from secluded outdoor baths to posh modern ski hotels, many hot spring sources and traditional ryokan are scattered around the area - especially around the bases of the major resorts. While the town has developed over the years to accommodate the winter crowds (and growing numbers of foreign visitors), the mom and pop shops, foot baths and old ryokan around each corner still lend Myoko some rural charm.
How to get to Myoko
Myoko is located close to the Hokuriku Shinkansen. Most visitors to Myoko from eastern Japan will find it easiest to travel via Nagano Station, while Joetsumyoko Station can be the better station to get off when coming from western Japan: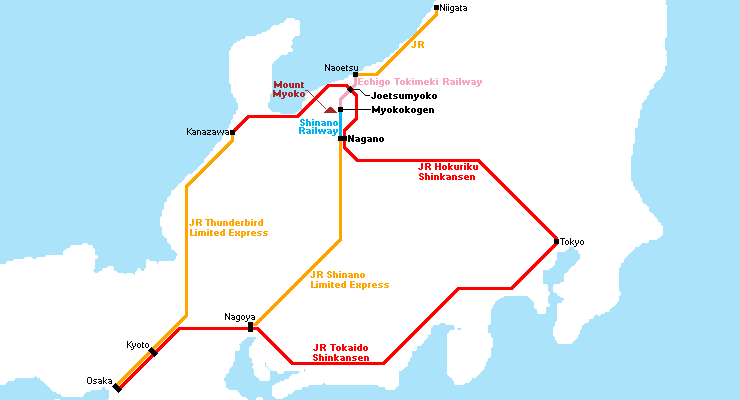 From most places in eastern Japan, including Tokyo, Myoko is most easily accessible via Nagano City. From Nagano Station, take the Shinano Railway to Myokokogen Station (45 minutes, 850 yen one way, 1 train/hour, not covered by the Japan Rail Pass) from where it is a short taxi or bus ride to the ski resorts.
Via Joetsumyoko Station
From many places in western Japan, e.g. Osaka and Kanazawa, Myoko is more easily accessed via Joetsumyoko Station along the Hokuriku Shinkansen. From Joetsumyoko Station, take the Echigo Tokimeki Railway to Myokokogen Station (35 minute, 670 yen one way, 1 train/hour, not covered by the Japan Rail Pass) from where it is a short taxi or bus ride to the ski resorts.
Alternatively, there are a small number of direct buses between Joetsumyoko Station and the Akakura, Suginohara and Ikenotaira resorts during winter (about 1 hour, 1100-1300 yen one way, 2 buses/day), but they do not operate in 2022/2023.
Getting around
Most ski resorts are located within a 10-15 minute taxi from Myokokogen Station. City buses connect Myokokogen Station to the Akakura ski resorts (10-15 minutes, 350-380 yen) and the surroundings of the Iketaira (15 minutes, 280 yen) and Suginohara resorts (15-20 minutes, 480 yen) every 1-2 hours. Seki Onsen is not connected to the other resorts or Myokokogen Station. Instead, Seki Onsen can be reached by bus from Sekiyama Station (25 minutes, 440 yen one way, every 2-3 hours), one station north of Myokokogen Station.
Free shuttle buses used to be operated during the ski season between Myokokogen Station and the various ski resorts before the coronavirus crisis, but most remain out of service.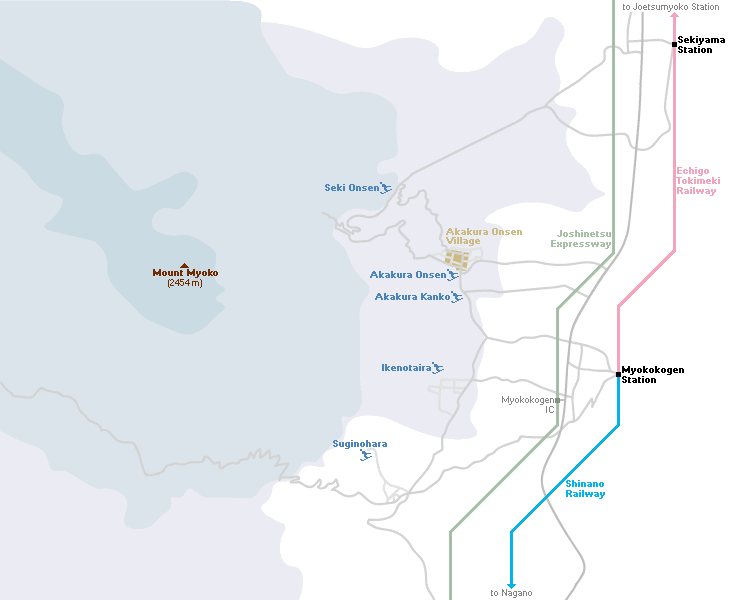 Questions? Ask in our forum.