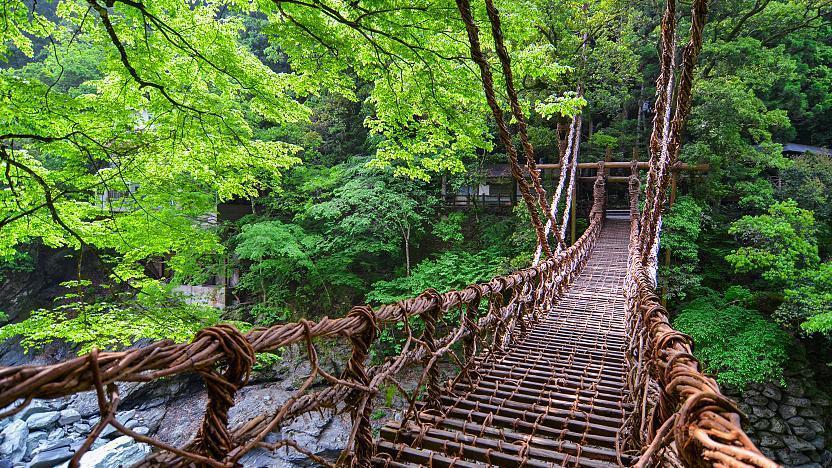 In the past, suspension bridges made of mountain vines (kazurabashi) were one of the only ways to easily move people and goods across the river of the Iya Valley. History is unclear about their origins, but legends say that they were either first raised by Kobo Daishi, founder of the Shingon Sect of Japanese Buddhism, or created by Heike refugees hiding in the area after their defeat in the Gempei War (1180-1185) as a means of quickly cutting off access to the valley.
13 bridges once spanned the valley, but only three survive today. Iya Kazurabashi (祖谷かずら橋), the largest and most popular of the remaining bridges, stretches 45 meters across the Iya River at the center of the valley, and gives visitors an unsettling view of the water 14 meters below the open slats of the span. The bridge, which is rebuilt every three years, is anchored to tall cedar trees at both ends and has steel cables hidden within the vines for safety. The bridge can be crossed in one direction only.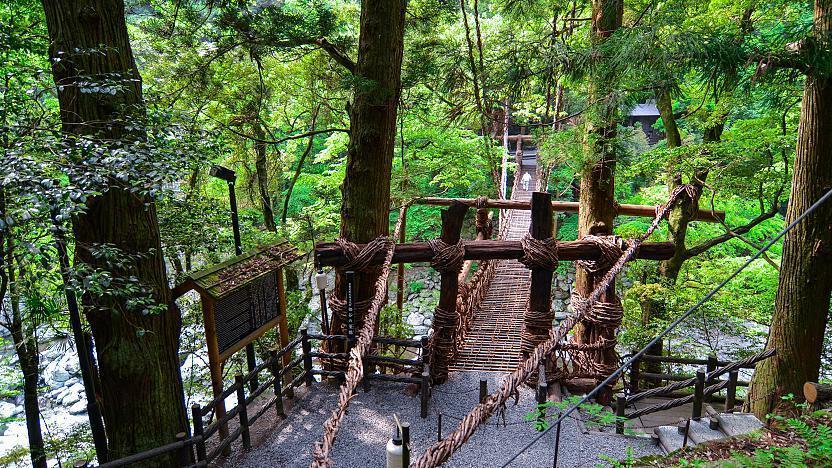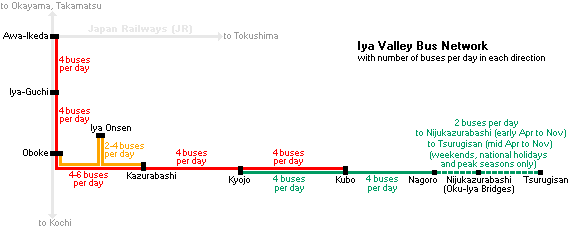 Iya Kazurabashi can be reached by bus from Awa Ikeda (60 minutes, 1290 yen, every 2-3 hours) and Oboke stations (20 minutes, 670 yen, every 1-2 hours, some buses run via Iya Onsen in which case the journey takes 50 minutes).
How to get to and around the Iya Valley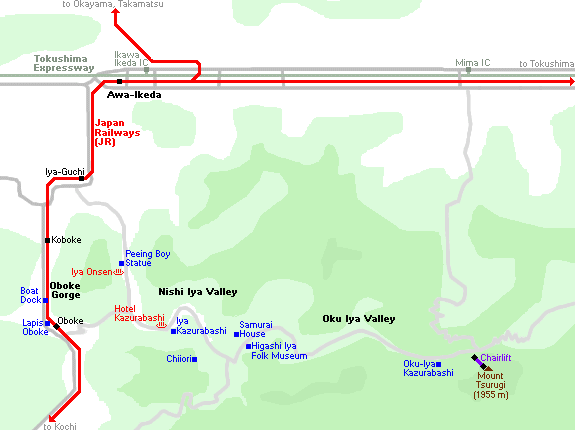 Hours
Sunrise to sunset (illuminated in the evenings from 19:00 to 21:30)
Questions? Ask in our forum.
Hotel Iya Onsen

A secluded onsen ryokan with stunning view of Iya Valley. Open-air bath 170m down by cable car is a must-try. Free shuttle to/from JR Oboke Sta. Wi-Fi available.

View site

Sponsored