Autumn Color Report: Nasu
Joe's Japan Travel Journal
by Joe, staff writer of japan-guide.com
2015/10/08 - Autumn Color Report: Nasu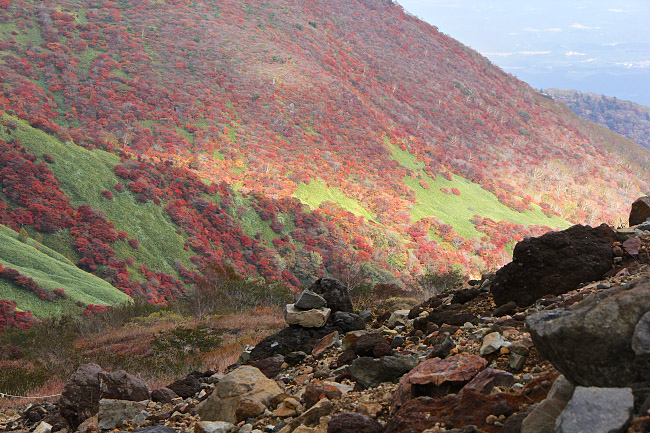 Continuing our coverage of the autumn color season, I made my way to the beautiful Mount Nasu in northern Tochigi Prefecture. Mount Nasu, located just a little over an hour north of Tokyo by Shinkansen, is a hugely popular destination for enjoying autumn colors in early-mid October. In addition to its fall color, the mountain boasts many great onsen, interesting folk legends, great scenery, and more.
I started my day early at one of my favorite waterfalls in Tochigi, Komadome-ga-taki. I was greeted by some fabulous color surrounding the falls in the morning (plus a little extra color provided by a rainbow!). The colors in most places on Nasu are definitely at their peak now.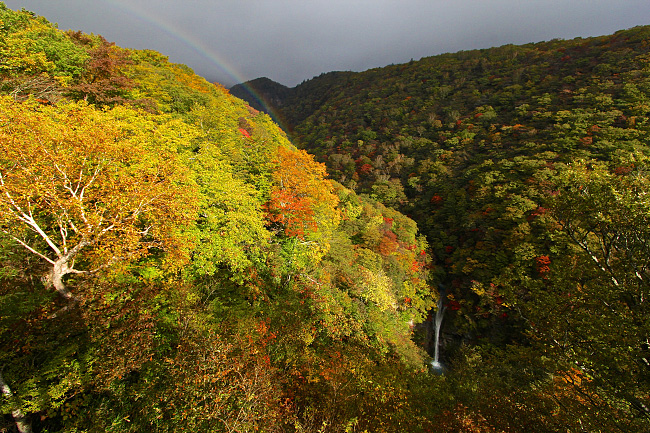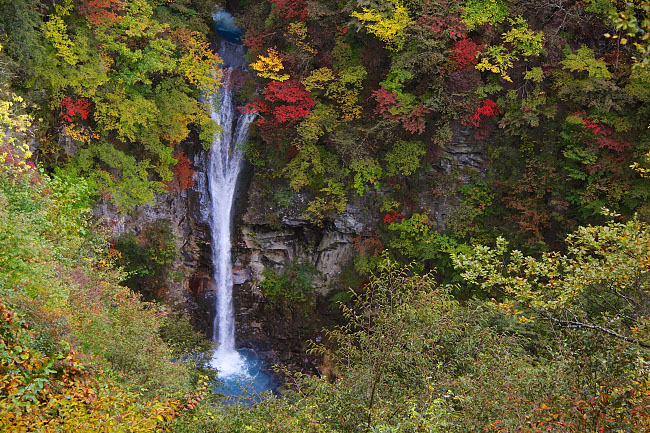 Making my way towards the peaks of Nasu-dake, the weather started to get a bit cruel, unfortunately. Despite lovely weather in most of northern Tochigi, a nasty storm cloud was perched over Nasu-dake this morning, and with it lots of clouds and extremely strong wind. Missing today were the dozens of hikers that usually cover the trails during Nasu's peak color season (many of whom use the convenient ropeway, which was closed all day due to the wind). And today, it wasn't surprising. Just a half hour into my hike, the gusts of wind coming down from the summit were strong enough to knock me over and, as I found out, strong enough to remove unsecured glasses from unsuspecting victims' faces.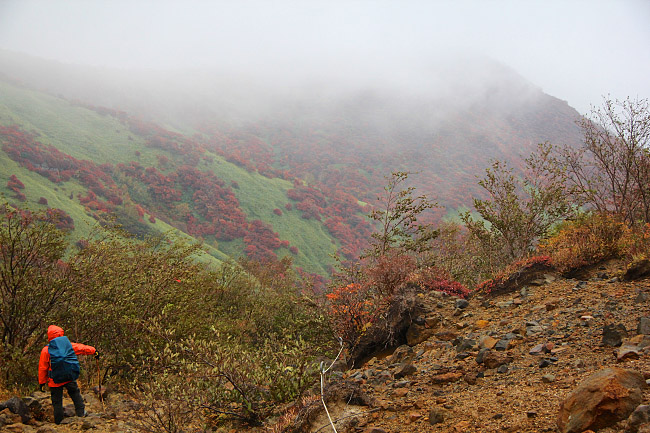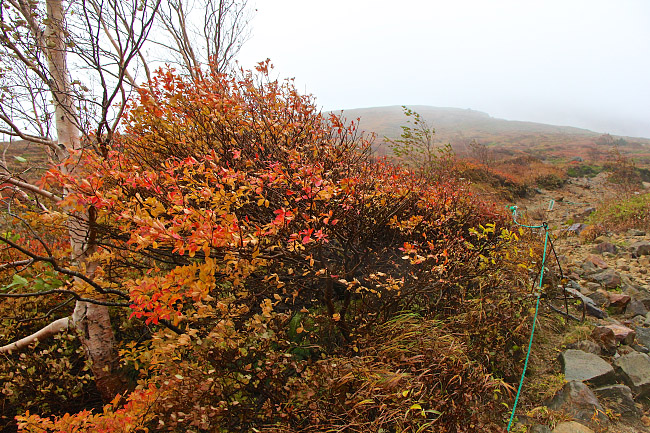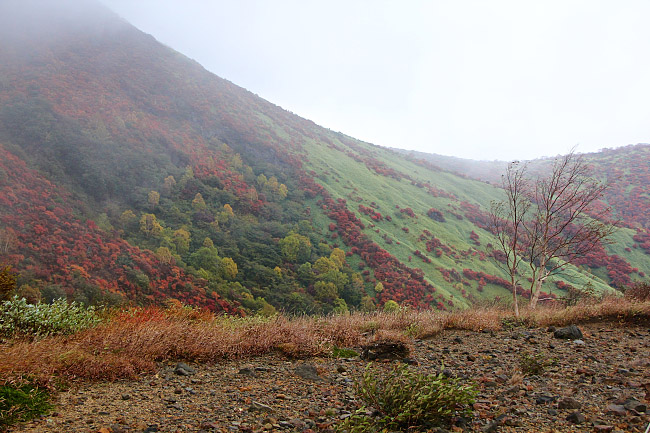 After a disappointing start, I drove back down the mountain to the Nasu Yumoto area to wait out the storm a bit. Situated in a small valley in a bend in the slopes, the Yumoto area is one of the main onsen sources on Nasu, which happens to be celebrating its 1300th year anniversary this year. The area features traditional onsen, footbaths, ryokan, shopping, a lovely old shrine dedicated to the onsen of Nasu, and even the final resting place of the legendary Nine-Tailed Fox demon. All in all a great place to spend a half day.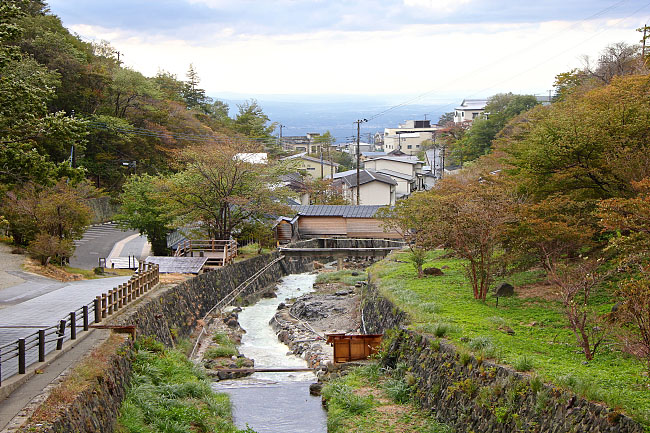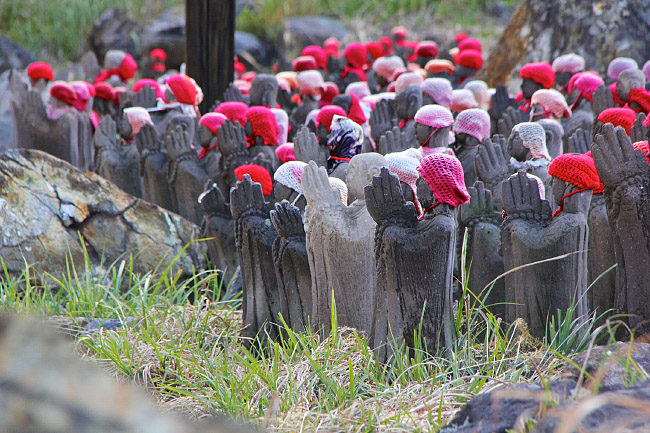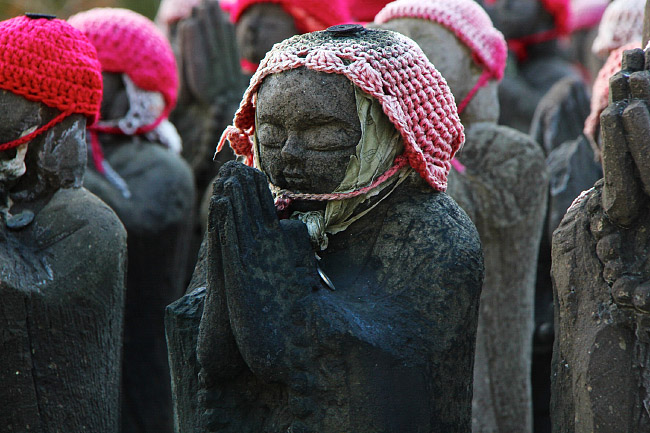 After killing some time in the Yumoto area, the clouds on top of the mountain cleared up enough for me to give my hike another chance. On my second attempt, the views of the mountain slopes were much better (though the winds remained just as strong as before, limiting my hike to only about halfway up the mountain). The bright red nanakamado shrubs growing all over the slopes of Asahi-dake (one of the three highest peak of the Nasu massif) was stunning, especially contrasted against the waves of emerald green sasa (alpine bamboo).
While the high winds sadly kept me from reaching the Fukushima side of the mountain, which offers stunning views of autumn color of its own, my short trip was enough to convince me that the mountain is in peak color now, and should be absolutely lovely though the long weekend for any travelers looking for some great fall color near Tokyo.