When do trees turn colors
Because of Japan's great north-south extension, autumn leaves can be viewed somewhere in the country for nearly three months! The season starts around mid September in the highest mountains of Hokkaido and then gradually moves into lower elevations and more southern latitudes until reaching Tokyo and Kyoto in the second half of November. In some locations colors can be enjoyed into December.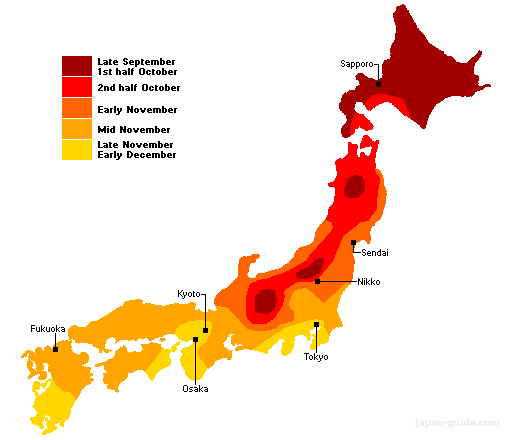 During the first phase of the season, the colors are mostly found in the mountains where entire slopes turn orange, yellow and red, and provide some of the most amazing seasonal sceneries. Hiking is the most rewarding way to see the colorful leaves in the mountains, but many spots can also be conveniently reached by train, bus or ropeway.
In the second phase of the autumn leaf season, the colors descend into Japan's cities, where they can be viewed in parks and gardens. Among the highlights are the autumn colors in the temples gardens of Kyoto where they beautifully complement with the buildings' elegant architecture. Almost surreal is the sight of the trees during evening illuminations, which are held at selected gardens and temples.
Depending on temperatures during the preceding months and weeks, the timing of the autumn leaf season can vary by a few days to one or two weeks from year to year. The map and the list of popular autumn leaf destinations below show the approximate best timing for seeing the leaves in the average year.
Unlike cherry blossoms, which usually last for only one week, autumn colors can usually be enjoyed over a couple of weeks or so and are therefore a little bit easier to catch than the blossoms.
Questions? Ask in our forum.