Autumn Color Report 2014
Official autumn color reports by japan-guide.com
Where to see autumn leaves? - When do trees turn colors? - What trees turn colors?
Schedule of upcoming reports - Post your own report
2014/10/21 - Nikko Report
by joe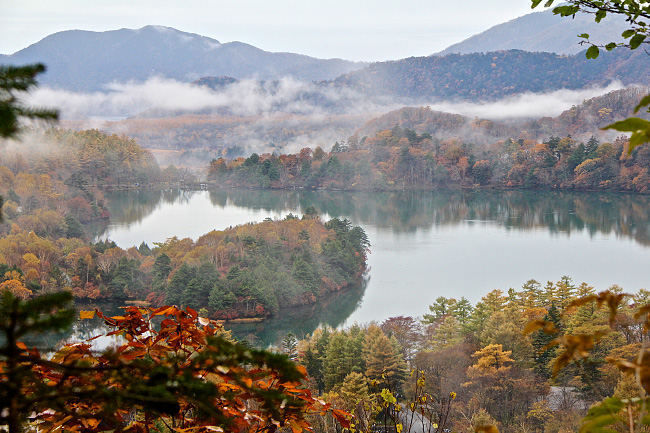 With autumn colors coming to a finish on higher mountains like Tateyama and Nasu, some of the best places to find fall color at this mid-point in the season are the areas just below the highest elevations. Nikko just so happens to be one of those special places that features a huge range of elevations, and a long fall color season. To see how far the colors have moved down the mountains since my last report from Nikko two weeks ago, I headed back there again today.
Amidst a thick morning mist and overcast sky, I started again at the highest part of the national park in Okunikko. The foliage on the trees around the high Konsei pass and the Yumoto Onsen area was all but gone today, though a few pockets of trees were still holding on to their yellows and reds.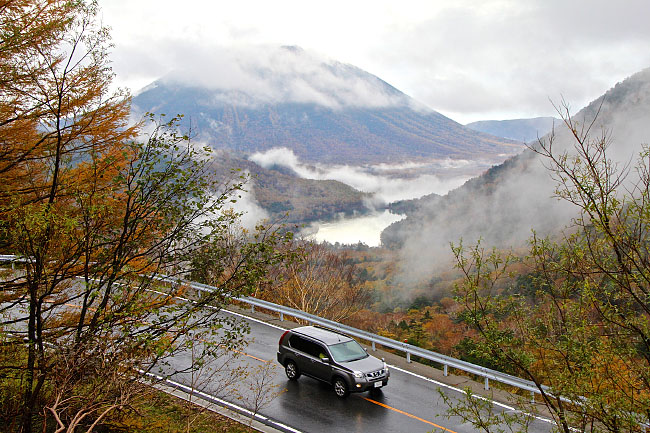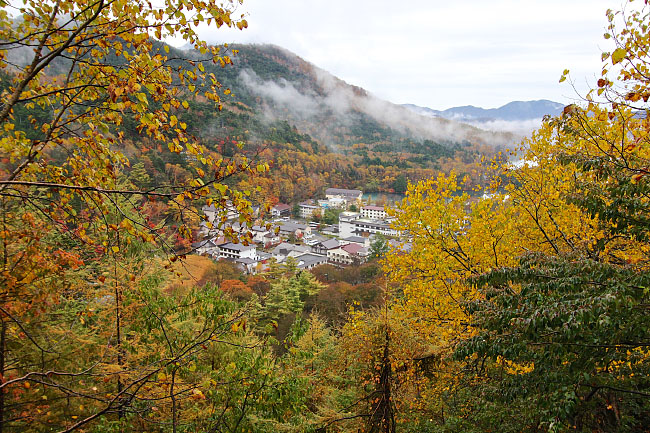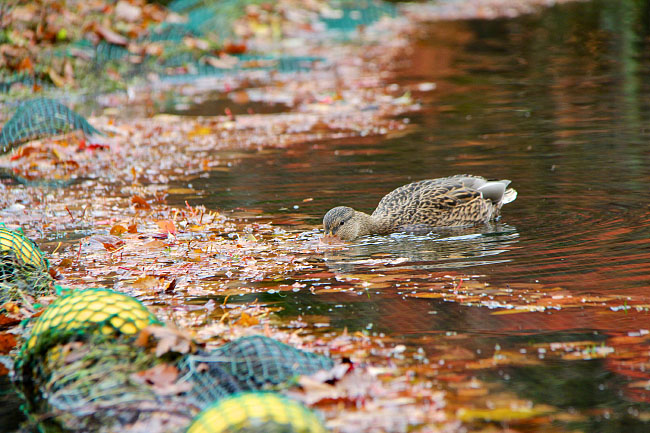 Senjogahara marshland and Ryuzu Waterfall, a little further down from Yumoto Onsen, were also well past their peak today. The coniferous larch trees that grow on Senjogahara, though, tend to turn a deep yellow slightly later than other trees, and were still lovely against the orangish brown marsh grasses and low white clouds today.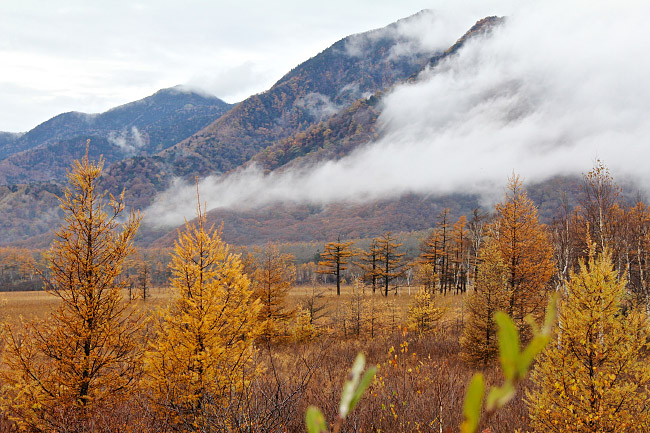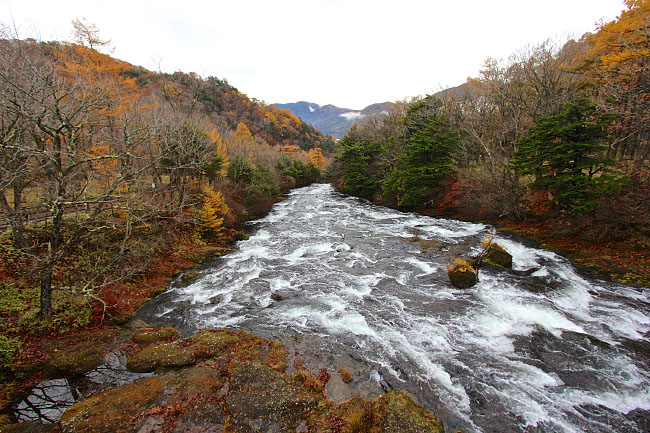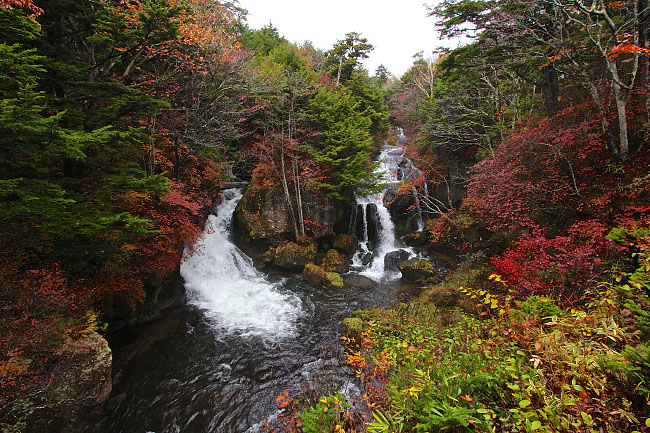 As I moved further down in elevation, it was clear that the place to see autumn color this week is around Lake Chuzenji. The colors of these trees have peaked this week and will probably last through next week, although Mount Nantai was already rather brown. To find a great spot to view the leaves in this area (though perhaps on a clearer day than today), take a 10-15 minute drive up nearby Mount Hangetsuyama. The observation decks that are just a 20-30 minute hike from the upper parking area offer a fanstastic vantage point over Chuzenji, Mount Nantai and the iconic Hachodejima Peninsula.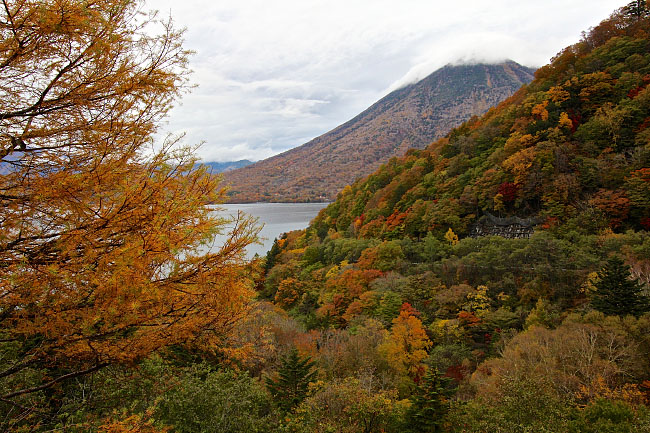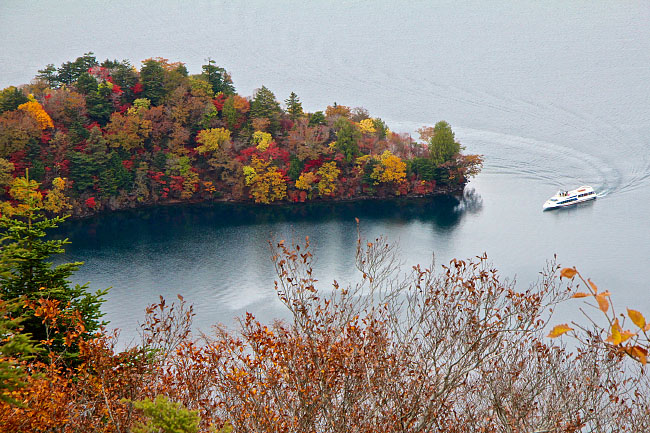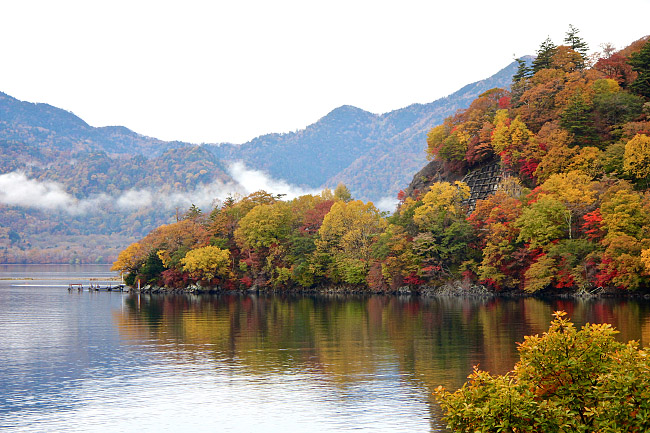 Just off the lake, the foliage around the Kegon Falls, considered one of Japan's three best waterfalls in Japan, was already a bit past-peak but still colorful.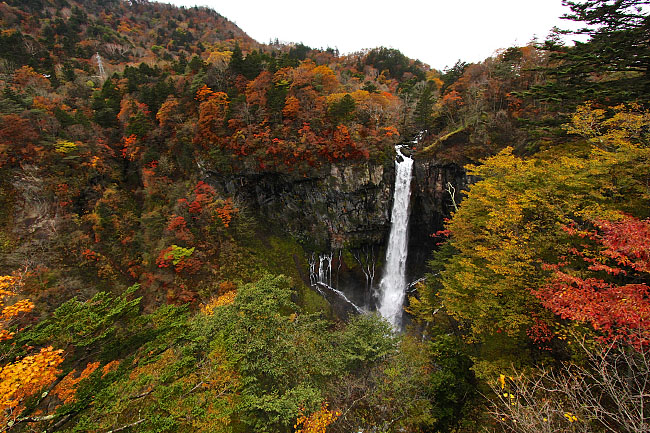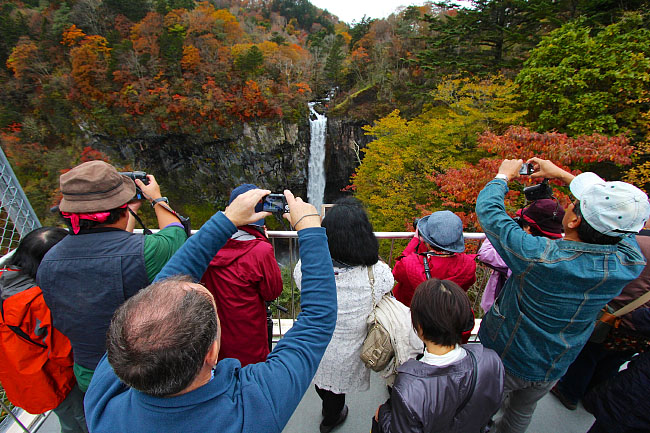 Traveling just beyond Kegon Falls, I found the switchback-riddled Irohazaka Road in full color today. The huge slopes around the road were covered in splashes of yellows and reds that would've been amazing on a sunny day, but were nonetheless impressive to me (and the throngs of tourists oohing and aahing alongside me). Before driving down the road, I drove up to the Akechidaira Plateau not far from Kegon Falls and Lake Chuzenji. The plateau has great views over the road and the valley it winds through, and for a 730-yen roundtrip ropeway ride, you can access an even higher viewpoint with views across Okunikko and Kegon Falls.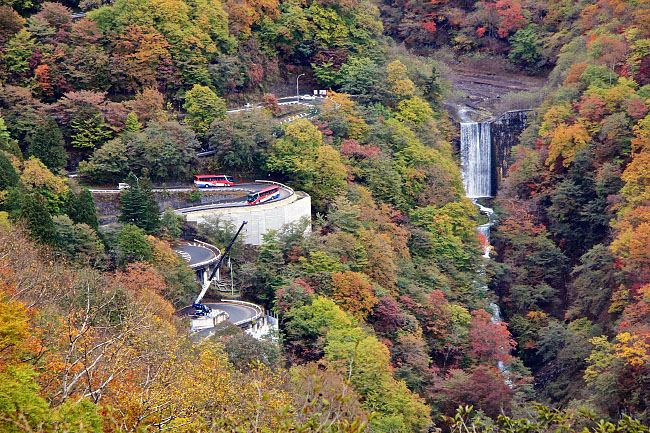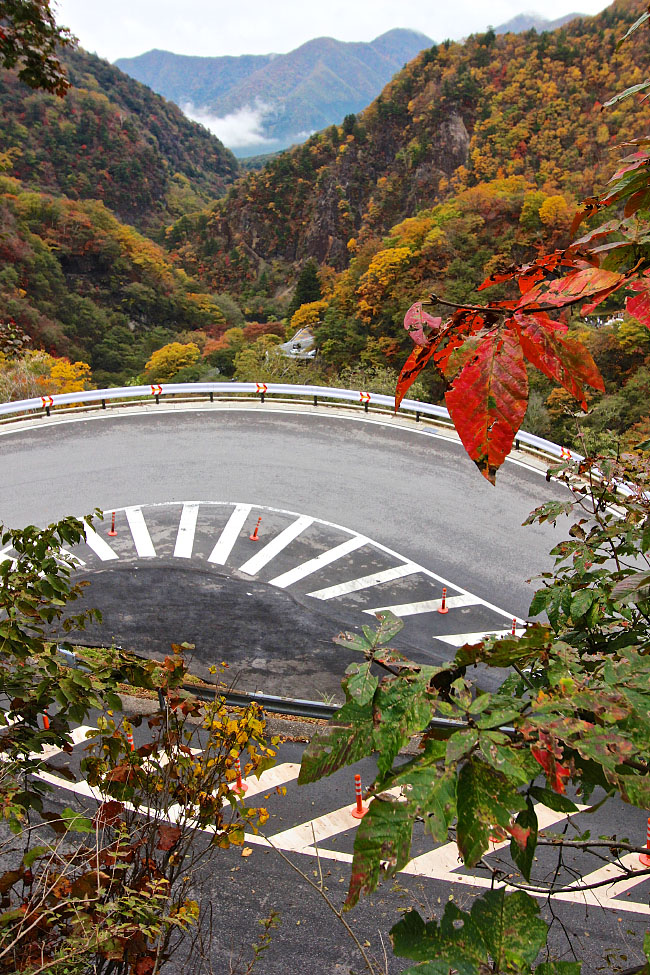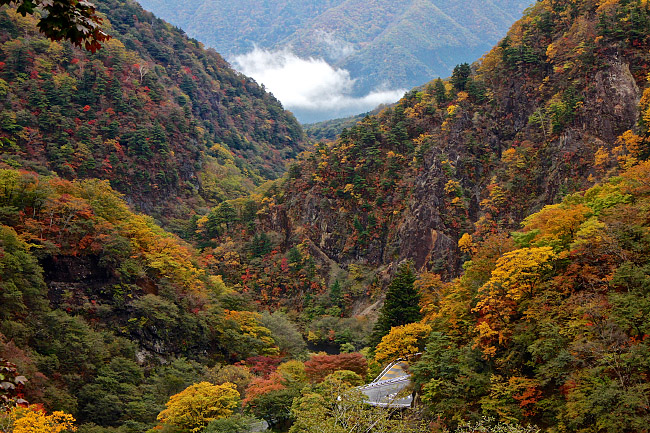 For my last stop in Nikko, I made my way down the Irohazaka Road to the Toshogu Shrine area and visited the Shoyoen Garden beside the immense (and still-scaffolded) Rinnoji Temple. The 400-year-old temple garden is a popular place to enjoy autumn color, and since my last visit two weeks ago, almost all of the Japanese maple (momiji) that appear all around the garden have turned much redder. While its peak is maybe a week or so away, the garden was still colorful and very peaceful and atmospheric with raindrops dangling off of tree branches and a light mist floating past the small teahouse.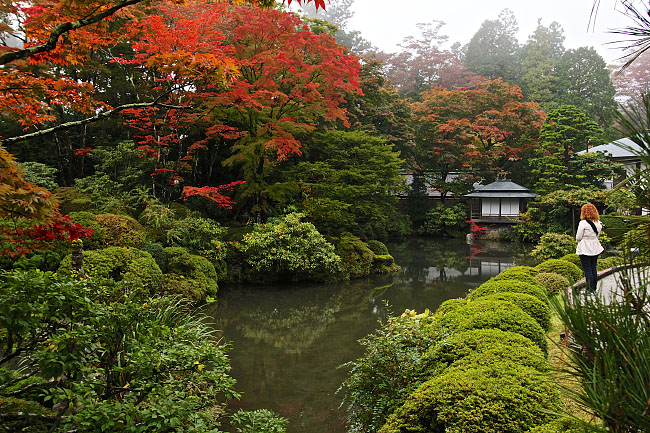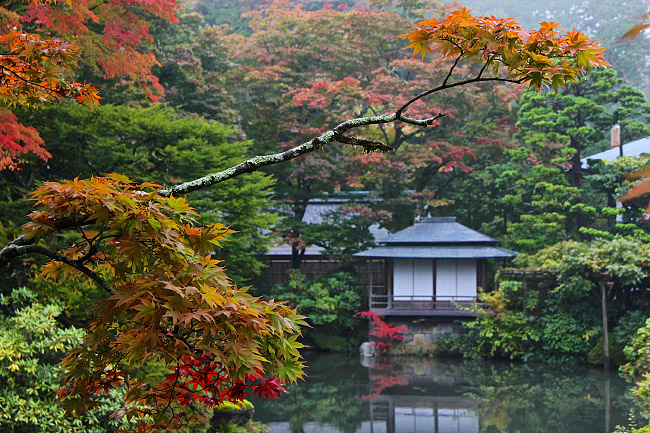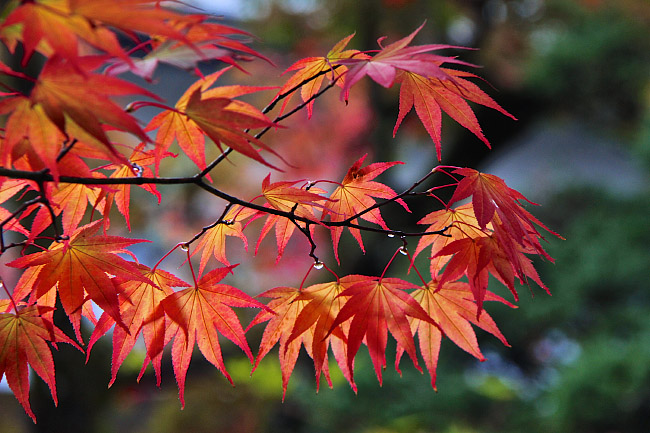 Questions? Ask in our forum.