Autumn Color Report 2014
Official autumn color reports by japan-guide.com
Where to see autumn leaves? - When do trees turn colors? - What trees turn colors?
Schedule of upcoming reports - Post your own report
2014/10/01 - Oze Report
by raina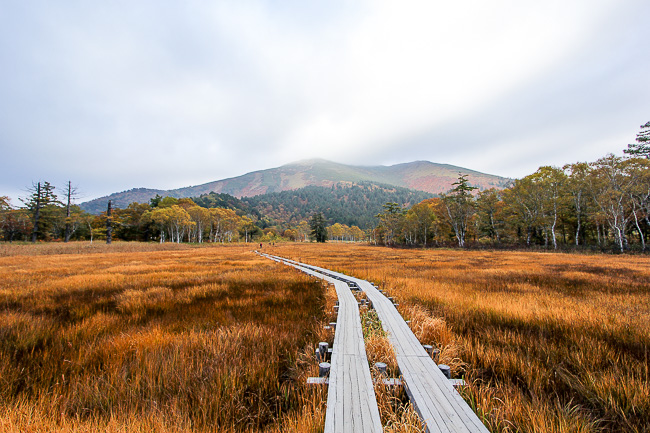 Oze National Park is about 150 kilometers north of Tokyo, spanning Gunma, Fukushima, Niigata and Tochigi prefectures. It is possible to visit in a day trip but requires an early start and a lot of travelling. The road up to Hatomachitoge is closed to private cars until October 14, and microbuses run from the carpark and bus terminal to Hatomachitoge. The one way trip costs 930 yen and takes about 30 minutes. There are several hiking courses starting from Hatomachitoge Pass, and the most popular course into the marshland takes about 6.5hours to complete and covers a distance of about 17 kilometers.
I arrived at Oze early to cloudy skies and a slight drizzle. Despite being early and less than perfect weather, there were already many cars at the carpark. The trees down in the town were still green but as the microbus got closer to Hatomachitoge, I could see more colors on the trees. The path from Hatomachitoge to the start of the trailhead into the marshland is well marked with wooden steps and planks showing the path clearly. However, the path is on an incline which meant that while it was really quick going down, coming back up was a different story.
The path from Hatomachitoge runs through a forest before continuing to the marshland. The deciduous trees in the forest had mottled brown leaves, and leaves of different colors: pale green, orange, yellow and red. It was beautiful to see and reminded me of a Monet painting. The trees in Oze are one to two weeks earlier than average and should reach their peak by the next week or so.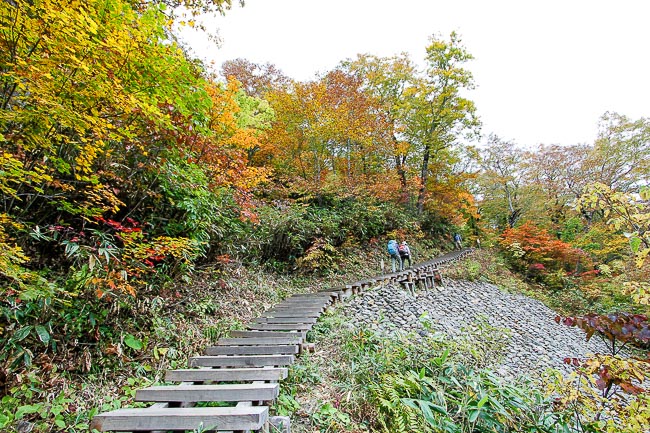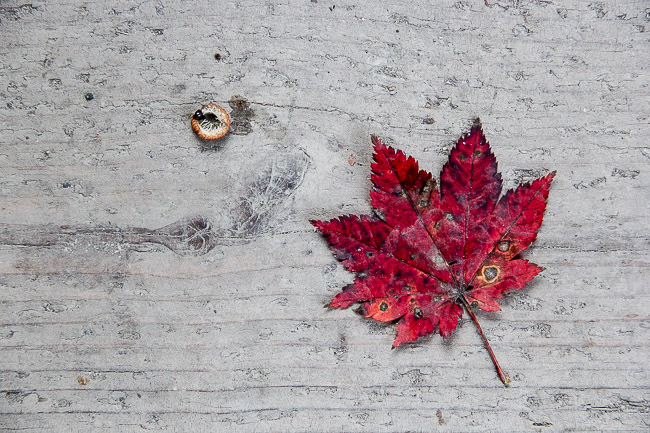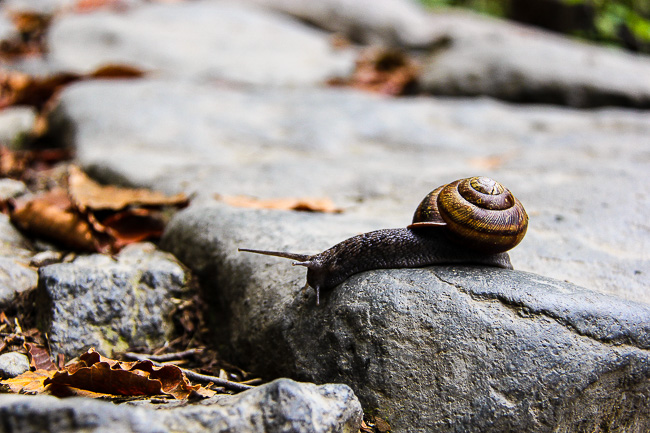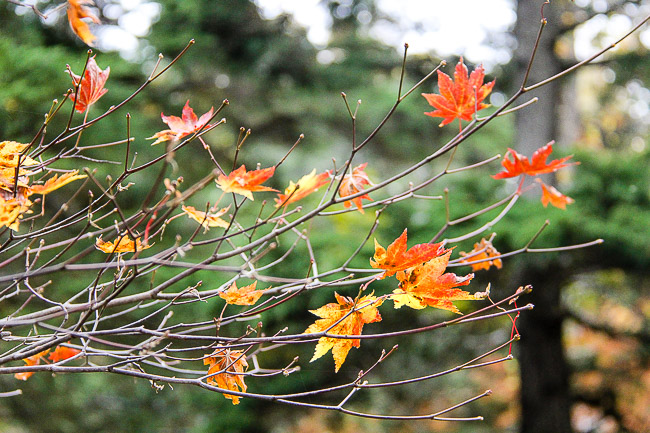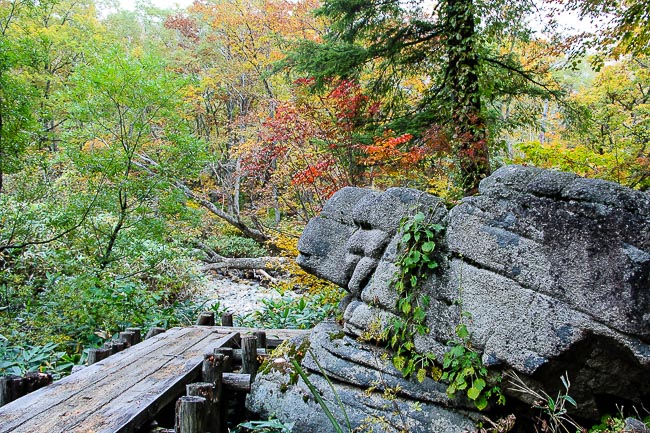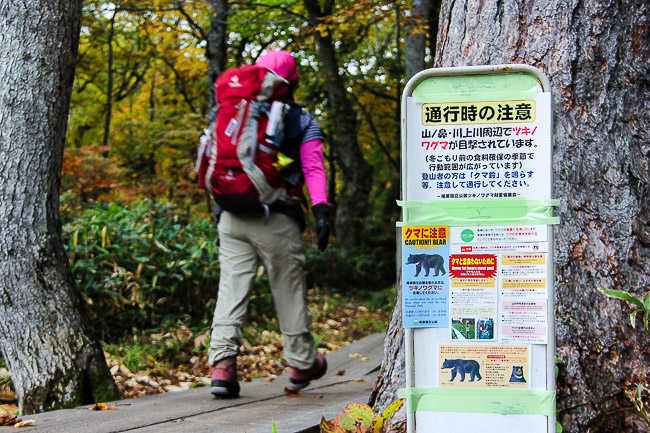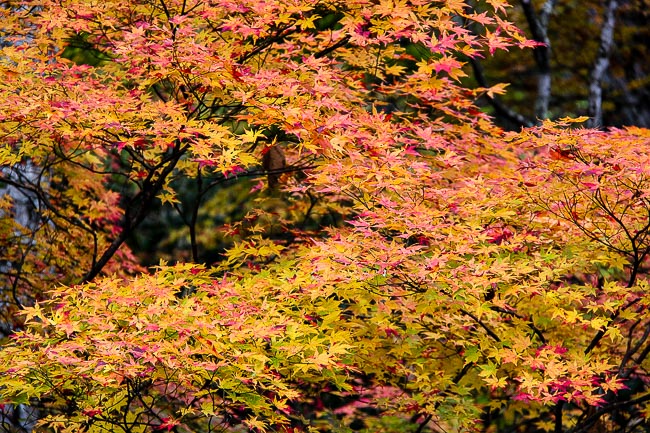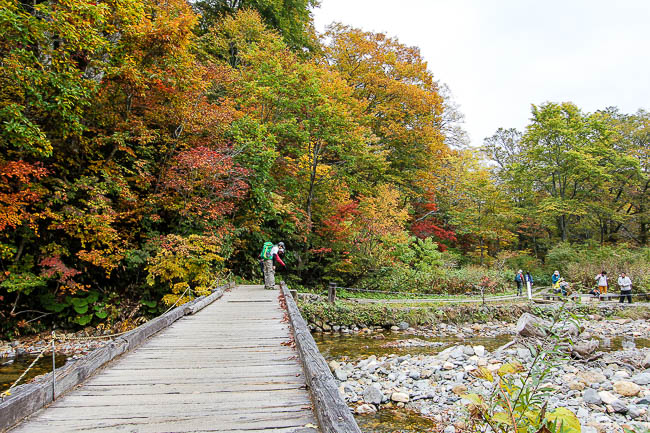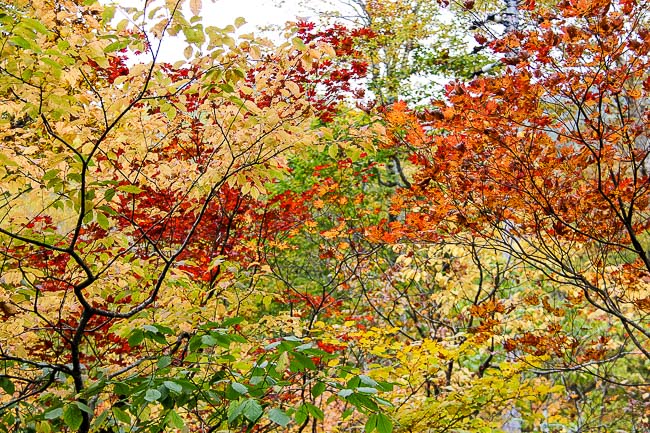 At the intersection into the marshland, there's a visitors center with an information booth, toilets, rest areas, shops, a small camping site and a lodge for those who want to stay overnight in Oze National Park. From there, it was all marshland and kusamomiji, the grass in the marshland that turns golden in the fall. Even though I knew it is a marshland, I was still surprised at how far and flat it was; it also felt like all the walking I was doing was getting me nowhere. There were golden kusamomiji all around the path, colored trees in the distance, and Mount Hiuchigatake and Mount Shibutsu shrouded in clouds surrounding the marshland. While the scenery is beautiful as it is, the colors at Ozegahara marshland could stand to develop a little more intensity.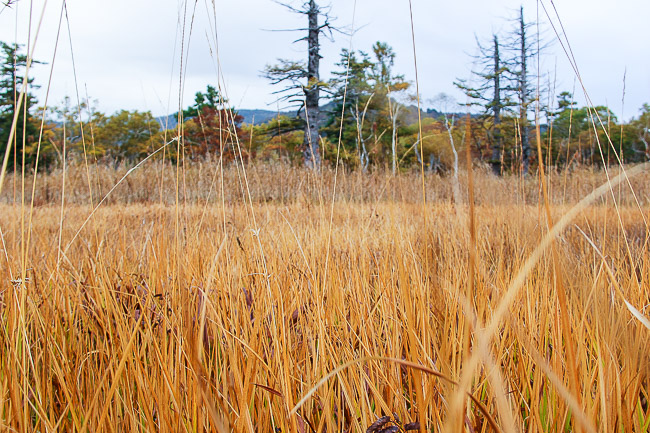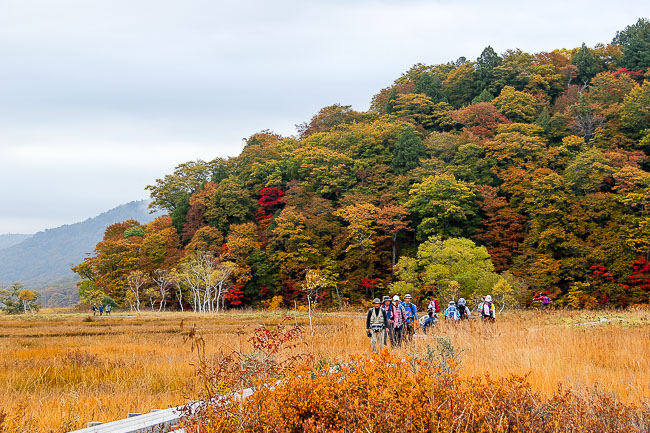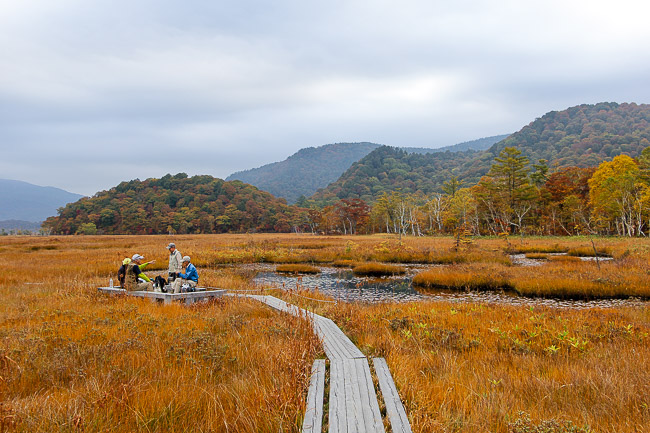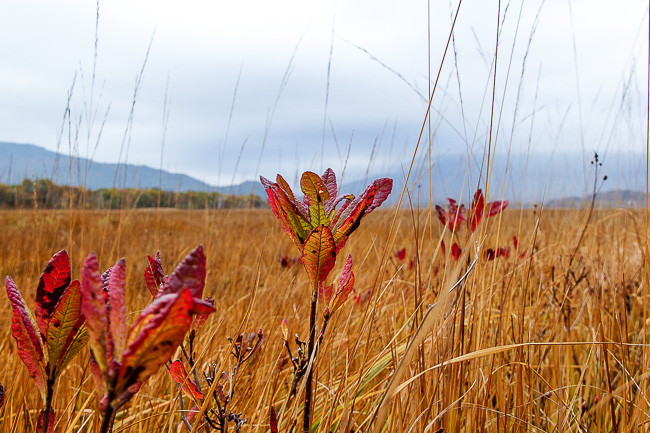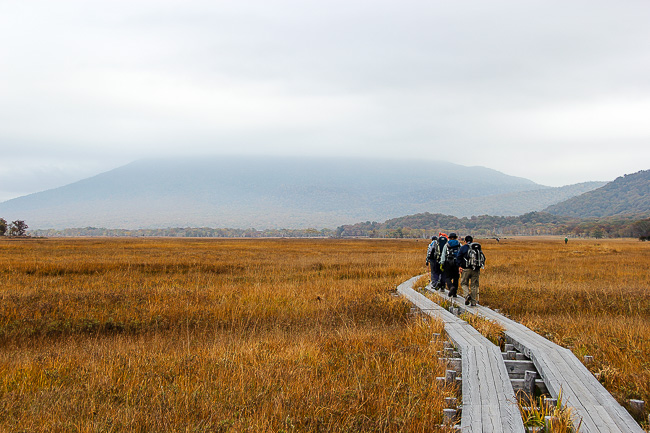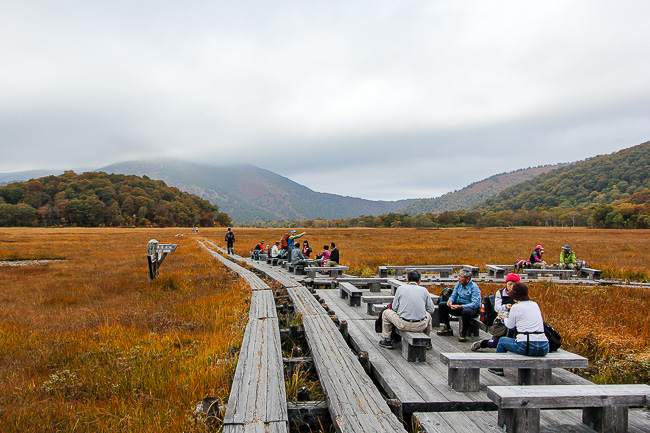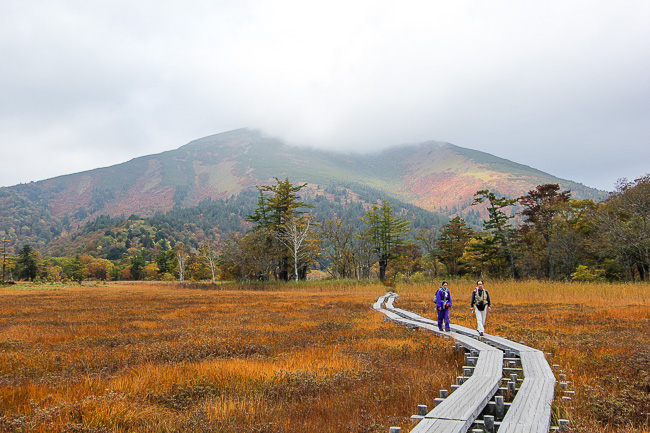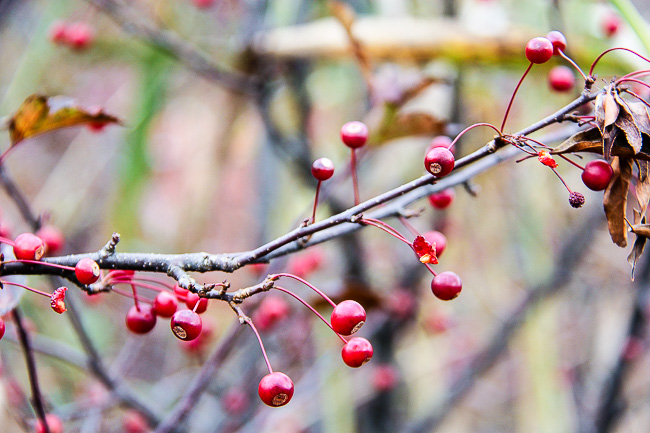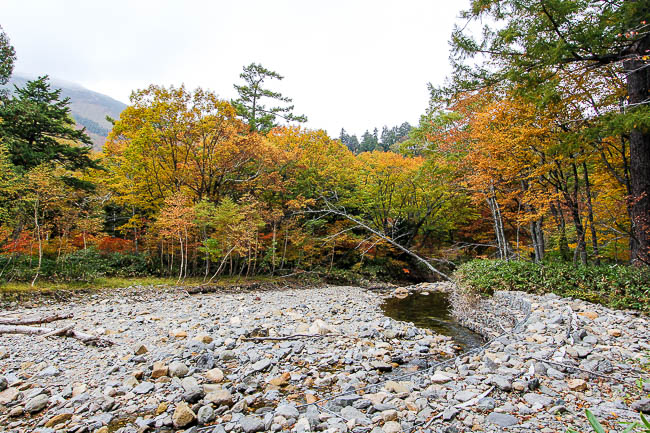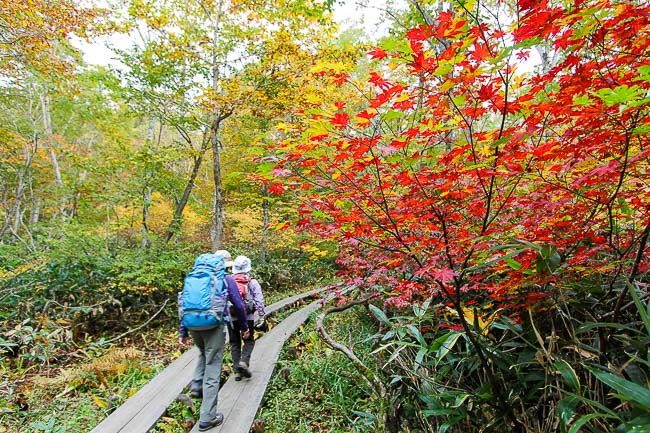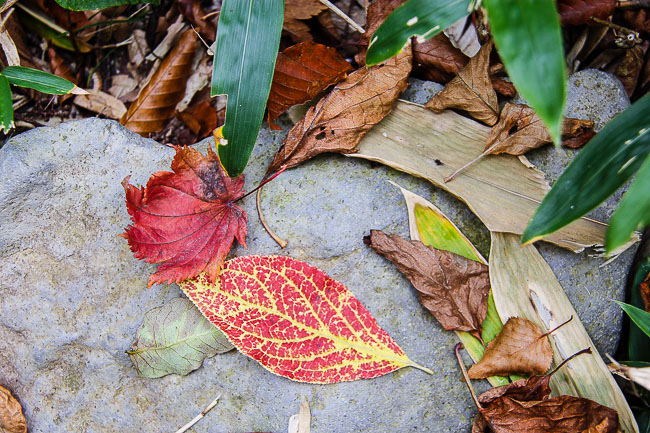 Questions? Ask in our forum.