Autumn Color Report 2013
Official autumn color reports by japan-guide.com
Where to see autumn leaves? - When do trees turn colors? - What trees turn colors?
Schedule of upcoming reports - Post your own report
2013/09/20 - Asahidake Report
by schauwecker
Daisetsuzan National Park in the center of Japan's northernmost main island of Hokkaido is the first place in the country to see autumn colors each year. The leaves and grasses in the higher elevations of the national park usually reach the peak of their seasonal beauty around mid to late September, roughly two months before the trees in Tokyo start changing colors.
Thanks to low temperatures over the past weeks, the colors in the higher elevations of Daisetsuzan have been progressing at a fast pace compared to recent years. And in some locations the season has already reached its peak. One such location is Mount Asahidake, Hokkaido's tallest mountain, from where I have been starting our annual autumn color reports for the past five years. Tourists can easily reach the mountain by taking a ropeway from Asahidake Onsen to an upper station above the tree line.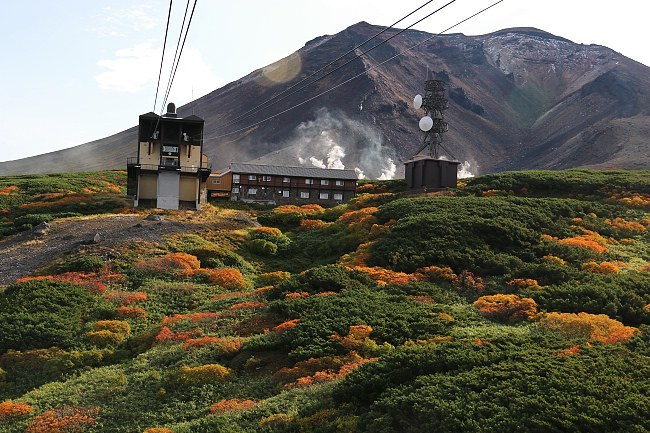 The colors around the ropeway's upper station made for a promising start to this year's autumn color season. The nanakamado bushes, the most prominent providers of colors in the area, have already turned into nice yellows, oranges and reds, and many leaves of the cute Chinguruma plants and blueberry bushes have also already turned red. Unfortunately, the weather today was mostly overcast. Sunshine would have further enhanced the colors.
The most popular walking route at Mount Asahidake is an easy 40-60 minute loop around the upper ropeway station. It is one of the best areas to see the autumn colors in combination with the mountain's spectacular sulfuric vents. Next most popular is the ascent to the peak of Asahidake, which takes about two hours (one way), however, there are not many autumn colors along the trail.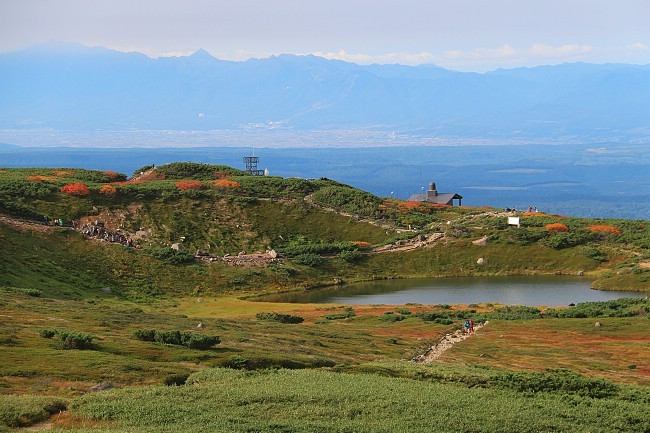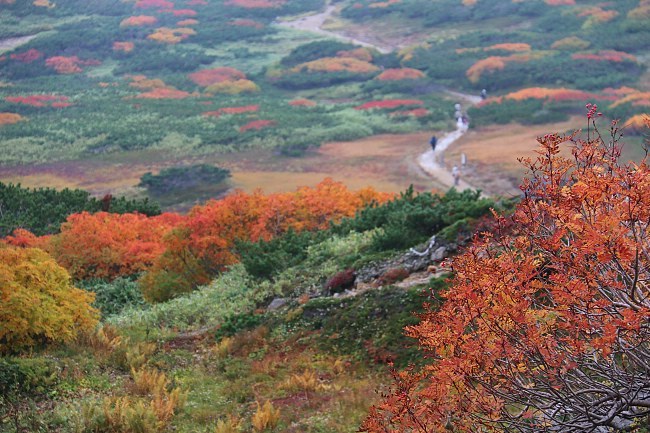 More rewarding for koyo hunters is a visit to the Susoaidaira Plateau, which is a relatively flat, 90-120 minute hike (one way) to the north of the ropeway station. The plateau has lots of nanakamado bushes and wide fields of Chinguruma plants. Proper hiking shoes are recommended for visiting the Susoaidaira Plateau due to the uneven terrain.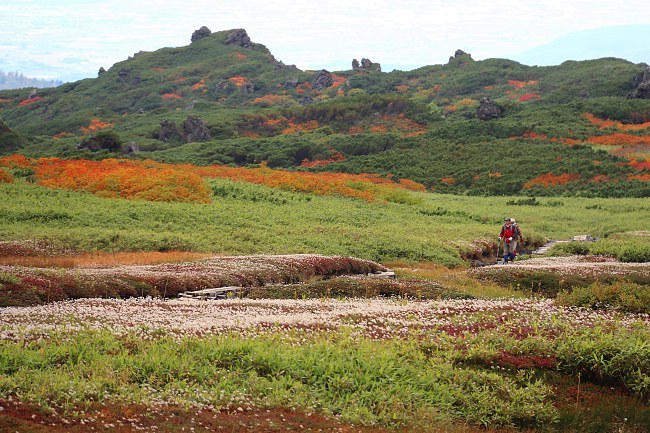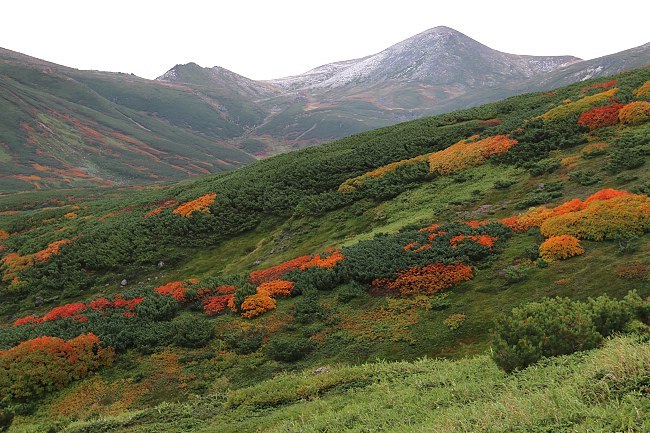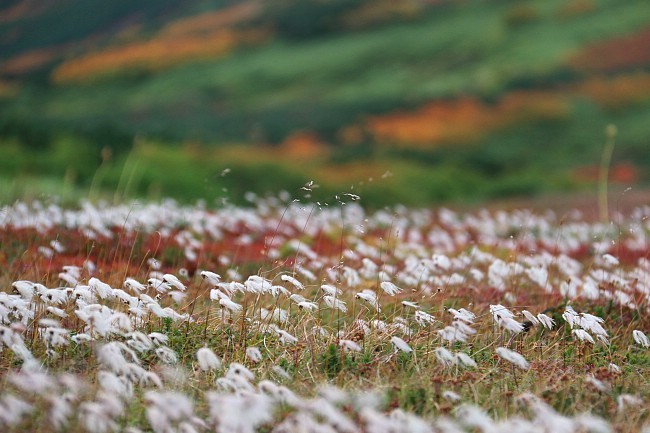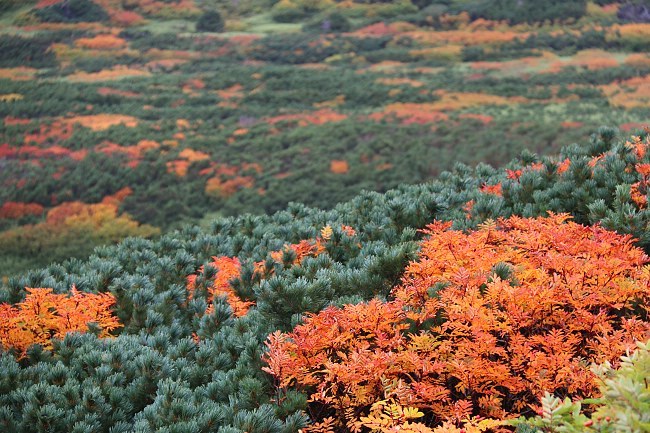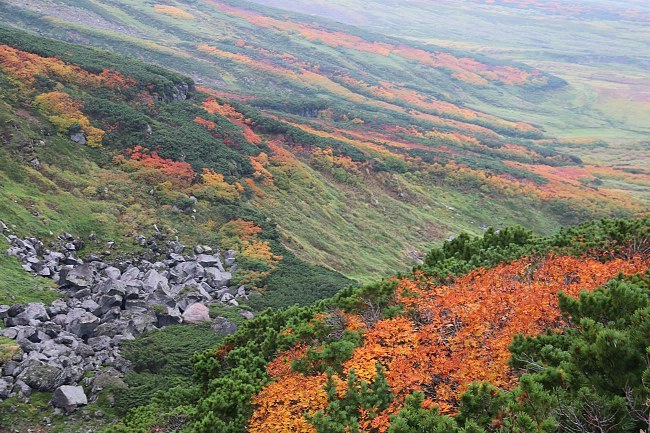 I myself combined the Susoaidaira Plateau and the summit of Mount Asahidake into a more challenging circular tour that also rewards hikers with views of the Ohachidaira Caldera in the interior of the Daisetsuzan Mountains. Note, however, that while the landscape is spectacular, there are not many autumn colors beyond the Susoaidaira Plateau. My hiking map suggests to allocate around 7-8 hours for the excursion although fast hikers can complete it in considerably less time. Proper hiking equipment and preparations are necessary.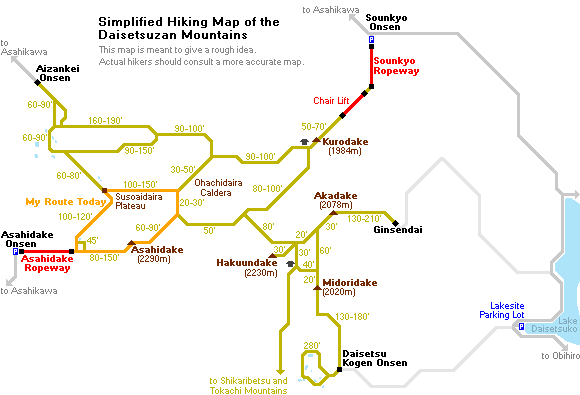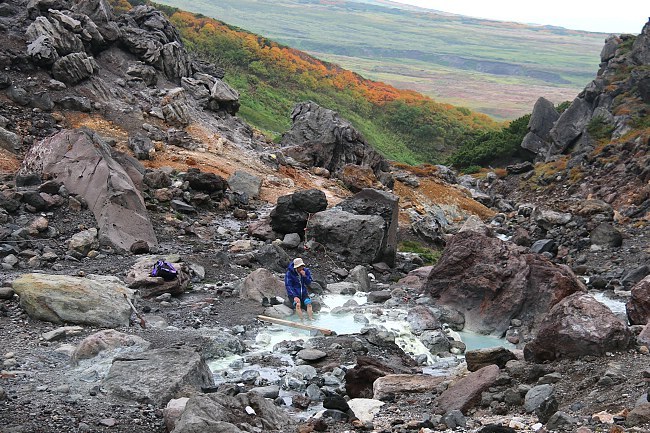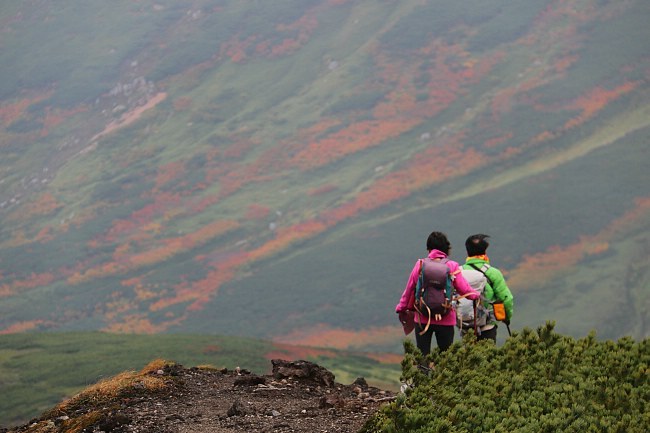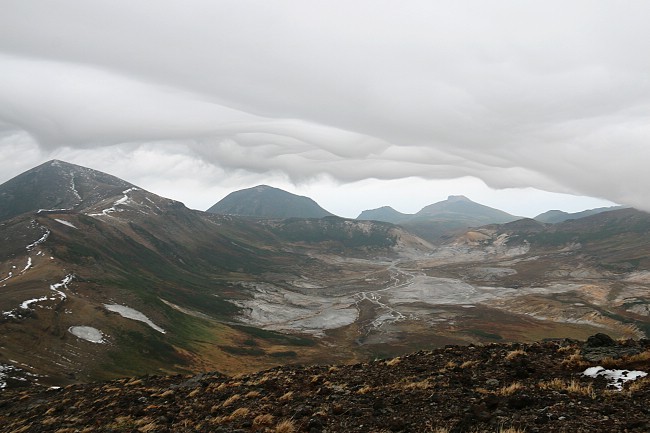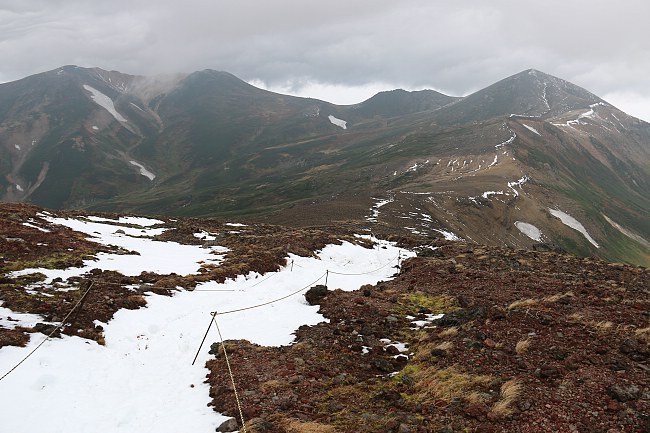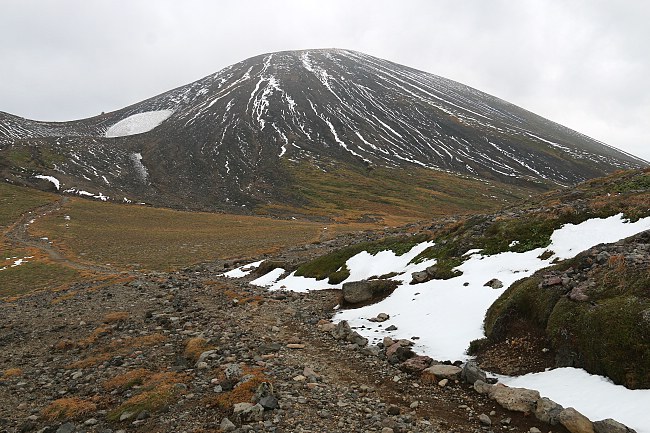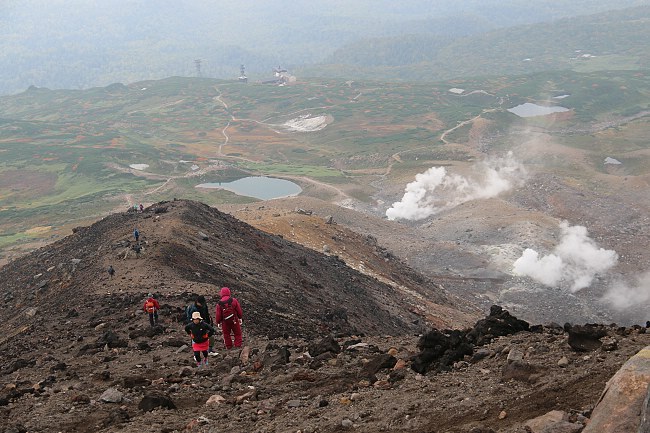 Questions? Ask in our forum.