Autumn Color Report 2012
Official autumn color reports by japan-guide.com
Where to see autumn leaves? - When do trees turn colors? - What trees turn colors?
Schedule of upcoming reports - Post your own report
2012/11/06 - Naruko Report
by sean
It was a wet day. I made my way to Naruko Gorge in the morning expecting the best and worst day for autumn color reporting: best because I read that colors are currently at their peak there, worst because, well, it was a wet day.
Naruko Gorge is one of the most well-known autumn color spots in the Tohoku region. It can be reached in a twenty minute walk from Nakayamadaira Onsen Station, which is a two hour train ride from Sendai, the biggest city in the region.
Rain drops started hitting against my windscreen as I arrived. Thinking that the weather might ease a little later, I visited the nearby Kokeshi Doll Museum first. The museum exhibits many elegant kokeshi dolls made in the Tohoku Region.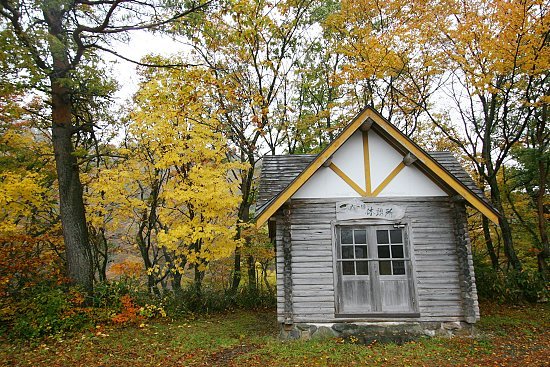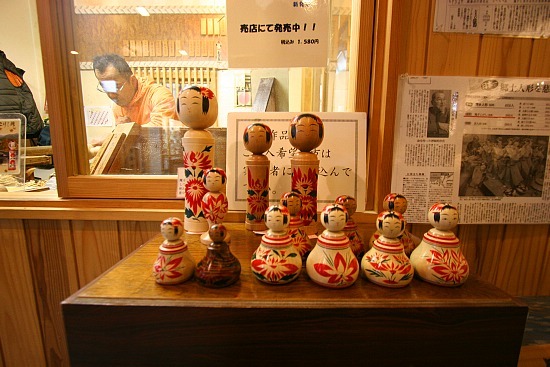 It turned out to be a mistake as the rain got heavier. However, I was delighted to see that it was absolutely peak at Naruko Gorge. Pardon the bad English, I felt I had to find a way to emphasize the fantastic colors that I witnessed today. The rain did dampen spirits a little, as I'm sure there would've been many more visitors had it been better weather. I wouldn't complain though: the parking attendant told me that parking was free today because it was raining; how nice of them.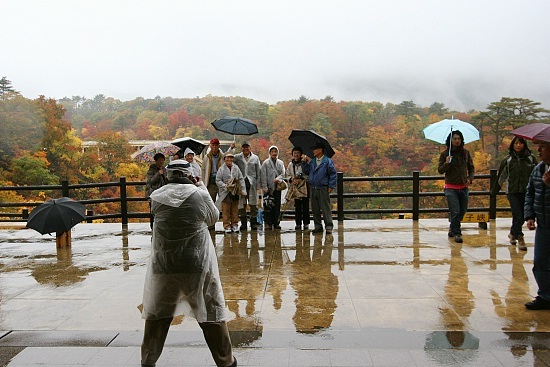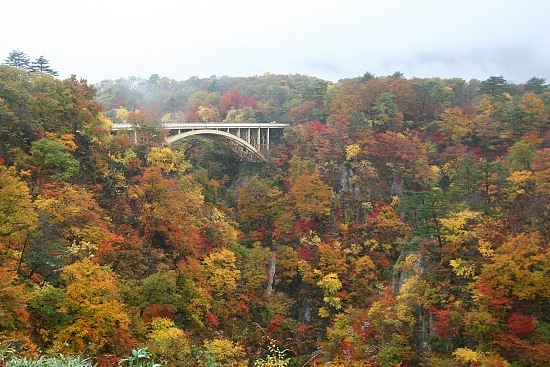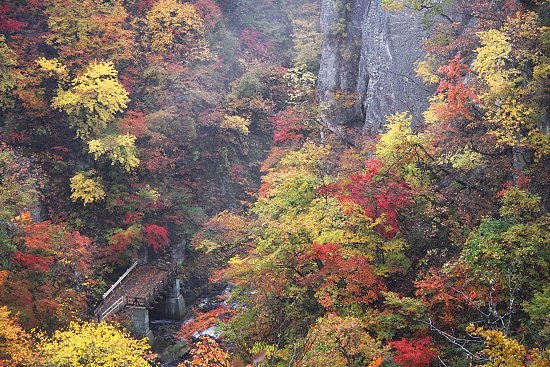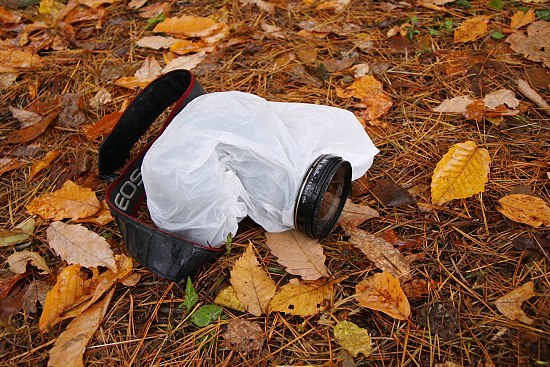 I felt like a martyr, standing in the rain on Ofukazawa Bridge, dressed in a 250 yen raincoat which seemed only 80% waterproof, waiting for that elusive train to pass by for the thousand dollar shot of it in combination with the surrounding scenery. Having done my homework, I was there taking practice shots about five minutes before it was due to pass by.
There I was, as if I was a sniper, nervously waiting in the cold, trying desperately to protect my camera from the rain and to keep its lens free of water droplets. And then, it came. It turned out that I didn't have to be on my toes at all. The train slowed to a snail's crawl as it passed by, presumably to cater to people like me - that would be the guy beside me.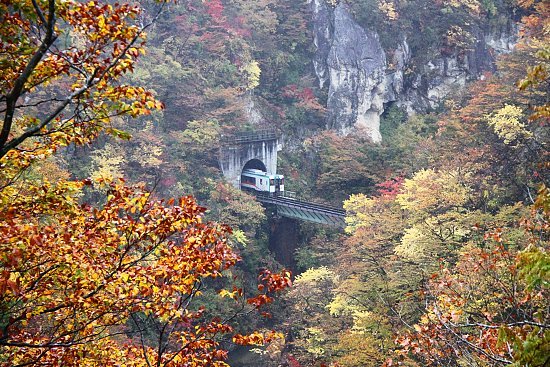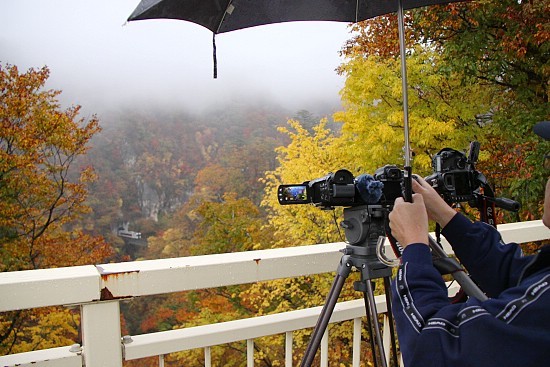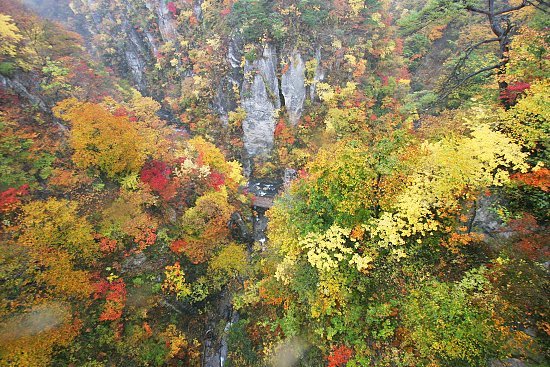 Walking along the Ofukazawa Nature Trail on the other side of the bridge from Naruko Gorge, I thought to myself that I have never felt the bond with my camera so strongly before. With a towel wrapped around it, I kept my right index finger on the shutter button and used the other fingers to secure the towel, while my left hand kept a plastic bag over it and at the same time supported its weight. I clutched it ever so close to my chest, ready to slip the plastic bag off, take a picture, and replace it as soon as possible.
The scenery was nice along the trail today, but no one else was there to enjoy it with me because of the wretched rain. The trail started from the bridge and made a loop, passing by several observation decks providing good views Naruko Gorge, before returning to the rest house where cars are parked.
After taking many pictures along the trail, I returned my camera to the car, and went back to the famous spot where Ofukazawa Bridge can be viewed from. As my pants soaked up more rain water, I soaked in more memories of the beautiful scene before me.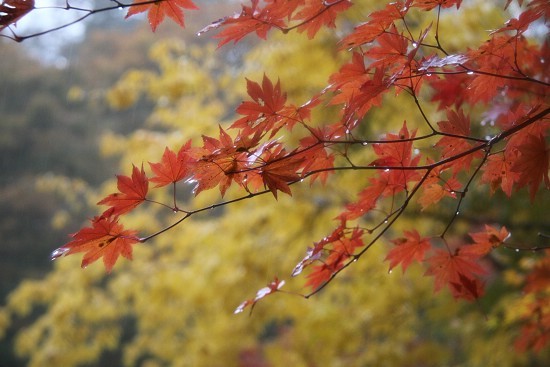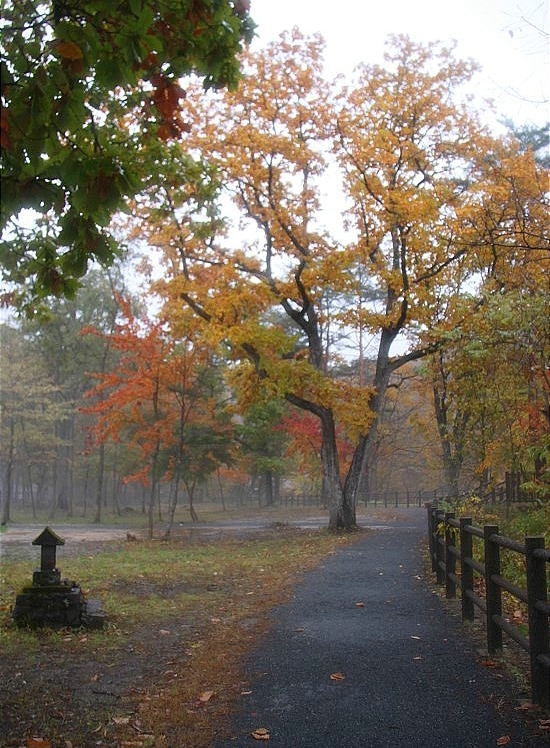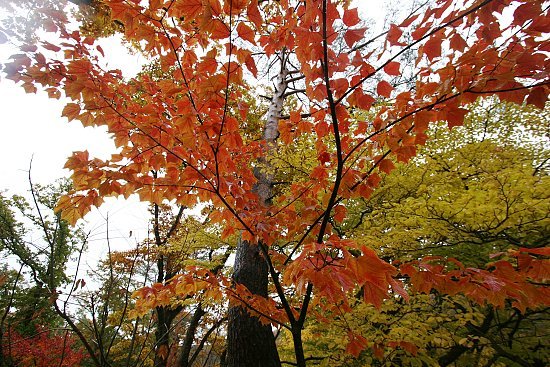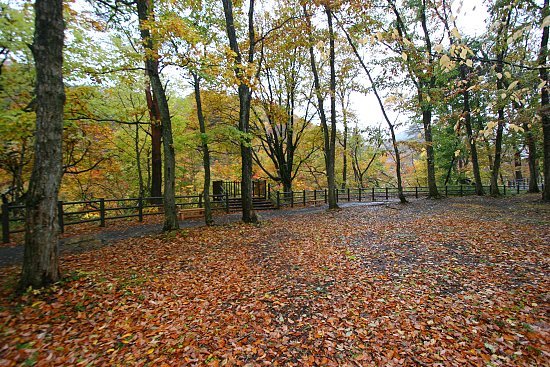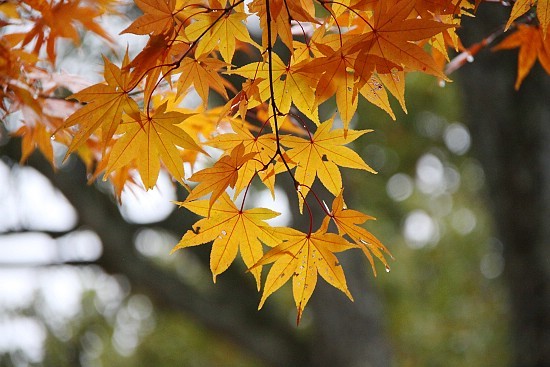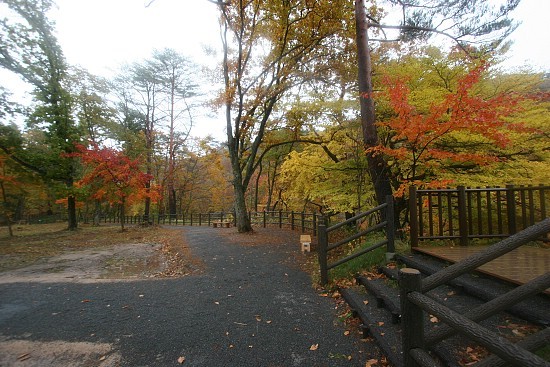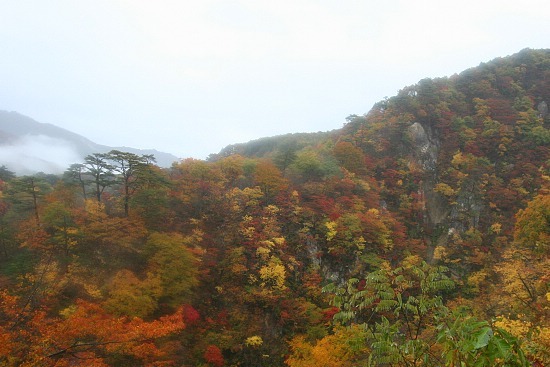 Questions? Ask in our forum.