Autumn Color Report 2014
Official autumn color reports by japan-guide.com
Where to see autumn leaves? - When do trees turn colors? - What trees turn colors?
Schedule of upcoming reports - Post your own report
2014/10/08 - Nasu Report
by joe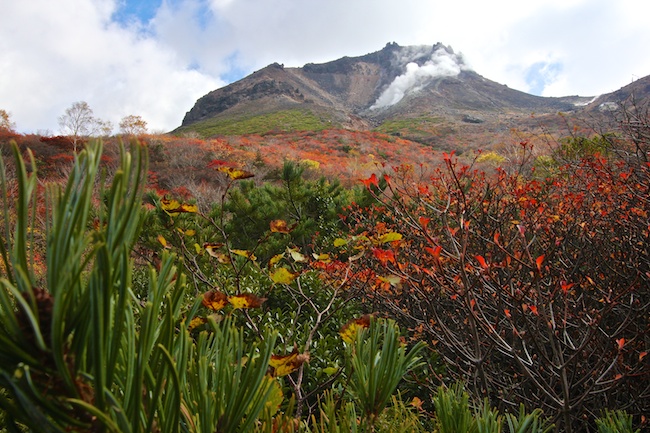 I was happy to find myself on assignment today climbing in Nasu in northern Tochigi Prefecture. Considered one of Japan's 100 most famous mountains, Nasu is home to renowned hot springs, hiking trails with beautiful views, skiing, fascinating legends and history, and a host of restaurants, shops and a variety of theme parks and museums.
Every autumn, the mountain is a mecca for autumn color seekers, drawing thousands of hikers every year.
I started my journey early today to avoid the crowds and made my first stop the Komadome Waterfall. In earlier times, the vantage point above the waterfall was a place that merchants transporting sea salt from the Pacific Ocean to Aizu Wakamatsu in Fukushima Prefecture used to rest their horses, lending the falls its name (literally meaning 'horse stop waterfall'). The waterfall is also located a short hike away from one of Nasu's oldest and most remote hot spring ryokan, Kita Yu Onsen. At 1130 meters above sea level, the leaves' color here looked just a week or so shy of peaking.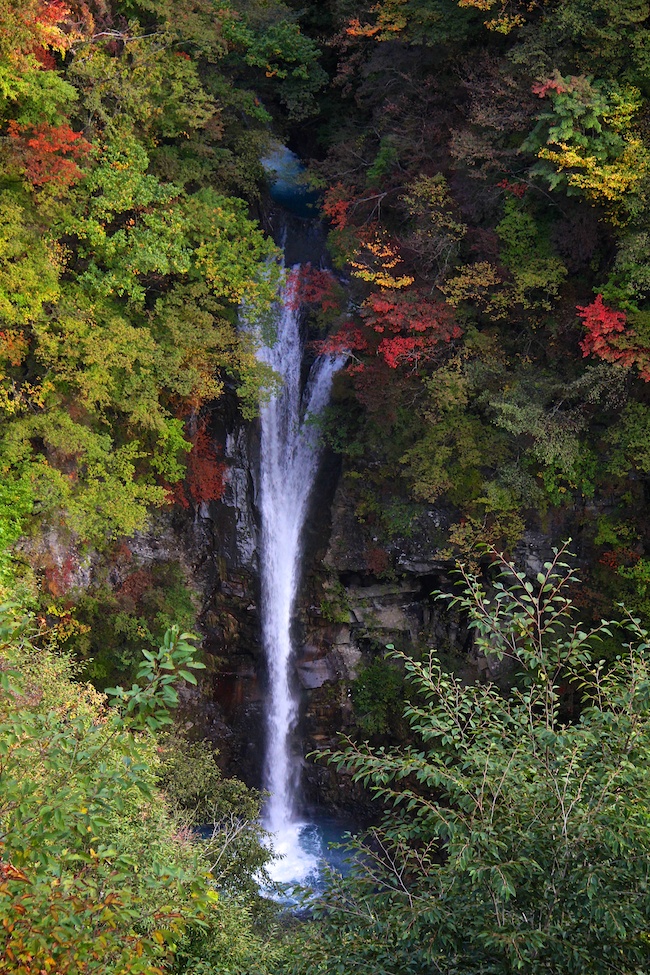 My next stop was Mount Nasu itself. Mount Nasu is the name generally used to refer to a collection of five peaks (formally called Nasu-go-take, or Nasu Five Peaks), the tallest of which are Mount Sanbonyari (1916m), Mount Chausu (1915m) and Mount Asahi (1896m). Despite being the second tallest, the most prominent peak is the iconic Mount Chausu, an active volcano which constantly spews out streams of sulfurous gas from natural vents, whose summit was my ultimate destination for the day.
The trail I took today started just above the popular Nasu Ropeway base station and leads to the ridgeline that connects the five peaks. Even on a Wednesday morning, the trail was packed with avid hikers hoping to see autumn colors.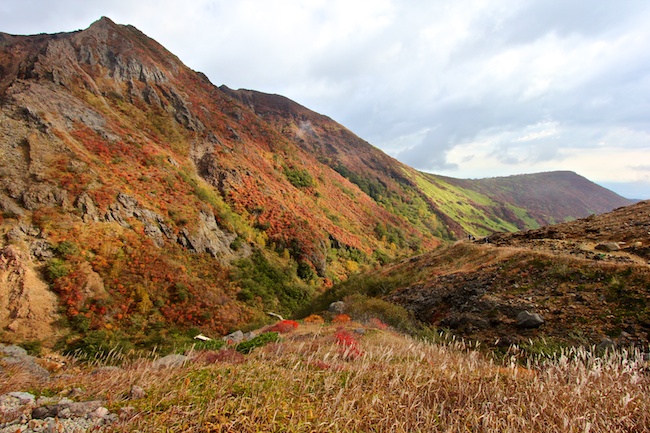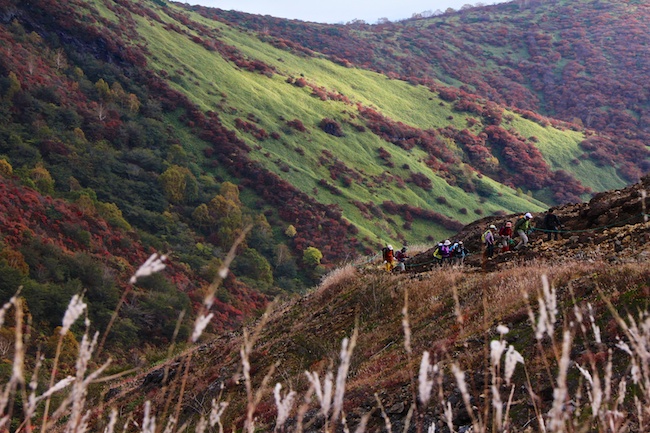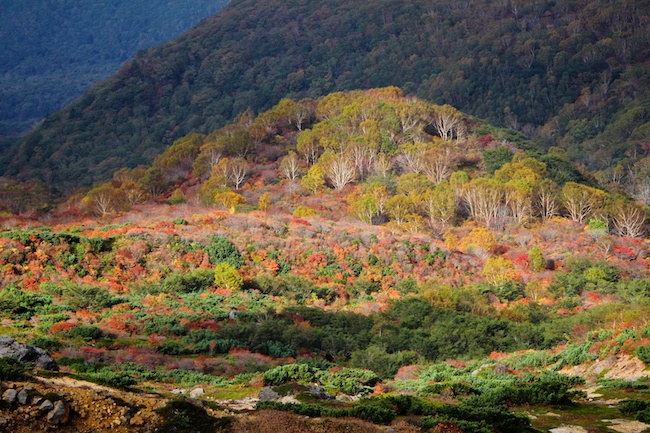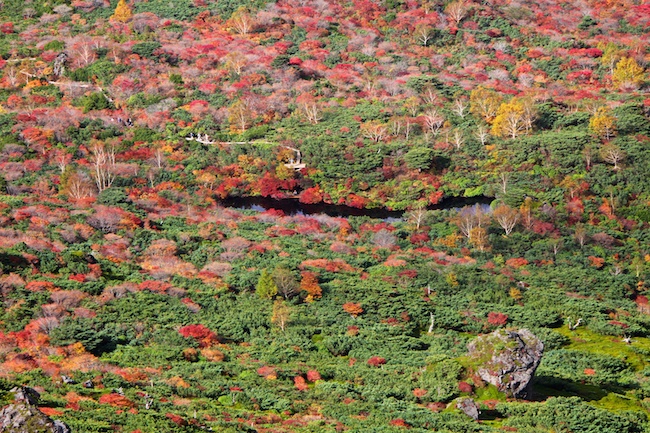 Many of the hikers I met told me they were a bit disappointed that much of the mountain's colors had already peaked about a week ago, in line with what we've been noticing across Japan on our autumn color report trips to this point this year. While many trees had indeed already lost their leaves or were starting to brown (particularly on some of the north-facing slopes), the colors on much of the slopes were still stunning today, and will probably still be impressive through the upcoming long weekend and possibly into next week.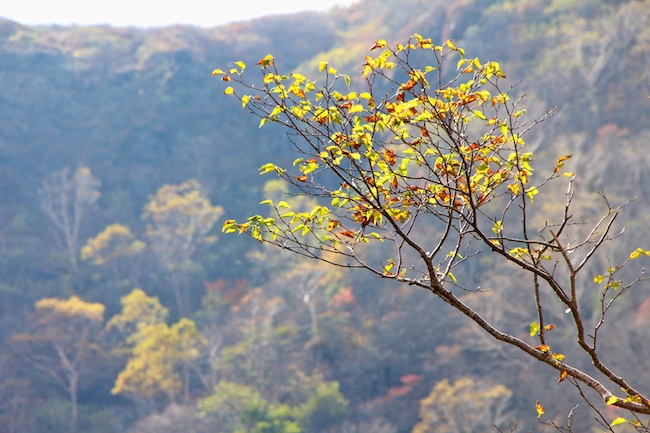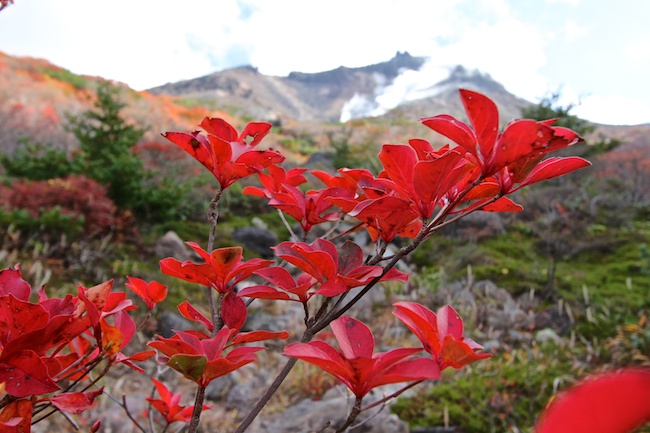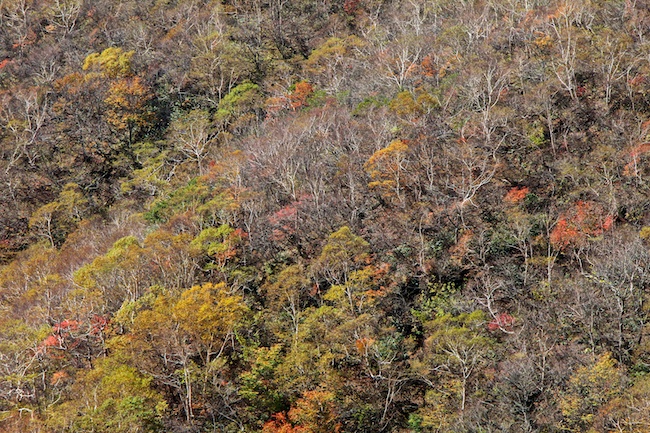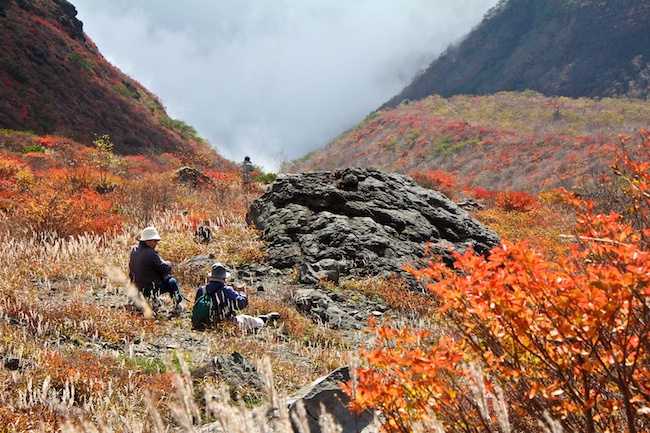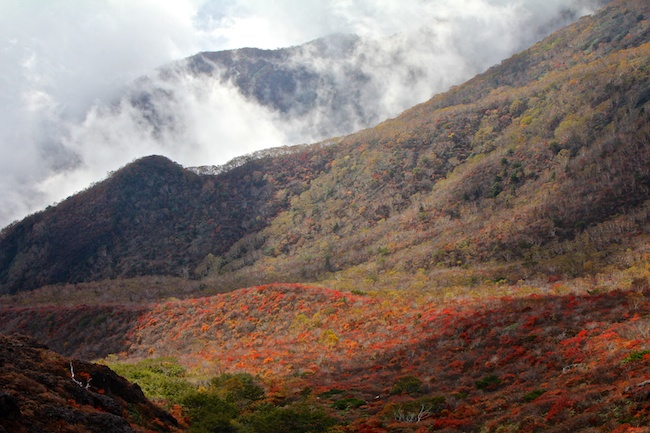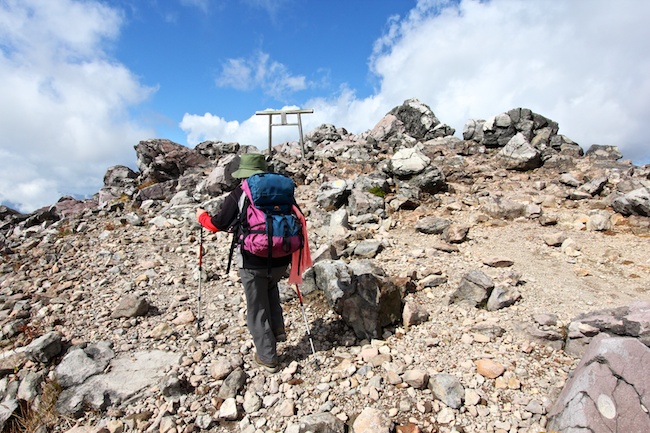 After climbing to the top of Mount Chausu, I made my way back down to the Nasu Yumoto area, where I made a stop at the atmospheric Sesshoseki (literally, the Killing Stone), the legendary final resting place of an infamous nine-tailed fox demon whose image can be found all around the onsen town. The foliage in the Yumoto (at just around 1000 meters above sea level) was still rather green, and should be showing more color in a couple weeks.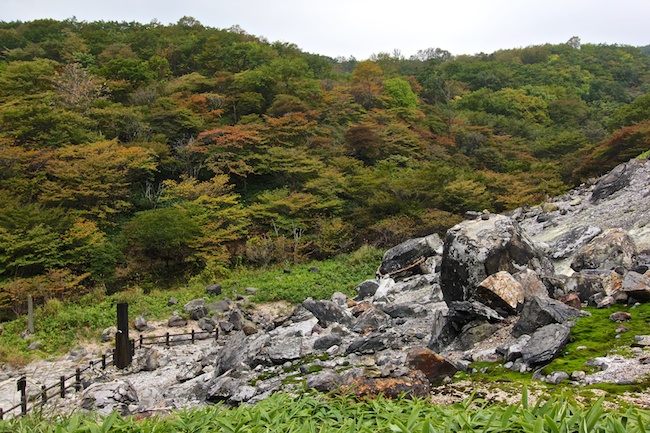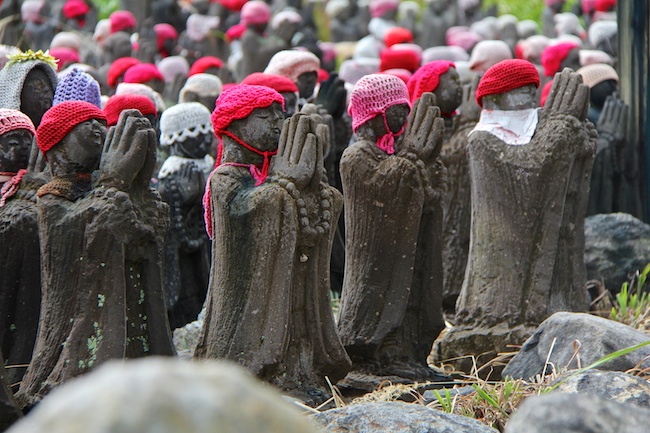 For my last stop before leaving the area, I made a quick visit to the lovely Otome Waterfall located near Itamuro Onsen, a small hot spring resort just a five to ten minute drive from the Numappara marsh (or a half day's hike south from Mount Chausu). While the colors haven't really begun changing this low down the mountain yet, it will be another beautiful sight to see as the season continues.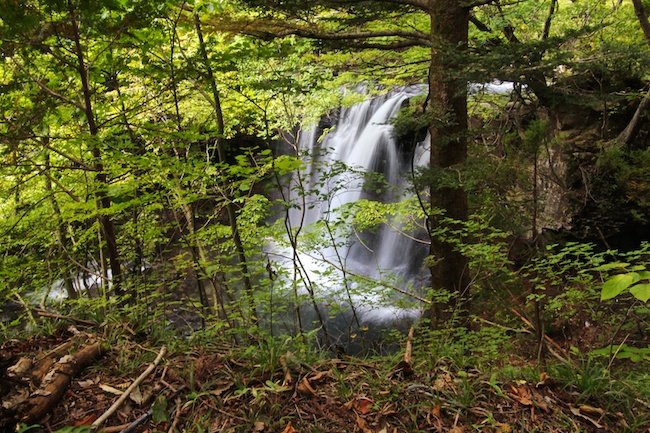 Questions? Ask in our forum.