Autumn Color Report 2014
Official autumn color reports by japan-guide.com
Where to see autumn leaves? - When do trees turn colors? - What trees turn colors?
Schedule of upcoming reports - Post your own report
2014/10/29 - Shima Onsen Report
by joe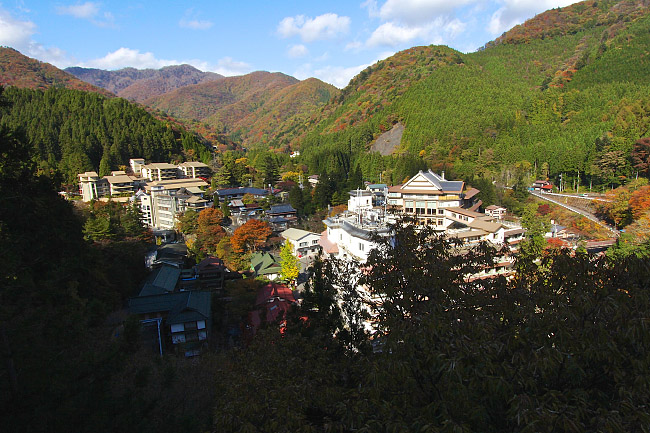 While Japan is blessed with an abundance of gorgeous, well-known and easily accessible spots to enjoy views of autumn leaves changing color, the less-known, off-the-beaten track spots are often just as rewarding. Yesterday, Stefan and I made our way to Shima Onsen in northwestern mountains of Gunma Prefecture to visit just such a place.
Shima Onsen is a small hot spring resort town considered amongst the top four in Gunma, alongside Kusatsu, Minakami and Ikaho. The sleepy, nostalgic town features a surprising 43 separate hot spring sources within its borders, around which beautiful ryokan and public bath houses have sprung up. It gets its name, literally "forty-thousand hot spring" from the story that bathing in its baths have the power to heal as many ailments. Having a car will make getting here and getting around much easier and more enjoyable, but by public transportation, the town is accessible from Tokyo in about 3-4 hours. The nearest train station to Shima Onsen is Nakanojo Station on the JR Agatsuma Line, from which a 40-minute bus ride will get you into town.
The usually quiet town comes to life in autumn with leaf-watchers and ryokan guests. When we arrived, we were greeted by some incredible fall color. The town sits about 700 meters above sea level, and at this midway point in the season, many mountain areas at this elevation in north and central Japan are peaking. Luckily for us, Shima was no exception.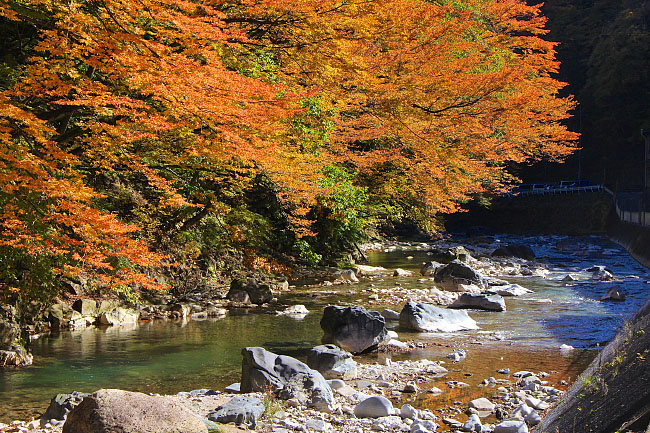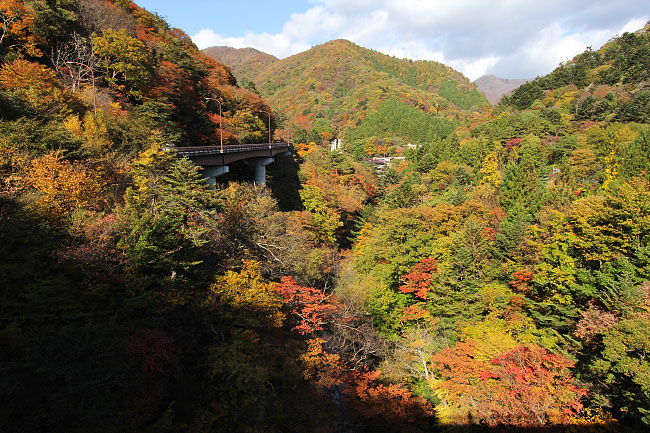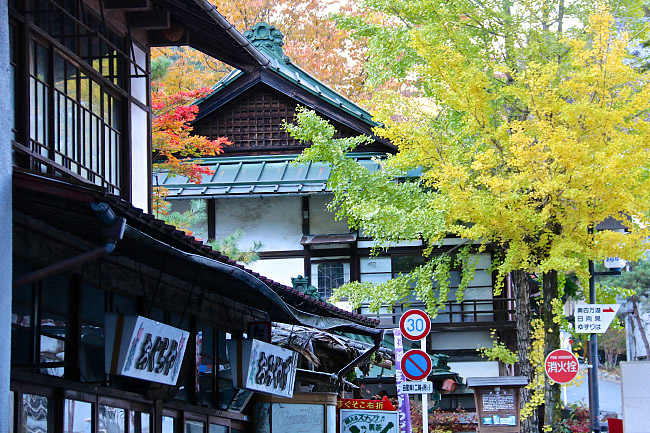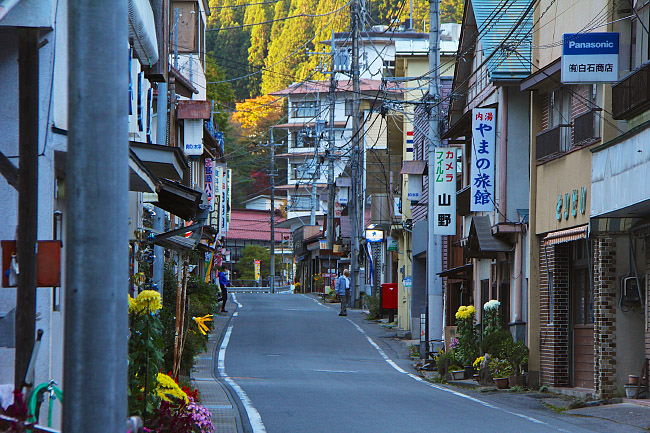 After driving around and getting a feel for the town, we also made it a point to explore the town's many public bath houses, foot baths, and hot spring drinking fountains. The town's lifeblood are its onsen, and the town features some true jewels. Some of the ryokan in town are hundreds of years old and lend the town a nostalgic atmosphere.
One such ryokan which really captivated us was Sekizenkan. With a history of more than 300 years, it is not only the oldest ryokan in town, but one of the oldest in all of Japan. The beautiful traditional exterior and rustic interior reflect its age, but the baths here are the real gem. Built in a style that was in vogue in the Taisho Era (1912-1926), the baths evoke the feel of a Roman bath house, with large arched windows and tiled floors. While other Taisho-Roman bath houses dot the country, this one is particularly evocative, and was even purportedly used as a source of inspiration for the bath houses that appear in the wildly popular animated film by Studio Ghibli, Spirited Away. Open to day visitors for a 1000 yen, it's absolutely worth a visit.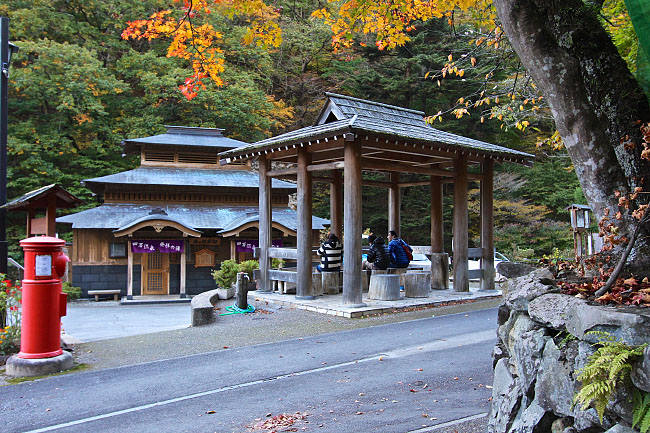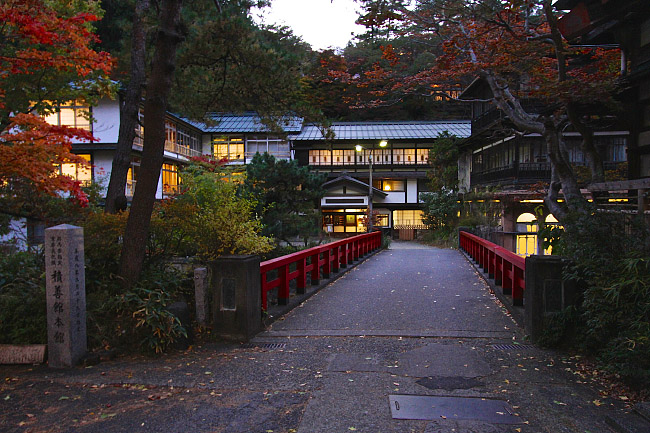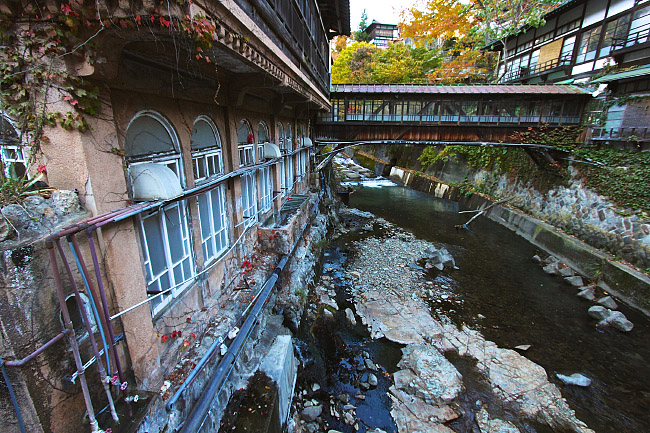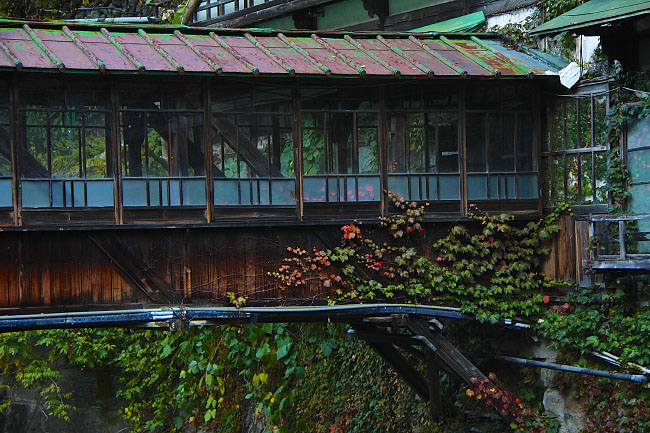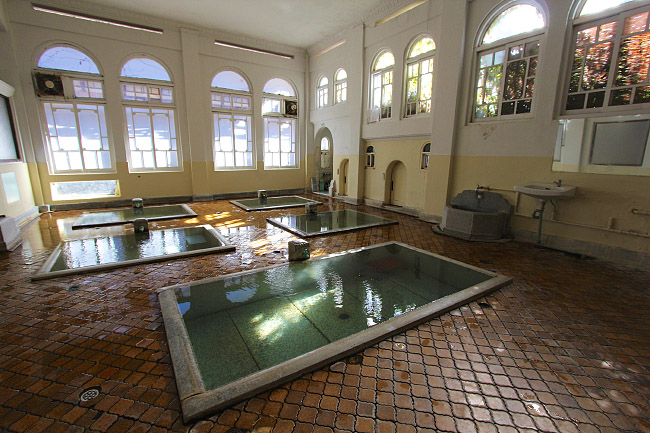 In addition to Sekizenkan, we also visited a few other ryokan (and several public bath houses). Yamaguchikan, in the lower town area, was another standout ryokan with several impressive indoor and outdoor baths available. The riverside bath here was particularly nice, and even had views of some autumn color across the river. Kashiwaya, also in the lower town area, was a lovely place to spend a night with excellent cuisine featuring locally sourced food and drink.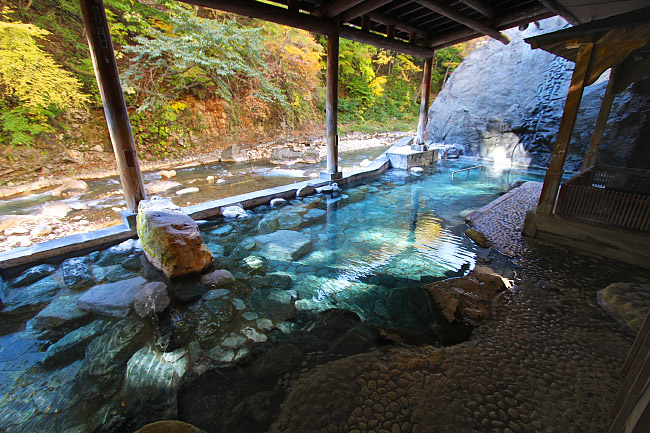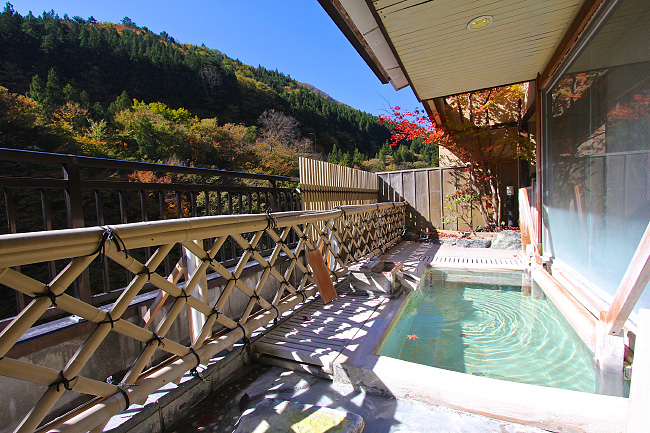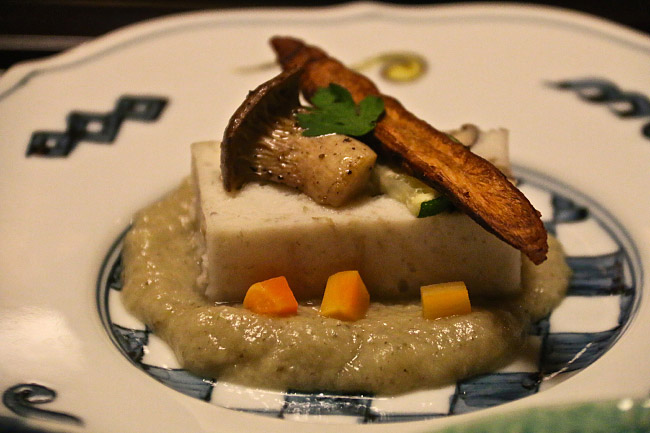 Besides the onsen, the town is set amongst some wonderful natural scenery. With the autumn color at its peak here, the hills and mountain slopes are brilliant oranges, reds and yellows. There are a great deal of clear, brilliant blue streams and rivers running through the town, too, which make for some impressive complimentary colors to enjoy. Of particular note is the highest area in the back of town. Best accessed by car, the road circling the Shimagawa Dam and Okushima Lake offers great mountain and lake views, and this week offered some amazing fall color as well. There are also several waterfalls around the lake which are worth checking out.
In general, the town made for a great spot for an overnight ryokan stay, with plenty of small, but interesting and unique attractions to make a short visit definitely worthwhile.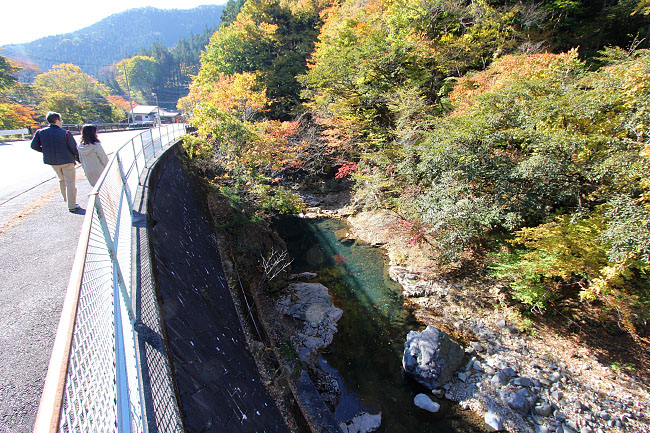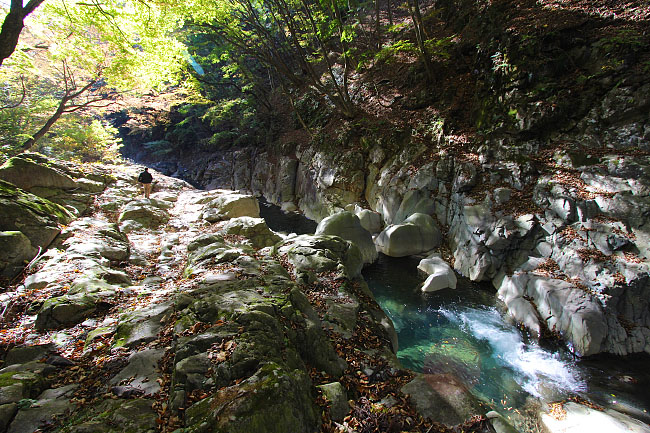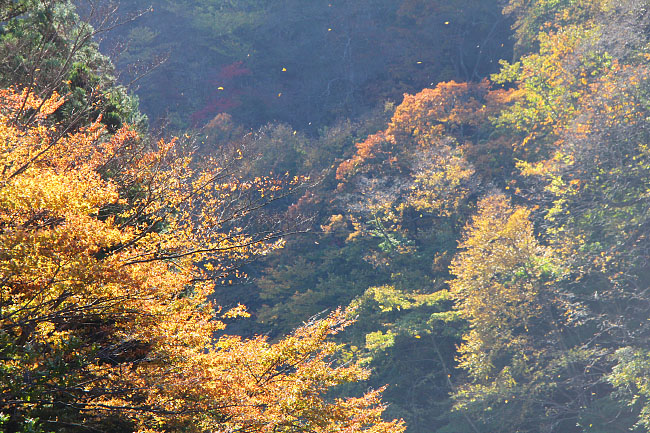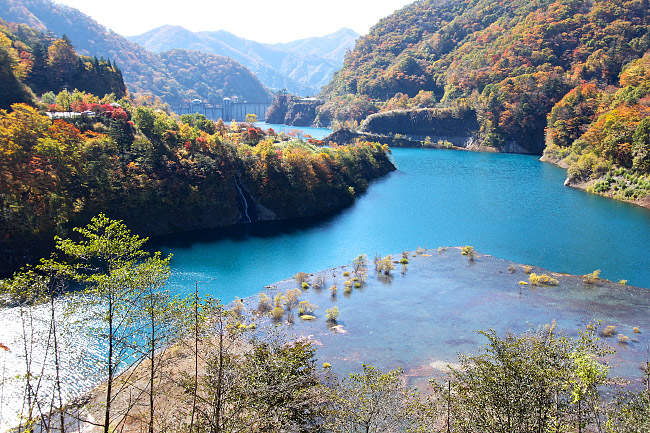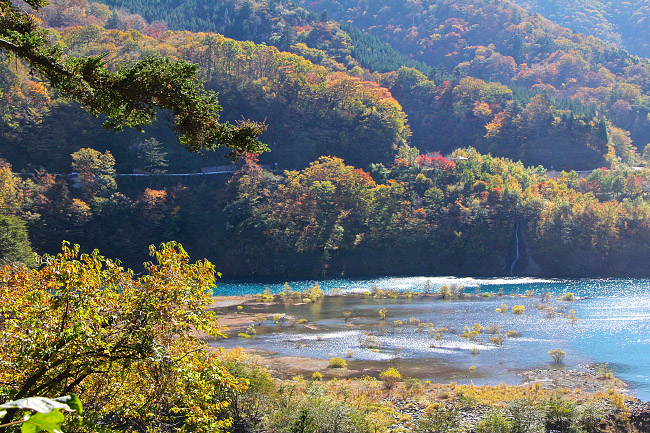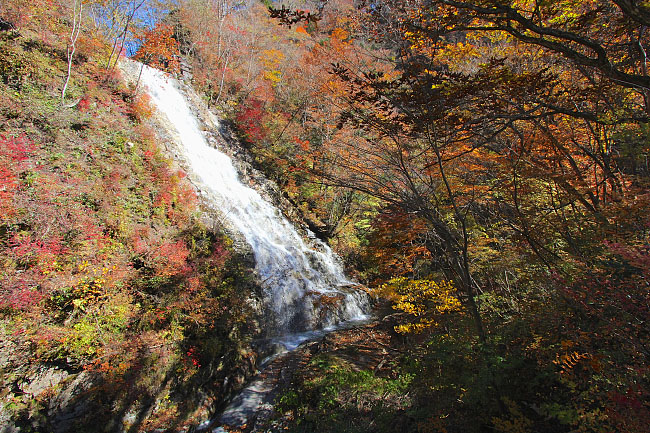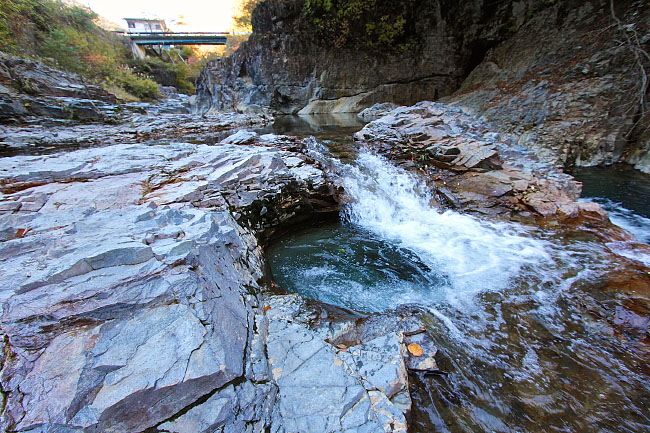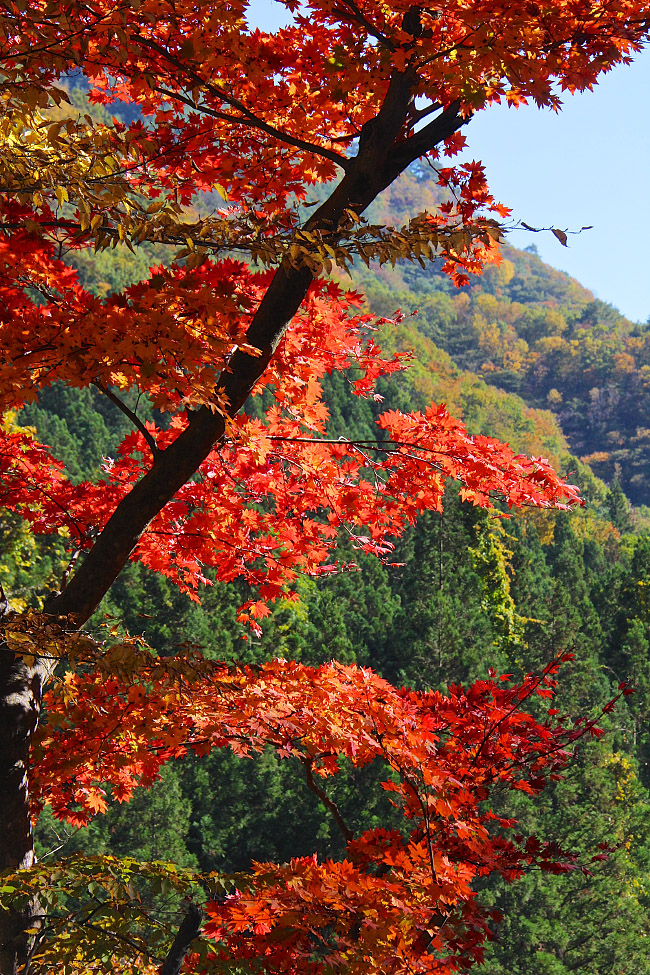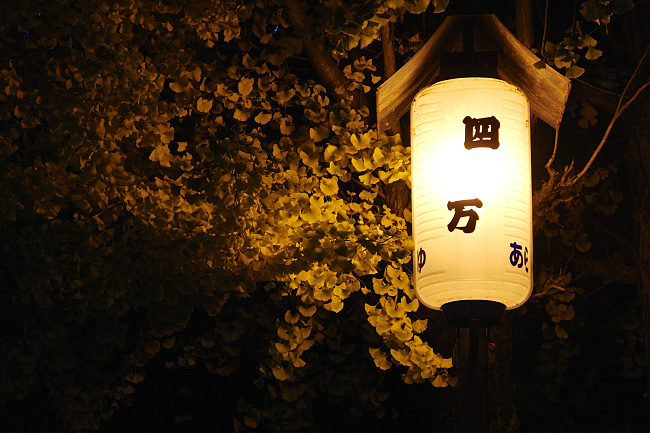 Questions? Ask in our forum.