Autumn Color Report 2011
Official autumn color reports by japan-guide.com
2011/09/14 - Ginsendai Report
by schauwecker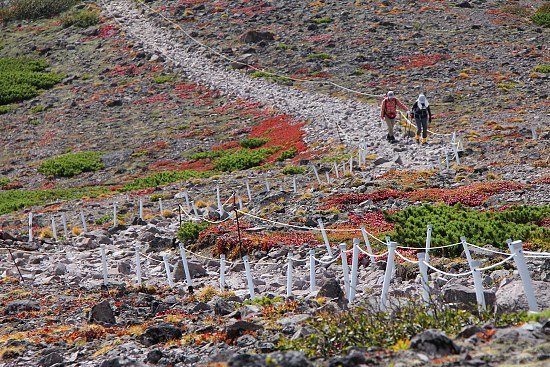 Today I parked my car in Sounkyo, took a bus to Ginsendai and hiked from there via Mount Akadake and Mount Hokkaidake to Mount Kurodake before descending back into Sounkyo.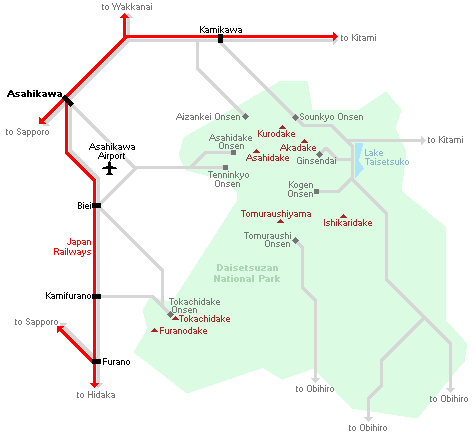 Located on the eastern side of the Daisetsuzan mountains, Ginsendai (銀泉台) is the trailhead to Mount Akadake and further into the national park. It consists of little more than a parking lot and a toilet. During the peak of the autumn color season, the unpaved access road to Ginsendai gets closed to private cars and can be reached by shuttle buses instead.
This year the shuttle buses run from September 10 to 25 from the temporary parking lot "Lakesite" (レイクサイト) at Lake Daisetsuko, about a 20 minute drive from Sounkyo. A small number of buses also run between Sounkyo and the Lakesite parking lot for those without cars.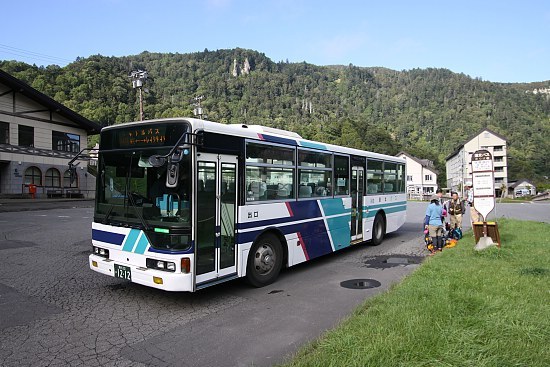 About 30 minutes into the hike is Ginsendai's most famous autumn color spot, a wide mountain slope covered by nanakamado bushes, whose leaves can produce a similarly spectacular color palette as maple trees.
Today, the bushes were already at a pretty state and further advanced than those yesterday around Mount Asahidake. Many bushes have already turned yellow and orange, and a few scattered ones have even matured into red. Nevertheless, the colors are not at their peak yet and should become even more spectacular over the coming days.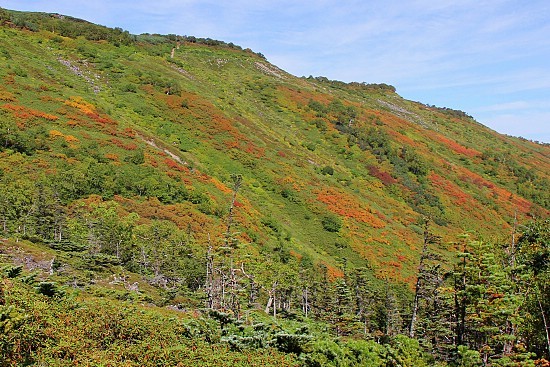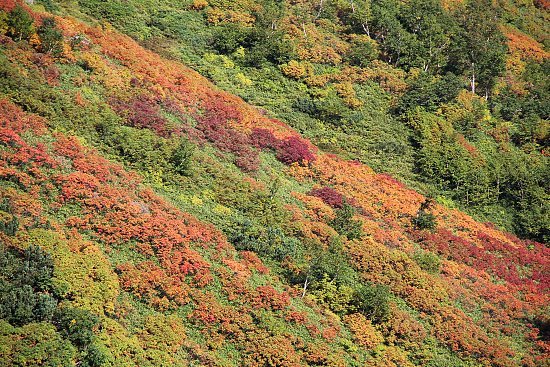 The rest of the hiking trail to Mount Akadake (赤岳) provided more beautiful colors by nanakamado bushes, Chinguruma grass and other patches of red bushes and grasses.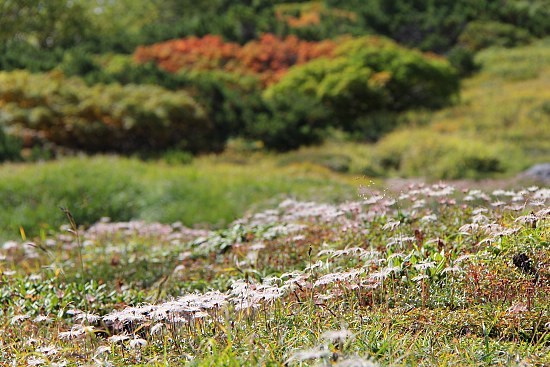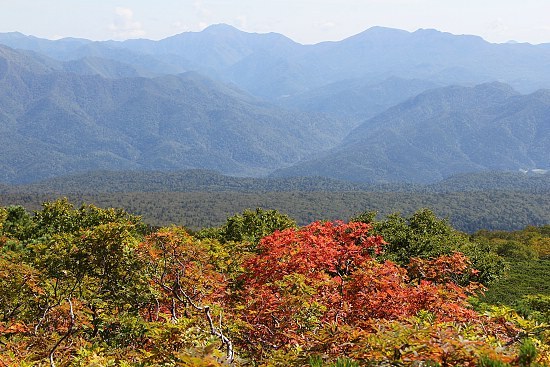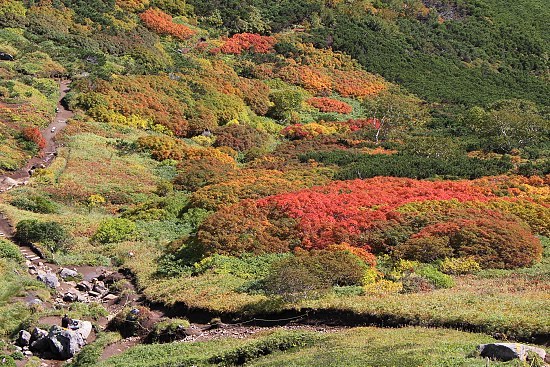 From Akadake I made a semi-circular tour through the breathtaking interior of the Daisetsuzan mountains, hiking via the Koizumidake (小泉岳) and Hokkaidake (北海岳) peaks to Mount Kurodake (黒岳). The landscape of the Daisetsuzan interior was also enhanced by patches of autumn colors on its volcanic plateaus and slopes.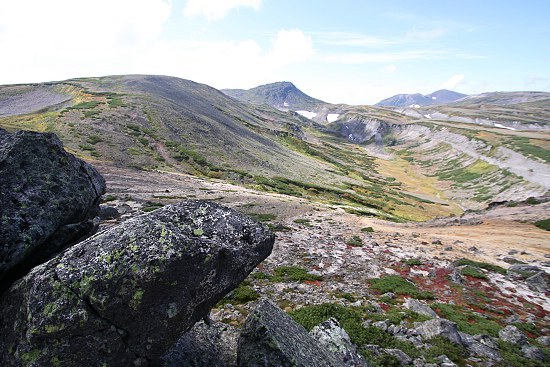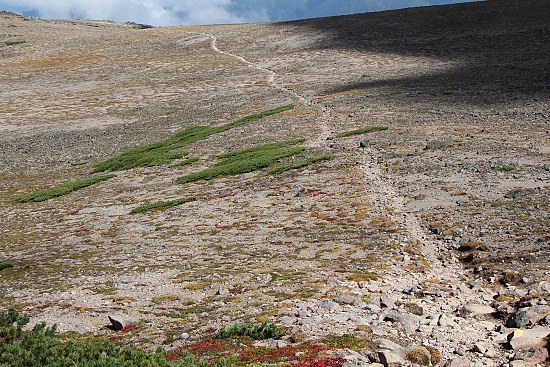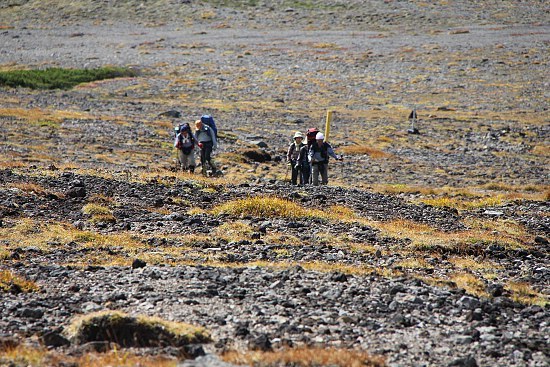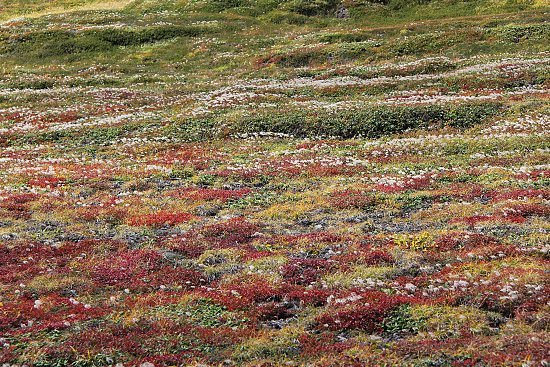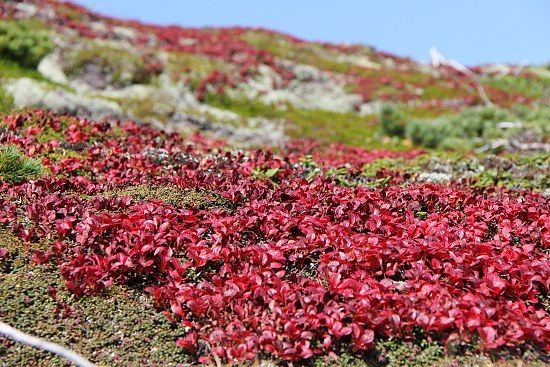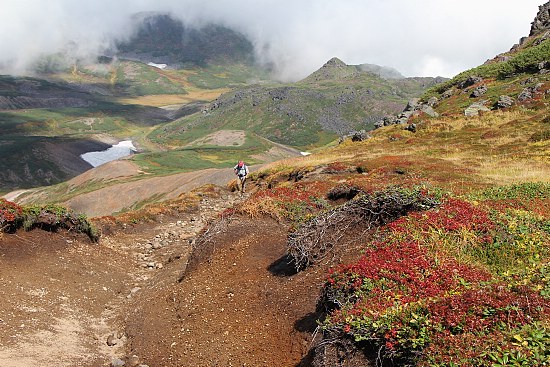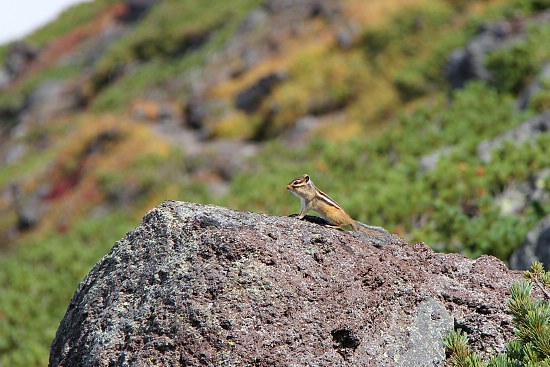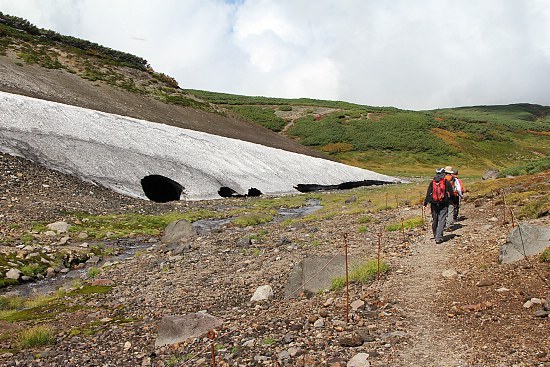 The descent from Kurodake back into Sounkyo (partially using the chair lift and ropeway) was less of a highlight with respect to the seasonal colors. Many of the nanakamado bushes along the descent seemed to have suffered from the summer heat and looked in rather poor shape. Many of their leaves looked dried up and are unlikely to progress into shiny colors this year.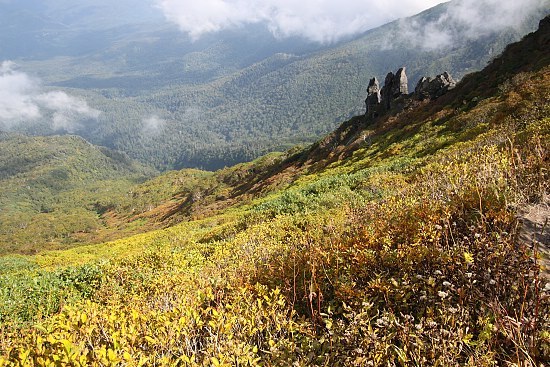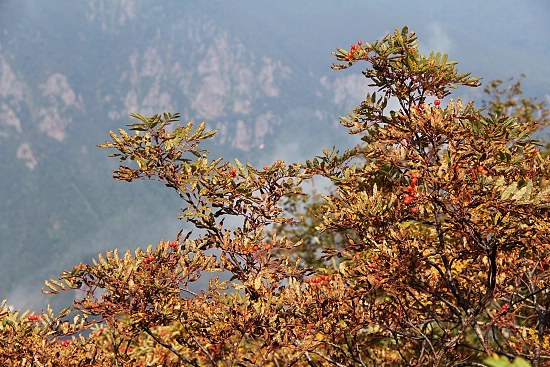 According to my hiking map, today's tour from Ginsendai to the chair lift of Mount Kurodake is supposed to take 7.5 hours excluding breaks. Due to a horrendous pace, I completed it in less than 5 hours including breaks. Slower hikers note that this tour might be more enjoyable in an overnight trip. There is a mountain hut a few hundred meters before the peak of Mount Kurodake.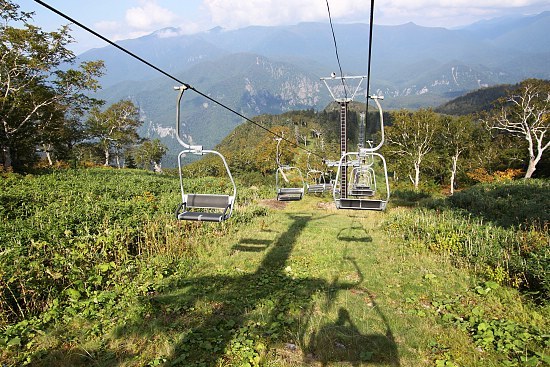 Questions? Ask in our forum.