Autumn Color Report 2015
Official autumn color reports by japan-guide.com
Where to see autumn leaves? - When do trees turn colors? - What trees turn colors?
Schedule of upcoming reports - Post your own report
2015/10/20 - Mount Fuji Report
by joe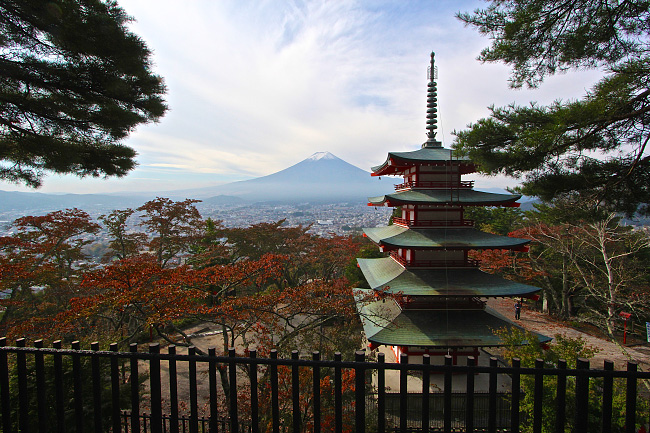 After catching the wild colors around some of northern Japan's highlands last week, this week I'm taking our high-elevation autumn color reporting south to central Japan to the areas around the highest mountains in the country. And what better mountain to start my week with than Mount Fuji, Japan's tallest mountain at 3776 meters above sea level.
While hikers may think of summer as Mt. Fuji's tourist peak season, autumn is an extremely popular time to enjoy views of the mountain (usually) without the humid summer haze and with a fresh snow-capped summit. And it turns out there are plenty of good spots to enjoy changing fall colors nearby the mountain...and on it! The season for autumn color in the Fujigoko (or Fuji Five Lakes) area, the region around Mt. Fuji, is usually from mid-October through mid-November, so I made my way there today to see how far along it's gotten so far.
In line with past years, the season seems to be just beginning in most places around Fujigoko. My first stop today was the beautiful, tucked-away Chureito Pagoda, located to the east of Lake Kawaguchiko, one of the Fuji Five Lakes. The pagoda has a stunning view of Mt. Fuji towering over the city of Fujiyoshida, and it also happens to be surrounded by cherry trees. During the sakura season, the trees sport spectacular blossoms, but in autumn, the leaves turn a beautiful rusty red color, which added a nice hue to the landscape today.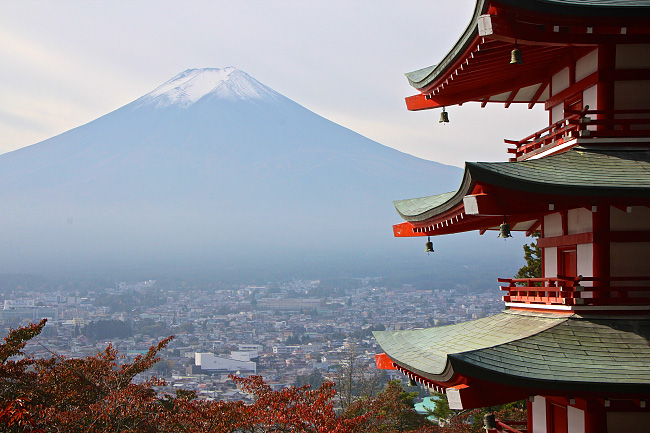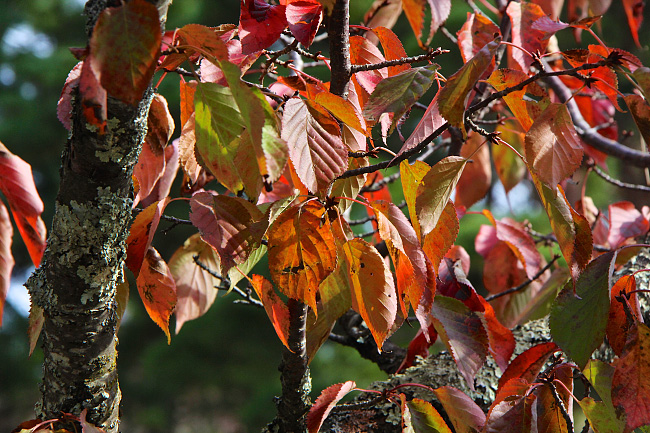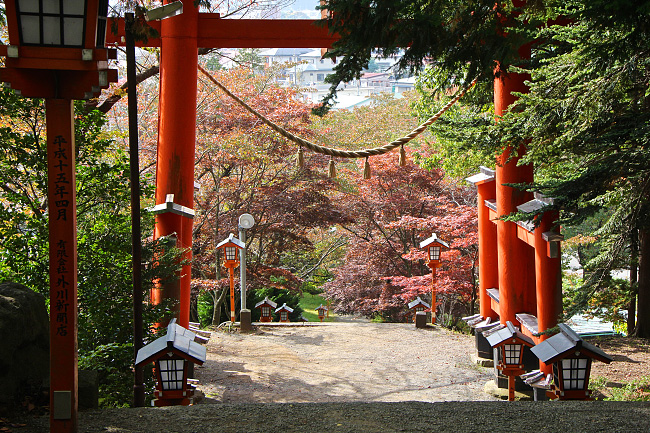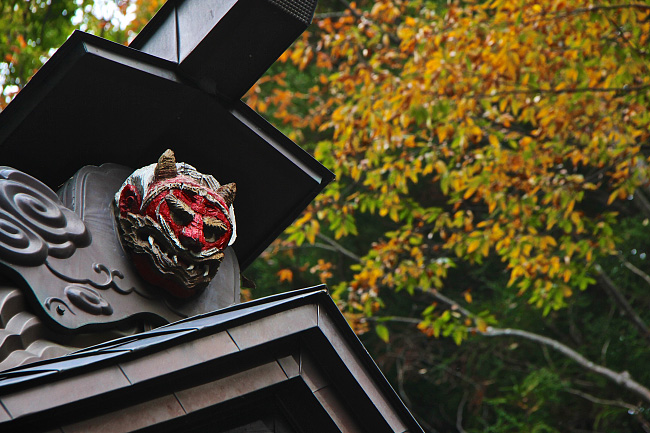 Next to Lake Kawaguchiko itself are a few other spots to catch some autumn color. My next stop was at a so-called "maple corridor," a path lined with momiji (Japanese maple) trees, which today had not even begun to show any color. Further down the path, though, along the lakeshore itself is a promenade of cherry trees, which were just beginning to change.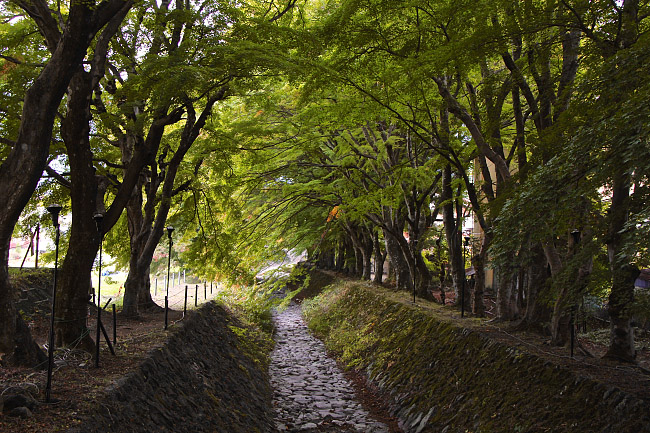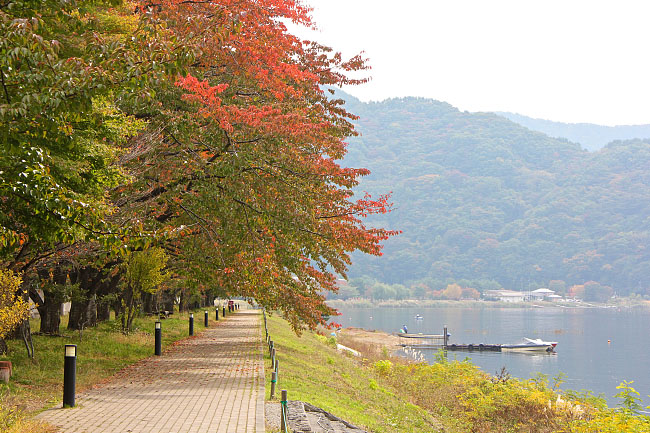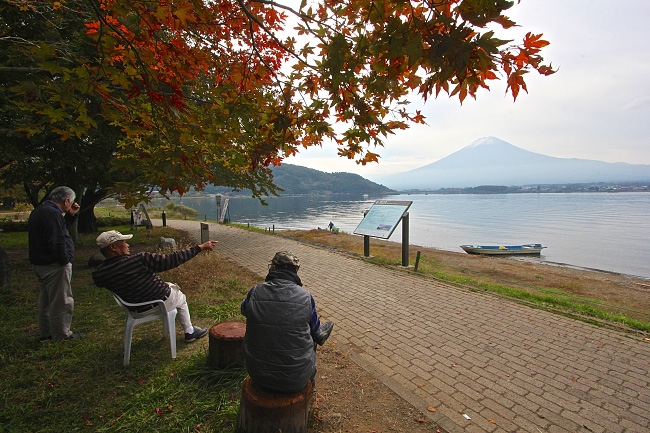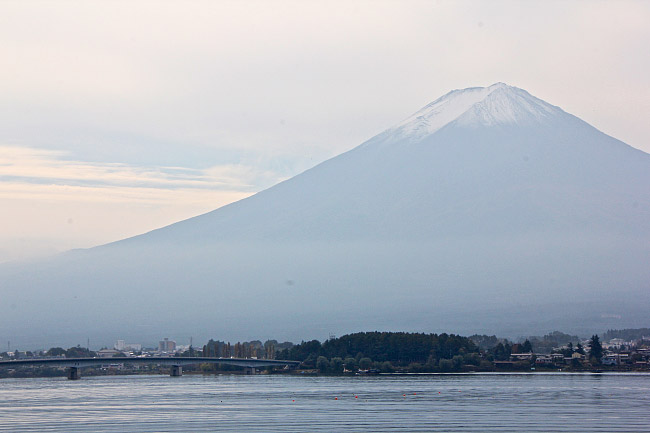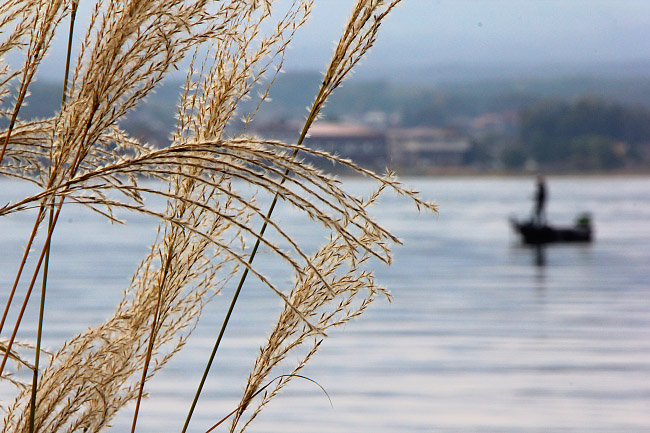 In hopes of avoiding the slight haze that was slinking around all morning, I decided gain some more elevation and take myself up the slopes of Mt. Fuji itself. Driving up the Fuji Subaru Line toll road, I watched as more and more color started creeping into the forest foliage as I got higher. My next destination was the Fuji Kawaguchiko 5th Station itself, at an elevation of 2300 meters.
To my pleasant surprise, autumn had come with a vengeance to the slopes around the 5th station. The slopes here are covered in karamatsu, or Japanese larch, a coniferous plant whose pines that actually change color in autumn and fall off during winter. Karamatsu turn a bright, golden yellow color at their peak color, and today Mt. Fuji's 5th Station was drenched in it. In fact, the colors were so far along as to be a bit past their peak today, but were nonetheless a remarkable sight against the freshly snow-capped summit above.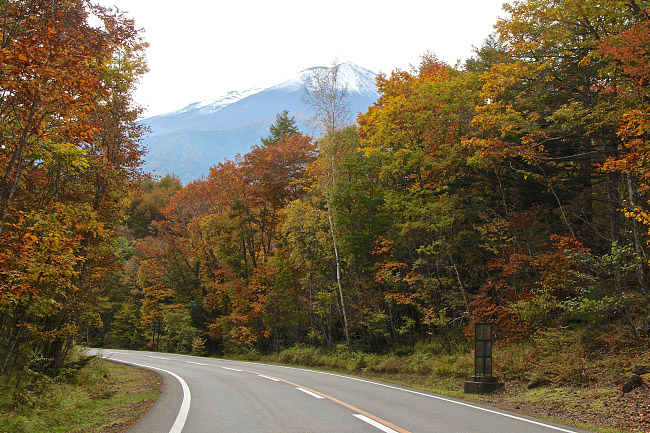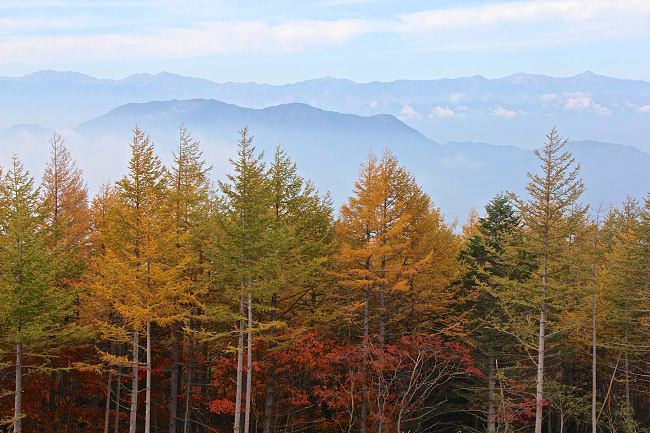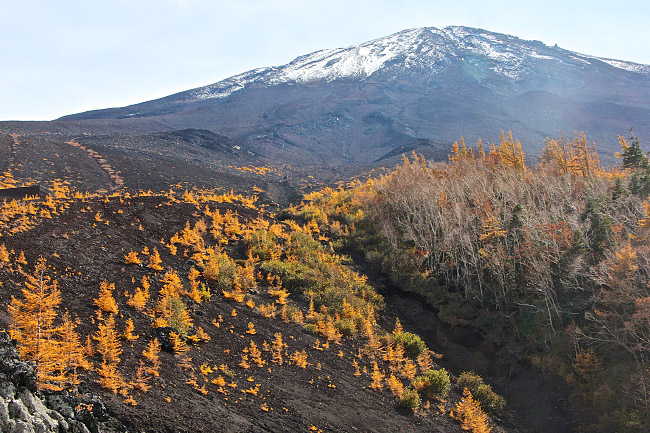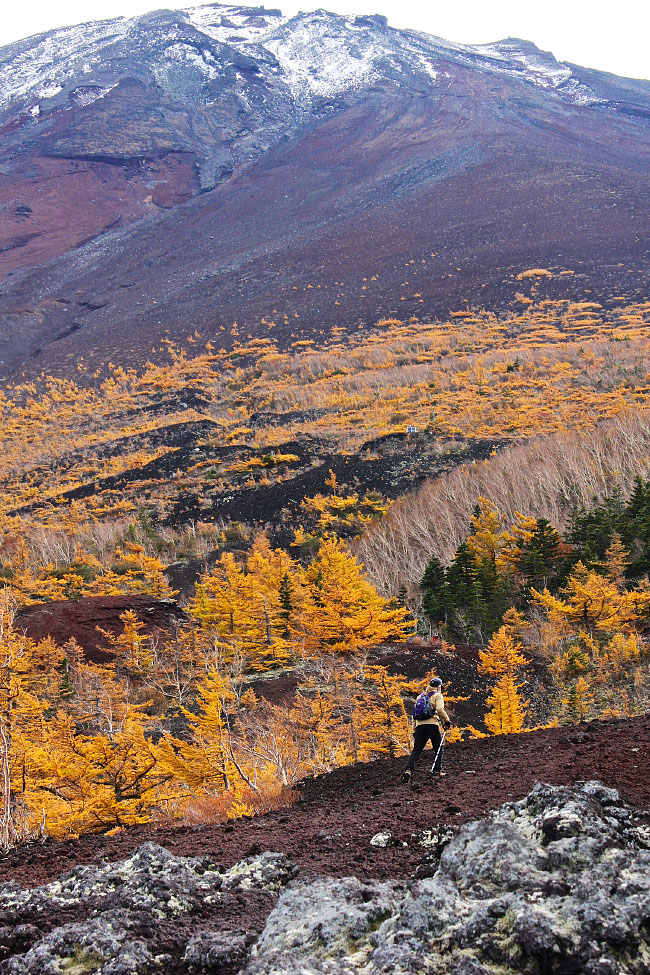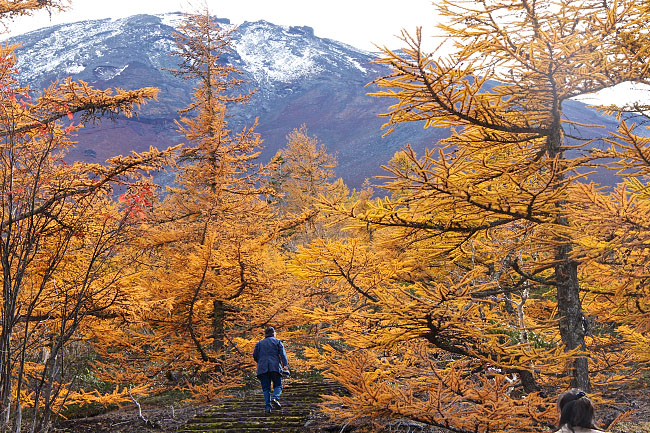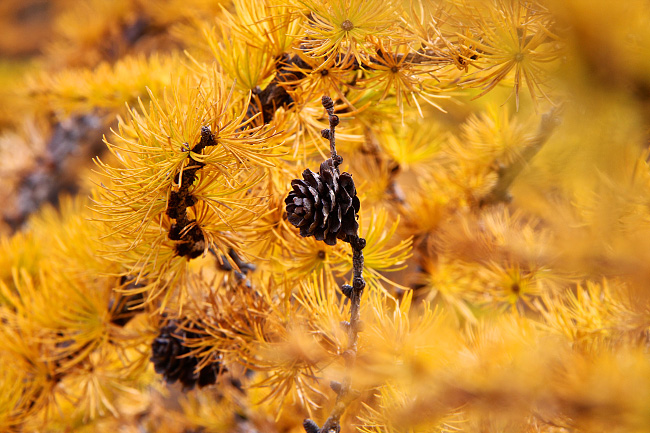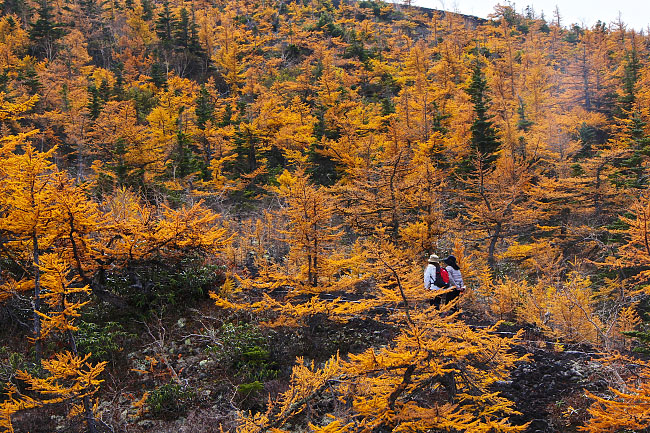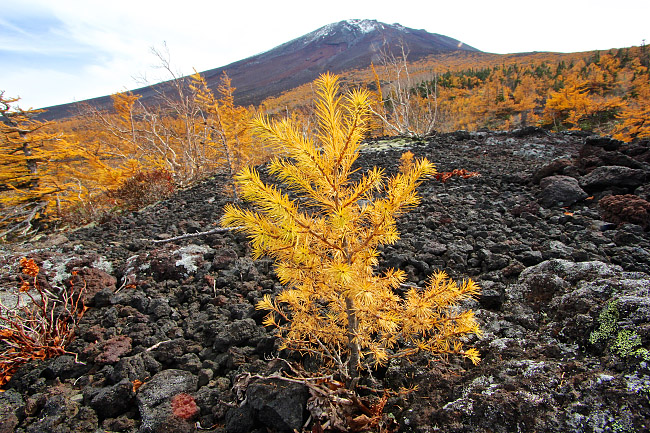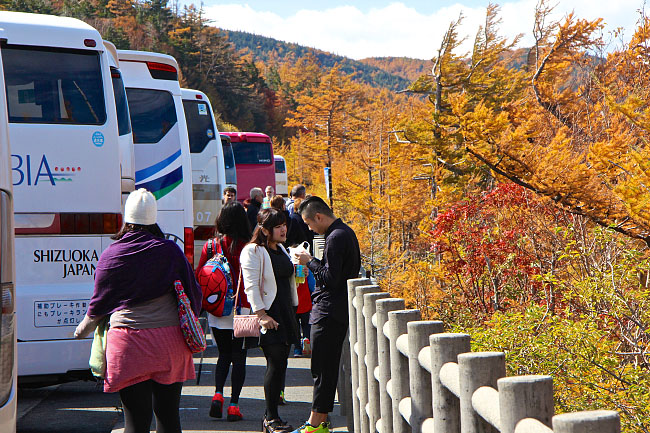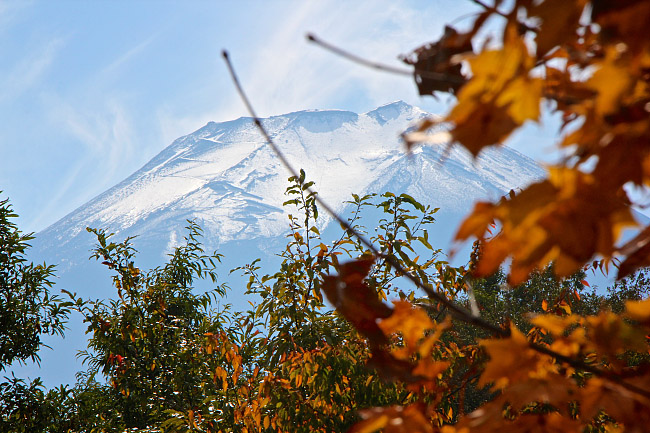 My last destination for the day was the Fujigoko area's largest lake, Lake Yamanakako. Along the lake's southern shore, I first stopped at a small lakeshore park called Yuyake no Nagisa Park, which features many Japanese maple and other color-changing trees. Today, it was still almost entirely green, but in maybe two weeks or so should be quite colorful.
My last stop today was just a few kilometers south of the lake, to the hillside of a nearby mountain called Mt. Mikuni. The slopes overlooking the lake on this mountain happen to be covered in susuki (pampas grass), and in the early afternoon light were shimmering a gold-white color. About halfway up the hill there is a small lookout spot with an incredible view over the susuki fields and Lake Yamanakako, a great way to end the day.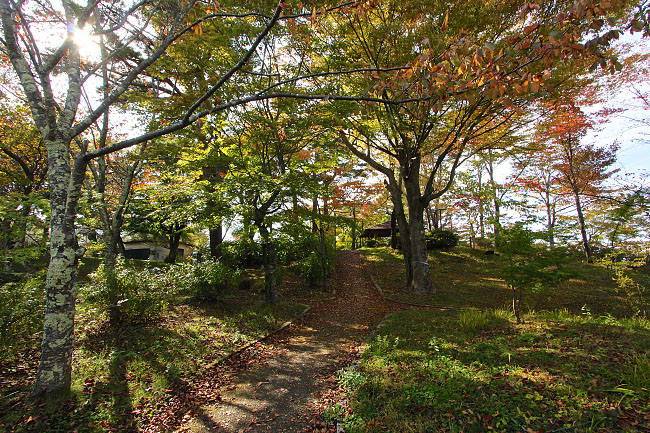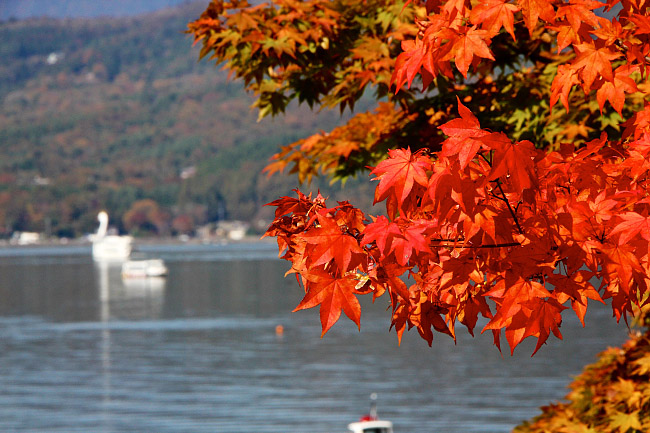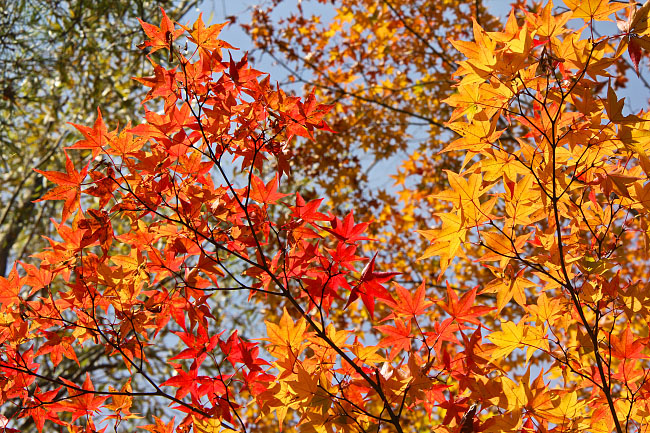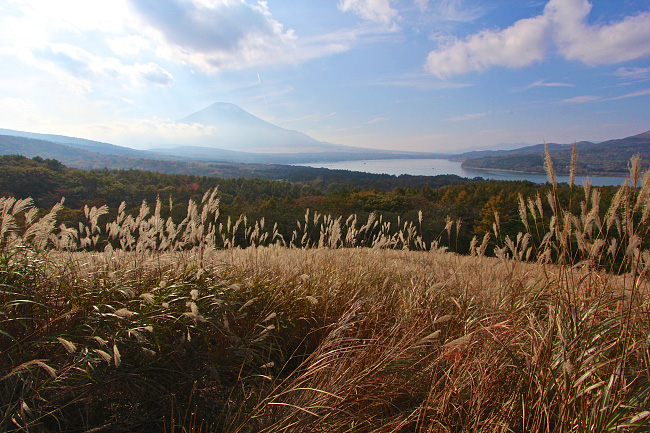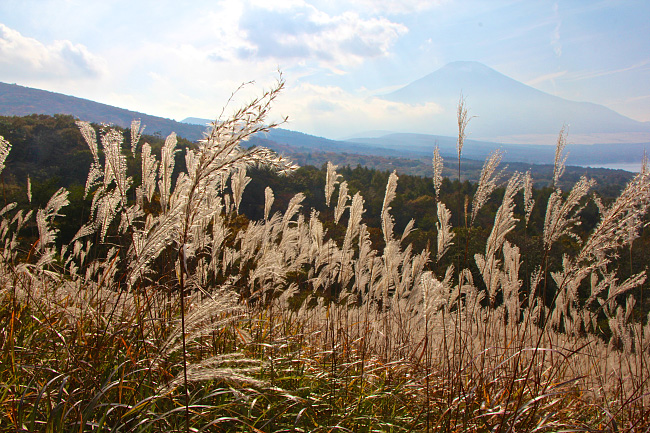 Questions? Ask in our forum.