Hiking Japan's second highest peak: Mt. Kita-dake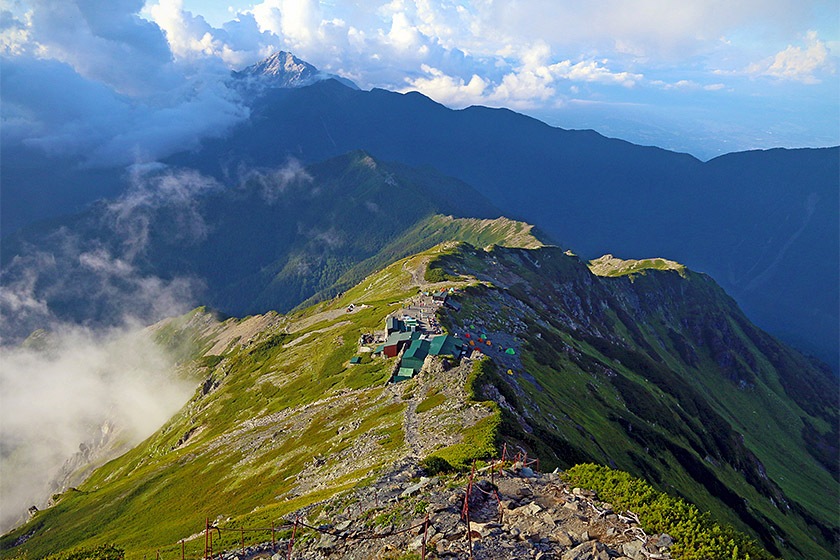 For hikers looking for an enticing climb similar in difficulty to Mt. Fuji, but without the throngs of other hikers, and with vastly more varied terrain and wildlife, Mt. Kita-dake, Japan's second tallest mountain, is a great option.
And it comes with a bonus: it boasts one of the best vantage points of Mt. Fuji in the entire country.
Kita-dake (北岳), at 3193 meters, is the highest peak in the Southern Japan Alps, the second largest mountain chain in Japan. Compared to the relatively more popular Northern Alps, the South Alps are more rugged and off-the-beaten path, but no less stunning.
The hike to Kita-dake can be done in 2, 3 or 4 days (or more) depending on where you stay and which nearby peaks you'd like to do, which can also include Japan's 4th and 15th tallest summits, Mt. Ai-no-dake and Mt. Notori, collectively known as Shirane Sanzan (白根三山), or the Three White Peaks. I'll explore all three options here.
Access
The trailhead, located at a spot known as Hirogawara (広河原), is only accessible by bus or taxi as private cars are not allowed in this area of the Minami Alps National Park. For most hikers, the most convenient way to get there is to travel to Kofu City (90 minutes by limited express train from Shinjuku Station in Tokyo) and take a Yamanashi Kotsu bus from Kofu Station to the trailhead (2 hours, 1950 yen one way; bus schedule here).
If coming from Tokyo, staying in Kofu the night before the hike can be a good idea as the bus and train schedules don't always line up to allow ample time for the first day's hike.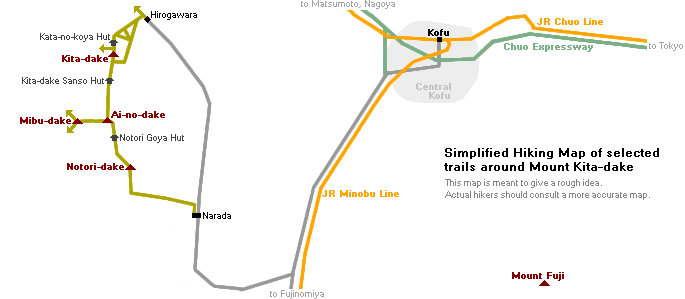 Day 1: Hirogawara to Kita-dake Kata-no-koya Hut
After arriving at Hirogawara, I first registered my hiking plans with the mountain rescue authorities and stocked up on some water at the information center.
The first day's hike, to the Kata-no-koya Hut just below the summit of Kita-dake, can take between 4-6 hours depending on your pace, so most hikers try to begin hiking by around 10 or 11 AM at the latest to allow plenty of time to arrive at the hut in time to check in for the evening meal (most huts ask guests to check in by around 4 PM if requesting dinner).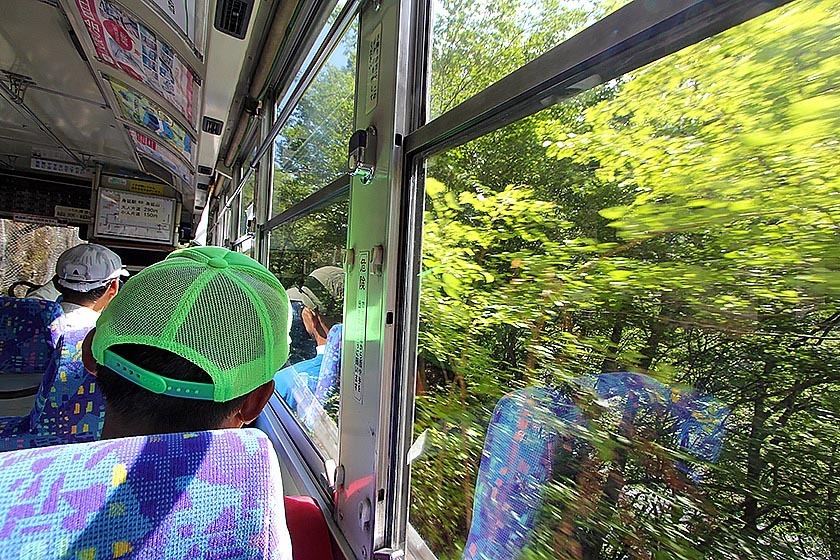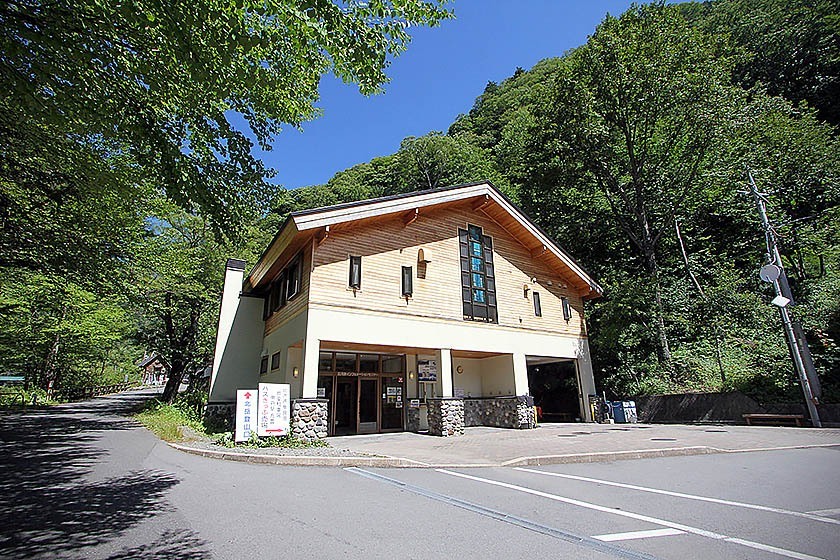 From the information center, the trail proper begins on the other side of the suspension bridge crossing over the Norogawa River next to a mountain lodge called the Hirogawara Sanso (広河原山荘), which can also be a handy place to stay a night or catch a last meal after your hike.
The trail doesn't waste time getting steep very quickly as it begins climbing the forested spine of Kita-dake.
After 20-30 minutes, the trail forks. While both paths lead to the top, the right-hand path will take you by the conveniently-located Shiraneoike Goya hut (白根御池小屋) which sits next to a small pretty mountain pond, and makes for a nice spot to rest, refill water and get lunch. From the fork to Shiraneoike it's about 1-2 hours.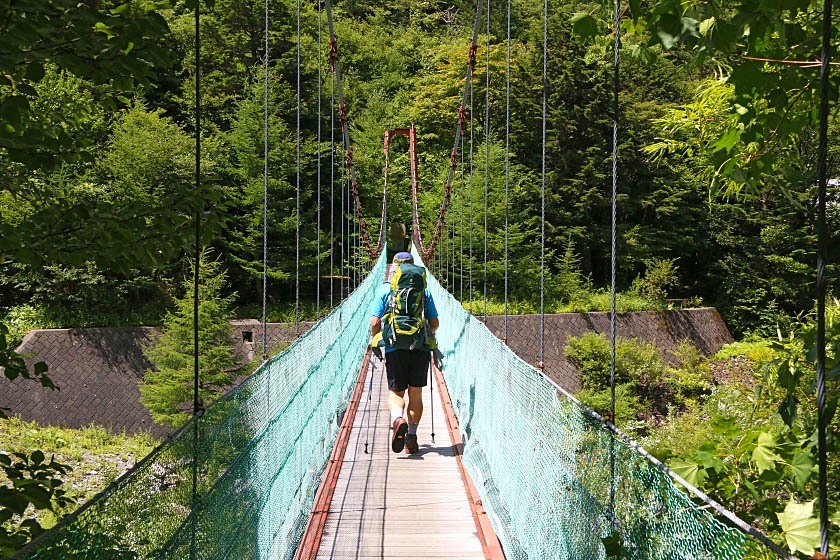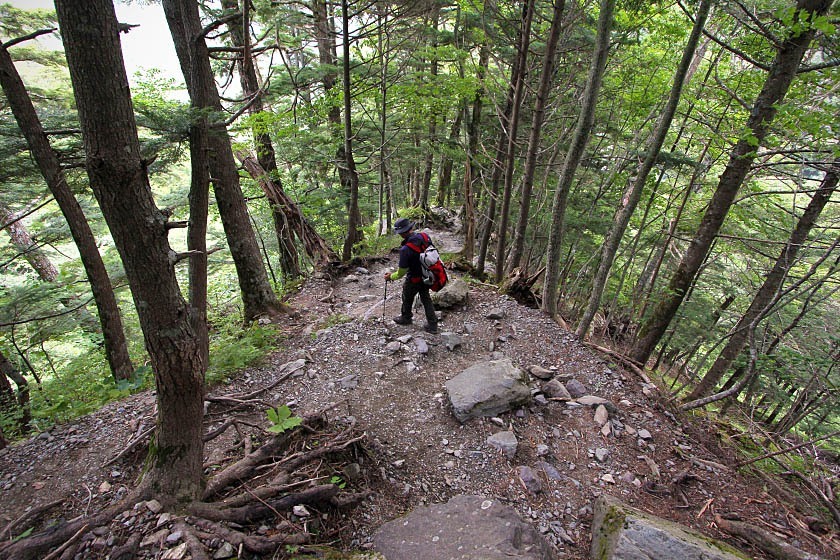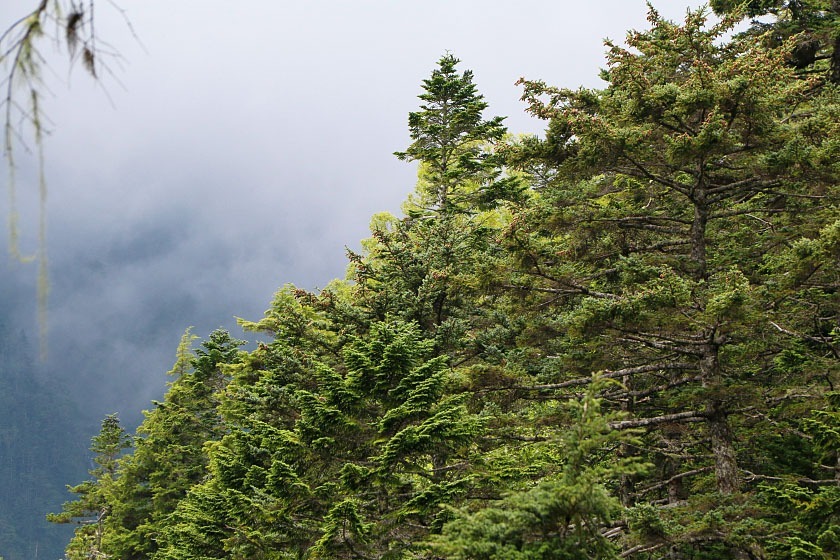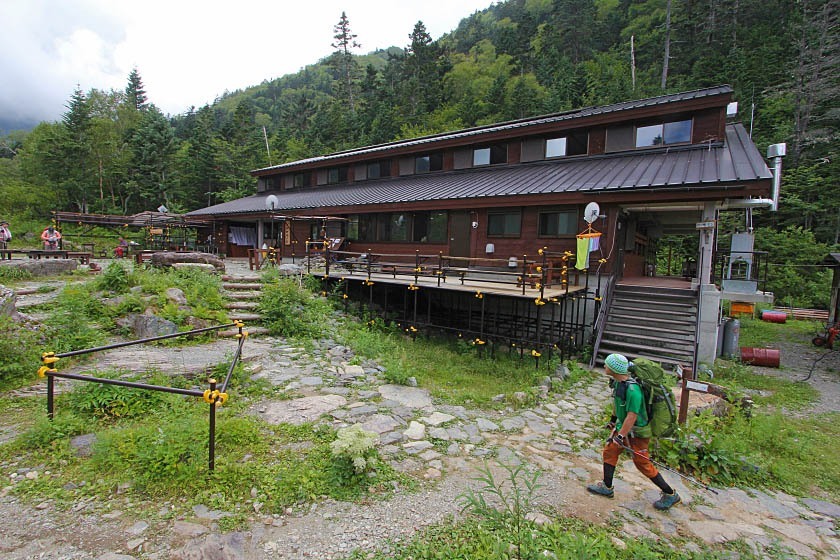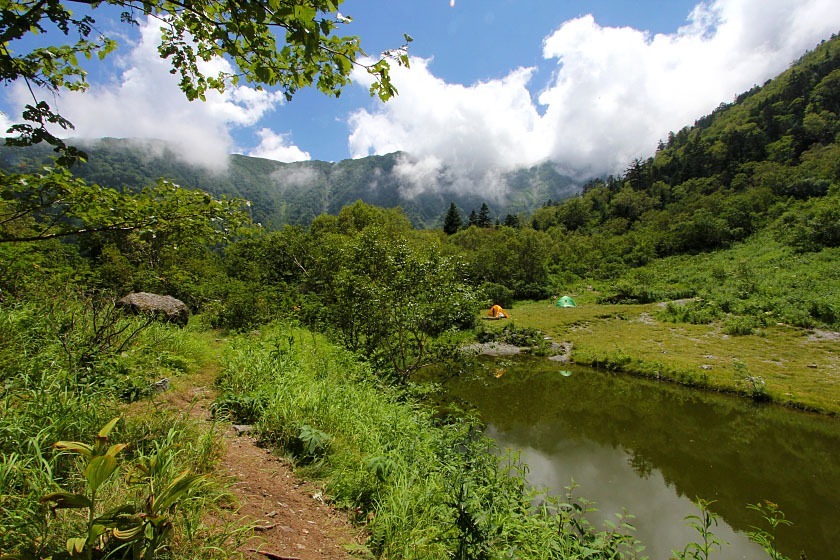 From Shiraneoike the trail splits again. The trail on the right leads more or less directly up a steep slope, taking 2 to 2.5 hours to reach the ridge, while the other curves around to a large valley carved out of the mountain by a rushing stream called the Okabasawa (2-3 hours to the ridge). I chose the Okabasawa route this time and was greeted by some beautiful views, still-unmelted snow patches (in early August!), and abundant alpine wildflowers.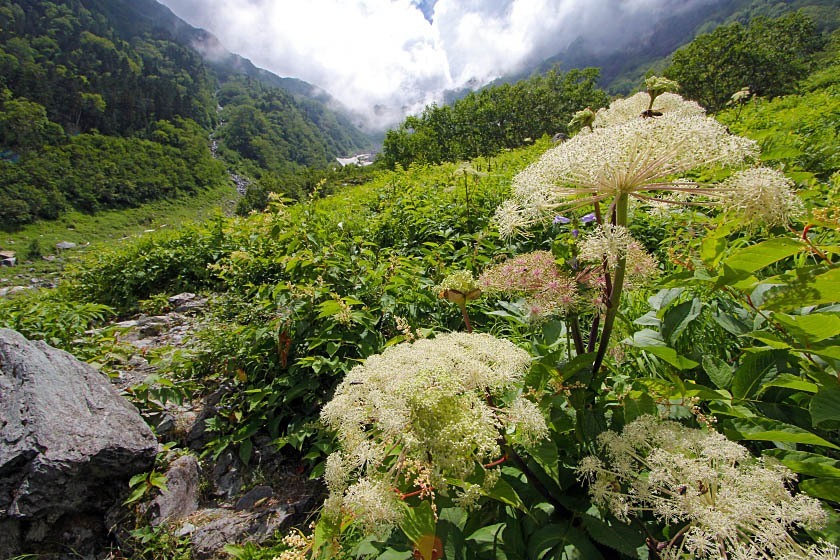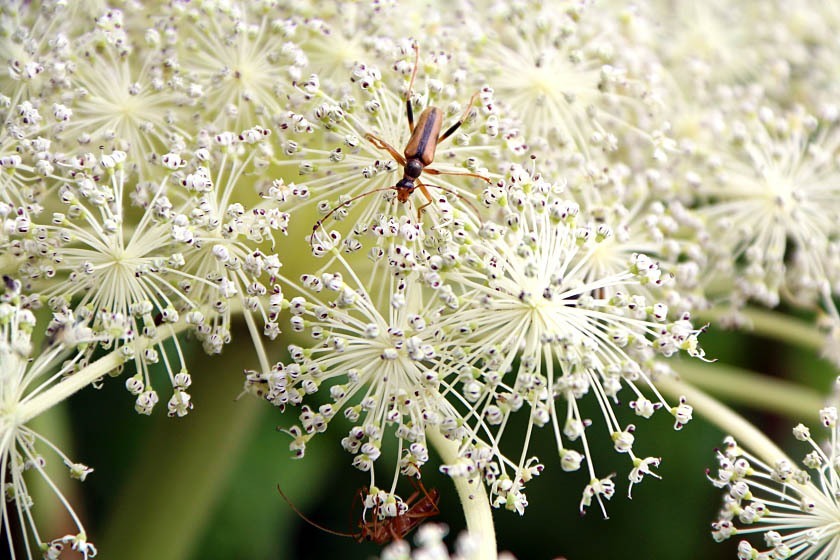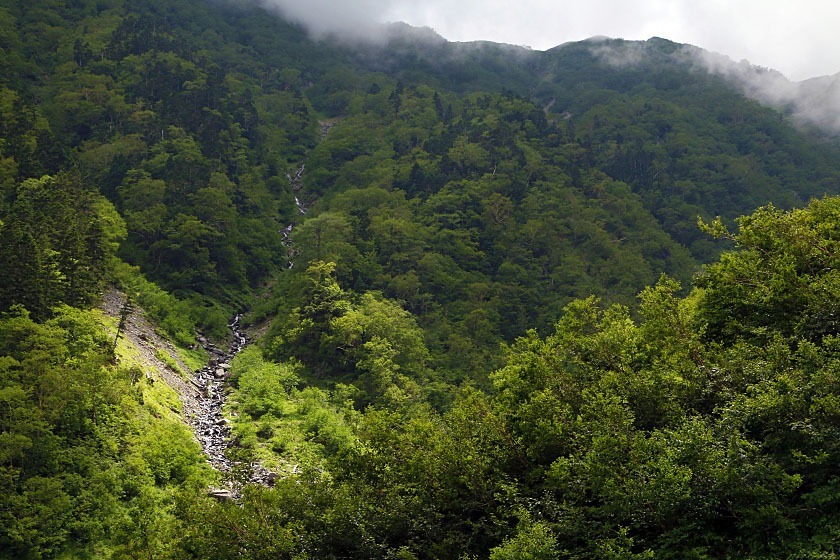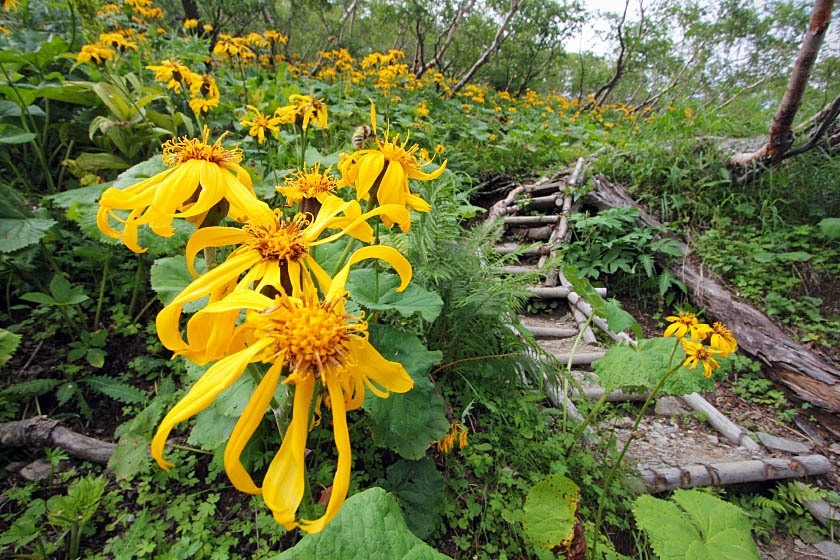 After about two hours of steep, uphill trekking, the trail reached the rocky ridgeline, opening up onto spectacular views of the nearby mountaintops of Kaikomagatake and Senjogatake. And after a short walk along the ridge, I finally found myself at my destination for the night: Kita-dake Kata-no-koya Hut (北岳肩の小屋).
Literally "Mt. Kita Shoulder Hut," the small mountain lodge lives up to its name, perched atop the ridge at an elevation of 3000 meters, just 193 meters below the craggy summit of Kita-dake. Like most mountain "huts" near major peaks in Japan, Kata-no-koya offers hikers a warm place to sleep, hot meals, toilet facilities and fresh water. A night with two meals at Kata-no-koya is 8500 yen (5500 yen without, may vary during peak season). Tent pitching sites are also available for 700 yen/person/night.
While reservations are appreciated, huts can almost always accommodate hikers on arrival as well (though arriving as early as possible is always best, especially if requesting an evening meal, which is usually served between 5:00 and 6:00 PM).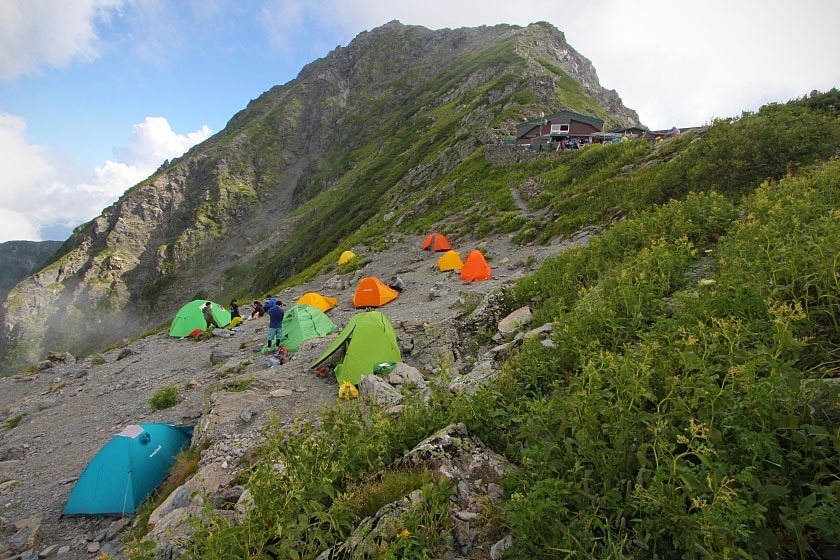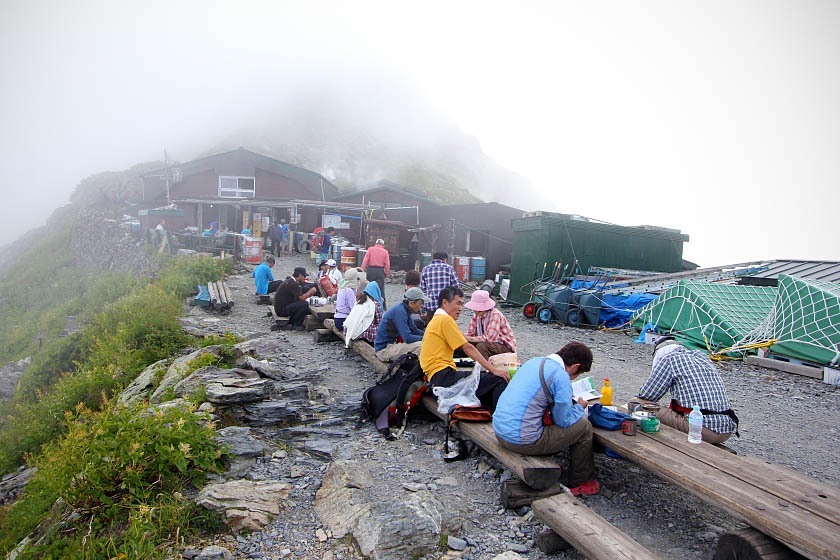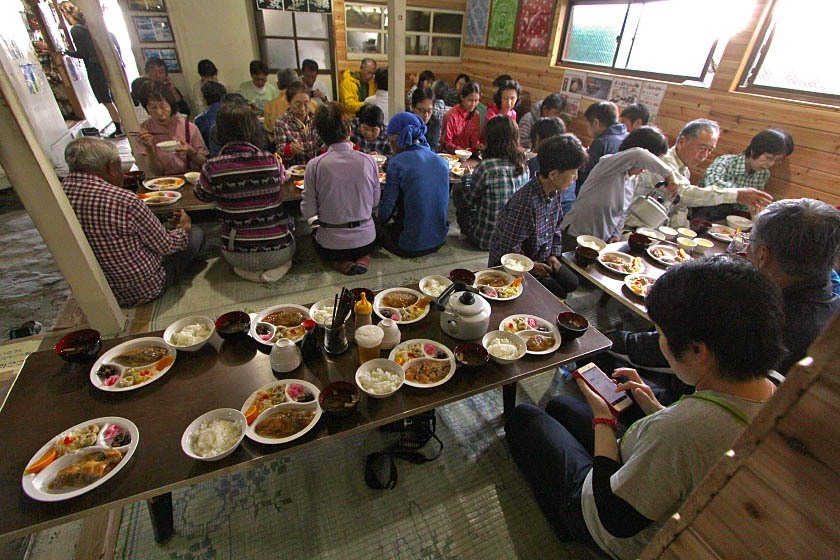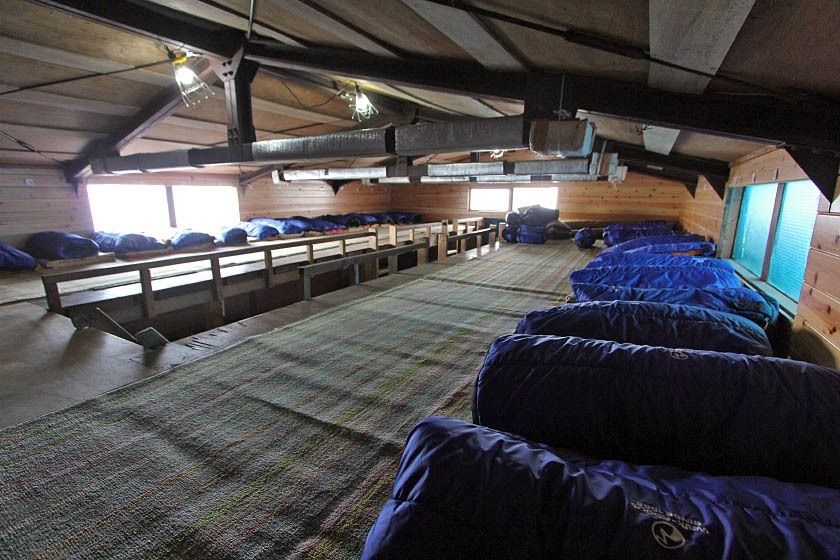 After checking in and having a satisfying dinner, I spent the last of the evening light sauntering along the ridge above the hut, simply taking in the incredible views.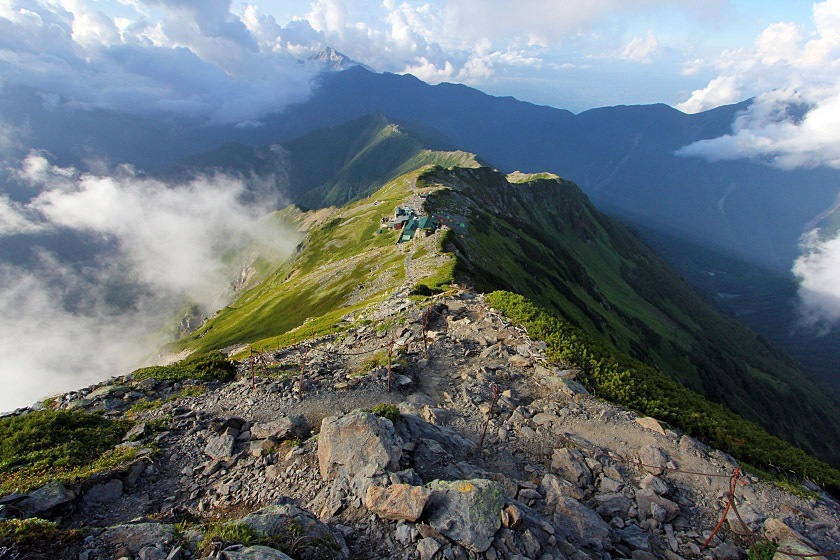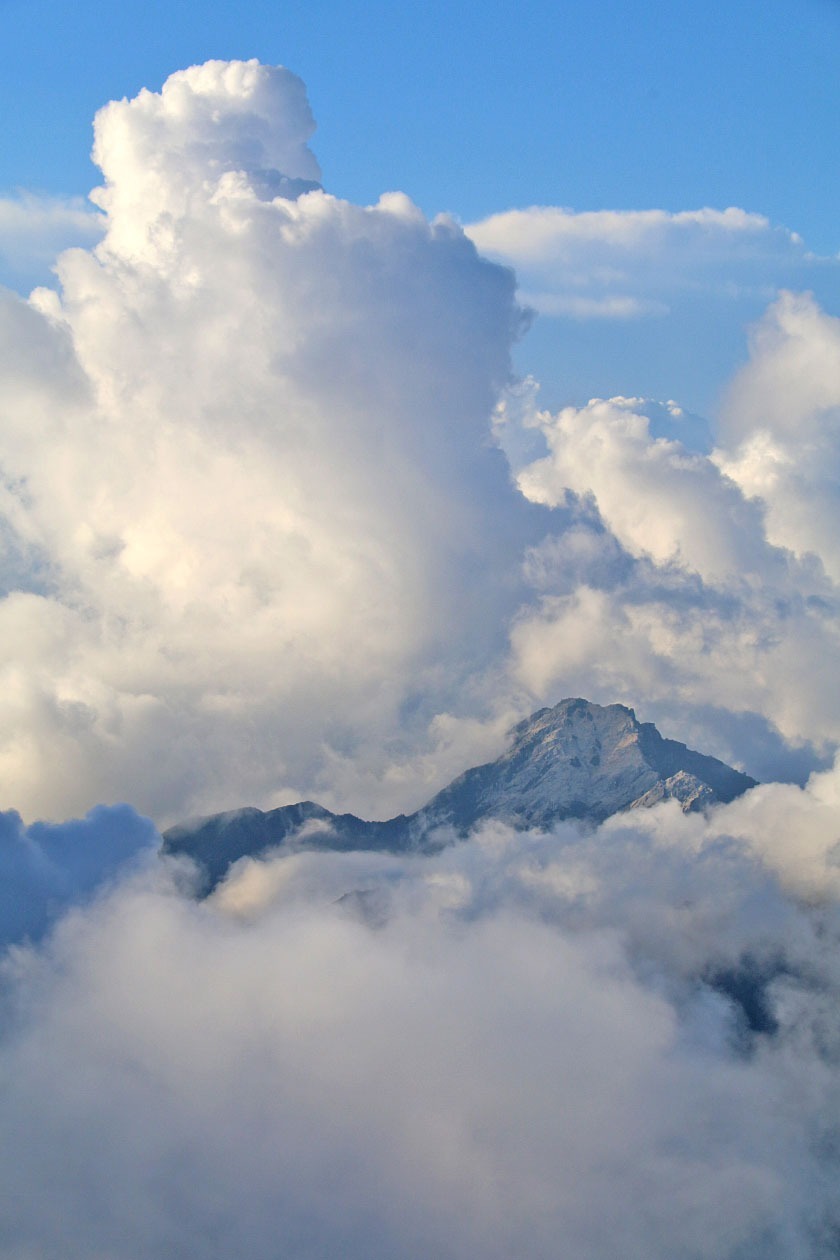 Day 2: Sunrise on Kita-dake, Ai-no-dake, and Notori-dake
I awoke at 3:40 AM the next morning to the sound of other hikers in my bunk preparing their things to leave. As the sun rises between 4:30 and 5:00 AM in the mountains here, I too wanted to make sure I was up in time to climb the final 30-50 minutes to the summit of Mt. Kita-dake in time to greet the sun.
And not long after waking, I was there not only in time for the sunrise, but also to briefly catch one of the most splendid views of Mt. Fuji anywhere in Japan, just before the sea of clouds below slowly rose up to hide it again.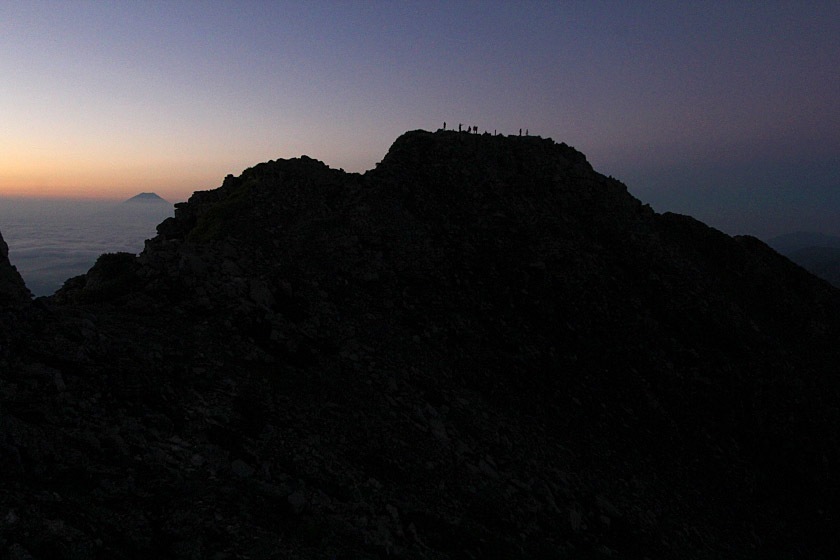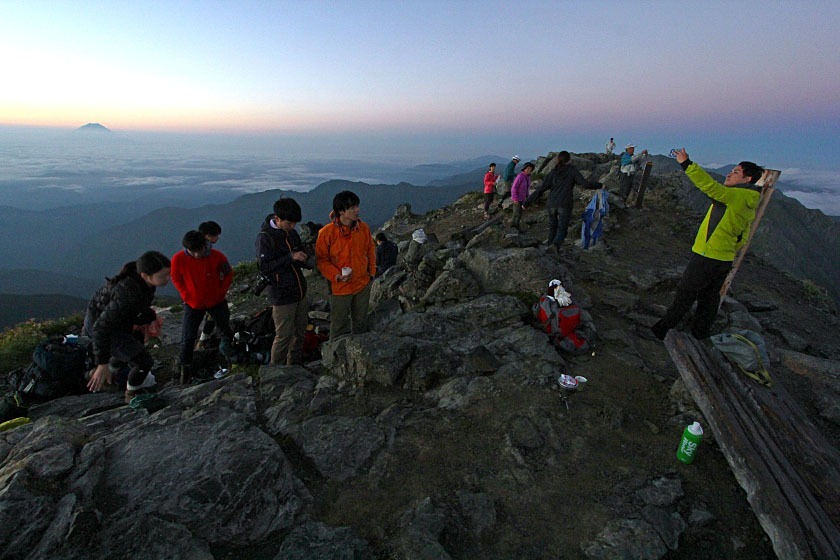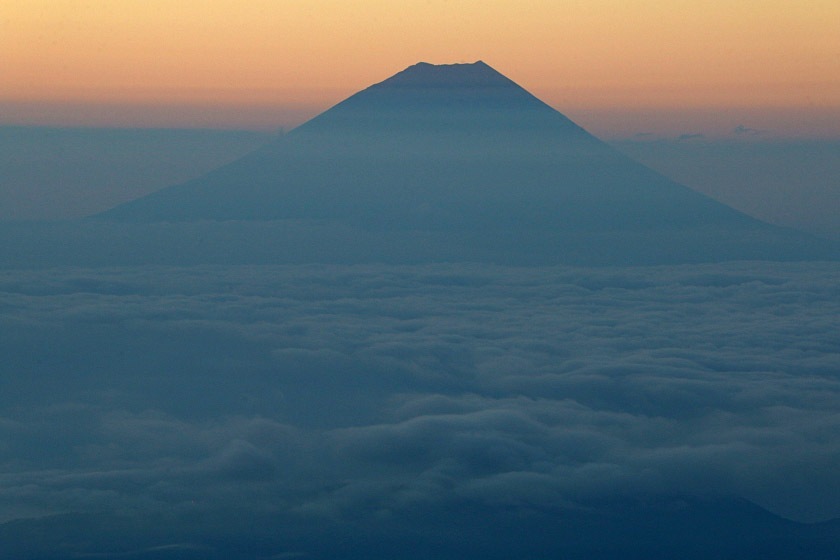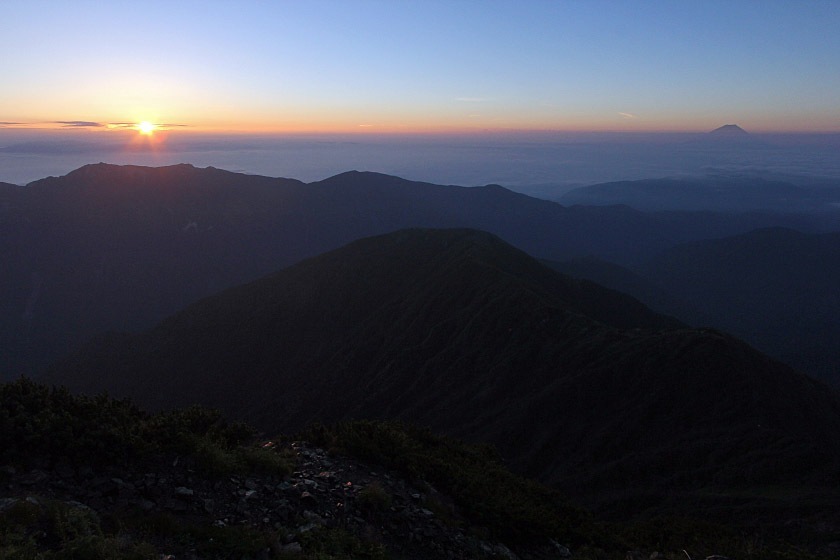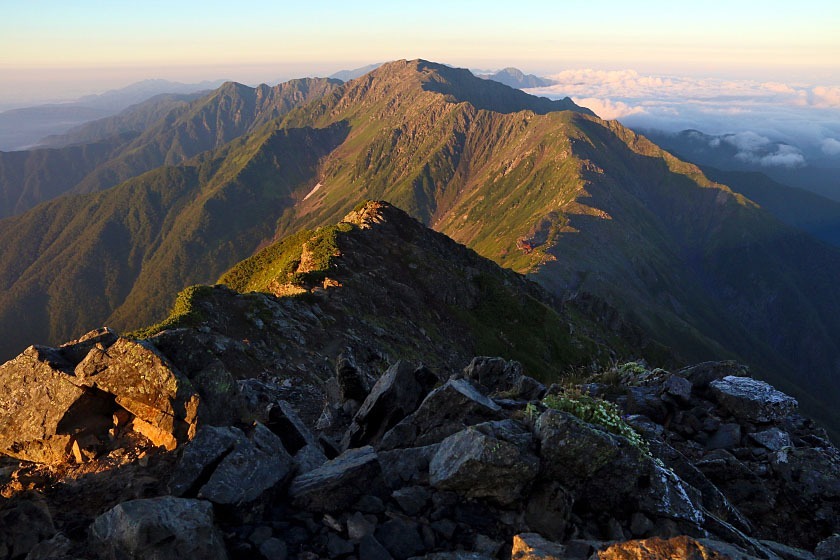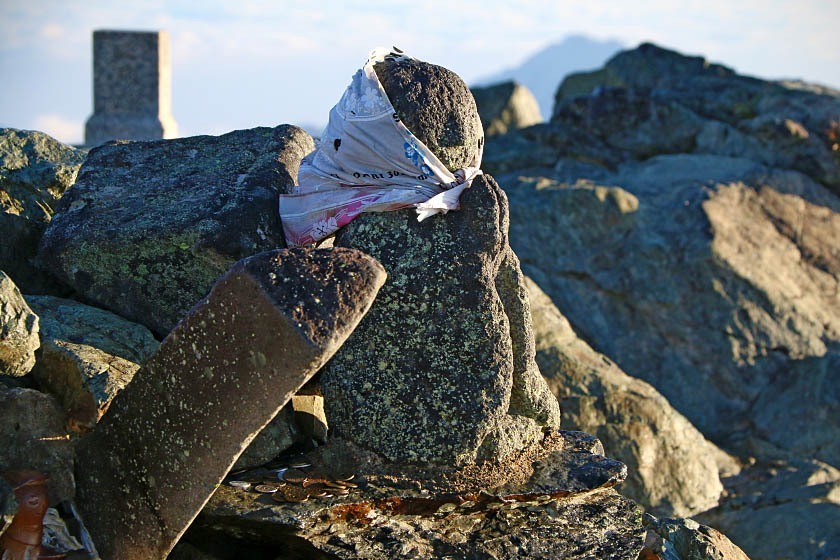 After soaking in the views from Kita-dake's summit, by 5:30 AM I was on my way down the ridge on the peak's opposite side. My next target: Mt. Ai-no-dake (間ノ岳), Japan's 4th tallest peak at 3190 meters—just 3 meters shy of Kita-dake's height, but no less massive. From summit to summit, the stunning hike along the bumpy ridge is about 2 hours, passing by Kita-dake Sanso hut (another nice option for staying the night) and the intermediary peak of Mt. Nakashirane (中白根岳, 3055 meters).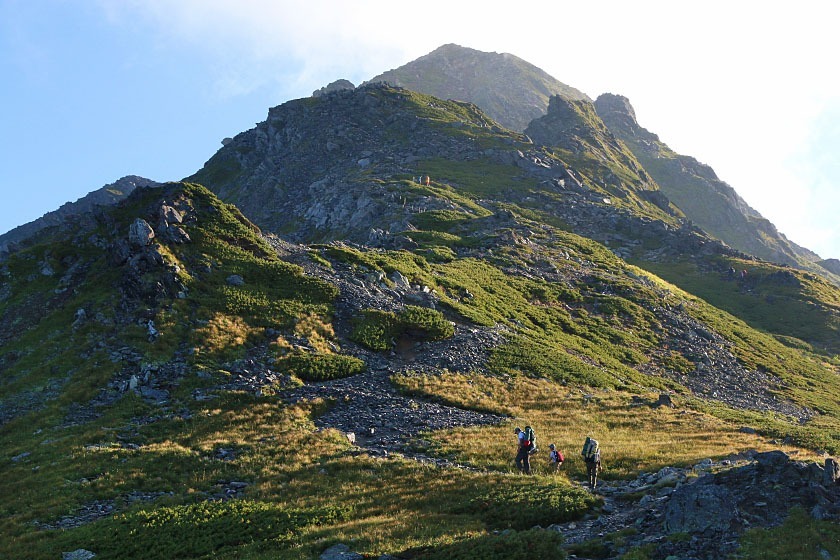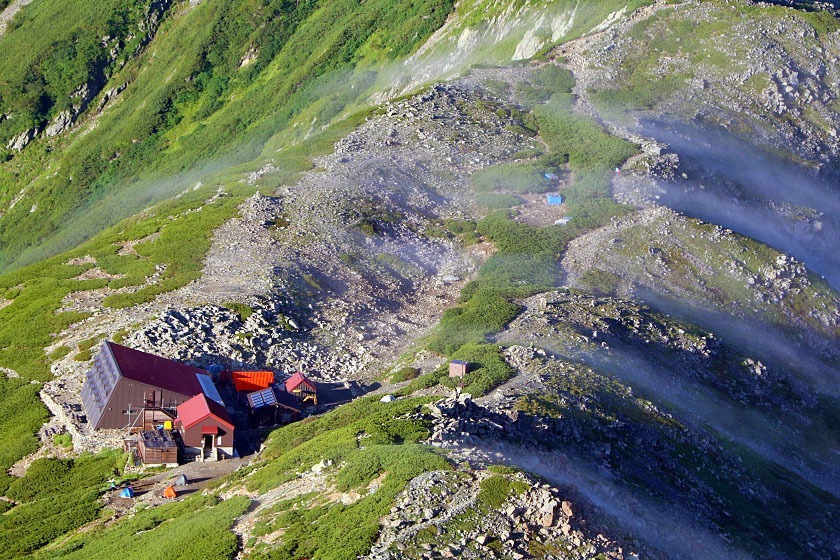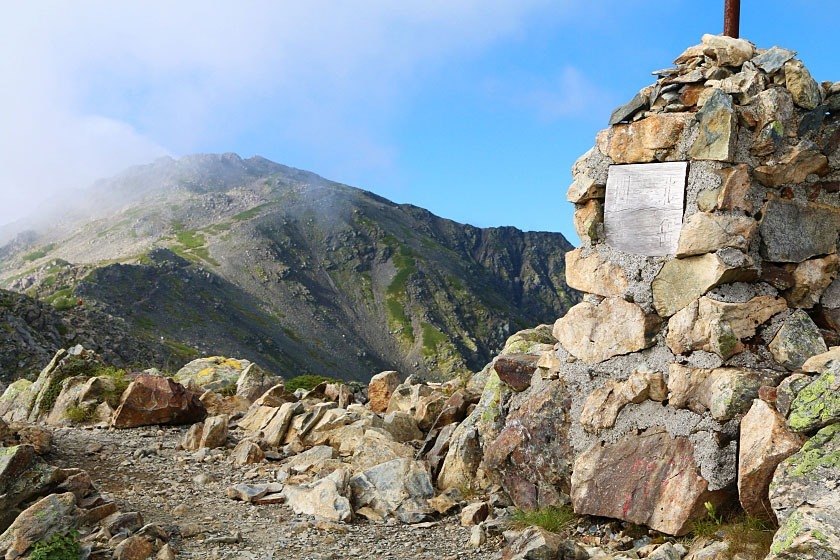 From Mt. Ai-no-dake's summit, hikers have some choices to make. Depending on your time, energy and budget, there are several options for descending back down.
2-day hike: For those looking to descend on the second day, the most direct option is to simply head back the way you came. Several routes around Kita-dake lead back to Hirogawara, which (from Ai-no-dake) take between 4.5-6.5 hours (3.5-5 from Kita-dake). If you had an early start, it's entirely possible to be back at Hirogawara by early afternoon to catch a bus back to Kofu.
3-day hike: If you have an extra day, the peaks around Mt. Ai-no-dake are suddenly your new playground. Excellent additions are Mt. Notori and possibly Mt. Mibu-dake. For your second night, you could either stay nearer to Kita-dake to descend back down to Hirogawara, or stay on Mt. Notori itself at one of its two huts to finish at Narada, an alternative trailhead (covered below).
4-day-plus hike: For those interested in the 3-day hiking route to Narada via Notori but at a more leisurely pace, it's of course possible to stay at multiple huts along the route down. Or, for the extra-adventurous, it's also possible to continue along the ridge line to the South Alps' many famous southern peaks (just be sure to plan carefully with an accurate map and plenty of supplies).
On my own adventure, I was keen to explore as many peaks as I could in the time I had. So, from Ai-no-dake, I took the 30-minute detour southwest to the summit of Mt. Mibu-dake (三峰岳), whose rocky 2999-meter peak straddles three different prefectures at once. From there, I took what you might call a 2-3-hour "scenic route" down from Mibu-dake and along a trail that doubles back up to the col halfway between Ai-no-dake and Notori. While there's also a direct path from Ai-no-dake that leads to the same point in less than an hour, my little excursion did offer some gorgeous vistas of Mt. Notori rising above the Migokusawa valley.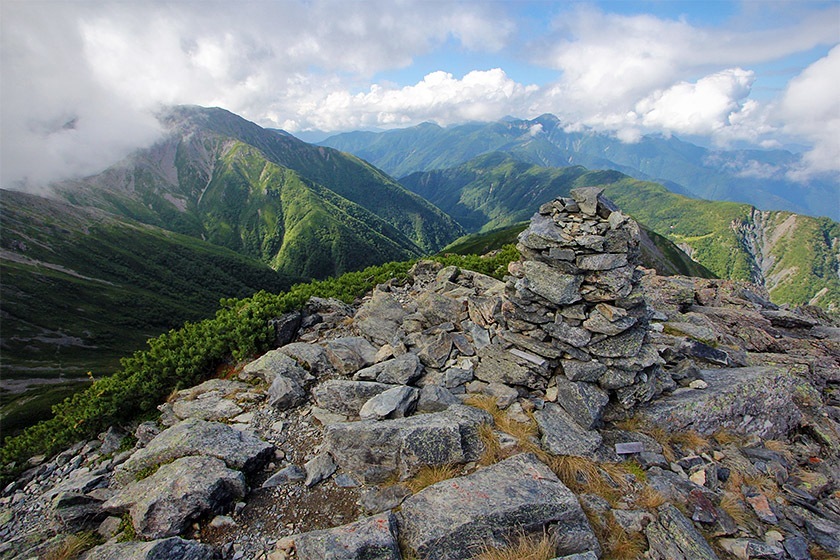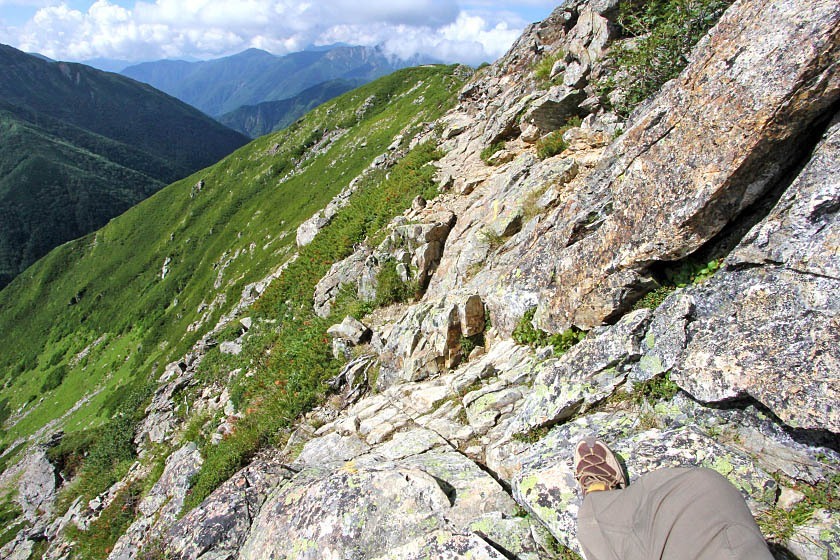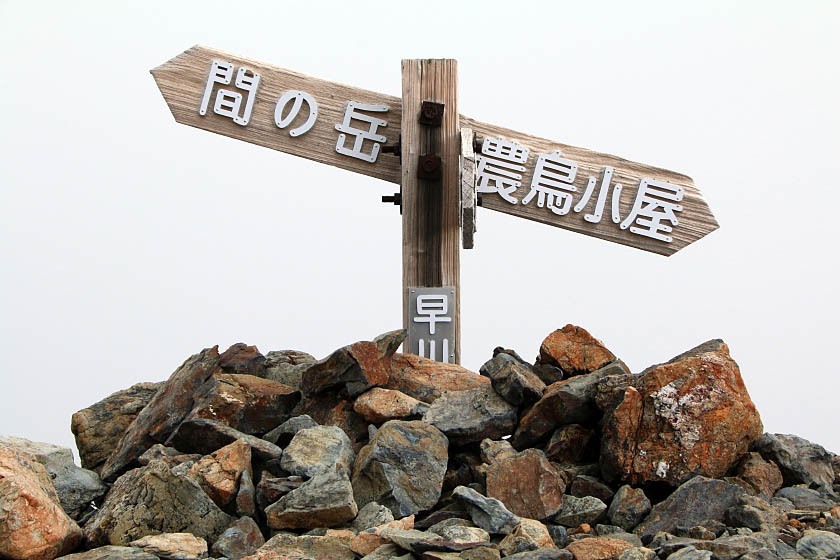 About halfway between Ai-no-dake and Notori-dake is another small hut called Notori Goya (農鳥小屋, 7000-8000 yen with 2 meals). This is the first of two huts between the ridge and the bottom of Notori-dake. From here, it's about an hour to the double peaks of Mt. Notori-dake (農鳥岳), officially Japan's 15th tallest mountain.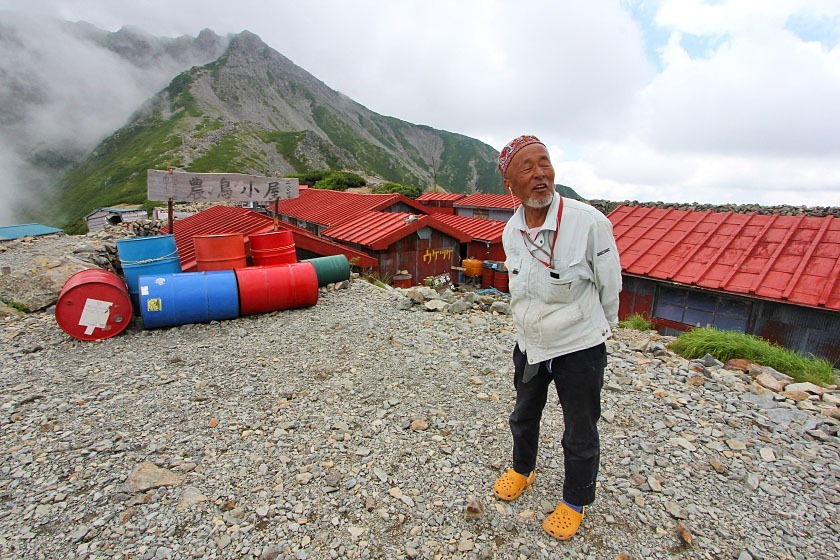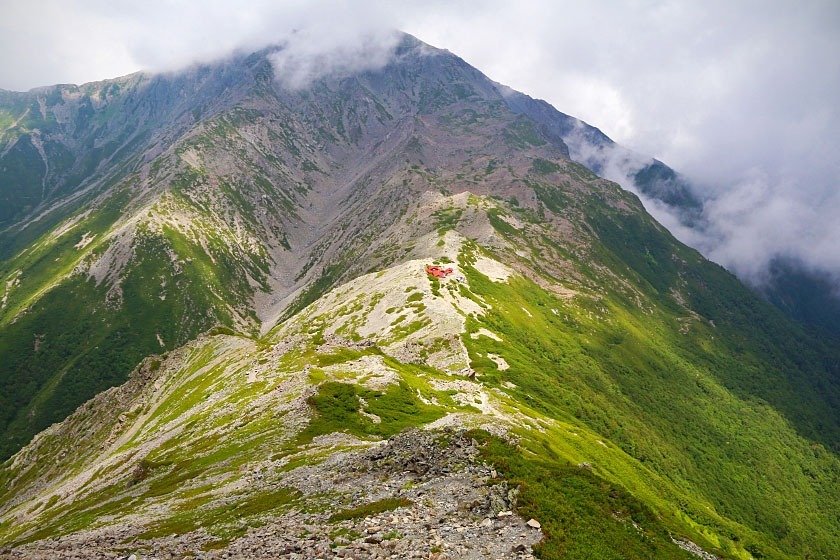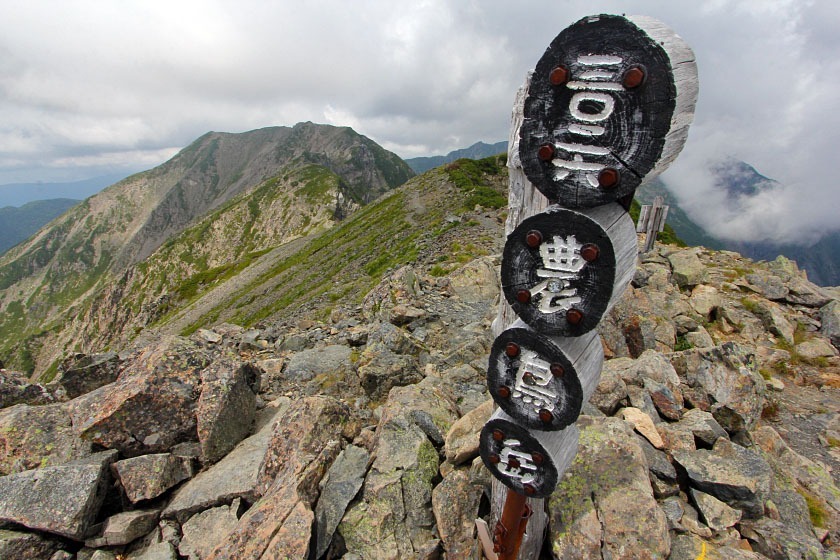 From the peak of Notori-dake, you have two choices: either retrace your steps back (and descend via Kita-dake to Hirogawara), or continue past the peak to descend to an alternate trailhead called Narada (奈良田).
The route from Notori to Narada is long, steep, and more rugged than the relatively well-trodden trails up Kita-dake. If you're considering this route, allow yourself at least 5-6 hours from the summit of Notori to fully descend, or 3-4 hours to reach the Daimonsawa Goya (大門沢小屋) hut where it's possible to stay overnight (8000 yen with 2 meals), get food and water, and even take a shower (a rare luxury for a mountain hut!).
If you're planning to catch a bus from Narada (another 2-3 hours from the hut), the last bus leaves at 3:30 PM so plan your descent carefully (see more below).
After a long, tough descent through thick vegetation and heavy rain, I finally made it to the Daimonsawa Goya hut. Since I had planned ahead to finish my hike at Narada, I had driven my own car in to Narada and took a morning bus from the parking lot there to Hirogawara on the first day to start the hike. So, I decided to just head straight down that afternoon and started the final leg of the descent.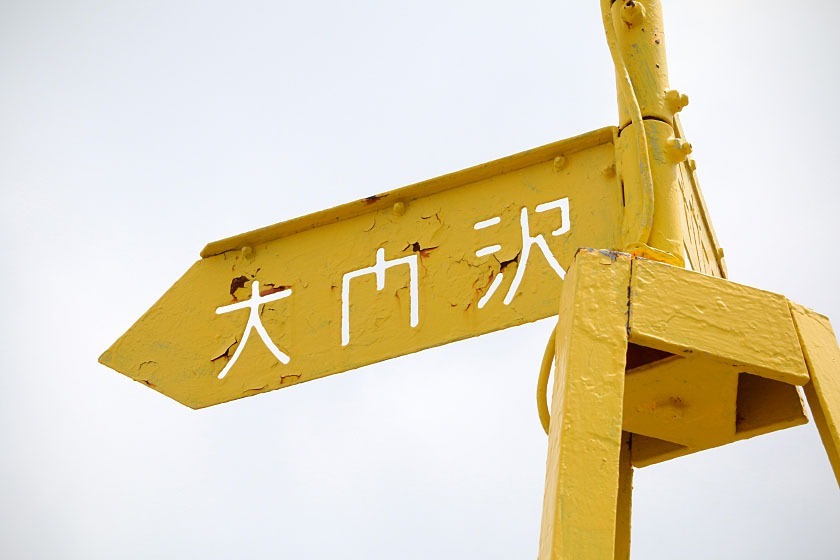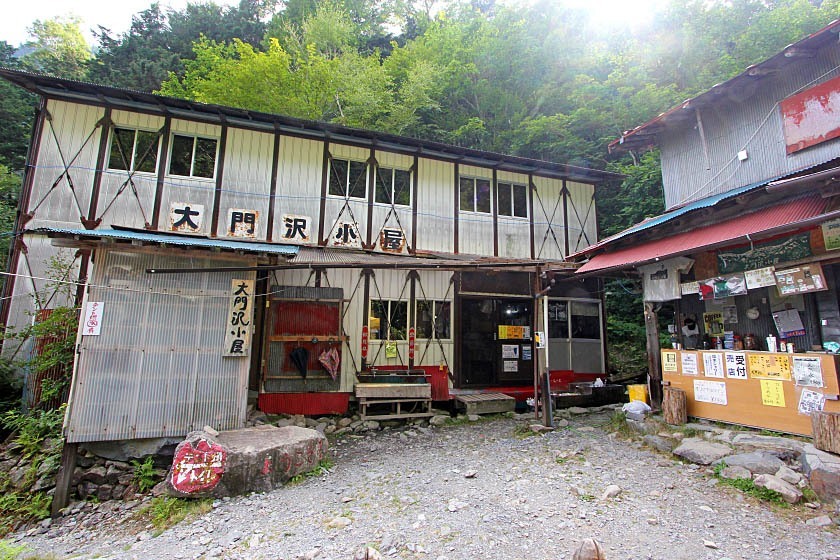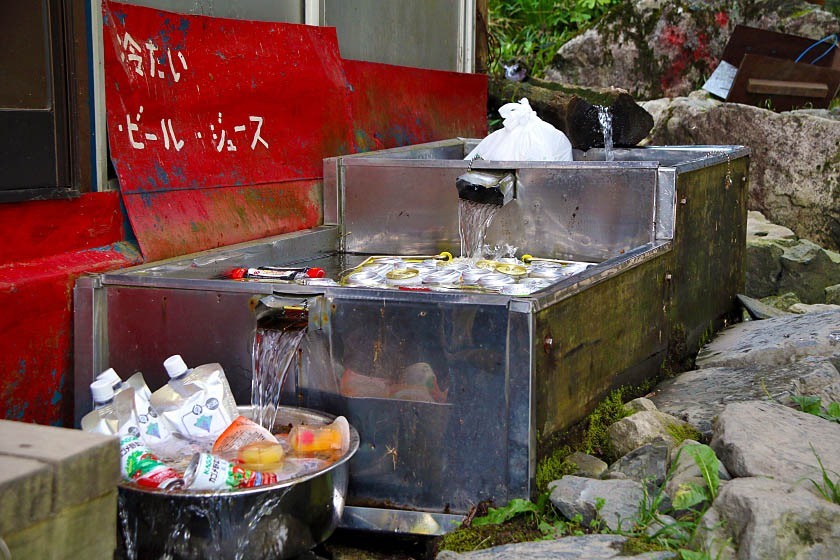 The final, lowest portion of the Notori trail, to my surprise, turned out to be one of my favorite parts. The small mountain stream that starts at the top of the Daimonsawa valley was a tumbling cascade at this point, which the trail criss-crosses several times via "bridges" consisting of two nailed-together logs. Large boulders litter the path through the forest as well, making for an unusually rugged hike.
And as a final cherry on "top," the trail finishes by leading through one of the most pristine, quiet mountain forests I've ever walked through, without another soul in sight.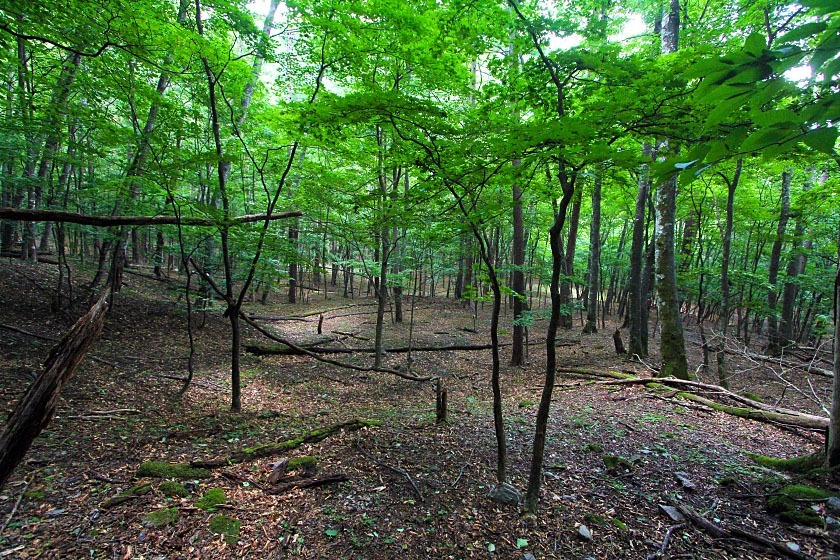 ---
When to Hike
While most of this hike can feasibly be done between mid June and early November (especially if you're only attempting a 2-day hike and staying at Kata-no-koya or Kita-dake Sanso), mid July to late October is the safest window for hiking in the South Alps, when the most huts will be open and the most buses will be operating. As an added bonus, July is also the best time to catch the area's alpine wildflowers at their peak.
Hiking outside of the regular season is definitely not recommended here as conditions become snowier, huts will be closed, and access becomes more difficult the further it gets from the seasonal window.
Bus from Narada to Hirogawara
If you choose to descend Mt. Notori-dake via the Daimonsawa valley and are traveling by bus/train, 2-4 buses per day run between the Narada parking area (located here) and Hirogawara. From Hirogawara, there are relatively frequent daily buses back to Kofu and beyond. Just be aware that the timing can be tricky here, as the full descent from the top of Notori-dake to the bus stop takes 5-6 hours or more and the last bus is (as of this writing) at 3:30 PM.
Be sure to check the most current bus schedules at Norogawa-Hirogawara Information Center beforehand, or the Daimonsawa Goya hut on your way down.