Getting lost in rural Japan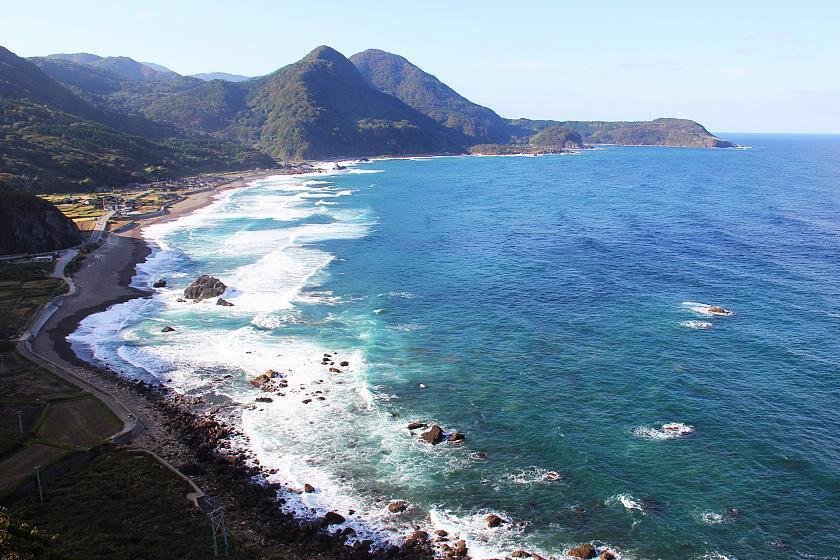 Sado Island is an isle of wonders off the coast of Niigata Prefecture in the Sea of Japan. The biggest of the Japanese isles after Okinawa Island, here lies a land of rich history and a flourishing traditional culture particularly noteworthy for its abundance of nature; from the clean, blue waters that lap at its shores to its verdant mountains and flat lands of fertile soil that produce delicious fruit and vegetables. On this visit, I was eager to learn more about how the island's inhabitants interact with the beautiful nature that surrounds them, especially with autumn, among my favorite seasons, starting to take hold.
I arrived at the port of Ryotsu following an hour-long high-speed ferry ride across the channel from the mainland and immediately headed to the first stop on my tour of the island, Momijiyama. This mountain-cum-country park is famed among the islanders as a picturesque place to hike and one of the best locations here to see spectacular autumn colors. A little early to see the mountain in its reputed blaze of reds and golds, there were hints of autumn bleeding through some of the foliage, enhancing an already scenic stroll spot.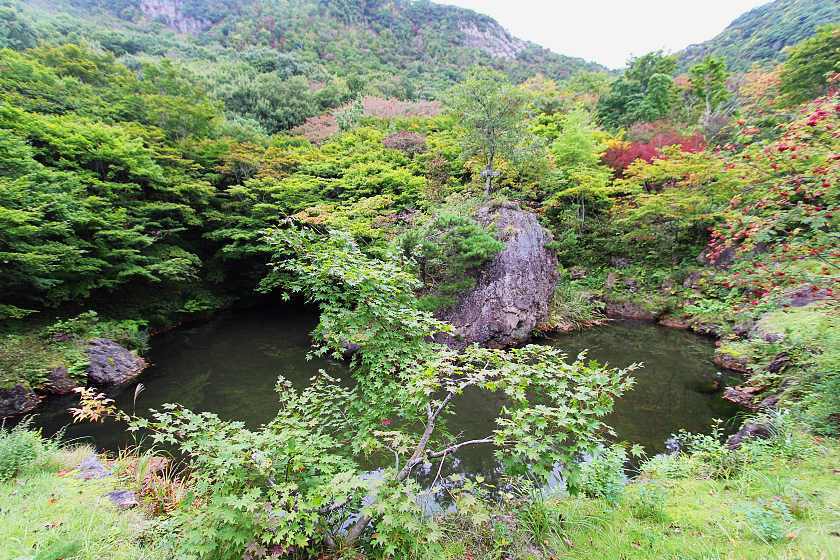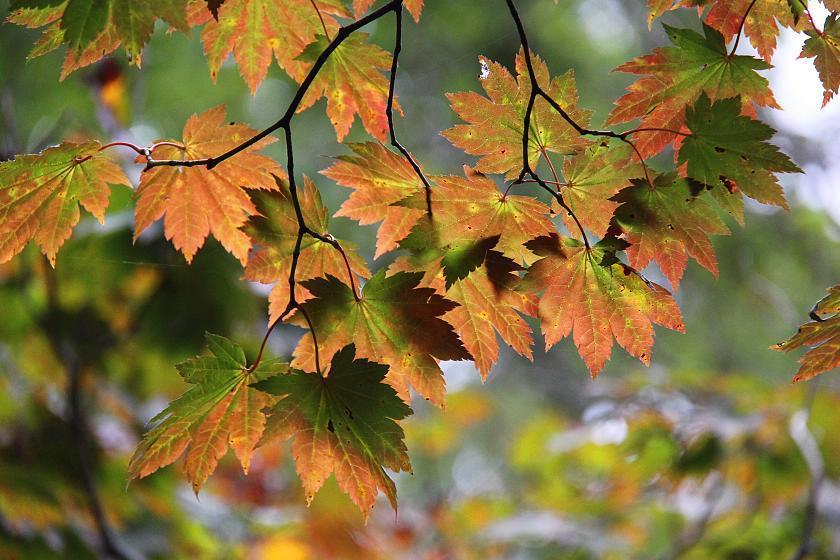 Next it was off down the island's east coast to Akadomari Gyoko for an experience I had been particularly looking forward to. After arriving at the fishing port I boarded a small vessel that was skippered by the captain out to the open sea. It was time to do some fishing, and I was handed a rod and, being a fishing virgin, given a rudimentary lesson in the art by the captain who had been a fisherman for many years.
Following my introduction to fishing it was up to me to catch whatever I could to eat later that evening at my lodgings. It took around an hour at sea and the sun to have set but finally I felt a tug on my line and, by the light of the boat, reeled in my first ever fish, a beautiful sea bream. With the captain's help, I managed to snag two more specimens of increasing size before it was time to dock and get to my lodgings for the night.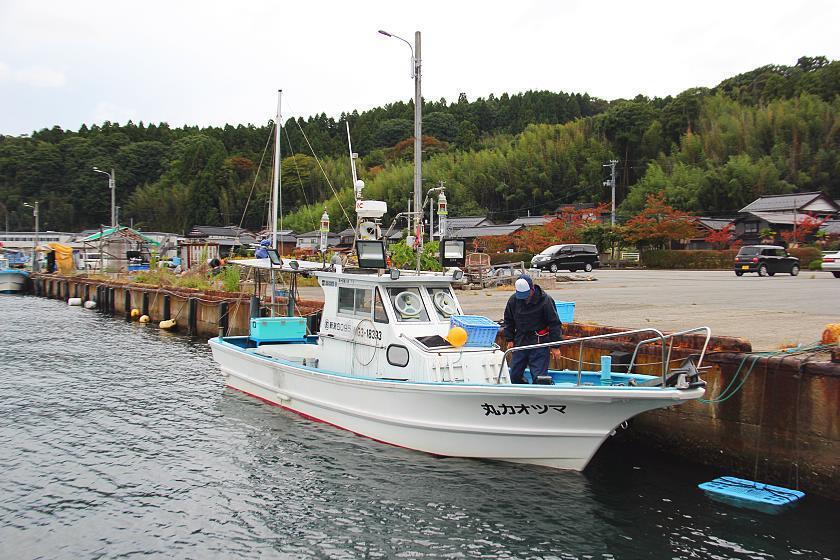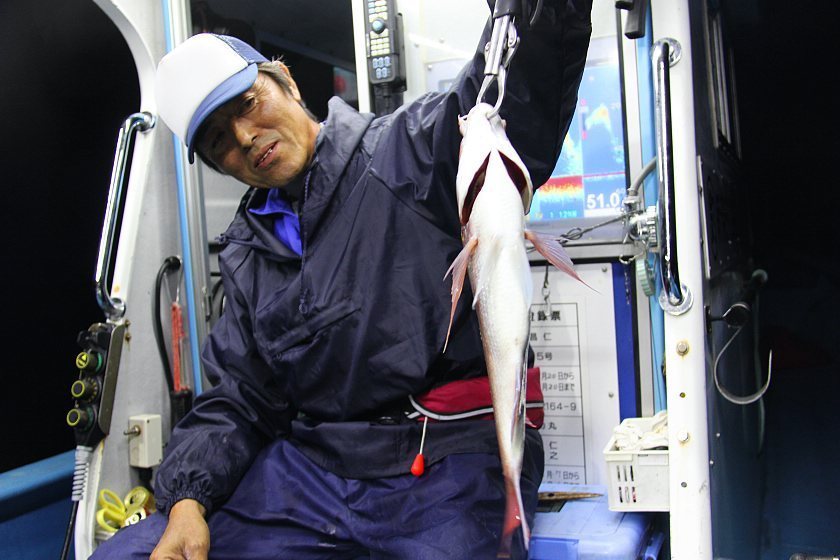 It was well after dark when I finally arrived at the nook I'd be spending my first night on Sado Island; Minshuku Matashichi. This traditional Japanese guesthouse nestled on the southern tip of the island is run by local fisherman Mr. Enokitani and his wife, and much of the food that is served is centered around what is caught in and around the nearby Yajima-Kyojima inlet. I sat down after an exhilarating afternoon of fishing in their cozy dining area where my catch was served among an array of other fare in a veritable fisherman's feast.
In addition to tempura vegetables and sashimi, some of the meat, including my fish, was cooked on the irori in the center of the room. An irori is a traditional Japanese fire pit that is used for cooking and heating, with this particular one being one of only a few genuine ones (employed without the use of gas or electricity) to be found on the island. The food matched the wonderful atmosphere, added to in no small part by Mr. Enokitani's mother 'Obachan', who, well into her 80s, manned the irori while regaling us with her experiences living in this very house since she was born.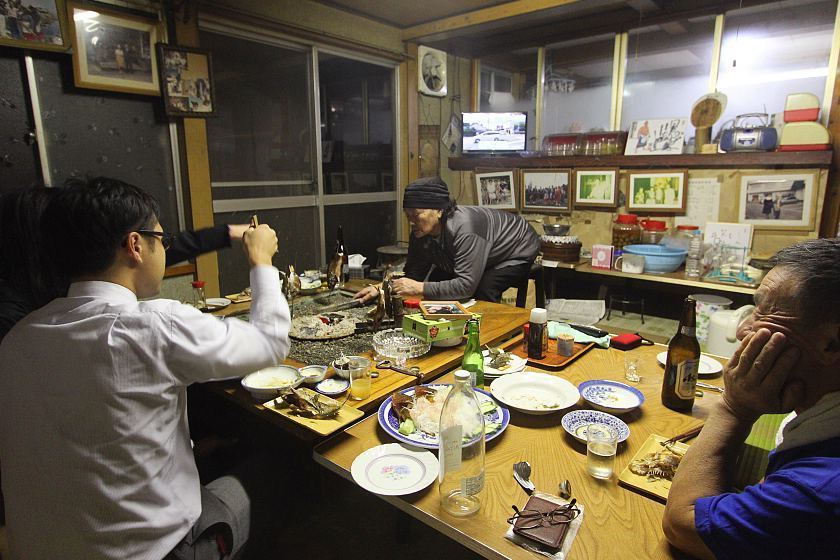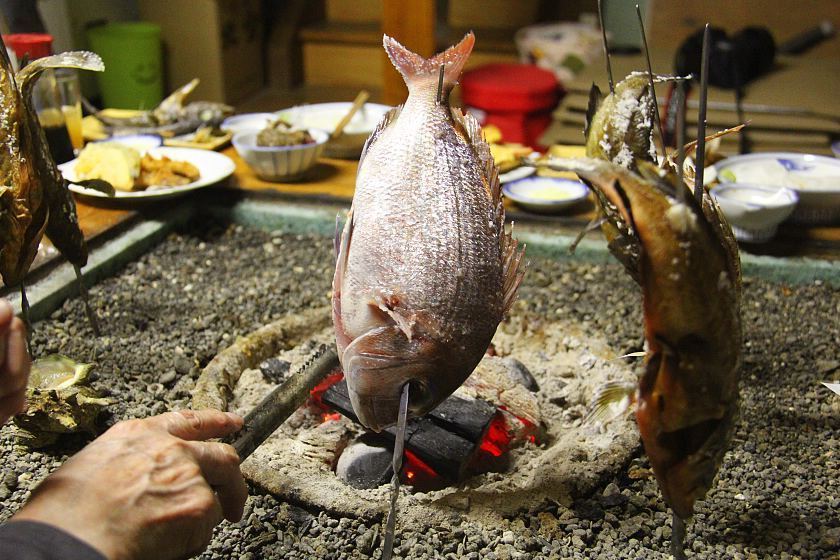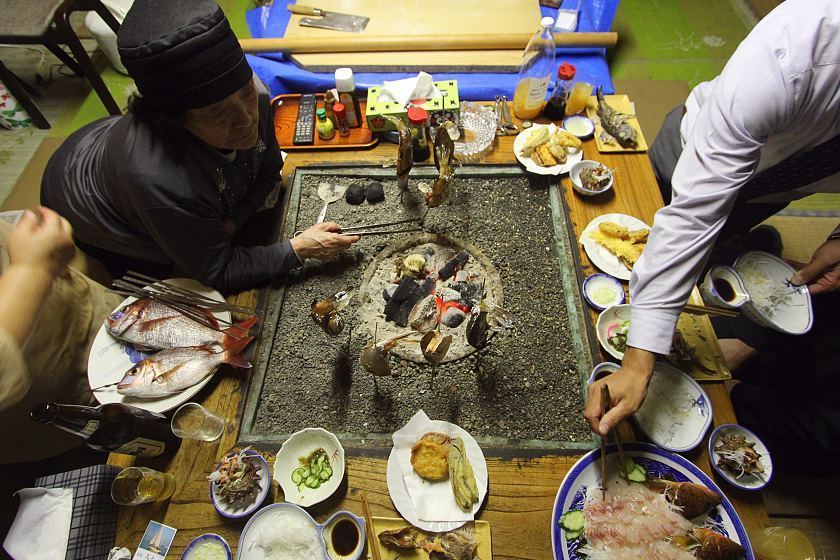 I woke with the sunrise on day two of my Sado tour and headed out to the shore with Mr. Enokitani and his wife where I looked on as the pair began to shoulder their small fishing boat off the jetty, Mr. Enokitani himself evidently utilizing years of practice and hopping on just as the vessel left the shore with his wife and I already aboard. We were headed out into the early-morning sea to fish, but this time using only nets in a traditional style of fishing performed here for many years.
A few hundred meters from the shore and the boat was stopped for the couple to hoist in a long net that came up with a variety of different fish and shellfish. It was then back to land and into the house, where the morning chill was forgotten with a fisherman's breakfast around the irori.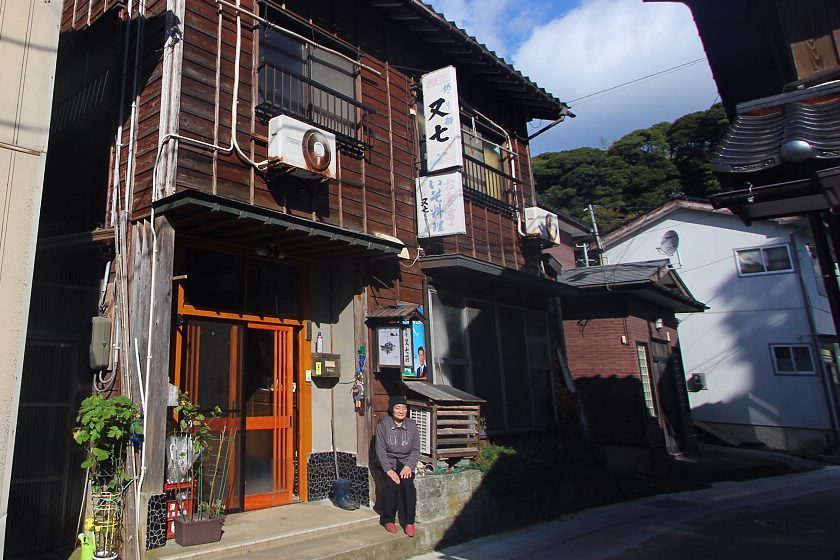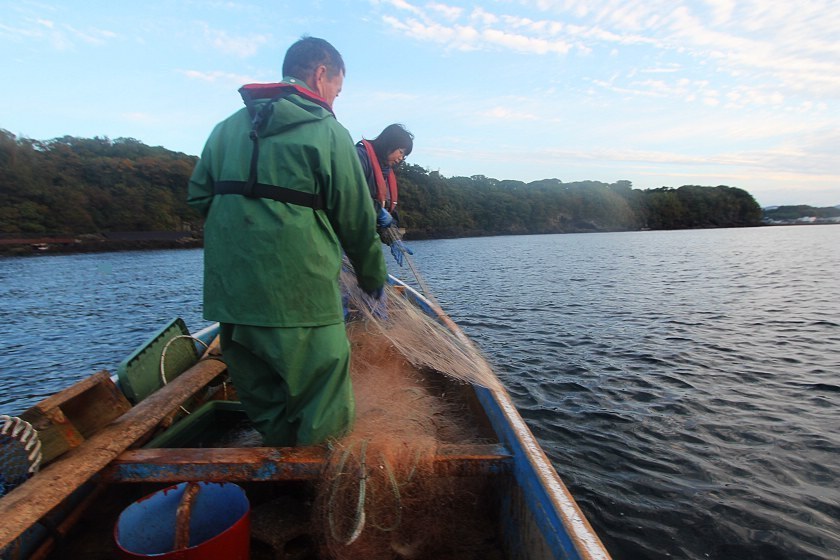 After breakfast, I headed to nearby Shukunegi, an old village that became prosperous during the Edo Period when it was home to various wealthy shipbuilders and merchants. Signs of the town's history remain today, as many of the houses are built using the boards retired from sea vessels. After a quick wander around the village's picturesque streets, I sauntered over to the nearby bay where I took a ride in a Taraibune boat.
Taraibune are a type of traditional fishing vessel made from large wooden tubs that were adopted in the old times by the locals in order to avoid a draconian boat tax. Today visitors such as myself can take a ride in a tub at various locations around the island, manned by a captain who typically steers the vessel close to the shore from where it is possible to observe an array of sea life in the clear waters. The ride around the bay was a fun experience, and the captain was even kind enough to let me man the tub for a while!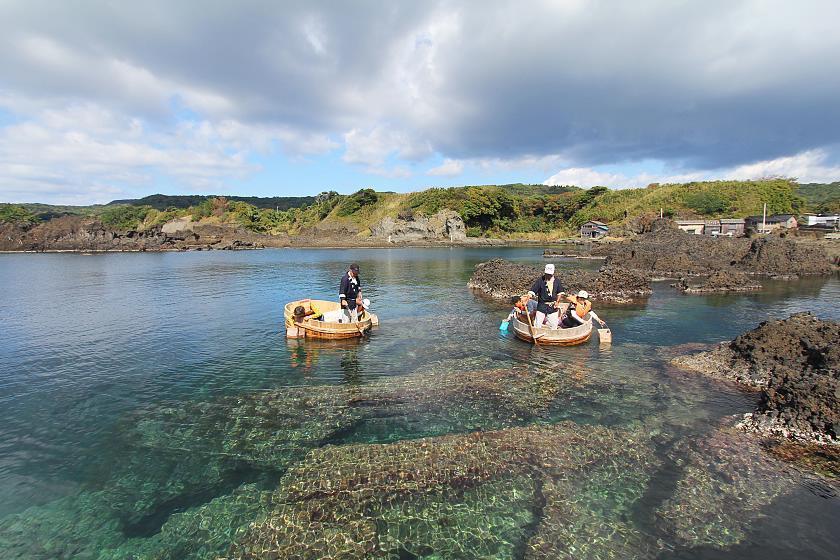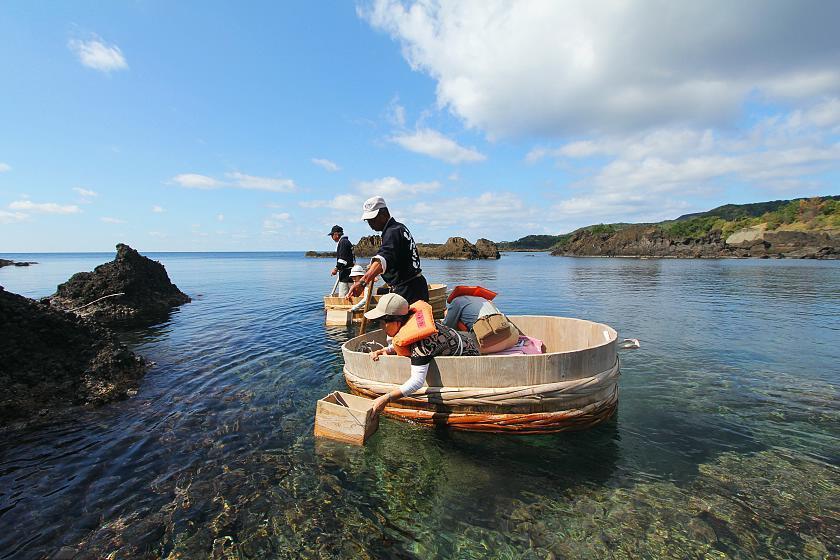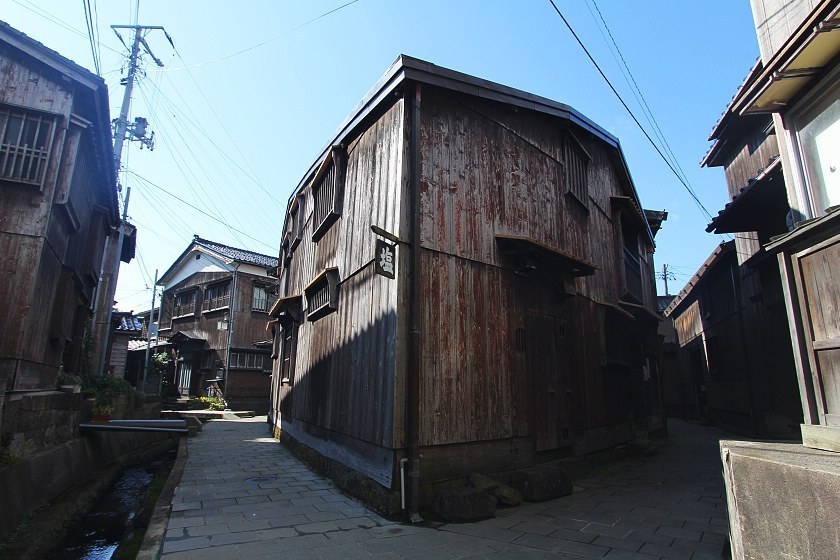 From Shukunegi, it was time to head north into Sado's interior where I would get the chance to see the practices of farming on the island. Before that however, I made a quick stop at Myosenji, one of Sado Island's most revered temples. An old institution whose picturesque grounds typically display some of the island's most spectacular autumn colors, the temple is also famous for its five story pagoda, which is the only one of its kind in Niigata Prefecture.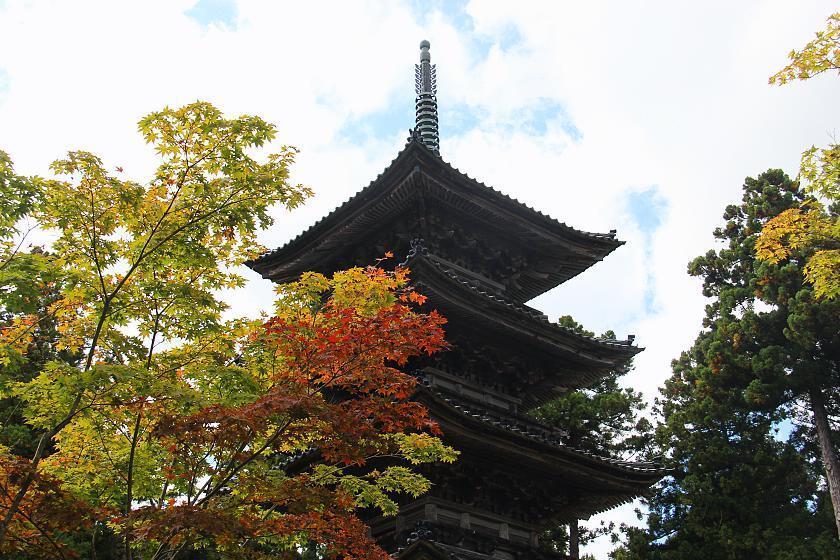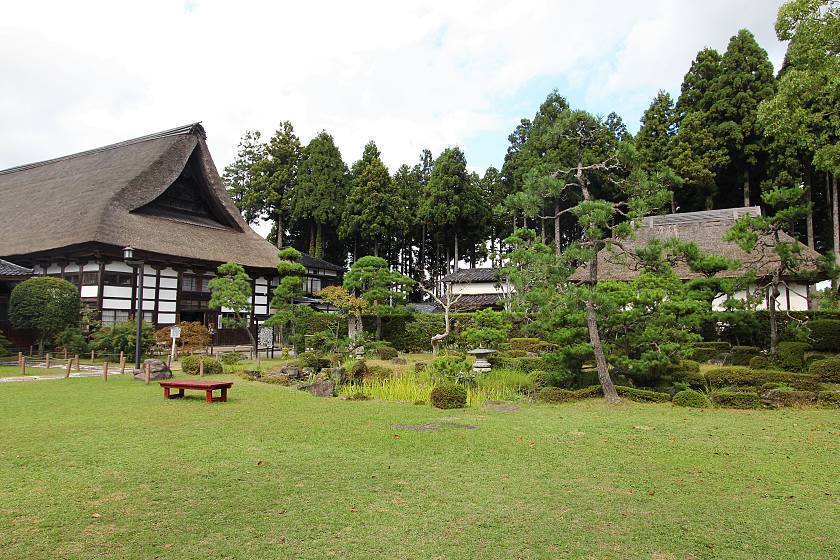 Following a morning of sea-faring and temples, I arrived at Farm House Ueta, a minshuku operated by Mr. and Mrs. Ueta, a pair of warm-hearted local farmers who provide guests the opportunity to partake in aspects of their farming as well as superb lodging. First up it was off to the local fields to pick persimmons and get to know Mr. Ueta, a very kind soul who taught me how to detect whether a fruit is right for picking or not, and insisted we take off when it looked as though my bag was getting heavy.
After persimmon picking I got the chance to get my hands dirty peeling garlic with Mr. Ueta, who was very interested in other countries and asked me to describe what life was like in my own to him. Many words and peeled garlic heads later, Mrs. Ueta treated me to a deeply satisfying dinner of locally-sourced sea food and vegetables to make for a delicious end to another exciting day on Sado.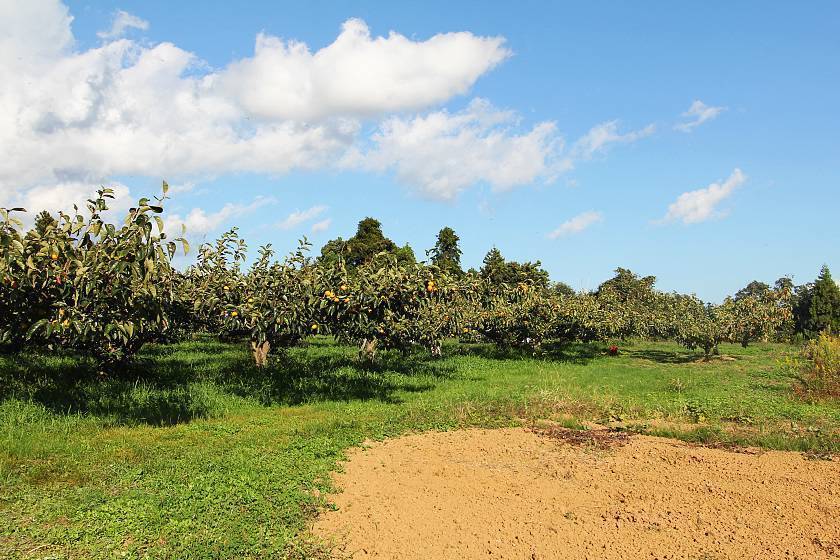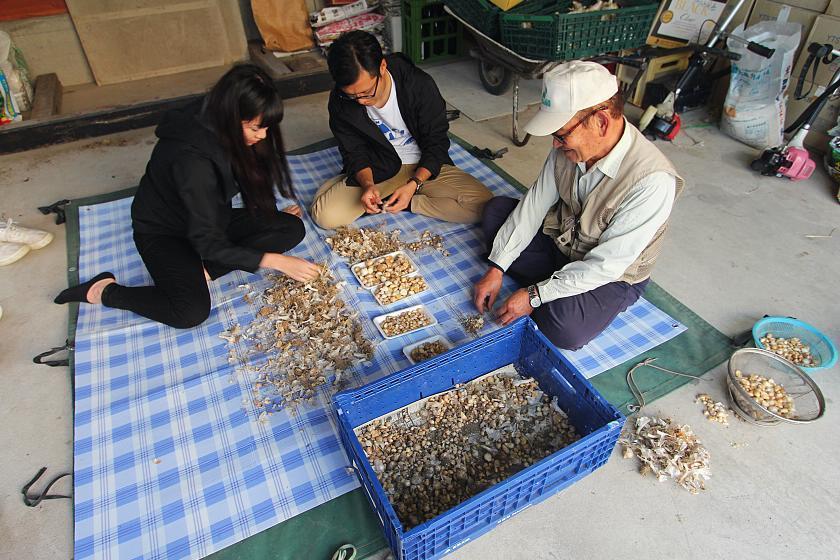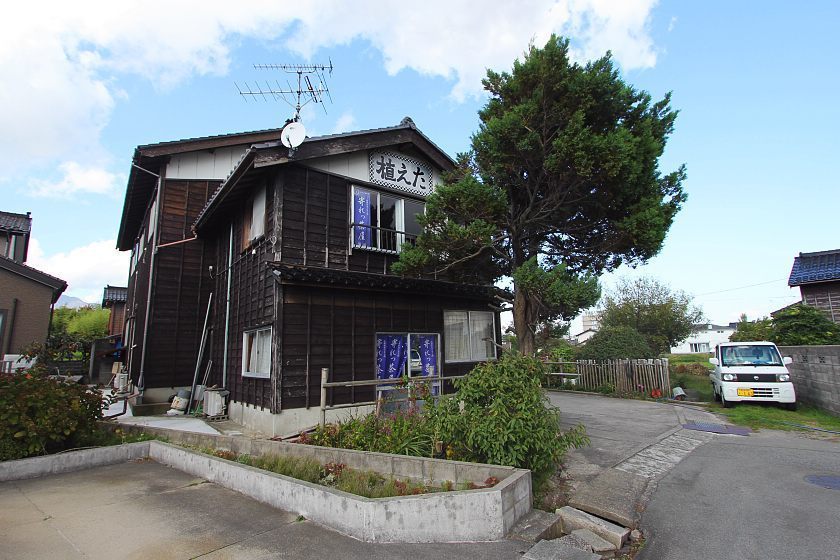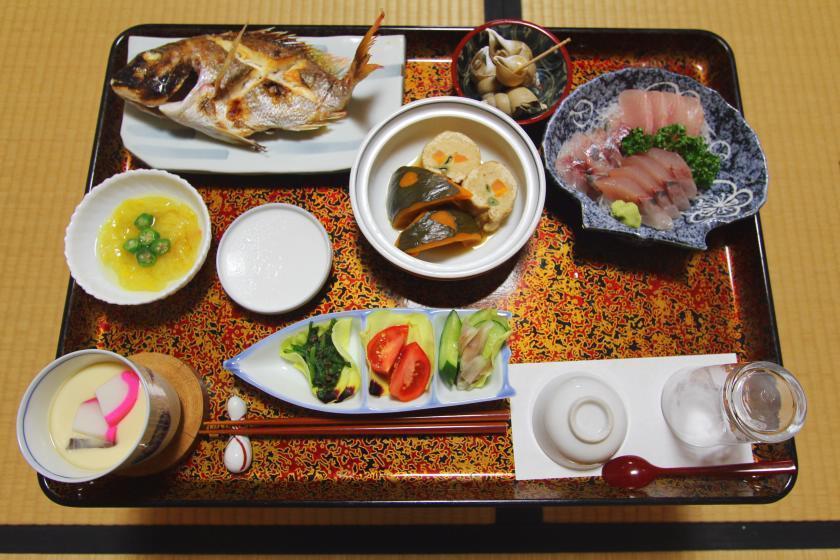 Another early rise for the third day of my island trip, today I was off up into the mountains to walk among some of Sado Island's celebrated cedar trees in the Osado Natural Giant Cedar Forest. Located at a high altitude in the far north of the island, the forest is a lush natural wonderland home to a wide variety of centuries-old cedar trees that have warped over the years to make for some very interesting displays. Led by our knowledgeable tour guide, we trekked around the mountains for a good few hours, all the time being educated about the cedars and forest in general.
After the morning trek and a return back down to lower altitudes, I spent the afternoon taking in some of the breathtaking views that can be had on this northwest portion of the island. Included in many stops along the coast were those at Ono-game and Futatsu-game; huge, majestic rocks that jut out of the ocean adding spectacular notes to the already breathtaking coastline.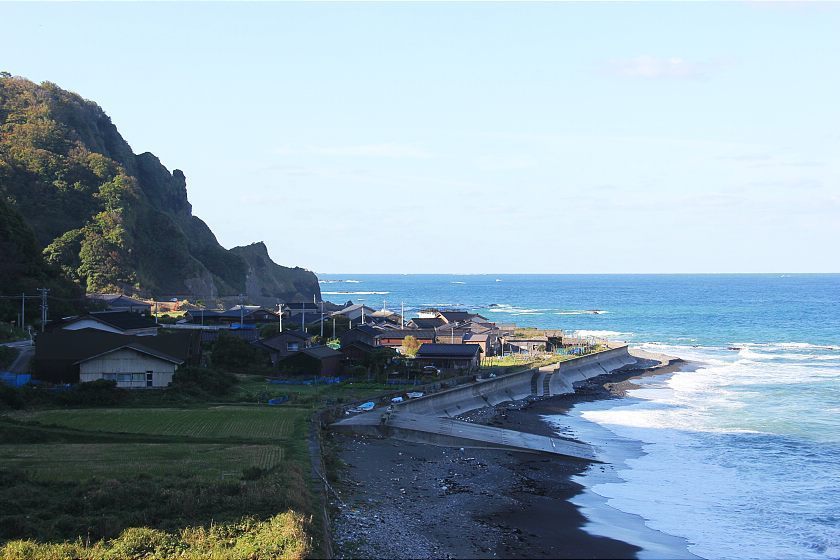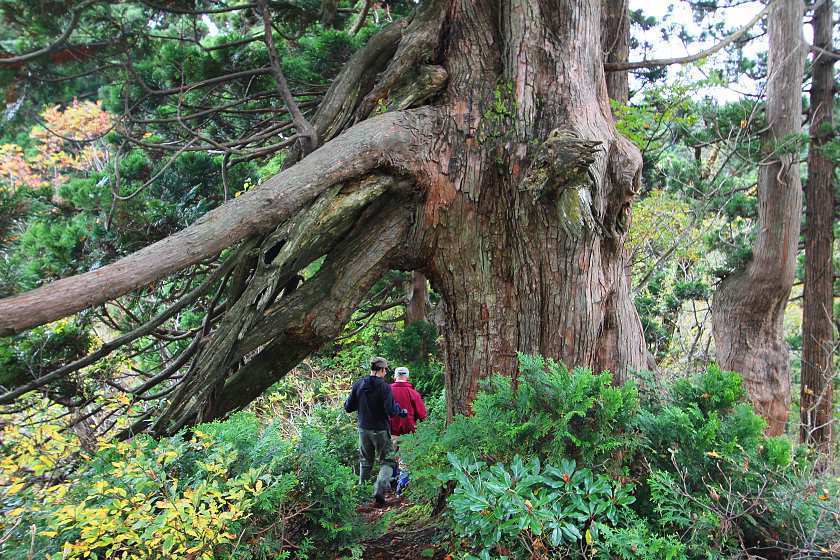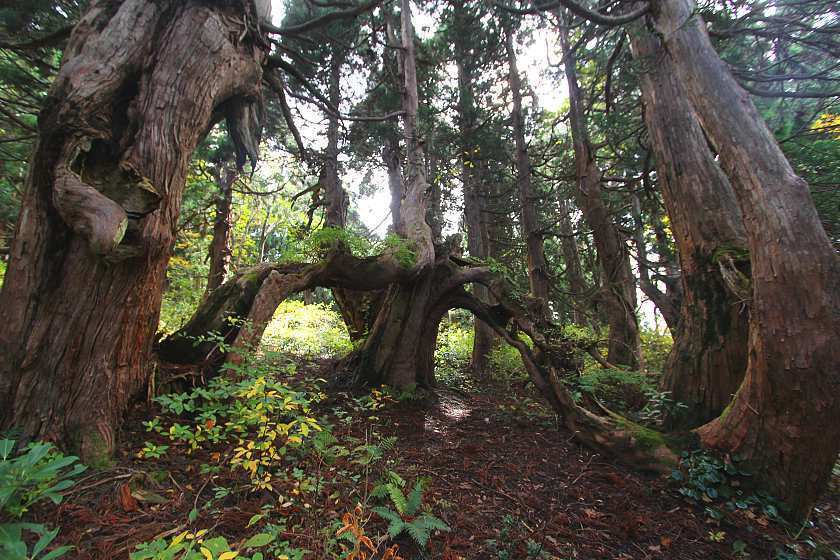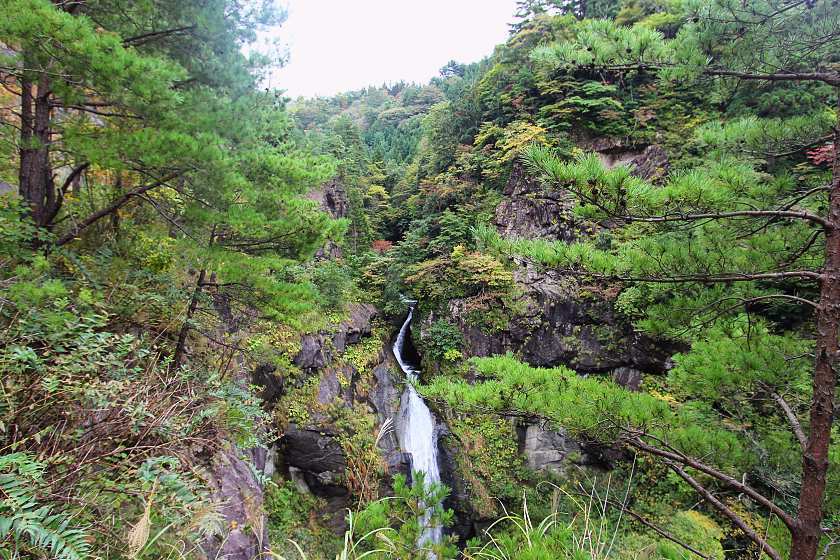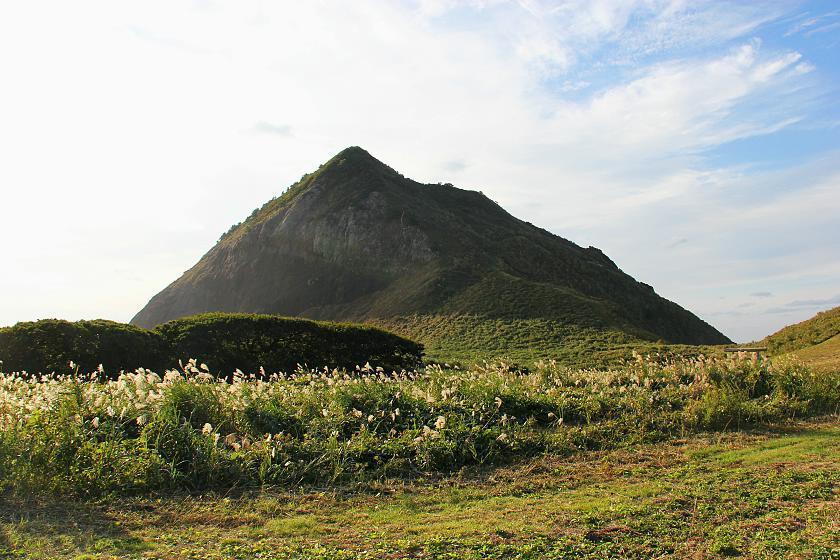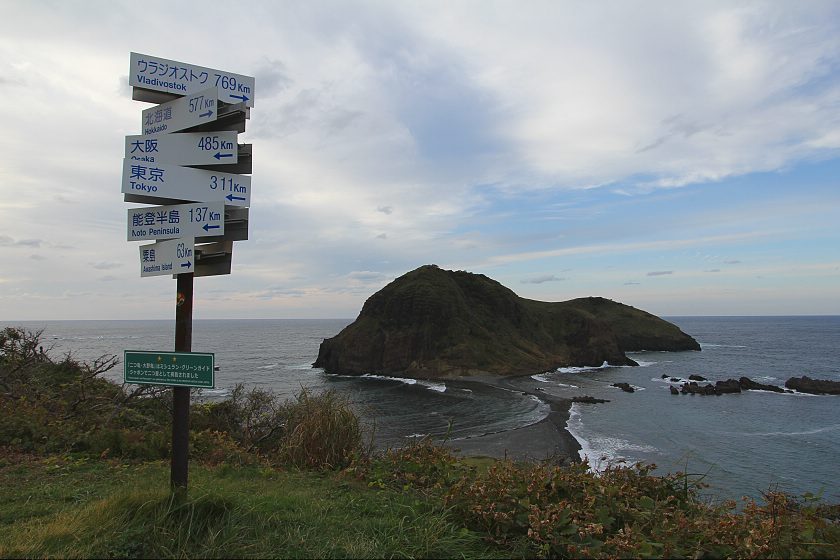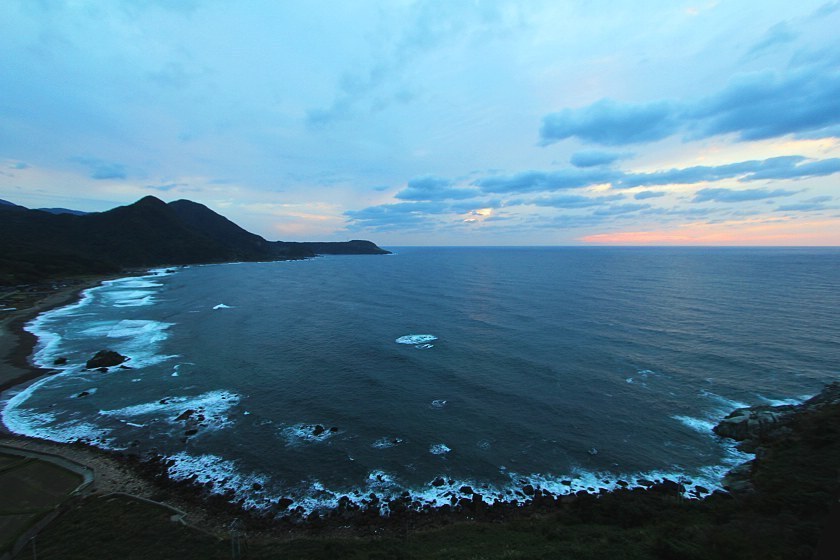 My fourth and final day on Sado Island began with a trip to Senkakuwan Bay on the northwestern coast of the island. Known for its steep, craggy cliffs and clear waters, the bay draws common comparisons with Hardanger Bay in Norway. The best way to enjoy the bay is by taking a tour around it aboard a glass-bottom boat, which allows visitors to gaze down upon the submerged rocks and abundance of sea life that surrounds them. A fantastic experience lasting around half an hour, I highly recommend the bay and the boat tour for visitors to those finding themselves in this stunning section of the island.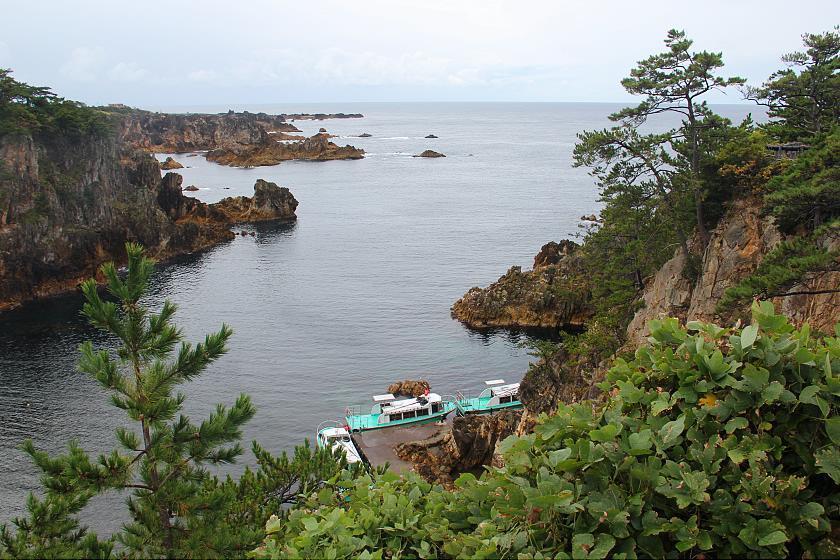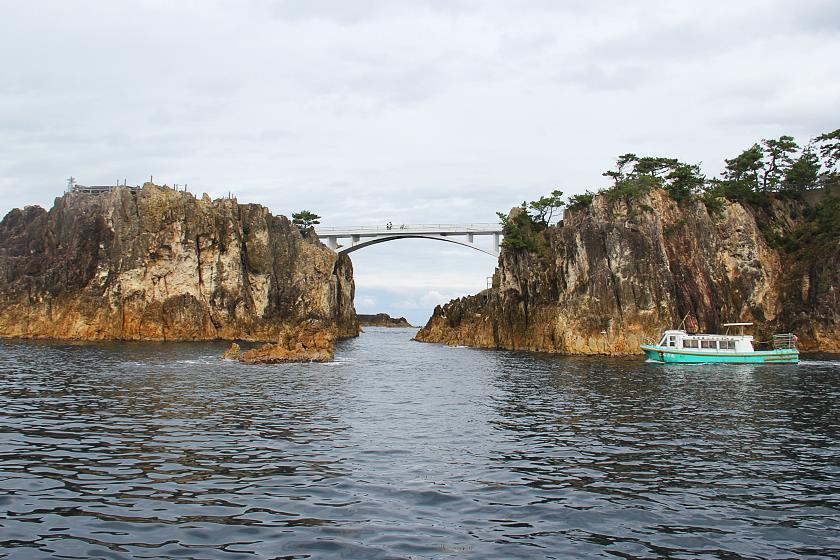 My time on Sado was now coming to an end, and I began to make my way back towards Ryotsu where I'd board the high-speed ferry back to the mainland. Along the way, I drove along the Osado Skyline; a road that snakes up through the mountains and provides excellent vistas of a large portion of the island and also is another of the most popular places to see autumn colors as they trickle down the hills from the skyline's nearly one kilometer-altitude highest point. True to what I'd heard, the views up here were stunning, with the autumn colors already well at peak up at the road's higher altitudes.
I've heard that the best way to cure a heavy heart is with a full stomach, and so I was eager to squeeze in one last stop before my mid-afternoon departure from the island at another of Sado Island's many attractions. Soba Mozemu is a gem of a soba restaurant located along the rural roads near the port of Ryotsu. Ravenous after my morning adventures, I ordered walnut soba, for which the noodles are enjoyed dipped in a sauce of ground local walnuts mixed with soy sauce. Satiated if a little sad, I made my way to the port filled with great memories from my time on this breathtaking island.