How to travel to Uchiko
Located between Matsuyama and Uwajima, and just next to Ozu, Uchiko is usually accessed from Matsuyama (how to get to Matsuyama):
By limited express train
Hourly limited express trains take 25 minutes and cost 1280 yen for an unreserved seat or around 2000 yen for a reserved seat between Matsuyama and Uchiko. They are covered by the Japan Rail Pass.
By local trains
By local trains, the one way journey between Matsuyama and Uchiko takes about one hour, costs 760 yen and is covered by the Japan Rail Pass. In the mornings and evenings there are a few direct trains. During the rest of the day, a transfer of trains is required along the way at Iyoshi Station.
By bus
Iyotetsu buses from Matsuyama-shi Station to Misaki and Yawatahama Ports stop in Uchiko along the way. The one way journey takes one hour and costs 720 yen. There are three round trips per day.
Above fees and schedules are subject to change. For the current yen exchange rate, click here.
Orientation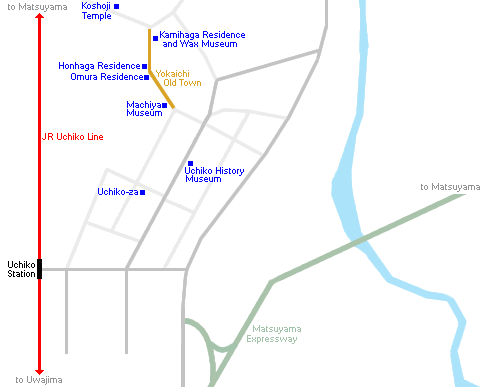 Uchiko is a small town, which can be entirely explored on foot. JR Uchiko Station stands at the outskirts of the town, and it is about a 10 minute walk from the station to Uchiko-za, a further 5 minutes to the south end of Yokaichi Old Town and another 10 minutes to the north end.
Rental bicycles are available at the station at 350 yen for the initial two hours and 200 yen for each additional hour.