Kids Ninja Village
Fun theme park about the local ninja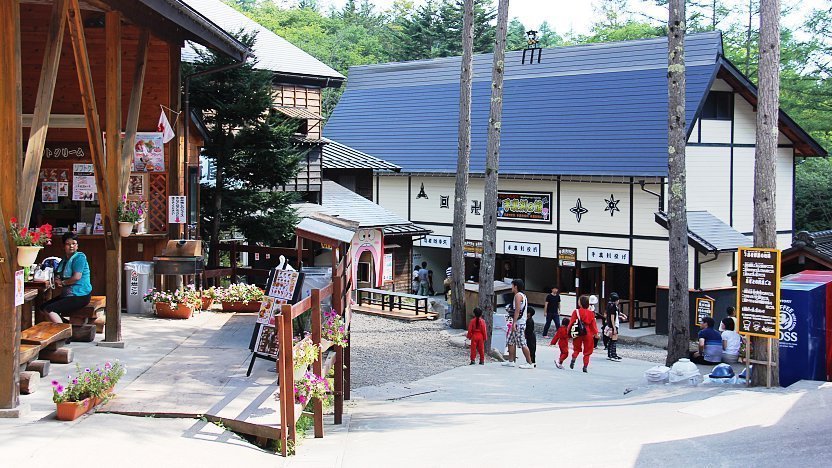 The Kids Ninja Village (ƒ`ƒrƒbŽq"EŽÒ'º, Chibiko Ninja Mura) is a small theme park with ninja related attractions located at Mount Togakushi in Nagano City, the legendary home of the Togakure Ninja School. The village is set within a forest, featuring many obstacle courses and jungle gyms for visitors to pretend undergoing ninja training.
Despite its name, the Kids Ninja Village has several attractions which also appeal to some adults, although grown up tourists will generally find the nearby Togakure Ninpo Museum of higher interest. Many of the village's popular attractions require a separate fee, including blow dart and throwing star shooting and two ninja mansions with labyrinths, trapdoors and contraptions. In one of the mansions there is also a room which uses optical illusion to trick the mind into seeing the extraordinary.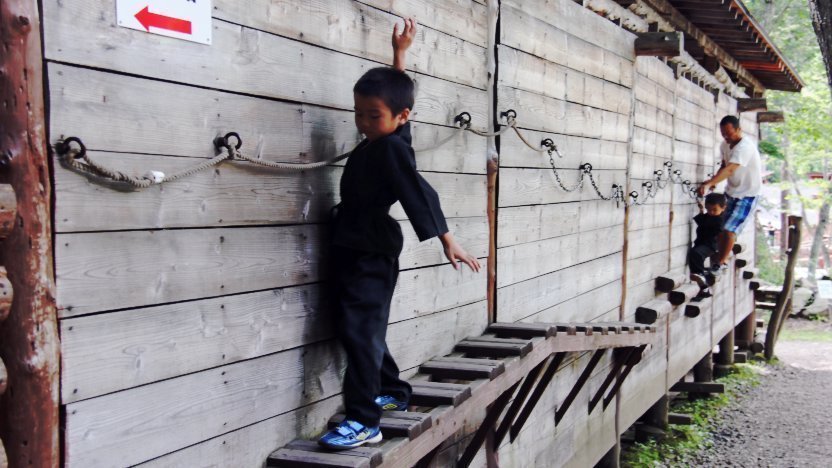 Take bus number 70 from Nagano Station in direction of Togakushi. Alight at Togakushi-Chusha bus stop (ŒË‰B'†ŽÐ, 65 minutes, 1350 yen one way, 1 bus/hour), from where it is a 15 minute walk to the ninja village.
In addition, the Togakushi Shrine Meguri Kippu travel ticket is available for 3300 yen and includes a) a round trip between central Nagano and the Togakushi area, b) free use of buses within Togakushi, and c) one additional bus ride between Nagano Station and Zenkoji. The ticket can be used over a period of up to five consecutive calendar days.
How to get to and around Nagano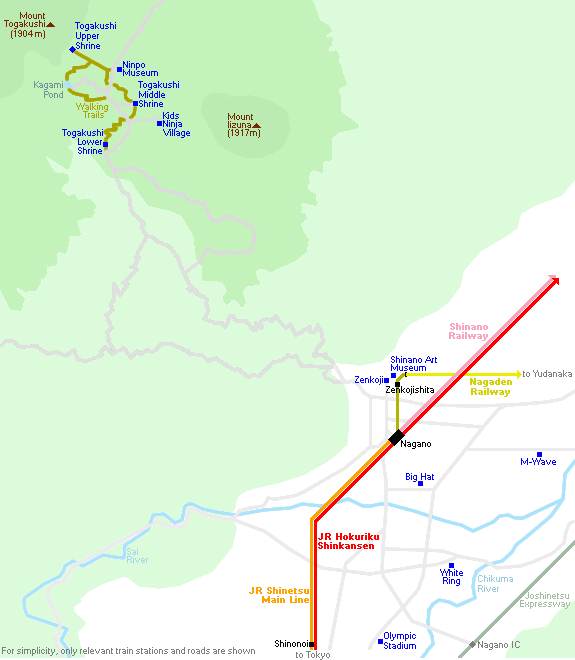 Hours
9:00 to 17:00 (entry until 16:30)
Closed
Late November to late April, Thursdays (except during summer holidays)
Admission
500 yen (entry only)
300 yen per paid attraction
1850 yen (entry + six paid attractions)
1000 yen (ninja costume rental)
Questions? Ask in our forum.
Takamine Onsen

A mountain top onsen lodge at an altitude of 2000m facing Mt.Asama. Enjoy breathtaking views soaking in the outdoor bath. Bus runs from Tokyo & JR Sakudaira Sta.

View site

Sponsored
Top rated in Nagano
powered

by