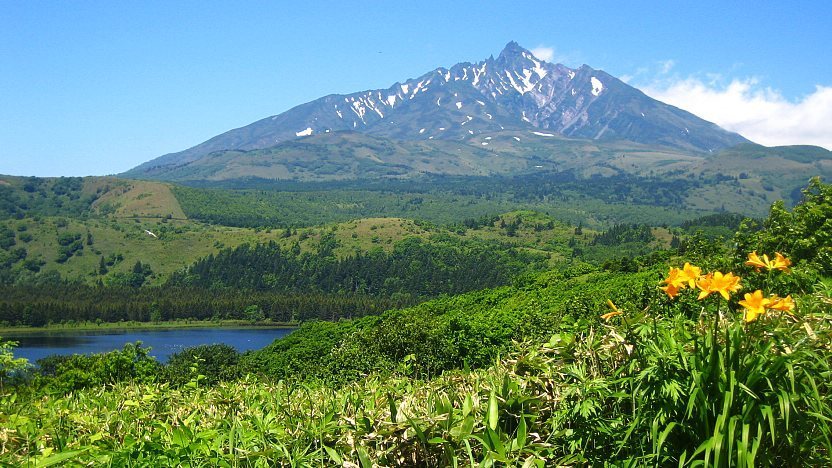 Rishiri Island (利尻島, Rishiritō) is a remote, small island about 20 kilometers off the northern tip of Hokkaido, with a circumference of about 60 kilometers and Mount Rishiri, a dormant volcano, at its center. Together with neighboring Rebun Island, Rishiri belongs to the Rishiri-Rebun-Sarobetsu National Park. Many of the island's 5000 inhabitants are making a living from tourism and fishing.
Rishiri Island offers various hiking and walking opportunities. The climb to the top of Mount Rishiri takes a full day and is quite challenging. There is also a cycling road along the island's northern coast. A visit to Rishiri Island is most attractive from June to August when the island's alpine flora is in bloom. Not many tourists visit the island during the long and harsh winters.
Access
Click here for details on how to get to Rishiri Island.
Orientation
Rishiri's largest town and transport hub is Oshidomari in the north of the island. Oshidomari Port is the arrival and departure point of ferries from/to Wakkanai and Rebun, while Rishiri Airport can be reached in a 5 minute car ride from the town center.
The island's second largest town is Kutsugata in the west of the island. A direct ferry connection from Kutsugata Port to Rebun Island is provided from June through September.
Administratively, Rishiri Island is divided into two municipalities: Rishirifuji Town with its administrative center in Oshidomari and Rishiri Town with its administrative center in Kutsugata.
Getting around Rishiri Island
A scheduled bus service is provided along the entire coastal road of Rishiri by Soya Bus, however, bus connections are infrequent. The one way journey from Oshidomari to Kutsugata takes 30 minutes and costs 760 yen, while a trip around the whole island takes roughly two hours and costs 2300 yen.
Many of the Japanese tourists visiting Rishiri, explore the island by sightseeing bus tours. Typical tours of the island take between two and four hours and cost around 3000-4000 yen per person. Tours are held in Japanese.
It is also possible to rent a car on Rishiri, however, rental fees are much higher than on the "mainland". The typical cost for a 24 hour rental is around 14,500 yen for a small car, which is about the same as the one way cost of bringing a car from Wakkanai to Rishiri by ferry.
Another way to explore Rishiri is by bicycle. Rental bicycles are provided by many accommodations on Rishiri and a few rental shops.
Questions? Ask in our forum.