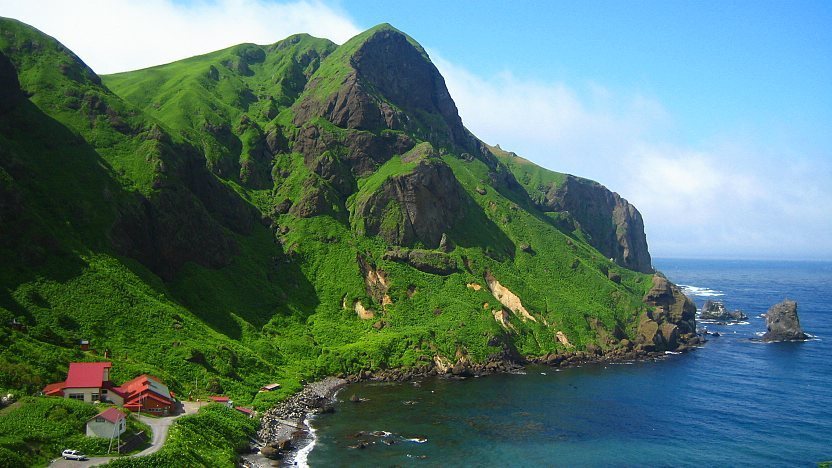 Rebun Island (礼文島, Rebuntō) is a longish island, about 10 km north of Rishiri Island and 50 km off the northern tip of Hokkaido. Together with Rishiri Island, Rebun belongs to the Rishiri-Rebun-Sarobetsu National Park.
Rebun Island is most famous for its rich flora, which features many alpine flowers, some of which cannot be found anywhere else on the world. The flowers are in bloom from around June to August, the best time to visit Rebun. Not many tourists come to the island during the long and harsh winters. The alpine flora, the beautiful natural scenery of Rebun and views of nearby Rishiri can be enjoyed from a network of pleasant walking and hiking trails.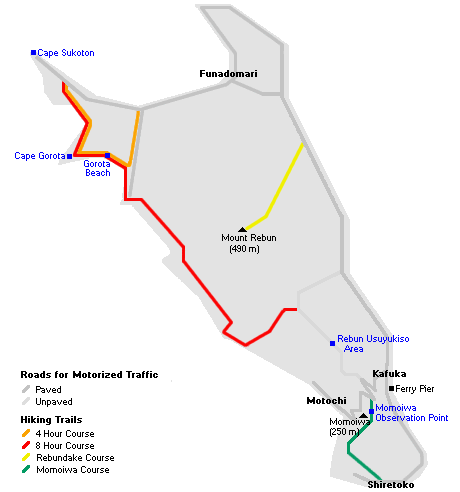 Access
Click here for details on how to get to Rebun Island.
Orientation
Rebun's largest town and transport hub is Kafuka in the south of the island. Kafuka Port is the arrival and departure point of all ferries from/to Wakkanai and Rishiri. Rebun Airport in the north of the island, is currently out of service.
Getting around Rebun Island
Scheduled bus services are provided from Kafuka to Cape Sukoton at the island's northern tip, Shiretoko at the island's southern tip and Motochi by Soya Bus, however, bus connections are infrequent. The one way journey from Kafuka to Cape Sukoton takes one hour and costs 1240 yen. To Shiretoko it takes 10 minutes and costs 320 yen. To Motochi 15 minutes and 460 yen.
Many of the Japanese tourists visiting Rebun, explore the island by sightseeing bus tours. Typical tours of the island take between two and four hours and cost around 3000 to 4000 yen per person. Tours are held in Japanese.
It is also possible to rent a car on Rebun, however, rental fees are much higher than on the "mainland". The typical cost for a 24 hour rental is around 14,000 yen for a small car, which is about the same as the one way cost of brining a car from Wakkanai to Rebun by ferry.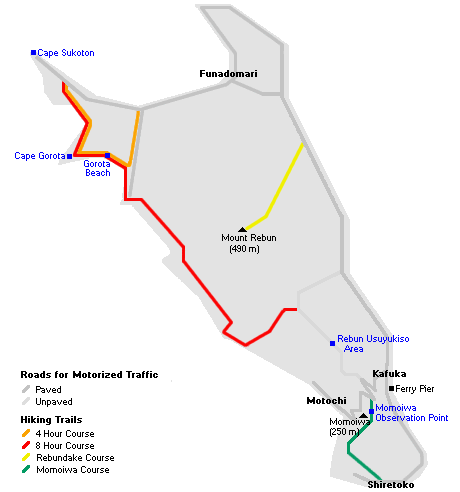 Questions? Ask in our forum.