Kerama Islands: Getting there and around
How to get to the Kerama Islands
The Kerama Islands are a small group of islands about 30 kilometers off the main island of Okinawa, reached by ferry from Naha. The Kerama Islands also have an airport; however, it is currently not used by regular flights.
By ferry
There are two high speed boat and car ferry lines from Naha to the Kerama Islands:
Naha - Tokashiki Island
35 minutes, 2530 yen one way by high speed boat or 70 minutes, 1690 yen by car ferry
Naha - Zamami Island (via Aka Island)
One hour, 3200 yen one way by high speed boat or two hours, 2150 yen by car ferry
Note that especially the high speed boats tend to be popular, and tickets can sell out ahead of time. High speed boats are also more prone to cancellation due to high waves than the car ferries.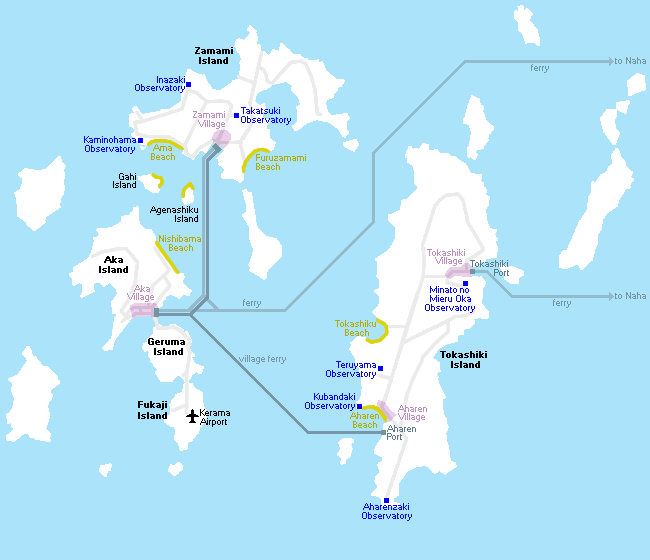 How to travel between the islands
Besides the above-mentioned ferry lines, there is a village ferry that connects Zamami Island with Aka Island and Aharen Port on Tokashiki Island. Note, however, that tickets to/from Tokashiki (35 minutes, 800 yen one way) need to be reserved at least one day in advance. The same condition does not apply to tickets between Aka and Zamami (15 minutes, 300 yen one way). Kerama's two other settled islands, Geruma and Fukaji islands, are connected to Aka Island by bridges.
How to travel around each island
See the islands' individual pages for details on how to get around:
Questions? Ask in our forum.