How to travel between Ishigaki and Naha
Ishigaki Airport offers direct flights to Tokyo, Osaka, Nagoya and seasonally to Fukuoka in addition to Naha, Miyako and Yonaguni inside Okinawa Prefecture, and a couple of international flights.
By air
ANA, JAL and Solaseed operate frequent flights between Naha Airport on Okinawa Honto and New Ishigaki Airport on Ishigaki Island, the transportation hub of the Yaeyama Islands. Flight duration is one hour. Regular one way fares are over 20,000 yen; however, discount tickets are almost always available for around or under 10,000 yen. Vanilla Air is also scheduled to start flying between Naha and Ishigaki from July 2018.
By ferry
Ferry operation between Naha and Ishigaki was discontinued in June 2008.
Above fees and schedules are subject to change. For the current yen exchange rate, click here.
Orientation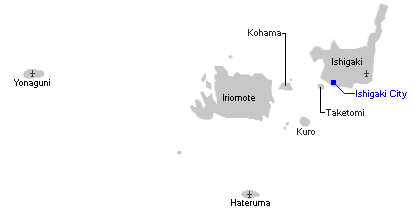 Ferries and airplanes connect Ishigaki Island with the other Yaeyama Islands. Please visit our Ishigaki, Iriomote and Taketomi Island pages for information on how to get to and around the respective islands. Below are access details for some other islands in the Yaeyama island group. Prices are approximate and refer to one way journeys:
To Kohama Island:
30 minutes, 1,060 yen by high speed boat from Ishigaki
To Kuro Island:
30 minutes, 1,150 yen by high speed boat from Ishigaki
To Yonaguni Island:
30 minutes, 7,500-13,000 yen by air from Ishigaki Airport
95 minutes, 17,000-33,000 yen by air from Naha Airport
4.5 hours, 3,550 yen by ferry from Ishigaki
To Hateruma Island:
60 minutes, 3,090 yen by high speed boat from Ishigaki
Tours and travel services