Yuzawa (ôĺŲ) in Niigata Prefecture is one of the largest and the most easily accessed ski areas from Tokyo. You can be on the slopes from Tokyo Station in under two hours. Yuzawa is known for deep powder and a long season, with some of its resorts open from mid November to late May.
There are over a dozen ski resorts in and around Yuzawa, varying in size from one to over twenty lifts. While some are near the town center, others are more remote, but they are all accessible by public transportation.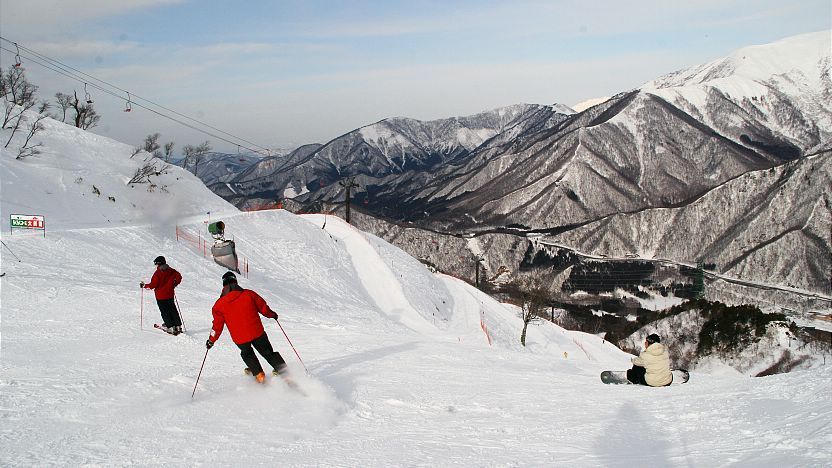 A few resorts team up to offer combination lift tickets that give you access to all of the participating resorts. They are typically connected to each other so that you can ski or snowboard between them.
Yuzawa is also known for its onsen (hot springs), with baths located at the ski resorts, hotels, public bath houses and shinkansen stations. Echigo-Yuzawa Station offers, furthermore, an all-you-can-try sake shop at which you can compare almost 100 different varieties of sake from Niigata Prefecture for 500 yen.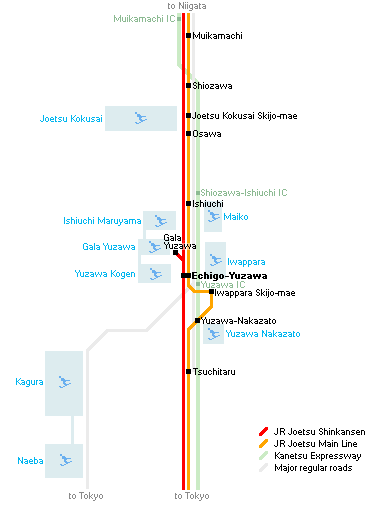 Gala Yuzawa, Ishiuchi Maruyama, Yuzawa Kogen Group
A special combination ticket for all three resorts is available. It costs 6200 yen (5700 yen in the shoulder seasons) and can be bought at any of the three resorts' ticket counters.
Naeba, Kagura Group
A combination ticket for Naeba and Kagura costs 6000 yen and can be purchased at either resort.
Iwappara, Joetsu Kokusai Group
The two ski resorts form a group; however, they are not physically connected to each other.
By train
Echigo-Yuzawa Station can be reached from Tokyo Station in 80-90 minutes by the Joetsu Shinkansen. During the winter, some trains from/to Tokyo serve Gala Yuzawa Station in the mornings, late afternoons and evenings, while a shuttle train runs just between Echigo-Yuzawa and Gala Yuzawa during midday. The one way trip between Tokyo and Yuzawa costs around 6500 yen and is covered by the Japan Rail Pass, JR East Nagano Niigata Area Pass and JR Tokyo Wide Pass.
Furthermore, a discounted round trip ticket is offered by JR for access to Yuzawa from greater Tokyo during the ski season. JR and travel agencies also sell a range of discount travel plans that combine a round trip to Yuzawa with lift passes and/or accommodation.
By car
Yuzawa is located along the Kanetsu Expressway, which connects Tokyo with Niigata. The drive from Tokyo to Yuzawa IC takes about two hours and costs around 5000 yen in expressway tolls (one way for a regular car). Winter tires are required during the winter.
Questions? Ask in our forum.