Awa Odori
Very popular dance festival during obon
Tokushima's Awa Odori (阿波おどり) is the most famous of many dance festivals held across Japan during the Obon season in mid August. Awa is the former name for Tokushima Prefecture while Odori means dance.
From August 12 to 15, spectators and dancers come to Tokushima in the thousands to see this "Fool's Dance" whose origins date back 400 years. The nickname comes from the lyrics to a common dance song: "Fools dance and fools watch, if both are fools, you might as well dance".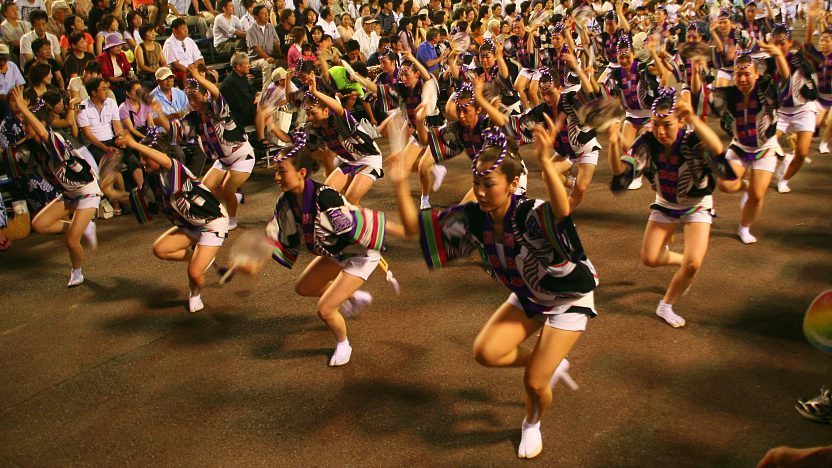 Although some events happen during the daytime, the main spectacle takes place in the evenings between 18:00 and 22:00, when groups of dancers, called "ren", perform in blocked-off streets of downtown Tokushima. Ranging from amateurs assembled just days before the event, to veterans who practice year round, the ren come from Tokushima, other parts of Japan and as far away as the United States.
The groups dance through designated spectator areas (enbujo) in a procession, playing traditional musical instruments as they go. Although the dance steps are simple, ren distinguish themselves with difficult variations and colorful uniforms. Women wear cotton robes called yukata, while men wear happi (shorter yukata over shorts or pants). Like the dance, these standards vary from group to group.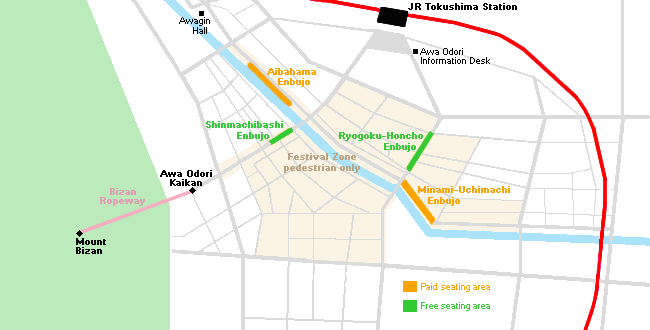 In the evening, Tokushima's city center shuts down and is turned into a large dance stage. There are multiple different outdoor stage areas with either free or paid seating. The paid stages are sure to draw the professional groups, while the former will have more casual dancers as well. Typical festival flourish, such as food and game stalls, as well as more dancing, takes place outside of the stage areas.
Tickets for the paid stage areas can be purchased from around July (July 1, 2023, pre-sale from June 17) through Ticket Pia or 7-Eleven convenience stores nationwide. They cost between 1,000 and 15,000 yen for a 90-minute block of performances (first block from 18:00 to 19:40 or second block from 20:20 to 22:00) depending on the seat type. If vacant seats are left, same-day tickets are available for an additional 300 yen.
During daytime, 70-minute performances by selected dance groups are also staged inside the Awagin Hall. Tickets cost between 2,800 and 4,500 yen depending on the seat.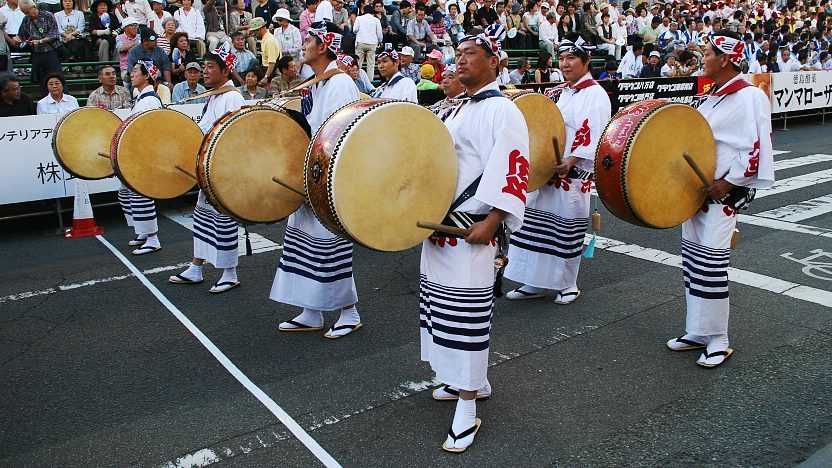 Visitors planning to see Awa Odori may have difficulty securing one of Tokushima City's hotels, as they book out months in advance. Many spectators stay elsewhere; options include nearby Naruto (40 minutes by train), Takamatsu (1 hour by train) or even Osaka (2.5 hours by car).
For visitors to Tokushima who miss the festival, a museum about the Awa Odori is located in the Awa Odori Kaikan. There you will also find a dance hall where dance demonstrations are held several times a day. Note that the lower station of the ropeway leading up to Mount Bizan is located in the same building as the Awa Odori Kaikan.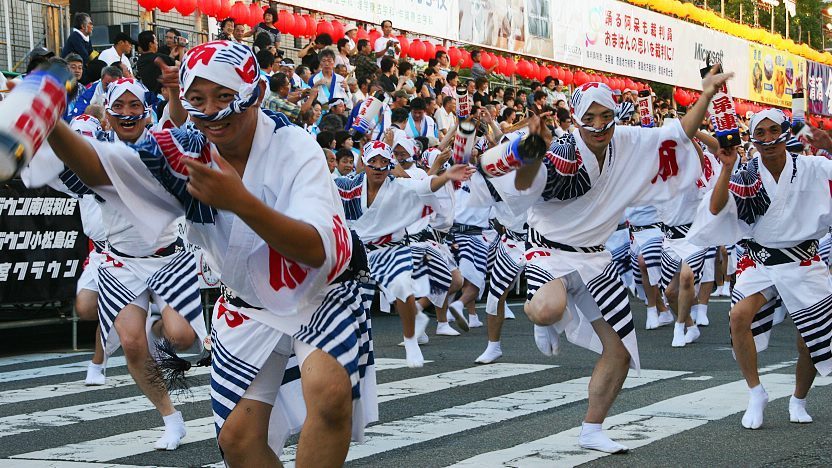 By train
From Tokyo or Osaka, take the Tokaido/Sanyo Shinkansen to Okayama. In Okayama, a switch to a rapid train is required to continue onto Takamatsu. From Takamatsu, both local and limited express trains complete the trip to Tokushima.
A one way trip from Tokyo costs about 19,000 yen and takes about 5-6 hours. From Osaka, the one way cost is around 10,000 yen and the trip duration is about 2-3 hours. The journeys are fully covered by the Japan Rail Pass, but pass holders will need to pay a supplement fee if using Nozomi or Mizuho trains. No supplement fee is required if using Hikari or Sakura trains along the Tokaido/Sanyo Shinkansen.
By bus
From Tokyo
Several companies cooperate overnight buses between Tokyo and Tokushima. The one way trip takes about nine hours and costs between 6,000 yen and 14,000 yen depending on the company and travel date. Some of the buses can be reserved online via Willer.
From Osaka
Frequent daytime highway buses connect Osaka (OCAT bus terminal and Nankai bus terminal in Namba and JR Highway Bus and Hankyu Sanbancho bus terminals near Osaka Station) with Tokushima Station. The one way trip costs 3800 yen and takes about 2.5 hours. Reservations can be made via Willer.
By air
Both JAL and ANA operate out of Tokushima Airport, connecting the city with direct flights to Tokyo's Haneda Airport, Fukuoka and Sapporo. The regular one way fare on the Tokyo route is around 40,000 yen, with discount tickets usually available for around 10,000 to 20,000 yen. However, most discounts are not available during the Awa Odori.
Awa Odori Museum (Awa Odori Kaikan)
Closed
A few irregular closing days
Bizan Mountain Ropeway
Hours
9:00 to 21:00 (until 17:30 from November to March)
Admission
620 yen (one way), 1030 yen (round trip)
Questions? Ask in our forum.